I watch a ton of college basketball, but there are three teams I follow more closely than any — Temple, North Carolina and Villanova. All three tip off their 2010-11 seasons tonight.
We all know the No. 6 Wildcats will be led by Corey Fisher and fellow seniors Corey Stokes and Antonio Pena. The No. 8/9 Tar Heels will look to juniors like Larry Drew II and Tyler Zeller to step up and lead a very young team. And the No. 22 Owls consist of several upper classmen. Senior Lavoy Allen, a favorite to win A-10 Player of the Year, and junior Juan Fernandez are the unquestioned leaders for Temple, and juniors Eric Michael, Ramone Moore and Scootie Randall figure to be key contributors.
Those are the commodities we know. They're the players these teams will look toward to be the leaders. But who are the underclassmen to watch? Some of them you are already familiar with, and others you probably will be before long.
Villanova
Maalik Wayns, sophomore
A Philadelphia native and Roman Catholic grad, Maalik Wayns was a McDonald's All-American, a two-time MVP in the Philadelphia Catholic League, a first-team All-City and All-State representative, and a known commodity in Philadelphia for years. As a freshman at Villanova he averaged 6.8 points and 1.3 assists in 15 minutes a game and was named to the Big East All-Rookie Team. With Scottie Reynolds gone, expect major jumps in those averages in this sophomore year for Wayns, particularly in the assists department.
Don't get it twisted: Despite often looking like a shoot-first player in limited time last season, Wayns is a distributor. That was his rep in high school, and I fully expect that as the starting point guard alongside Corey Fisher, Wayns will be more comfortable in the flow of the game and will definitely get everyone on this talented, diverse Villanova squad involved.
Dominic Cheek, sophomore
Like Wayns, Cheek was part of Nova's highly touted recruiting class last season. Also a McDonald's All-American, Cheek hails from St. Anthony's in Jersey, where he played for the legendary Bob Hurley. He was a first-team all-state selection and won the MVP of the Elite 24 game. A 6'6" guard/forward, he has the reputation as a great shooter and scorer.
Last year he averaged 4.9 points and 2.5 rebounds while connecting on 45.3 percent of his shots in 13.5 minutes a night, but at times he seemed to struggle to find his stroke. Expect him to increase his efficiency from long range and help to pick up some of the scoring Reynolds took with him overseas. Don't be surprised if Cheek challenges Fisher for the team lead in points per game, or at least come somewhat close.
Mouphtaou Yarou, sophomore
The native of Benin in West Africa, Yarou was the third piece to Villanova's heralded 2009 class. Wayns was the guard, Cheek the small forward and Yarou the big man. Yarou was supposed to help the notoriously small Wildcats get a true inside presence, but he missed the first half of the season with Hepatits B. Very unusual and cause for concern, but once he finally made it on the court, you could see why just about everyone in the nation was vying for his services.
He had modest averages of 4.5 points and 3.7 rebounds as a freshman, but that doesn't tell the whole story. After missing seven weeks, he came back and was slowly integrated into the team. By the time the end of the season rolled around, he was the force everyone expected him to be. In the first round victory over Robert Morris in the NCAA Tournament, Yarou had 17 points and controlled the paint. This year, he will team with Antonio Pena inside to give Nova its biggest, most fearsome frontcourt in quite some time.
JayVaughn Pinkston, freshman
Don't worry Nova fans, JayVaughn is not related to Todd Pinkston, and thank goodness for that. Though there is something to worry about: JayVaughn
faces assault charges
stemming from an incident at a party in Upper Merion, and he won't play until he's cleared by an internal review. That's the bad news, and it certainly is troubling.
But the good news is that when (or if) Pinkston does step onto the floor, Villanova is getting a hell of a player. Coming out of Brooklyn's Bishop Loughlin — Curtis Sumpter's alma mater, by the way — Pinkston was named New York's Player of the Year, a McDonald's All-American and Parade Magazine second team All-American. In his senior year, the 6'7, 260-pounder averaged 25 points, 13 rebounds, five assists and two blocks, showcasing his all-around game. Hopefully he can get past this incident and contribute this year.
Sophomores Isaiah Armwood and Maurice Sutton also earned valuable playing time last year. Freshman James Bell rounds out Nova's underclassmen.
North Carolina
John Henson, sophomore
Incredibly talented but ridiculously slender, Henson came in about as highly touted as you can come but struggled early on for the Tar Heels. In high school, his height allowed him to dominate. He was first-team all-state in Florida and the Tampa Bay Coaches Association Player of the Year as a senior, a McDonald's All-American and a first-team All-American, averaging 17.6 points, 12.2 rebounds and 6.1 blocks a game. He was expected to jump right in and contribute for UNC.
Instead, he floundered out of the gate and finished with pedestrian averages of 5.7 points and 4.4 rebounds in about 16 minutes a game. Even more troublesome, he shot just 22 percent from three and 43.8 percent from the line, though did manage to connect on 48.6 percent of his shots overall from the field. The problem was he was simply not strong enough for the college game. But he did show flashes, blocking the fourth most shots in the ACC last year (60), averaging 1.6 blocks a game. And when Ed Davis went down, Henson stepped it up, playing his best basketball at the end of the season. Hopefully he's gotten stronger and has eaten a lot of hamburgers to pack on the pounds so he can begin to dominate college basketball the way he did in high school.
Harrison Barnes, freshman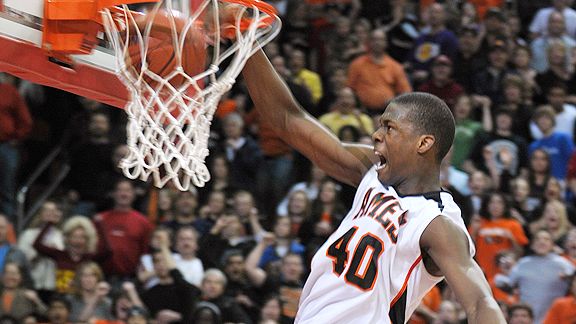 If you don't know the name Harrison Barnes by now, even though he hasn't played a single game in college yet, well, you don't know much about basketball. He's widely considered the best, or close to it, of the 2010 recruiting class. He was named the Sporting News 2010 National High School Athlete of the Year, USA Today National Player of the Year, and in 2009 was the Morgan Wooten Award National Player of the Year. He won back-to-back state championships at Ames High School in Iowa, going undefeated both seasons. And he was the MVP of the McDonald's All-American game, among many, many more accolades. He's so good that
Dime said he could start in the NBA right now
, and
DraftExpress
projects him as the No. 1 overall pick in the 2011 NBA draft.
He's getting the John Wall, Derrick Rose, Tyreke Evans, Kevin Durant treatment. On an extremely young UNC team, expect the 6'8, 210-pound forward to be the best player on the Tar Heels and quite possibly the best player in the ACC. The Tar Heels are inexperienced, but they won't struggle all that much this year because of Harrison Barnes.
Reggie Bullock, freshman
It's scary thinking that Reggie Bullock and Harrison Barnes will be teaming up side by side. Bullock is a 6'7 freshman who comes with a bevy of accolades as well: First-team Parade All-American, AP North Carolina Player of the Year, Gatorade NC Player of the Year, three-time all-state selection, McDonald's All-American, two-time state champion.
Just about any other year, Bullock would be the shining star of his recruiting class no matter what school he chose. While he doesn't have the hype of Harrison Barnes, he has the credentials. He'll see the floor plenty as a freshman and may combine with Barnes to form the most formidable freshman duo in the nation.
The Tar Heels also have McDonald's All-American Kendall Marshall coming in, a 6'3 guard who should help out should Larry Drew struggle, not to mention sophomores Dexter Strickland and Leslie McDonald returning after getting good playing time last year.
Temple
Rahlir Jefferson, sophomore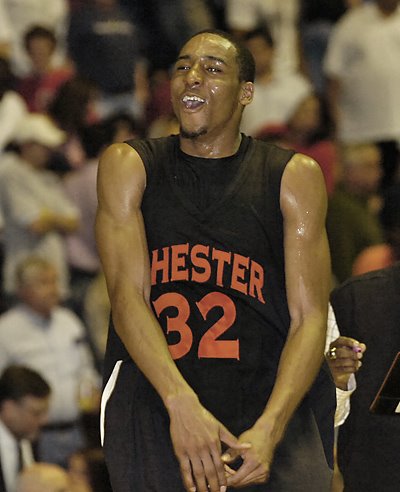 Coming out of Pennsylvania powerhouse Chester High School, Jefferson was a First-Team All-State selection as a senior, averaging 17.6 points and 10 boards per contest while leading Chester to the state title. A physical 6'6" presence, Jefferson averaged a modest 3.8 points and 2.6 rebounds per game in 16.5 minutes as a freshman at Temple.
With a year of experience under his belt, his minutes and contributions should increase. Though he'll still be limited with Lavoy Allen, Michael Eric and Ramone Moore all ahead of him on the depth chart. Still, Jefferson will be a contributor for Temple this year as the Owls embark on a quest for their third straight A-10 title.
Khalif Wyatt, sophomore
As a senior at Norristown, Khalif averaged 20 points a game for a team that made it all the way to the state finals … where his Eagles lost to Rahlir Jefferson's Chester squad. Wyatt was an effortless scorer in high school who seemed to sort of coast through games, then all the sudden just turn it on. Perhaps that's why he didn't get much run as a freshman.
Wyatt played in just 10 games last season, with limited minutes at that. It remains to be seen if he can consistently contribute on this level as a sophomore, but he'll definitely be afforded the chance to earn playing time. Much like Jefferson, his time to break out may not be this year, but Wyatt will get a chance somewhere along the way to earn some run. I expect him to be a viable bench scorer, but get nowhere near the minutes of Jefferson.
Aaron Brown, freshman
Admittedly, I know very little about Aaron Brown. I've never seen him play, and he hasn't really been on my radar. That is until I watched a preview about Temple last night and heard the coaches praising him.
Turns out Brown is a 6'5, 210-pound freshman from St. Benedict's in Jersey. As a senior, he averaged 17.6 points, 4 boards, 4.5 assists and 3 steals, earning N.J. All-Prep First Team honors. He evidently can shoot it a little bit and is a tough, hard-nosed player that fits the Temple mold, the type of guard John Chaney loved to recruit. He's still a mystery to me, but we'll see what he can do as a freshman on this Temple team.
Temple has a nice mix of upper classmen and underclassmen. Other youngsters include sophomore T.J. DiLeo and freshmen Anthony Lee and Jimmy McDonnell.