59-28. 5-1. Two-game winning streak. Three-game winning streak. Right now the Eagles and Flyers are rolling.
What can you say about the games last night? The Eagles completely and utterly dominated from the opening kickoff to the final whistle, blitzing the Redskins for 28 points in the first freaking quarter and doing any damn thing they wanted on offense. And it started on the very first play from scrimmage.
The game was a complete mockery. The Eagles gained 592 yards of offense, controlled the ball for 38 minutes and 11 seconds, and didn't turn the ball over once while intercepting Donovan McNabb three times. Michael Vick played perhaps the best game of his entire career, accounting for six touchdowns — four throwing and two rushing — while completing 20-28 passes for 333 yards and rushing 8 times for 80 yards. I don't care that he missed a couple games due to injury and wasn't the starter on opening day. Michael Vick is your 2010 NFL MVP right now. No question about it.
In all, Vick hit seven different receivers, with all four TD passes connecting with a different guy. DeSean Jackson gained 98 yards on his two catches including the 88-yard touchdown. Jeremy Maclin had 79 yards and a touchdown, Jason Avant 76 yards and a score. LeSean added 51 yards and a touch receiving to go along with 43 yards on the ground. Jerome Harrison had a breakout game, gaining 109 yards on 11 carriers and scoring a touchdown. Everything the Eagles did seemed to work, and there wasn't a damn thing Washington could do about it.
On the other side of the ball, the Eagles dominated in the first quarter, forcing three and outs and a turnover, then played more than well enough to win. Dimitri Patterson broke out with two picks, one returned for a touchdown, and showed he is more than capable of being a starting cornerback in this league when you take into account his strong game against Indianapolis.
It was pure domination, and it begs the question … Are the Eagles the best team in the NFC? With the Giants laying an egg against the Cowboys at home and the Eagles responding by thrashing the Skins, it sure looks like it. No one really believes in the Bears, do they? The NFC West is a joke. And the only team in the NFC with a better record than the Eagles is the 7-2 Atlanta Falcons, and the Eagles already beat them.
The Saints and Packers still are right there, and the Giants can't be taken lightly, but the Eagles sure look like the class of the NFC yet again. That's in large part to Michael Vick and the fastest offense on the planet. I mean, who can match Philadelphia's speed on offense? Think about it: Michael Vick is the fastest quarterback alive and arguably as fast as any player in the league. DeSean beat Chris Johnson in Shaq Vs. Maclin is burner. LeSean is a burner. Jerome Harrison even has good speed. This team is scary good right now, and they showed what they're capable of when everything is going right last night. I think it's safe to say no one saw this coming.
The Flyers, on the other hand, are a different story. Adding incredible depth to the defense and keeping the core together, this team was expected to be in contention from the start following up last year's incredible run to the Stanley Cup Final. The only question mark they had was in net, and well, that's been answered pretty emphatically with the play of Sergei Bobrovsky.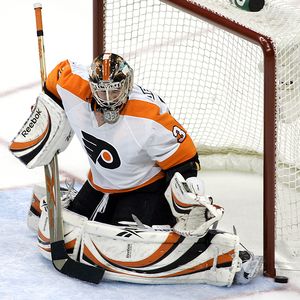 Unlike the Eagles, there have been no surprises in the Flyers' play beyond the 22-year-old goalie really stepping up. Everyone expected the Flyers to be one of the best teams in the league, and they are. Currently, they lead the Atlantic Division by 5 points and with their 26 points trail only the Capitals' 27 points in the entire NHL. They've earned at least one point in their last 10 games, going 9-0-1, and recently, they've been absolutely annihilating teams that came in red-hot — a 4-1 over the Rangers, 8-1 pounding of Carolina, 5-2 joke of a game against Florida and then last night's 5-1 domination of Ottawa.
In last night's game, the Flyers scored their first two goals on what can only be described as picture-perfect hockey. Both goals came courtesy of offensive-zone faceoff wins, a quick pass, and a deflection off the point-man blast. The first was by Danny Briere after Ville Leino won a draw to Sean O'Donnell, who passed it point to point to Andrej Meszaros, who fired before Briere redirected the puck in the net. The second came with Giroux winning a draw right back to Kimmo Timonen in sort of a high slot position. Kimmo fired, Darroll Powe drove the net and deflected Kimmo's shot right past Brian Elliott and in.
From there, the Flyers added three more goals, all of which the captain had a hand in and Giroux was on the ice for: a power play goal by Claude Giroux courtesy of a flubbed pass by Richards, a shorthanded breakaway goal by Mike Richards and then an even-strength goal by the captain, his second, assisted by Braydon Cobrun and Claude.
I don't know if the Flyers are the best team in hockey right now, but I do know they are the deepest. By far. They go six deep on defense, and all six are top-pairing level players — Timonen-Coburn, Pronger-Carle and O'Donnell-Meszaros. Plus they have Oskars Bartulis if needed, and Matt Walker soon to return, giving them 6 really good defense and 8 quality defensemen. Then you add the depth up front with four legit lines, not to mention the trio of James van Riemsdyk, Andreas Nodl and Kyle Wellwood all talented players who can fill in when necessary. Mike Richards can does play with anyone — right now mostly with Nikolay Zherdev and Andreas Nodl, though JVR took Nodl's place last night and hit a post while playing pretty well. Giroux is another guy who has moved all over the place, recently settling in with Jeff Carter and Powe. Briere-Leino-Hartnell have been lethal, not missing one beat from last postseason. And Betts-Carcillo-Shelley have all been working hard and playing smart. That's depth no one can match. And it's why this team is rolling.