The Sixers just lost back-to-back games to the Cleveland Cavaliers and Toronto Raptors. They are dreadfully bad. Yes, they were without Andre Iguodala in both games, and yes, the Cavs are playing better than expected, but still. The Cavaliers are not a good team. The Raptors are a terrible team. That makes the Sixers the worst team in the East right now, and potentially the worst team in the entire NBA.
In fact, the Sixers are currently the worst team in the Eastern Conference. They have the fewest wins, 2, and most losses, 10, sitting dead last at 15th in the Eastern Conference after losing by eight to Toronto in the battle for last place. It was just the third win of the season for the Raptors.
Currently, the Sixers are mired in a five-game losing streak, this after losing their first four games to start the season. They're bad. Really bad. Clippers bad. Elton Brand must feel right at home.
The Clippers are the only team, at 1-11, with a worse record than the Sixers, but I'd argue that Blake Griffin and Eric Gordon give Clippers fans much more hope than this depressing Sixers roster, especially if they once and for all cut ties with Andre Iguodala and mercifully ship him off to a better situation. I hope they do, and I hope they put themselves in position to get a guy like Jared Sullinger, the freshman at Ohio State who has dominated in the first two games for the Buckeyes with two double-doubles in two victories. Against N.C. A&T, whoever the hell that is, in his college debut, Sullinger was the best player on the court, scoring 19 points, hauling in 14 rebounds (6 on the offensive end), and shooting 6-10 from the floor and 7-8 from the line.
Then he went out the very next game and proved it was no fluke, pouring in 26 points on an absurd 13-17 from the floor to go along with 10 rebounds (5 offensive), two assists and two steals against No. 9 Florida in a 93-75 route. Yes, I want that man in a Sixers uniform in 2011.
As difficult as it may be watching the Sixers this year, at least we have plenty to be excited about in college basketball in this city. Temple is the favorite to win the A-10 yet again with Lavoy Allen a favorite for A-10 Player of the Year, and they won their opener against the big bad Big East's Seton Hall 62-56, and easily rolled Toledo 82-49 on Sunday.
Meanwhile, Villanova sits at 3-0 on the year beating cupcakes Bucknell, Marist and Boston University, and the standout has been sophomre Maalik Wayns. Wayns had 15, 6 and 4 in the opener; 17 points, 7 rebounds, four assists, one steal and just one turnover while shooting 6-11 from the field and 2-5 from three against Marist; and registered a very balanced double-double last night against Boston, scoring 12 points, dishing out 12 assists and adding six rebounds and a block while only turning the ball over once.
The switch from #5 to #2 has been serving him quite well so far, as have the increased minutes. I'm incredibly excited to see what Wayns can do this year as the starter alongside Corey Fisher.
La Salle sophomore Aaric Murray is off to an awesome start as well for the 1-1 Explorers, making
Playboy's preseason All-American prediction
for the Glen Mills product less eye-raising than some may have thought.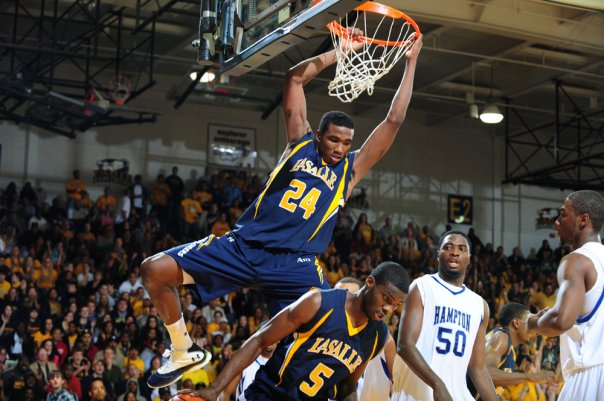 Murray was a force in the opener, scoring 19 points on 9-11 shooting, grabbing 8 rebounds and swatting away 4 shots in La Salle's 82-71 win over Columbia. He followed that up with an equally impressive performance, albeit it a 10-point loss, against No. 17 Baylor. Murray had 17 points, 9 rebounds, 5 steals and a block.
The future is certainly bright for Murray, a 6-10, 250 lb. power forward who defends, scores and rebounds. NBA potential for sure.
Drexel and Penn also have one win apiece, with Drexel sitting at 1-0 and Penn at 1-1. The two face each other on Saturday at the Palestra.
St. Joe's, on the other hand, sucks complete and utter donkey balls. The Hawks lost to Western Kentucky by 28 — at home — in the season opener, then lost by 9 to my alma mater, the terribly coached Penn State Nittany Lions. Embarrassing.
Where are Jameer and Delonte and Marvin O'Connor when you need them?
It would be nice if they were on the Sixers becuase they stink.
At least I get to go watch Brandon Jennings tomorrow.