Yeah, I said it. Your Philadelphia 76ers miss Samuel Dalembert. It's true. That is not a misprint or a joke. I'm totally serious.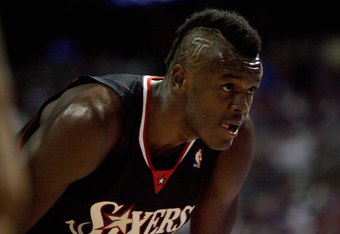 The Sixers are winless in four games so far this season, and the biggest glaring weakness is the giant hole this team has in the middle. When the Sixers
traded Dalembert
to the Kings in exchange for Spencer Hawes and Andres Nocioni, I wasn't exactly heartbroken, but I wasn't thrilled either. At the time, I held out some hope that Spencer Hawes could do something and that Nocioni would bring some much-needed intensity to the team.
As it's turned out, the trade has been a complete disaster, at least competitively speaking. Sure, the Sixers got Sammy's contract off their hands, but in exchange they got a center who can't rebound, score, defend or even play, and an older small forward with another year on his contract to continue the log jam at the position. Spencer Hawes just flat out cannot play. He's terrible. Way worse than I ever thought he'd be. And Nocioni is a nice bench player, a nice 8th or 9th guy for a playoff team. But the Sixers are nowhere near a playoff team.
Do these guys look like basketball players to you?
Had they held on to Dalembert, his expiring contract would look mighty enticing come the trade deadline, and I venture to say the Sixers could have gotten a lot more than a stiff and a veteran bench presence. Maybe a draft pick or young player. You never know with NBA GMs.
But forget about what Dalembert could have netted later on. Purely basketball-wise, the Sixers miss Samuel Dalembert. Say what you will about the guy — the goaltendings, three-second violations, horrific shot selection, foul trouble — but the one thing he brought to the table was a presence in the middle. Sammy was a terrific shot-blocker and excellent rebounder, the type of guy that made the opposition think twice about going to hoop. These days, the Sixers have absolutely no one to fit that description, and it's the biggest reason this team remains winless despite playing the Pacers and the Wizards in their last two games.
In the opener against Miami, the Sixers didn't record a single blocked shot. With no one to defend the paint, the Heat continually attacked the rim, evident by the 31 foul shots to Philadelphia's 11, and Dwyane Wade had a field day, scoring 30 points largely on slashing to the hoop and getting to the line.
The Hawks followed Miami's game plan, getting to the line 31 times as well, and the biggest difference-maker was Al Horford, who scored 20 points on 9-11 shooting and grabbed 12 rebounds almost effortlessly going against the likes of Hawes, Brand, Thad and Battie. There was no one inside who could guard him.
That trend continued yet again in the loss to Indiana, with Roy Hibbert posting a double-double with 14 and 13 — not to mention 9 boards apiece for Mike Dunleavy and Josh McRoberts, and another 7 by Tyler Hansbrough — and the Pacers getting to the line 25 times.
Then there was last night's atrocious 116-115 overtime loss in D.C. Again, it was more of the same. With absolutely no defensive presence inside, Andray Blatche managed to score 23 points and grab 8 rebounds despite shooting just 5-17. Why? Because he was able to get to the line 14 times with no Sixer to guard him. And the rest of the Wizards followed suit, attacking the basket at will, just like Miami, Atlanta and Indiana did before them. John Wall, who was damn good despite his 8 turnovers and slow start, got to the line 14 times as well, and the Wizards as a whole finished 36-43 at the line, outscoring the Sixers by 13 (23-29) at the charity stripe alone.
Things might be slightly different if Samuel Dalembert was still around. Maybe not, but you can bet the Sixers' interior defense would not be this poor.
Though interior defense wasn't Philadelphia's only downfall last night. It was turnovers, dumb plays and a lack of long-range shooting that also helped contribute to the collapse. And that's what it was, a collapse.
I say that for a couple reasons. Number 1, the Sixers jumped out to a 14-point lead in the first quarter behind Jrue Holiday's best play of the season. He was eating John Wall alive on both ends of the court in the opening minutes, hitting his shots and creating for his teammates. He and Andre Iguodala were working extremely well in tandem, finding each other often on back-cuts and off screens. Holiday was literally dominating, handing out assists with ease, d-ing it up and filling it up.
Yo Jrue, good luck. We're getting the hell out of here. We'd rather be in Sacramento or Turkey than this place.
Then he picked up his 2nd foul with 5:04 left in the opening quarter, had to come out of the game, and the Wizards got right back in it to trail by only 1 after one, and wound up taking a two-point lead into halftime. Once Holiday came out, the Sixers were never able to recreate the dominance they displayed in the opening minutes.
However, the Sixers did manage to come storming back after a sluggish third quarter to put up 40 points in the fourth behind some terrific play by Lou Williams. Largely with a lineup of Williams, Holiday, Elton Brand, Thaddeus Young and Evan Turner, the Sixers overcame a 10-point deficit to go up by as much as six and hold a three-point lead with 3.1 seconds left. The interesting thing about it was Andre Iguodala was nowhere to be seen during the majority of that fourth quarter. He left the game at the 10:19 mark with the Sixers trailing by 9 and didn't return until there were 17.3 seconds remaining and the Sixers holding one as Doug Collins put his best foul shooters on the floor.
It would have been just as well for Collins to keep Iguodala on the bench, because with the Sixers holding three with three seconds remaining, Iguodala allowed some guy named Cartier Martin to get off a last-second three — one that unbelievably went in to force overtime — instead of fouling him immediately to send him to the line for two.
I don't want to take anything away from Martin. That was an incredible shot. But after all the times we've seen teams get burned the past few years on last-second threes, you just have to foul there to not even give Washington a chance to tie it up. It was terrible basketball by Iguodala, something that has been the norm for Iggy this season.
At that point, you just knew the Sixers were going to lose in overtime. This team loves to find ways to lose games, whether it's giving up a last-second three to tie it or getting their shot blocked to the end game.
I have to give credit to Lou Williams though. If there was one guy out there who clearly didn't want to lose, it was Lou-Will. He was absolutely terrific in the fourth quarter to give the Sixers a chance to win, scoring 20 of his game-high 30 points in the final 12 minutes of regulation. Though he shot poorly overall, just 6-16, he was 15-17 from the line, 3-7 from three and scored half of Philadelphia's points in the fourth quarter.
Jrue also had a very nice game, by far his best of the year, finishing with 14 points, 13 assists, a steal and connecting on 6-11 form the floor, not to mention
this risky yet impressive behind-the-back assist
in overtime. But he was never able to replicate the dominance he displayed in the first quarter. In fact, when Jrue went out, it was No. 1 overall pick John Wall who became the dominant one.
In just under 45 minutes of action, Wall nearly put up a triple-double. He led the Wizards with 29 points, shot 9-16 from the field and 11-14 from the line, notched 13 assists and swiped 9 steals. Those 9 steals tied a Wizards record for most in a game.
Sure, he turned the ball over way too much (8 times in all), but he was easily the best player for Washington and most definitely the most talented player on the court for either team. He really took command when the Wizards needed him to … and he looked infinitely better than the man picked immediately after him in the draft.
Evan Turner did play some nice crunch-time minutes for the Sixers, running alongside Louis Williams and company as the Sixers made their fourth-quarter charge. But the difference between him and John Wall is alarming. Turner did manage to grab six rebounds and score 9 points in nearly 28 minutes, but his effect on the game wasn't even close to that of Wall's. Statistically, there's no comparison. And just watching the two out there on the floor against one another, it's clear that Wall is destined to be something special while Turner looks like a poor man's Andre Iguodala — can do a little of everything but isn't exactly great at anything. The worst part is Turner doesn't have nearly the athletic ability and raw physical gifts as Iguodala or Wall.
Wall wasn't the only Wizard to give Philadelphia fits though. As I said earlier, Andray Blatche had a field day going against the likes of Hawes, Brand, Speights, Young and Battie. And Nick Young hit some killer three-pointers and scored 20 points off the bench for Washington. Surprising to no one, the Sixers still can't defend the three.
For Philadelphia, Brand put together another nice, efficient game, scoring 21 points on 9-11 from the floor, grabbing 9 boards and posting 3 assists, 4 steals and a block. Elton's actually played very well this season, but not $80 million well. He'll never live down his contract, and Ed Stefanski will never live down dishing it out.
Just like he won't live dishing out all that cash to Andre Iguodala either. Following a summer in which he earned praise for his play as a defensive stopper and slasher for Kevin Durant's Team USA, this was supposed to be the season Iguodala figured it out. Doug Collins was supposed to get him to stop taking long jumpers and start doing what he does best again — attack the rim. Instead, Iguodala is the same player, only somehow even less aggressive and less efficient.
All of his numbers are down despite still averaging more than 38 minutes a night through the first four games. He's averaging just 15.3 points, 4.8 rebounds, and 3.5 turnovers. He's shooting just 44.4 percent from the field and only 52.9 percent from the free throw line. But most alarming of all is that he's not even getting to the line whatsoever. Right now, he's averaging just 4.3 free throw attempts a game. That's it. In the opener, he didn't get to the line once. Last night, he managed to take just three free throws. His season-high was 8 against the Pacers, yet he only made 3 of them. His most efficient game from the line was his 5-6 performance against the Hawks, and uncoincidentally it was this best game — 27 points, 10 assists, two steals and the Sixers coming close to beating a playoff team.
What happened to the guy who was supposed to get back to attacking the rim? The guy who was supposed to get to the foul line and become a more efficient scorer? He's nowhere to be found, and it's inexcusable. Andre Iguodala is a very good player, but he doesn't play to his strength and he's never gotten one ounce better. This year he was supposed to change all that. He was supposed to continue doing a great job defending and passing while at the same time cutting down on the bad shots, taking less jumpers and going to the rim. He's still playing strong defense, still getting his teammates involved … and still playing inefficient offensively and failing to get to the line. Andre Iguodala has been in the league now for six full years. It's his seventh season. At this point, he is who he is. He'll never get better. And he'll never get smarter. It's infuriating to watch, because when he is on, when he is getting to the line and limiting his jumpers, he really is a joy to watch. But he just doesn't do it enough. Maybe he feels like he can't with this team, with these players around him. But it would be nice to see him try.
It was an ugly, embarrassing loss for the Sixers. If they can't beat a Wizards team that essentially comprises John Wall and a bunch of other guys, they're going to have a hard time beating anyone. The good news is that at 0-4 and no real hope in sight, the Sixers should be primed for another lottery pick in 2011. Perhaps that's why they traded Dalembert when they did — to try and lock in as many ping pong balls as possible.