First, Cliff Lee
was delivered under the tree
in the darkness of night. Then the Flyers
snapped the Penguins' 12-game winning streak
and a day later, the Flyers and Sixers both extended their own winning streaks behind their
young guns
. And to top it all off, the Flyers destroyed the Rangers 4-1 Saturday afternoon, and Philadelphia gave the ultimate fuck you to New York in the most insane 4th-quarter comeback in Eagles history thanks to Mike Vick and
DeSean
.
The only blemish was the Sixers blowing a 4th-quarter lead on Firday — oh, and the Eagles losing promising rookie safety Nate Allen for the year — against the Lakers, but then they turned around and beat the
undermanned Orlando Magic
the very next day behind three players (Lou Williams, 24, Andre Iguodala, 21, and Elton Brand, 20) scoring 20 points. When you add it all up, it makes for one of the greatest weeks in Philadelphia sports history. The best part (besides the winning)? The entire week was one giant middle finger to New York.
It started with Cliff Lee spurning the Yankees (and the Rangers) by taking less money and less years to rejoin the Phillies. That hurt New York's ego so much that instead of accepting reality, Yankees fans began to go in a state of denial, saying either they never really wanted Lee in the first place or going off and proclaiming him a "pussy" as one Yankees fan pointed out to me. Because, you know, completely dominating the Yankees the past two years makes him a pussy, or something like that. Jealousy can really bring out the worst in people.
The domination of New York continued on Saturday, and I was in the building once again. On Friday, I drove to Bucks County to attend a birthday party. On the way, I listened to the end of the Sixers-Lakers game and was getting pretty excited. When I stopped for gas not far from my destination, the 76ers were up by 4 in the fourth quarter. I got out to pump my gas and go get a drink. By the time I got back in my car, the Sixers were down by 7. That was the bad news. The good news was that once I got to the birthday party, I was invited to attend the Flyers-Rangers game on Saturday. And it was glorious.
The Flyers absolutely took it to the Rangers Saturday afternoon, outplaying them the entire game. They outshot the Rangers in every single period, finishing with a 39-25 shot advantage when it was all said and done in the easy 4-1 victory. The best part is that for the second time this year, Nikolay Zherdev
stuck it to
his old team.
There are few things in this world that Rangers fan hate more than losing to the Flyers, but losing to the Flyers as Nikolay Zherdev — a player that Rangers fans despised for his lack of production despite his immense talent — scores two goals in the process is one of them. I couldn't have been happier.
While Zherdev has certainly displayed the inconsistency and maddening play at times that drove Rangers fans nuts, he's been playing really great hockey of late, and he already has 13 goals on the year. Since Peter Laviolette put him on a line with Jeff Carter and James van Riemsdyk, that trio has been with tremendous, with Zherdev leading the way on the score sheet. That continued on Saturday.
His first goal came courtesy of an absolutely absurd pass by Mike Richards right as a penalty kill ended. Right before, Zherdev took a very stupid cross-checking penalty, putting the Flyers a man down. Luckily for Zherdev, the Flyers killed it off, and to make up for putting his teammates unnecessarily down a man, Zherdev received a perfect pass that went three quarters of the length of the ice and undressed his former teammate Henrik Lundqvist on the breakaway. His second goal came on an impossible angle, a truly impressive feat, to give the Flyers the power-play tally and officially put the game away.
In between Zherdev's bookend goals, Andreas Nodl scored thanks to a gorgeous backhanded pass by Claude Giroux, and Ville Leino added one on a tremendous deflection from the point.
Zherdev had two goals. Mike Richards and Claude Giroux both made ridiculous passes that led to goals, and the Richards-Nodl-Giroux line was strong all game. Brian Boucher stopped 24 of the 25 shots he faced. But the best player on the ice Saturday was without question Kimmo Timonen.
With Chris Pronger out the next 4-6 weeks, Timonen will be the guy relied on the most back on the blue line. He showed that he's more than ready for that responsibility against the Rangers. Kimmo led all Flyers in ice time Saturday (23:08), and he was simply outstanding. Each time he was out on the ice, he shut down whatever line the Rangers threw at him. I know I've said it a million times, but I feel like it can't be said enough: Kimmo Timonen is arguably the most underrated player in the entire NHL. The guy is amazing. The more I watch him, the more I am in awe. He really is one of the game's best defenseman. And he was the player of the game in my eyes on Saturday.
The win was the fifth straight for the Flyers, and they just continue to hum along atop the NHL, leading everyone with 49 points through 34 games.
It was quite a nice primer for the Eagles-Giants game on Sunday. However, to be perfectly honest, I woke up with a bad feeling about the game. Even though the Eagles had defeated the Giants the last five times the two teams met, I just didn't feel good about yesterday's matchup, mainly because of the defense.
Philadelphia's defense has been suspect all season, and now they were going into this game more banged-up than ever. Jamar Chaney was making his first NFL start now that Stewart Bradley's out. Brandon Graham, while doing very little in his rookie season, was a regular, but now is done for the season. Ellis Hobbs has been gone, and Asante Samuel hadn't played since the last time the two teams met.
Early on, my fears looked well-founded. The Giants came out and completely dominated the Eagles in the first half. Eli Manning was having a field day picking on Dmitri Patterson, who finally looked like an undrafted free agent who has spent his career as a special teamer. The guy can tackle, but it's becoming increasingly clear that he's not the guy you necessarily want to be starting for you week in and week out. Yesterday, he was repeatedly getting schooled by Mario Manningham and Hakeem Nicks.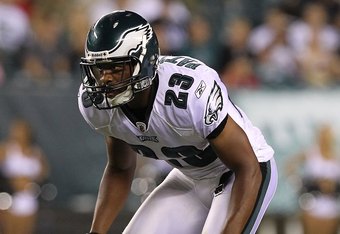 Meanwhile, the Giants defense was pummeling Vick, and the Eagles couldn't get anything going. Seeing the way the game was going, the Eagles down 17-3 and showing no signs of life, I wanted them to just take a knee and get to the half without any injuries and down just 14. Instead, after getting the ball back with 44 seconds remaining in the first half following a Tynes field goal, the Eagles tried to get into field goal range themselves. Vick hit Maclin for 12 yards on the second play, but Maclin fumbled, Kenny Phillips picked it up and returned it 22 yards to Philadelphia's 8, and Hakeem Nicks schooled Patterson once more for an 8-yard touchdown pass. Disastrous finish to the half. It was all New York, and the Giants led 24-3 at halftime.
But after a stalemate on the first few possessions of the second half, the Eagles finally caught a break. Mario Manningham, who was killing the Eagles all game, caught a 10-yard pass, but then inexplicably fumbled, just dropping the ball without being hit near the arms, and the Eagles recovered at New York's 25. Three plays later, Vick connected with Jeremy Maclin to make a two-touchdown game. After forcing a punt, the Eagles suddenly had a little life. Though they didn't do anything and exchanged punts with the Giants again, the Eagles were within two scores and still stuffing the Giants' run game, not allowing Brandon Jacobs and Ahmad Bradshaw to tick all the time off the clock. Then early in the 4th quarter, on the first play following a Giants punt, Vick hit DeSean Jackson down the middle for a 30-yard gain, but as DeSean dove forward at the end of the play, he fumbled, and the Giants recovered. Replays showed that DeSean was clearly touched as he was going down, but there Andy sat, tucking his red flag away.
It was one of the worst non-challenges of all time. Even if Andy Reid didn't think DeSean was touched, he had to throw the flag the way Tom Coughlin did when Eli fumbled in the first meeting at the Linc. The time and scored dictated that. Plus, he would have actually won the damn challenge. But instead, Andy didn't challenge, and 7 plays later Eli Manning hit Kevin Boss for a touchdown. Just like that, the Eagles were down by 21 again, 31-10, and it looked as though Andy's no challenge officially cost his team any shot of a comeback.
At that point, I was just wishing the game would get over with so I could focus on watching the Red Zone Channel. Little did I know I was about to watch history be made.
The Eagles were down 21 points with just over 8 minutes to go following that touchdown by Boss. They began their drive with 8:09 remaining at their own 25. Two plays later, Mike Vick hit Brent Celek for a 65-yard score, 31-17. Then, Andy Reid and Bobby April pulled off a stroke of genius. Seeing that the Giants didn't put out their hands team and noticing something about them leaving early, the Eagles called for an onside kick. But they did it in stealth mode, not lining up for an onside kick and not putting out their own hands team, instead just lining up for a normal kickoff. Then David Akers, perhaps the best kicker at onside kicks of all time (Joe Buck passed along the stat that Akers is 8-18 on onside kicks), hit a beauty of an onside kick, and Riley Cooper recovered. From there, Mike Vick went into super man mode.
He hit DeSean for 13 yards, then took off for 35, and two incomplete passes and a penalty later, he was scampering into the end zone, 31-24.
The Eagles did give up one first down to the Giants on the ensuing possession, but they held. And thanks to —  unbelievably — good use of his timeouts, Andy Reid made sure there was still plenty of time on the clock for Vick to work with to try and tie the game. Two incomplete passes later, the Eagels faced a 3rd and 10 at their own 12 with 2:56 remaining. The Giants blitzed, but didn't contain. Big mistake. Vick saw it, and took off for 33 yards. Then he hit Jason Avant for 13 yards and two plays later rushed for 22 more. After a completion to Brent Celek, Vick hit Jeremy Maclin for a 13-yard touchdown with 1:16 remaing, tie game. Unbelievable.
Things were only getting started. The Giants took over with 1:10 remaining. Determined to get into field goal range and not let this thing go to overtime, the Giants came out throwing. Eli couldn't connect on his first two attempts. The Giants faced 3rd and 10 at their own 26 with a minute remaining. Trevor Laws broke through and sacked Eli, not the worst thing in the world for the Giants. They let the clock wind all the way down to 14 seconds, called timeout and lined up to punt. I jokingly said it would be awesome if DeSean returned it, never once thinking it could happen. Of course the Giants would kick it away from him, forcing the Eagles to throw a hail mary. Then, this happened.
As he burst through, I started to freak out. And once Jason Avant threw that vicious block, I was leaping for joy, running around my house freaking the hell out. A WALKOFF PUNT RETURN! A MOTHER FUCKING WALKOFF PUNT RETURN! HOLY SHIT! HOLY FUCKING SHIT! DESEAN JACKSON IS THE GREATEST!
I'm with Merrill. I don't care if he dives, does a dance, anything. DeSean Jackson is the best. He really is. Unreal. Un-fucking-real.
I couldn't believe it. A 21-point deficit with seven and a half minutes to go. 28 points in the fourth quarter, the most ever in Eagles history. A walkoff punt return, the first in NFL history. 38-31 Eagles. Incredible. Truly incredible. I called or texted damn near everyone I know. It was the most stunning finish I've ever seen.
The Eagles are in first place all by their lonesome, 10-4 overall. They're in position to get a first-round bye, and even still alive for the No. 1 seed in the NFC. This team is just too much. With Michael Vick and DeSean Jackson (not to mention Jeremy Maclin and LeSean McCoy) anything is possible for these Eagles. Anything.
You couldn't have written a better ending to an absolutely fantastic week. Cliff Lee, Flyers domination, and then Vick and DeSean. New York, OWNED.