Last night, I watched the Flyers take a 4-1 lead in the 2nd period thanks largely to Ville Leino and Danny Briere at the bar and then headed over to the Liacouras Center to see the Temple Owls take on the undefeated, 9th-ranked Georgetown Hoyas. Yes, that did mean I missed Andre Iguodala finally hitting his first clutch shot since the 2008 playoffs (by going to the rim!) only to be bested by Kevin Garnett.
As exciting as that finish was, I wouldn't have traded places at all. Because last night, not only did I get to witness Temple avenge
last season's loss
to the Hoyas — a game the Owls gave away — but I also go to see Fran Dunphy get his 400th career victory live and in person.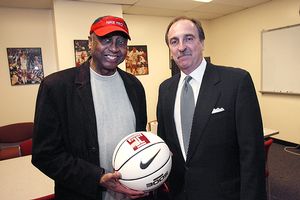 Dunph's greatness is old news to Philadelphians. Born and bred in the City of Brotherly Love, Dunphy made his name at Penn, where his Quakers annually dominated the Ivy League and were mainstays in the NCAA Tournament. Then when the legendary John Chaney retired as Temple's longtime coach, Dunphy moved northeast to Broad Street. All he's done since then is win three straight Atlantic 10 titles and re-establish the stability the program had for so many years under Chaney.
If ever there was a coach who deserved to be honored, who earned every one of his 400 victories, it's Fran Dunphy. And it's fitting that Dunph would get his 400th victory in the same year that Joe Paterno did. Paterno is a coaching institution in Pennsylvania, and Dunphy is an icon himself in Philadelphia. Congrats, Dunph.
As for how the Owls were able to hand the Hoyas their first loss to get Dunphy that 400th victory, that's pretty simple:
Ramone Moore
.
In the early going, this game was ugly. Temple got the lead and maintained it throughout the game, but the offense wasn't pretty on either side. It was almost as if there was a lid on the basket. Except for when No. 23 had the ball.
Against top-notch competition, Moore played the best game of his life. There were moments last season where he really emerged, but make not mistake about it, last night was Moore's official coming out party. The junior two-guard was the lone Owl making shots in that first half, and really, in the entire game.
In a half that saw neither team crack 40 points, Moore put up 17. He was aggressively attacking the basket, hitting open jumpers and creating shots for himself and others. While Lavoy Allen couldn't hit a shot to save his life and Juan Fernandez was saddled with foul trouble, Moore was having his way with Georgetown. His tremendous effort and Temple's phenomenal team defense allowed the Owls to jump out to a double-digit lead and hold a 7-point advantage at the half.
The only thing really keeping Georgetown in the game was the three-point shooting of Jason Clark, who didn't miss from beyond in the first half, and some clutch shots by Antonio Freeman.
But make no mistake about it, this game belonged to Ramone Moore. Every time Temple needed a bucket, they went to Moore. He hit both threes he took. He drove aggressively, sometimes getting fouled, other times finishing on nice layups, and a few times throwing it down. He broke the ankles of a defender with an Iverson-esque crossover. And he worked hard defensively. In all, he finished with 30 points on 12-18 shooting, 2-2 from three and 4-4 from the line. He added 4 rebounds and 2 steals, including one after he had missed a shot in close, fell to the ground and then stripped a Hoya as he laid on his backside, dishing it off to Rahlir Jefferson for the bucket and foul.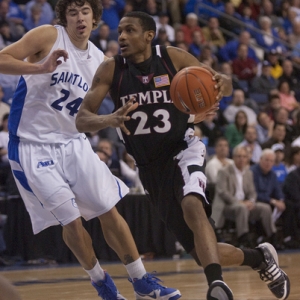 His 30 points were twice as many as the next highest scorer in the game — Jason Clark's 15 points for Georgetown — and three times as many as any other Owl. Ramone simply wasn't going to make his coach wait another moment to reach that milestone.
As poor as the rest of the team shot — Moore hit as many field goals as the rest of his teammates combined — this wasn't completely a one-man show. Lavoy was atrocious on the offensive end, missing several easy shots from in close. But Allen was his usual self on the defensive end, playing strong interior defense, especially on Georgetown's final possession before the last-second heave, when he stood his ground and stayed on his feet to disrupt the shot without fouling and ending up with the ensuing rebound. While he was just 2-9 from the field, he did get a huge put-back late, and had 6 rebounds and four blocks.
Scootie Randall had a very efficient, smart game. He only forced one shot, scoring 10 points on 4-6 from the field including two threes, and had 4 boards and 3 steals. Fernandez struggled mightily with his shot, going just 2-8 overall and 0-2 from three, not to mention missing badly on his first free throw attempt, but he didn't force things and had a couple of dazzling passes. And Rahlir Jefferson, after bricking a few shots, went 6-7 from the line, scoring 10 points and helped to ice the game down the stretch with those freebies.
That all culminated in a breakout performance by Moore and the 400th win for Dunph. The Temple students showed their coach and team the love, storming the court after handing Georgetown its first loss of the season. It's hard to imagine No. 400 coming at a better time against a better opponent.
It was a great atmosphere, a great win and a fun night — at least for this Philadelphia basketball team. I'm definitely glad I was hanging out at North Broad rather than South Broad last night.