This weekend, I watched my two favorite college basketball teams pull out tightly contested victories. North Carolina edged out Kentucky 75-73 at the Dean Dome on Saturday, and Temple held on for dear life in DC to beat Maryland 64-61. Both games were an exercise in youth vs. experience, ultimately with the most experienced players making the biggest plays while the youngsters never shied away from the competition.
On Saturday, the marquee matchup was supposed to be a battle of highly touted freshman for two historic basketball powers — Harrison Barnes for UNC and Terrence Jones for Kentucky.
Things didn't go quite as planned. Barnes came to the Tar Heels as the program's savior. Following a season full of struggles that saw Roy Williams' squad miss the NCAA Tournament just one short year after winning the National Championship, things were going to be different in 2010-11 thanks largely to Barnes. He was widely considered the No. 1 player in the class of 2010, and his high school dominance led some to believe
he could start in the NBA right now
. Hell, Barnes was evened named to the Preseason All-American team, the first time in history a true freshman made the list.
Expectations were sky high. Attainably high, in fact. And Barnes has failed to even approach those expectations through 8 games this season. Including the win on Saturday, the 6'8 freshman out of Ames, Iowa is averaging 11.4 points, 5.9 rebounds and 1.9 assists, not altogether alarming numbers when taken in isolation. But when you add to that that he's shooting an abysmal 34.4 percent from the field, turning it over 1.9 times a game and struggling to create his own shot, it's clear that Barnes should not have been anywhere near the Preseason All-America team.
On Saturday, Barnes started out hot, scoring 12 points in the first half on 4-5 shooting. But he got in foul trouble and had to sit extended minutes, and that proved costly. From then on, Barnes looked like he has most of this season — unimpressive. He missed all five of his attempts in the second half, getting shut out, and finished with 12 points on 4-10 shooting, had three turnovers and looked overmatched time and time again.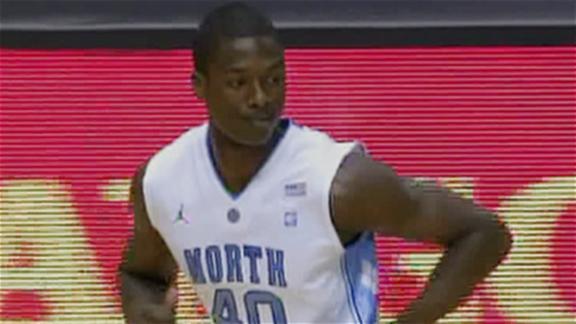 Barnes is only freshman. He has plenty of time to develop into the player people thought he would be. And he'll most assuredly be better come March than he is right now. But for being touted the same way John Wall and MIchael Beasley and the like have been before him, I just don't see it. Harrison Barnes was supposed to be a difference-maker from day 1, an all-everything, can't-miss stud who would immediately change the fortunes of North Carolina. Those lofty expectations are unfair and unreasonable, but that doesn't make Barnes' play any less disappointing.
Not only does Harrison Barnes not look like an All-American right now; he doesn't even look like a capable starter. To be frank, he sucks. Do I think he will continue to suck? No. Do I think he'll be a pretty good player sooner rather than later? Yes. But through 8 games, he's been terrible. Saturday was more of the same.
On the other side, Terrence Jones has had no such struggles. Through Kentucky's first seven games, Jones has been the catalyst. He leads the Wildcats in scoring and rebounding at 19 points per game and 9.6 boards per game, almost averaging a double-double, all while shooting 45.6 percent from the floor and 36.8 percent from three. And he's not just an offensive talent. Jones also leads Kentucky in blocks (2.3) and is second in steals (1.4) per game.
He's been everything for the Wildcats that Barnes has not been for the Tar Heels. But on Saturday, he struggled. Jones had by far his worst came as a collegiate athlete, scoring just 9 points on a horrific 3-17 shooting performance, nabbing 6 boards before he fouled out.
Needless to say, the duel between Jones and Barnes took a back seat. Of course, with Kentucky being a John Calipari team, there are no shortage of talented freshman to rise to the occasion. Out go DeMarcus Cousins, John Wall and Eric Bledsoe, in come Terrence Jones, Brandon Knight and Doron Lamb.
Knight was other headliner with Jones in yet another top-ranked recruiting class for Calipari, and he certainly put his imprint on the game Saturday: Knight had 15 points, 4 assists and 3 steals. But he also contributed to Kentucky's loss, shooting just 5-12 from the field and turning the ball over six times.
It was neither Knight or Jones who led the way for the Wildcats, rather the third wheel of the touted freshman, Doron Lamb. The 6'4 shooting guard out of Oak Hill lit it up Saturday, scoring a team-high 24 points on 7-12 from the field and 3-4 from three. He added two boards, three assists and a steal, and unlike Knight had no trouble holding on to the ball, not turning the ball over once all game. That's largely due to the fact that each time he touched it, he had the green light to shoot.
Lamb gave UNC fits, and he was the biggest reason Kentucky almost pulled out a road win. This is nothing new for Lamb. In case you haven't been paying attention, Lamb has been every bit as impressive as his fellow freshman. On the season, he's averaging 13.3 points in 26 minutes, shooting the lights out of the ball. He's connecting on 52.5 percent of his shots from the field and an absolutely absurd 58.3 percent from beyond the arc. To all Kentucky opponents, take note: Do not leave Doron Lamb open. The man is an assassin.
While it was the freshman guards leading the way for Kentucky, it was a pair of big men doing the heavy lifting for North Carolina. Sophomore John Henson had a relatively disappointing 2009-10 season, getting off to a slow start much in the same way Barnes has this year. But Henson has taken a step forward this year.
Desperately needing to gain weight, he added a little bulk to his still light frame, and it's paying off. So far this season, he's seen his numbers jump from 5.7 points, 4.4 rebounds and 1.6 blocks as a freshman to 11.4 points, 10.5 rebounds and 2.9 blocks in his sophomore campaign. And his shooting percentage is up from 48.6 last year to 53.4 this year.
Henson had another stellar game on Saturday. He was UNC's second-leading scorer with 13 points, and he used his length to control the paint, hauling in a game-high 12 rebounds and blocking three shots. However, there was one key downside to Henson's performance: He went just 3-7 from the line, and in one embarrassing trip airballed back-to-back attempts. It's not the first time he's come up completely empty from the charity stripe.
For all the progress he has made, Henson has somehow been even worse than he was last season at the line. As a freshman, he was a disgraceful 43.8 percent foul shooter. In 8 games this year, he's in all-time worst territory, shooting just 35.1 percent from the line. Saturday's 3-7 didn't help, and foul shooting was a big problem for the Tar Heels in the game. In all, they missed 11 free throws, which is just inexcusable.
The one standout at the line, however, was the best player in the game. In a contest that featured a seemingly endless display of freshmen and sophomores, junior Tyler Zeller was a man amongst boys, literally. He scored a game-high 27 points, shot an incredibly efficient 8-13 from the field, went 11-12 at the line, grabbed 11 rebounds, blocked a game-high 5 shots and didn't turn the ball over once. He dominated in the way Tyler Hansbrough did during his time at UNC.
Zeller was the reason North Carolina was able to pull out a win against the then 10th-ranked Wildcats. He is far and away UNC's best player. In fact, he's really their only complete player right now. There aren't any weaknesses in the 7-footer's game. He has great touch around the rim, can hit the outside shot, is a good free-throw shooter, can run the floor, rebounds and defends. He leads North Carolina in scoring and is having a very good start to the year: 16.2 points, 7.8 rebounds, 1.6 blocks, 52.8 percent from the field, 75 percent from the line.
The fact that Zeller is playing at this type of level makes the Tar Heels even more maddening. The reason this team is 5-3 is very simple: the guard play is atrocious. Dexter Strickland and Larry Drew are awful, players that should never start in the ACC. Then you combine that with the fact that Kendall Marshall is a freshman who isn't ready to play major minutes, Leslie McDonald is nothing more than a bench scorer and Barnes has struggled, and you have yourself the achilles heel of North Carolina for the second straight season.
Neither Drew or Strickland can consistently knock down a jumper, neither is a great finisher, and most troubling of all is that neither one is a good passer. Time and time again I watch Drew and Strickland force plays that aren't there, look for their own shots and completely ignore the bigs. They did it for stretches on Saturday, making Clark Kellogg almost have an aneurysm.
Strickland and Drew have to realize that UNC's best two players are Henson and Zeller. The ball should be thrown to them in the post every single possession. And Zeller should be getting up 15 to 20 shots a night, because he's the guy that can actually carry the team. But they don't because they are terrible, stupid basketball players. It's so depressing to see North Carolina have no guards to speak of.
At least Zeller is good and Henson is improving. If Barnes can turn it around, this team just may be able to do something come March. Because even with no one but Zeller and Henson showing up Saturday, they were still able to beat an extremely talented Kentucky squad. It was Zeller's experience that made the difference.
As for the Temple-Maryland game last night, we knew going in it would be the battle of youth vs. experience. The Owls are led by senior Lavoy Allen and junior Juan Fernandez.
The Terrapins are led by sophomore Jordan Williams and relying on a slew of freshmen.
In the victory for the Owls, it was the upper classmen that led the way. Lavoy had a double-double, scoring 13 points and nabbing 10 rebounds before fouling out at the end of the game. He was a big reason why Temple was about to dominate the paint and outrebound Maryland 39-30. Juan Fernandez scored 14 points and had three assists, really providing the only offense in the second half for Temple as Maryland made its run. And another pair of juniors contributed mightily to the cause: Michael Eric had seven rebounds to help Lavoy down low, and Ramone Moore led Temple with 16 points, hitting some key free throws late and playing a solid all-around game — 5 boards, 2 assists, 2 steals.
With Allen and Eric controlling the paint, Temple playing great defense and the offense making enough plays, the Owls took a 32-21 lead into halftime. They built that up to a 40-25 lead to start the second half. Then Eric got and Lavoy got in foul trouble, Gary Williams subbed in three freshmen and a sophomore to join Jordan Williams, and the game turned just like that.
Especially with Allen and Eric hamstrung by fouls, Williams really became an unstoppable force. The sophomore who is averaging a double-double (17.1 points and 11.7 boards) took over. He wound up scoring a game-high 17 points and grabbed a game-high 11 rebounds.
But Williams wasn't alone. Freshman Terrell Stoglin came in and gave Maryland a different dynamic. The speedy point guard put pressure on Temple's defense and changed the tempo of the game, finishing with 16 points. And fellow freshman Pe'Shon Howard helped break down the defense, handing out 6 assists. Just like that, a 15-point temple lead shrunk to a five-point lead, then a tie game.
As the Terps heated up behind their youth, Temple went ice cold. Ramone Moore started to try to do too much, driving recklessly to the lane. No one could finish around the rim. Only Fernandez was able to stop the bleeding.
The game got way too close for comfort, but ultimately the Owls prevailed. And the biggest play of the game came from a sophomore. With 1:52 remaining, the game was tied at 56. That's when Allen scored on an and-1 layup, hit his free throw and put the Owls up by 3 with 1:41 left. Temple got a stop, and Rahlir Jefferson came down with the board. But then he turned the ball over, and Lavoy Allen fouled Williams, his 5th foul, and was out of the game.
Luckily Williams missed both free throws, Fernandez got the board and Temple had a chance to make it a two-possession game. After a miss by Moore, Jefferson got another big rebound. But again, he turned it over. That's when sophomore Khalif Wyatt came up huge, jumping into the passing lane as Dino Gregory, who made the steal on Jefferson, looked for an outlet pass. Wyatt got the steal and in one motion laid in the ball, 61-56 Temple.
The game then simply came down to making some free throws, and Ramone Moore hit 3 of 4. That was just enough for Temple to get by, though his miss did give Maryland a chance to tie. Thankfully Stoglin's heave came up short and Temple held out, with the veteran Owls besting the youthful Terrapins.
There were plenty of contributions from the youth in both contests, but ultimately it was the more experienced players and teams that made the difference.