Quarterback controversies are nothing new with my two favorite football teams this millennium: McNabb-Garcia, McNabb-Kolb, Kolb-Vick; Mills-Morelli, Morelli-Clark, Clark-Devlin. And most recently, there was the controversy of Matt McGloin and Rob Bolen, a controversy that came to a head on New Year's Day.
Bolen came into the season as the first true freshman to ever begin a season as Penn State's starting quarterback. In the early going, he showed tremendous promise as an unflappable talent, even with knowing very little of the playbook given his short time spent on campus. Even a loss at Alabama, there was plenty of positive things to take away. Then Bolden began to regress, or at least really go through some growing pains. He got hurt, lost his job to former walk-on Matt McGloin, and Penn State gained some swagger. McGloin looked to be the leader and emotional spark this young team needed, and he played well for the most part.
McGloin earned the starting job for the remainder of the season, but as time wore on, it became more and more clear that he didn't have anything approaching the tools that Robert Bolden possesses. And he began to struggle against any good defense he faced, namely Ohio State (in the second half) and Michigan State. That led everyone in the world to believe that in the Outback Bowl against Florida, McGloin would start but Bolden would get plenty of action himself, sort of kick-starting the quarterback competition for 2011.
That didn't happen. Not even a little bit. Instead, Matt McGloin took every snap in the game for the Nittany Lions despite singlehandedly playing worse in that game than either he or Bolden had played all season. In the 37-24 loss, McGloin threw five absolutely horrendous interceptions and damn near threw two or three more. The worst one came in the final minute-plus with Penn State trailing by just six points and driving. McGloin hit Ahmad Black, who had already picked off the sophomore quarterback once, right in the chest. Black took it back 80 yards for a touchdown, icing the game right there.
Black was named the game's MVP and rightfully so. He was easily the best player on the field, and he'll be terrorizing NFL quarterbacks come August. But back to Bolden and McGloin.
Even though Penn State scored early to take a 7-0 lead and was in the game the entire way, pretty much staying within a score of the Gators, McGloin was playing like complete dog shit. I mean, the guy couldn't have played much worse. Yes, he did get hamstrung by a few crucial third-down drops by Justin Brown, but that hardly makes up for 5 interceptions that could have easily been 7 or 8. All game long he seemed to be throwing it to no one in particular, oftentimes chucking it toward Gators with no Nittany Lion in sight.
The fact of the matter is that Robert Bolden deserved the chance to play. He had earned that with all the work he put in before he lost his starting job and the way he handled it once McGloin supplanted him. Yet there he was, sitting on the sidelines watching helplessly as McGloin threw another horrible pass. Now Bolden
wants out
, and I can hardly blame him.
Let's face the facts here. Matt McGloin did a wonderful job this season. He showed fire and excitement and played pretty well for a former walk-on. His players responded to his leadership. But Matt McGloin is not the future of these Penn State Nittany Lions. He just isn't. The guy to lead this team in 2011 and 2012 was supposed to be Bolden. That's why he was named the starter at the beginning of the year, to prepare this team for 2011 and beyond — not to win the Big Ten in year 1 or to send Urban Meyer out with a loss.
But with McGloin struggling and the coaching staff swearing on its life that they would use the Outback Bowl to give players valuable experience going forward, Bolden was left waiting. It was a direct slap in his face. I don't want him to leave. I fully expected him to be the starter in 2011. But I won't blame him when he bolts. Now I just hope Paul Jones is ready and able to take the reigns next year, because Matt McGloin is not the answer. He just isn't. The kid is a valuable backup and a gamer, but he isn't who want under center with a schedule that includes Alabama, Iowa and Nebraska at home, followed by Ohio State and Wisconsin on the road to end the season.
As for the game outside of the quarterback play, I thought the defense played pretty damn well, especially when you consider that 14 of the 37 points weren't their fault — the punt block and the pick six. Malcolm Willis got called for a bogus pass interference call as well that led to points.
While several players made plays on defense — some good tackles and a re-emergence of that aggressive play by Stephon Morris, Gerald Hodges and Nate Stupar making some athletic plays, hell, even Bani Gbadyu made a nice play — two players stood out more than any others: Devon Still and D'Anton Lynn.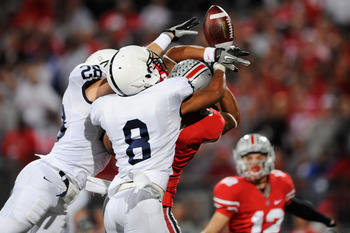 Still was an absolute beast up front, consistently getting penetration and making things happen for himself and his teammates. He actually finished second with 7 tackles and 6 solo tackles in the game, including 3.5 tackles for loss. Lynn was simply all over the field, breaking up passes, making tackles and coming up with two turnovers — an interception and a fumble recovery.
It was a bit disappointing watching Chris Colasanti not be able to catch anyone, but at least we don't have to see that anymore. But that was hardly as disappointing as the drops by Justin Brown and the play of McGloin combined with not seeing a single moment of Robert Bolden. At least Evan Royster went out with a solid game, racking up 95 yards on 20 carries in his final game as Nittany Lion.
While I am incredibly excited for the Silas Redd era to officially kick off in 2011, I appreciate everything Evan Royster did in his four years at Penn State. Best of luck to him on trying to make the NFL.
Speaking of the NFL, the Eagles and Cowboys played in a glorified preseason game yesterday and it couldn't have been more boring.
I can't ever remember an Eagles-Cowboys game meaning so little for either team. The Eagles already had their playoff situation decided, locked in as the 3 seed as the NFC East champions. They literally had nothing to play for whatsoever, resting the majority of their starters on both sides of the ball. Meanwhile the Cowboy, who came into the season as prohibitive NFC favorites, were down to their third-string quarterback and battling the Redskins for the bottom spot in the division.
It's really pointless to try and take anything away from this game, especially about Kevin Kolb. Kolb was playing behind a makeshift offensive line made up of several guys you've never heard of, and his primary targets were Chad Hall and Clay Harbor. Of course Kolb didn't look good, but I think we should all withhold judgment on him. The only definitive thing we can say about him after that game is that Kolb throwing off his back foot is far different than Michael Vick throwing off his back foot.
Here are some of my observations from the game:
• For starters, the second and third teamers on the Eagles looked just as good (if not better at times) than the starters on the Cowboys with their third-striing quarterback.
• DeMarcus Ware is an absolute monster, and under no circumstance should a tight end — i.e. Clay Harbor — be asked to block him one-on-one.
• No. 68, rookie tackle Austin Howard, looked like he had no idea how to play football. At all. It was arguably worse than Winston Justice getting sacrificed to the lambs in his first game against the Giants a few years ago. At least Justice knew what he was supposed to do, he just couldn't. Howard looked like he had no clue.
• Jerome Harrison looked great yet again running the ball. The Eagles have two really good running backs that get huge chunks of yards. Yet they still never run.
• I was a little disappointed we didn't see anything out of Riley Cooper and a little bummed there was no Mike Kafka sighting.
• Omar Gaither and Hakim Jordan looked fired up out there.
• Brandon Hughes looked better than Dmitri Patterson and Trevard Lindley have all year.
• Jamar Adams didn't look awful, which is to say he was the complete opposite of
Macho
Victor Harris in every single game he played as an Eagle last year.
• The only starter that played besides the two plays Jeremy Maclin was in for, Max Jean-Gilles, got hurt. Awesome.
• The backup offensive lineman sure as hell made me appreciate our starters a lot more.
• I still hate Chad Hall.
As for the rest of the New Year's weekend, Nova edged Temple 78-74 on Thursday and trounced Rutgers yesterday. The Sixers lost to the Lakers Friday. And the Flyers won two of three games, beating the Kings 7-4 on Thursday even though Michael Leighton sucked complete donkey balls in his first start of the season, losing to the Ducks 5-2 on Friday and then redeeming themselves with a hard-fought 3-2 victory in Detroit yesterday.