This weekend it was bitterly cold here in Philadelphia. We're talking so cold your face hurts when you go outside. So naturally, it made for the type of weekend where your best bet was to hunker down inside and relax on the couch.
Thankfully, it was the perfect weekend for that. Saturday marked one of the best slate of college basketball games I can remember it a while: UConn-Tennessee, Ohio St.-Illinois, Texas-Kansas, Michigan St.-Purdue, Cincinnati-St. John's, Kansas St.-Texas A&M, Temple-Xavier … and those are just some of the great matchups. Of course, the day started with the most enticing game of all, Villanova taking on Syracuse in the Carrier Dome.
The funny thing is Syracuse has all the Philly guys and Nova has all the New York City guys. The Orange have three players — Scoop Jardine, Rick Jackson and Dion Waiters — from Philadelphia and just one from NYC, Griffin Hoffmann. Villanova has three players — Corey Fisher, Antonio Pena and JayVaughn Pinkston (suspended for the semester) — from New York and just one from Philadelphia, Maalik Wayns.
Simply put, Nova looked awesome on Saturday. I'm not sure I've ever seen a team bust up a Jim Boeheim zone so effectively in my life. The Wildcats played the most patient offensive game I can remember under Jay Wright, working the ball around, using the shot clock and getting incredible looks. It didn't hurt that everything they threw up seem to go in.
Watching Villanova in that first half, when they outscored Syracuse 40-29, it looked like they were shooting into the ocean. Maalik Wayns flat out dominated, scoring 17 of his team-high 21 points in the first half, nine of those coming from beyond the arc. The Orange had absolutely no answer for Wayns, who came out gunning from the opening tip-off. It was easily Wayns' most impressive half of basketball to date, and his teammates followed suit. Nova hit 8 threes in the first half alone, with Corey Fisher and Corey Stokes, who each scored 16 points in the game, chipping in.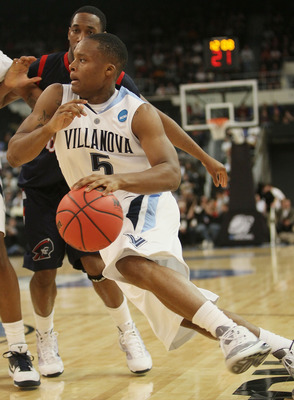 And with Nova lighting it up from beyond the arc, Syracuse had to start extending its zone even more. That made them vulnerable inside, and the Wildcats obliged, picking Cuse apart down low. It was really a thing of beauty.
However, you knew Nova couldn't keep shooting the way it did in the first half the entire game. And they didn't. The shooting cooled off a bit in the second, and Syracuse made its run. Neumann-Goretti's Rick Jackson was a monster inside, putting up 16 points and 15 rebounds, and Kris Joseph, back from a head injury, scored a game-high 23 points, including a huge steal and dunk that made things incredibly tight.
In the end though, Nova was just too much. Wayns and Fisher far outplayed Scoop Jardine, who had a dismal game: 2 points, 1-8 shooting, 3 assists, 2 turnovers. Stokes rebounded from his embarrassing game against UConn to net 16. And Antonio Pena made it four Wildcats in double digits, with 10, 7 and 4. The biggest key, though, was Nova's efficiency. Going against one of the nation's best defenses, the Wildcats made it look effortless. They carved up the zone, shooting 50 percent form the field and 45.8 percent from three. They also ensured victory by going 22-24 from the line, having about as good a shooting game as a team can have.
Conversely, Nova's own defense was outstanding, limiting the Orange to just 43.5 percent shooting in the game.
It was a huge statement by Villanova in the packed Carrier Dome — a statement that they weren't going to let last year's road loss at Syracuse haunt them, a statement that the sophomores are ready to take the next up and make up for last year's departed seniors, a statement that they're not going anywhere. It was a really impressive victory, and it was my favorite Nova player, Maalik Wayns, who led the way.
Unfortunately, the impressive road play wouldn't extend to Temple. Xavier is one of the toughest places in the country to play, so I pretty much expected the Owls to lose. But how they lost was the depressing part, getting virtually nothing, and in Lavoy Allen's case literally nothing, from their best players. Temple's three top scorers on the season — Ramone Moore (14.9), Juan Fernandez (10.4) and Lavoy Allen (10.1) — combined to shoot an embarrassing 5-20 from the field for just 16 points. Lavoy Allen was a complete nonfactor, literally giving the Owls nothing offensively with zero points. He picked up two quick fouls in the game and had to sit the majority of the first half, then compounded that by being a complete fucking moron to start the second, committing fouls on back-to-back freaking plays. That meant he had to sit again for nearly the entire game. He played just 13 minutes, grabbing just 3 boards, in the biggest game of the season so far. Absolutely horrendous and inexcusable performance by Allen.
Lavoy wasn't alone. Juan Fernandez, who looks to still be struggling with his ankle, scored just 6 points on 2-9 shooting and turned the ball over 4 times. He also proved that he still has no left hand, attempting a layup on the left side with this right hand with a defender there instead of going left and easily making the layup. He did get fouled, but it would have been an and-1 if he had a left. The fact that any D-1 basketball player can't make a left-handed layup is absurd. I can make a left-handed layup, and my left hand is retarded.
Then there is Ramone Moore, who went scoreless in the first half and finished with 10 points on 3-8 shooting. When add in that Michael Eric looked like he had never played basketball before in his life, you wonder how Temple wasn't down by a million points. The fact that the Owls were even in this game late is a miracle. And the only players that were keeping them in the game were Scootie Randall and Khalif Wyatt.
Randall had a career game, scoring 17 points in the first half just like Wayns had for Nova and finishing with a game-high 28. His three-point shooting — he went 5-9 — and overall play kept Temple in it. If it wasn't for Scootie, this thing would have been over by halftime.
And Wyatt provided a huge spark off the bench, scoring 19 points and connecting on 4 threes to help Temple tie it up in the 2nd half. But this was a game where the Owls needed their stars to shine. Instead, Allen, Fernandez and Moore didn't even bother to show up. For Xavier, Tu Holloway led the way with 21, 9 and 7; Mark Lyons added 19 and 5 more; and Jamel McLean had 16 and 7. The Minutemen's best played well. Temple's might as well have stayed in Philadelphia.
Nova kicked things off right, but then the Flyers lost to the lowly Devils, despite this awesome goal on Richard to Giroux to JVR play:
Then Temple brought it all back down to earth with uninspired play by its stars.
Luckily, there was still plenty of excitement. Jared Sullinger was monstrous in Ohio St.'s 73-68 win. The freshman phenom had 27 points, 16 rebounds and 3 blocks. I don't care what the Sixers have to do to get him in the draft, but they have to get him. He's a beast.
Speaking of beasts, Blake Griffin did this:
And this:
I would trade the entire Sixers roster for him.
Oh, and Kevin Durant did this:
Damn. I really wish the Sixers, who did beat the Jazz by the way, were fun to watch again.
Thankfully, the Flyers are. Yesterday, they provided a great appetizer the NFL Championship games, easily defeating the Blackhawks 4-1. Claude Giroux was the best player on the ice yet again, notching an assist on all four goals. And Jeff Carter continued his hot play, scoring goals 21 and 22 to go along with an assist. Ever since Giroux and Carter have been playing together, both of them have been dominant.
Sergei Bobrovsky was excellent as well, stopping 30 of 31 shots, the loan goal coming on a penalty shot by Marian Hossa.
The victory really showed the different directions the teams have headed since the Stanley Cup final. Chicago lost key players and are now struggling to hold on to a playoff spot, sitting at 7th in the West. The Flyers added key pieces and now hockey's deepest team, with three incredible scoring lines, an excellent checking line, and three legitimate top defense pairings, which has resulted in and NHL-leading 69 points.
It was a statement game for the Flyers and a great way to rebound from the loss on Saturday. That's what it was, a statement weekend. The Flyers, Villanova, Xavier, Jared Sullinger, Kevin Durant and Blake Griffin all made major statements. So did the Bears and Jets, but theirs weren't nearly as good.
Theirs were Andy Reid-like statements, baffling coaching decision statements. For the Bears, it was that dreadful 3rd and 3 reverse call, a play they unnecessarily wasted a timeout for with the clock already stopped only to lose yardage and keep the clock running. Horrible.
For the Jets, it was the insane decision to keep Shonn Greene on the bench in favor of LaDanian Tomlinson on the final two drives despite Greene killing it, not to mention a slew of questionable play calls.
Please let the Packers win.