Much to the surprise of just about everyone, only one player from the Eastern Conference leading Flyers was named to the NHL All-Star team. This despite the fact that the Flyers have led the Eastern Conference for the majority of the season and have a roster full of all-star caliber players.
It is at the same time both a testament to the team's incredible depth and balance and sort of a slap in the face to one of the league's best teams. When a team has as many good players having tremendous seasons as the Flyers this year, it's sort of a catch-22, with teammates taking votes/consideration away from each other. But there are four players in particular who really deserved to be skating alongside Claude Giroux in the all-star game this year, and all four of them showed why last night.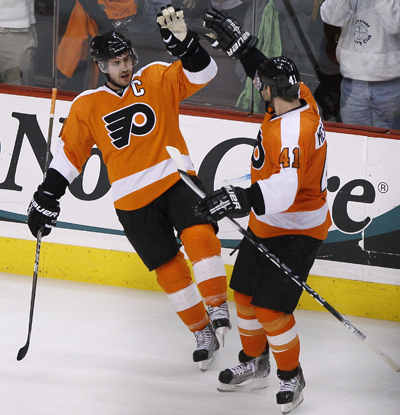 The biggest all-star snub of all for the Flyers is without question Danny Briere. Briere is easily on pace to have the best or second-best season of his career. He has 37 points in 39 games. His 22 goals are good enough for sixth in the NHL, with all five guys ahead of him named all-stars, and the four players right behind him — Corey Perry, Eric Staal, Rick Nash and Phil Kessel — being named as well. That's right, Briere is the only player in the top 10 in goal scoring to not be named an all-star. That's the definition of a snub. Then when you factor in that his plus-19 is good for third among all forwards in the NHL, it's even worse. Danny Briere flat out should be an all-star, no doubt about.
Last night, he took out his frustration on his former team, the Buffalo Sabres. In Philadelphia's 5-2 win, Briere had a hand in four of the five goals, scoring the equalizer in the second period after the Flyers had fallen behind 2-0, and notching 3 assists for a four-point night and first star of the game.
Another player worthy of all-star consideration is the perennially underrated Kimmo Timonen. Timonen's "snub" I can actually understand, because the guy's numbers don't blow you away: 1 goal, 19 assists, plus-8. But numbers don't always tell the true story with defensemen, especially on a team that boasts so many offensive weapons at forward. He may not put up the type of numbers that some guys do, but he's just about as good of a defenseman as there is in the league this side of Nicklas Lidstrom. Timomen plays in all situations and plays them all well. He is the leader on Philadelphia's blue line, especially with Chris Pronger out, and he blocks shots with the best of them. Most importantly, he rarely makes a mistake or gets beat, the true measure of a great defenseman.
Last night, he showed he can also contribute plenty offensively, tallying two assists to get to the 20-point mark on the season.
While Timonen's absence from the all-star game isn't that surprising, the absence of Andrej Meszaros is. Granted, he only has 14 points on the season, but he also leads the entire NHL with a plus-27, plays all situations just like Timonen, adds a physical presence on the blue line and has helped stabilize the league's best defense corps. The man was more than worthy of being an all-star. Simply put, when he's on the ice, the Flyers score a lot of goals and give up very few. That was the case yet again last night, with Meszaros finishing a plus-2 on the night.
Then there is the case of Mike Richards. When you take into consideration everything Mike Richards does for the Flyers, you could make the case for him as an all-star every year. He is the captain, the leader and one of the best two-way forwards in the entire league. Shorthanded, there are few better at killing penalties and creating chances and goals. He's a power-play staple, whether it be at forward or the point. And he score, grind and create in the offensive zone. His game isn't flashy, but it's effective. Really effective.
And this season might be Richards' best when you really look at it. Coach Peter Laviolette has asked a lot of Richards, shuffling his linemates all season long and most recently asking the captain to be the guide skating alongside 2nd-year, 21-year-old James van Riemsdyk and third-year, 23-year-old Andreas Nodl, who has played in less NHL games than van Riemsdyk. His two wingers right now, the aforementioned JVR and Nodl, have played a combined 197 NHL games.
Despite that, Richards leads the Flyers in points with 38 and assists with 24. He has been the most consistent individual point producer on the Eastern Conference's best team, and he does all the little things that winning players do. Yet he's not all-star. But he certainly made an all-star move last night on his breakaway goal, easily beating Ryan Miller to give the Flyers a two-goal lead in the third period after blocking a shot/dump-in attempt in his own end.
But then again, with Scott Hartnell scoring twice and Ville Leino getting his 10th goal of the year last night, it's easy to see why it was so hard trying to get Flyers on the all-star team. This squad is just so loaded that you could pretty much pick a name out of a hat and make a case he should be an all-star. The entire Briere-Leino-Hartnell arguably could go. Each guy has at least 10 goals, and each player has scored at least 29 points. Then you look even further, and the dominance of the line is evident. Leino, Briere and Hartnell are three of the four leaders in plus-minus for forwards in the NHL. Leino leads all forwards at plus-22, with Briere third at plus-19 and Hartnell fourth at plus-18. Only Sidney Crosby, at plus-20, is preventing the members of that line going one, two, three in the category.
Complicating matters even more, the Flyers have eight players who have reached double digits in goals, 10 players who have notched double-digit assists, 5 players with 30 points or more, 8 players with 20 points or more,14 players with double-digit points, and 8 players with a plus-minus rating of plus-10 or more. In fact, all but three skaters on the entire roster have been plus players, with just Darroll Powe, Oskars Bartulis and Dan Carcillo as minus players right now. Basically, this team has too many good players for its own good when it comes to making the all-star team.
And we haven't even mentioned the goaltending yet, which has been tremendous.
Rookie Sergei Bobrovsky got off to an incredible start, and while his numbers have come back down to earth over the past month and a half, he's been better than anyone could have hoped this soon. Bob is 16-6-3 between the pipes with a very respectable 2.55 goals against average and .917 save percentage. And last night, he picked up his first win since Dec. 15 by stopping 38 of 40 shots, completely stoning the Sabres for the final 50 minutes of the game.
The reason it was Bob's first win in nearly a month isn't so much a knock on him as it is a testament to Brian Boucher. Because as good as Bobrovsky has been, the veteran Boucher has been even better. As we speak, Boosh is tied with Jonathan Quick for the fourth best goals against average in the entire NHL at 2.23. His .921 save percentage puts him right outside the top 10, mostly because the Flyers don't allow a ton of shots with Boucher in net. And he is 10-4-2 on the season, especially excelling in the shootout.
Clearly neither Boucher or Bobrovsky have played enough to warrant an all-star spot, but their combined performance just proves even further that the Flyers are by far the deepest team in the NHL. Hell, their lone all-star has been playing the past two months out of position at wing because this team has five legitimate centers, four of which — Jeff Carter, Mike Richards, Danny Briere and Claude Giroux — have top-line talent.
So go ahead and snub the Flyers with just one player being named an all-star. It's just added fuel to the fire to get back to the Stanley Cup Final and show just how good these guys really are.