Last night, your Philadelphia 76ers lost to the New Orleans Hornets largely due to tremendous defense by New Orleans combined with atrocious shooting by the Sixers. As a team the Sixers shot a horrific 34.1 percent from the field and an abominable 21.7 percent (5-23) from three. It was tough to watch. But hey, at least Jrue did this:
The loss dropped the Sixers to 13-21 on the season. Somehow, that puts them just a game and a half out of the 8th and final playoff spot in the Eastern Conference, which just doesn't make sense. Thirty-four games into the year and the Sixers are still a bad team despite some stretches of good play.
So I figured it might be a good idea to revisit silver fox's musings from way back in October on
trying to find reasons to watch the Sixers
. Here's the take so far through 34 games.
The development of Jrue Holiday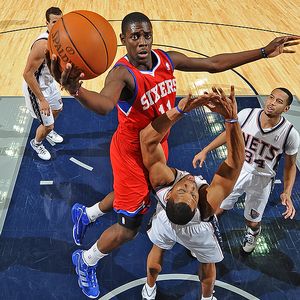 The best news of the 2010-11 season thus far is the play of Jrue Holiday. While his shooting percentages are a tad down and leave plenty to be desired (43.4 percent form the field, 33.7 percent from three), the rest of his numbers are all up significantly in year two. The 20-year-old point guard still goes through his ups and downs, especially with his shot (like last night: 6-17 from the field, 0-6 from three), but there is far more good than there is bad with Holiday.
Jrue leads the team in assists at 6.5 per night, up from 3.8 a year ago, while his turnovers are only up slightly from 2.1 to 2.7. He's second on the team in points (14.3) and steals (1.3), trailing only Elton Brand, and he's also second in minutes per game behind Andre Iguodala. He's also averaging nearly 4 rebounds as a point guard, playing phenomenal defense and gaining confidence each and every night.
There's still a long way to go for Jrue, but the future is bright for him. He's done nothing to make you think otherwise thus far.
What kind of player is Marreese Speight?
This is a question we're no closer to answering at this point. For the majority of the season, Speights has been glued to Doug Collins' bench, which makes absolutely no sense to outside observers. I'm not sure what Speights did to get in Doug's doghouse, but it really doesn't seem to serve much a purpose letting him ride the pine and waste away.
However, Collins must doing it for some reason. I just have no idea what that reason may be. One moment, Speights is getting a DNP-Coach's decision. Then last night, with Spencer Hawes out, Marreese gets thrust into the starting lineup and puts on a pretty impressive showing: 12 points on 5-8 from the field, 6 rebounds in 24 minutes. Once Hawes is healthy, Speights will probably be relegated back to the 12:24 of PT he's averaging on the year, a shocking number given Speights averaged 16 minutes or more in his first two seasons.
As we stand, Marreese is having by far his worst year. Every single meaningful stat has decreased with his playing time. He's averaging career lows in points (5), field goal percentage (45.9), free throw percentage (73.1), rebounds (3.4), assists (0.4), steals (0.2), blocks (0.3) and minutes, all while averaging nearly a turnover a game. So through two seasons and 34 games, we still have no idea what kind of player Marreese Speights is, but by his actions, Doug Collins seems to think like he's not much of one.
Where does Lou Williams fit in?
Last year, Lou Will got off to a fast start and seemed to embrace the role as a starter. But once it became clear that Jrue Holiday was ready to go, not to mention the whole Allen Iverson return, Williams was relegated back to his familiar role as sixth man. That's pretty much exactly where he's meant to be, though you wouldn't necessarily know that from his play this season.
After averaging career-highs in points (14), assists (4.2), steals (1.3), field goal percentage (47) and free throw percentage (82.4) a season ago while getting a career-high 30 minutes a night, Lou has seen all of those numbers drop significantly. He is still the team's best bench scorer, averaging 11.7 points per game (good for fourth on the team behind Brand, Holiday and Iguodala), but he's shooting a career-worst 36.7 percent from the floor, and his three-point percentage has dipped to 32.7 percent. I wouldn't say he's having a terrible year, but he clearly has had trouble adjusting back to his former spot. Take last night's abysmal 1-11 shooting performance for example.
If he can regain his touch, he'll continue to fit in, and on nights where the starters are struggling to score, you know Williams is more than capable of filling it up. He just needs to find his stroke again.
Can/Will the Sixers move Andre Iguodala?
Can they? Maybe. Will they? Perhaps. Have they? Nope, and Iguodala's nagging Achilles injury has limited him this season.
It's been an odd year for Sixers fans watching Iguodala. On most nights, he's been playing smarter basketball. His scoring is down to 14.2 points per game, largely because he's taking less shots — something Sixers fans have been clamoring for. And his defense has been perhaps better than ever. When healthy, Iguodala has given some of the game's best fits. But the question still looms because of that contract and those expectations. The man is still a tremendous player, but he'll never been a guy worthy of carrying a team or justifying his contract.
Will the real Thaddeus Young please stand up?
The short answer is no, he will not stand up. It's been another up and down, inconsistent year for Thad, one that has seen him average the fewest points and minutes since his rookie year while actually shooting the best percentage of his career from the field and the line. So basically, the guy is still a conundrum.
There are games where Thaddeus Young is the best player on the floor for the Sixers, or at least stretches. And then there are times where he is completely invisible. Basically, it's been more of the same for the fourth-year man out of Georgia Tech. He is tied with Lou Will in points per game at 11.7, shooting 54.2 percent from the field and grabbing 5 boards a night, but he's also only playing 25 minutes, shooting a career-worst 26.7 from beyond the arc and failing to put together consistent production.
When you watch him when he's on, you wonder how he's not a starter putting up at least 15-7 a night, but at other times you wonder why he gets any run at all. We all want the real Thaddeus Young to stand up, but through three seasons and 34 games, he hasn't decided who the real Thad is yet.
Will Jason Kapono really contribute?
No. Next question.
Did the Sixers botch the #2 pick?
Thirty-four games are not enough to make a definitive statement on Evan Turner, but the early signs are not good. Coming into a situation where one expected the Sixers to play their young backcourt of Jrue Holiday and Evan Turner as much as possible, that's been far from the case. While Holiday plays the bulk of the minutes nightly, Turner has had much more trouble getting on the floor. He's averaging 24:38 of playing time a game, not horrendous for a rookie, but there have been games where he's lucky to get off the bench at all.
He has had some really good games, but as the season has progressed, his playing time has diminished because he simply hasn't had enough good performances. With Andre Iguodala out, he's had a chance to get more run, but he hasn't shown enough. Take last night for example. With Iggy out, Turner played 32 minutes off the bench … and shot 2-14, recorded no assists, steals or blocks and finished with just 7 points.
Turner just doesn't look like a guy worthy of a No. 2 pick. The name Darko comes to mind. As we speak, he's currently tied for 8th in scoring among rookies. Throw out Blake Griffin and John Wall, because they were the last two No. 1 overall picks. Turner is trailing DeMarcus Cousins, Landry Fields, Wesley Johnson, Gary Neal, Eric Bledsoe and James Anderson, with Al-Farouq Aminu on his heels. And when you look at efficiency, he barely falls within the top 10 among rookies, trailing Griffin, Wall, Fields, Cousins, Ed Davis, Johnson, Bledsoe, Derrick Favors and Patrick Patterson. His 38.8 percent shooting percentage is one of the worst in the entire NBA, and he's the only guy among those I've named shooting under 40 percent. His 25 percent three-point percentage isn't encouraging either.
There's still more than enough time for Evan Turner to turn things around, but his play certainly hasn't instilled any confidence. And if the statistics mean anything, the Sixers would have been better off drafting just about anyone else in this draft class with the second pick.