via, who else, The Fightins
Gary Matthews may have been referring to Raul Ibanez's psyche during his very well-publicized hitless streak, but he may as well have been talking about the Flyers and their fans last night.
Listen, we all know about last season's
miraculous
,
unexpected
,
epic
,
historic
comeback
against these very same Boston Bruins. But let's not kid ourselves. This isn't last year, and it's not going to happen again. It just isn't.
There is no Chris Pronger to come and save the day. No goaltender playing way beyond his capabilities the way both Brian Boucher and Michael Leighton did last season. No moral victories or saviors this time around. The Boston Bruins are simply manhandling the Flyers in this series, and given that the wound is still very fresh from last season's collapse, I suspect Boston comes out tomorrow night and finishes off the sweep. The last thing the Bruins want to do is give the Flyers any sign of life the way they did last season.
To be frank, the Bruins deserve to be winning this series, 100 percent. Perhaps they should not have won game 2, but they went out and tossed the Flyers around in games 1 and 3, and frankly have been the better team for far more periods than not. Last night, I didn't even have time to get angry. Before you could blink, Boston was up 2-0 at no fault of the goaltender. The Flyers simply got outworked and outplayed once again. Blown defensive assignments have become all too common, with Kris Versteeg abandoning his area on the game's first goal and both Andrej Meszaros and Nikolay Zherdev allowing David Krejci to get behind them on the second goal. Barely a minute in, and the game was over for all intents and purposes.
In the end, the Bruins won because they deserved to win. They were the more physical, stronger and smarter team. The Flyers looked more deflated after game 2's difficult-to-swallow overtime loss than even the Flyers fans were. It was one of those games where the Flyers looked like they slit their wrists at the opening faceoff and then slowly bled to death.
It's going to take a minor miracle just to slow down the bleeding, and as much as I hate to admit it, I don't think that bleeding will stop. All the bad qualities the Flyers let seep into their game toward the end of the regular season have resurfaced, from poor goaltending to blown defensive assignments to a lack of a forecheck and goal-scoring to losing the face-off battle. A return to the Stanley Cup Final just isn't in the cards this time round.
As awful as that fourth goal Brian Boucher gave up, and as shaky as the goaltending as a whole has been this postseason, I can't fault Boosh last night. Boston was going to win last night no matter what. They were better in every facet of the game. Don't let that 38-28 shots on goal total fool you. The Bruins literally only got outplayed on only a handful of shifts all night.
Having said that
, I feel that last night's game should be the last time we ever see Brian Boucher in net for the Flyers. Don't get me wrong, Boucher has been more valuable than anyone could have ever expected. He was incredible as a rookie way back when, and last season he played the role of savior more times than not. But his time has come.
Boucher will always be a guy Flyers fan have the utmost respect for. And they should. He played fantastic hockey against Buffalo excluding one bad period in game 5. And while he has been less-than-stellar in these past three games against Boston, the man has been hung out to dry by his teammates. But this franchise has gone as far as it can go with Brian Boucher in net. It's time to let Sergei Bobrovsky get another full playoff game under his belt and go from there.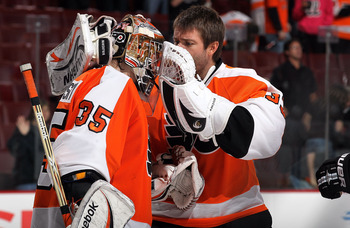 Bobrovsky has room to grow and one day may develop into a reliable goaltender in this league. He has a lot of work to do, but he's young and athletic and has his full career ahead of him. Brian Boucher is what he is: an excellent backup netminder who can step up for stretches of time when called upon, nothing more. It's time to throw Bob fully into the fire for however many more games Philadelphia has left this postseason, then re-evaluate the position in the offseason.
Undoubtedly, Bobrovsky has potential, and the Flyers probably won't want to part with him. But they cannot go into next season without a proven player in net. Not with this team built to win now. Chris Pronger, Kimmo Timonen and Danny Briere aren't getting any younger. While the Flyers still have more than enough youth on their team — in fact, only six key contributors (Pronger, Timonen, Briere, Boucher, O'Donnell and Betts), oh, and Jody Shelley, are in their 30s — this team can't and shouldn't wait around any longer. Especially with the emergence of James van Riemsdyk and plenty of offensive talent giving the Flyers options. Jeff Carter and Scott Hartnell are two players who come immediately to mind as trade chips if a proven, reliable, preferably top-tier goaltender becomes available.
But that's neither here nor there right now. The Flyers aren't done quite yet, even though it sure feels that way. They have at least one more game tomorrow, and that game should be in the hands of the 22-year-old rookie goaltender. Sometimes you have to just hand the keys over to the young guy and ride him out, even if it's too little too late.
Speaking of handing the keys over to a youngster, 23-year-old Vance Worley had himself another outstanding outing for the Phils last night, picking up his second win in as many starts by tossing 6 innings of four-hit, one-run ball and striking out 7.
He also went 1-for-2 at the dish and scored a run, and he handed the ball to the bullpen with a six-run lead. Good work by J.C. Romero in his return and Mike Stutes pitched another scoreless inning, but of course Danys Baez and his stupid silent "S" had to make things interesting, giving up a three-run bomb to Danny Espinosa, before finishing things off for the 7-4 win.
Perhaps even bigger news than Worley's second straight impressive performance and Romero's successful return though was Raul Ibanez finally putting together a big night, going 3-for-4 with two runs and an absolute bomb of a home run. It was enough for him to suppress those suicidal thoughts that Sarge assumed must have been going through his head during that insane slump. So, yeah, it's safe to break the razors out again. At least for the Phillies.