I have a question: Did that guy eat my brain that's on drugs? Because otherwise that's just a waste of an egg brain. And eggs are delicious. Especially fried.
Let's move on, courtesy of uncle jellyfish.
Link time …
-Scott Franzke went
On the DL
with Dan Levy to discuss Roy Halladay's day of perfection.
-I don't think Chris Pronger
likes Ben Eager
too much.
-
Major League Jerk
is without question one of my favorite sites out there, but man, these guys seem to be going through some tough times these days.
Diets
.
Layoffs/sabbaticals
. Let us hope the best jerks on the internet hold it all together.
-Listen, rooting for Boston in anything is a painful endeavor. But as the NBA Finals get underway tonight between the Boston Celtics and Los Angeles Lakers for seemingly the 800th time, there are a few reasons to be rooting for Boston over LA. For starters, it's fun to root against Kobe, the Philadelphia kid who shunned his roots, plus, no one really wants to seem him catch Jordan in the ring department. Secondly, at least Boston has real fans, unlike those late-comers and early-departers in LA. Finally, Boston employs two of the baddest power forwards of all time, and two of my favorite players ever: Philadelphia's own Rasheed Wallace and the Big Kid, Kevin Garnett, both of whom were drafted in 1995, No. 4 (Sheed) and No. 5 overall, respectively. Kenny does
an excellent job
pointing this out.
I hate the Celtics as much as the next guy, but I really do love KG and Sheed.
-Marlin Jackson
ruptured his Achilles
and is most likely done for the season.
Great signing. Stunning that a guy who's been seriously injured the past two seasons got seriously injured again.
-Some Phillies
injury updates
: Placido could be back in the lineup, Jimmy probably won't be back until next week at the earliest, and J.A. Happ, who is taking entirely too long to recover from what was considered a minor injury if I recall correctly, is finally going to throw a little bit.
-Speaking of the Phillies, their offense has been so horrendous and in need of a spark that Charlie Manuel has decided to
bat Jayson Werth in the leadoff spot
today. The lineup:
1. Werth
2. Valdez
3. Chase
4. Howard
5. Francisco
6. Raul
7. Dobbs
8. Schneider
9. Kendrick
I hate everything about that lineup.
-
Flyers
,
Flyers
,
Flyers
,
Flyers
.
-Vintage
video
of Dr. J throwing down on Bill Walton.
-Vince Young is about as good
at rapping
as he is throwing the football. Take that however you want.
And yes, that's Ludacris. Who knew he was still alive?
-
I Want to Go to the Zoo with Roy Halladay
had a
special post on Deadspin
about Roy's perfect game. That guy is insane. And I like it.
-
Meet Quincy Miller
, one of the best high school players in the class of 2011.
-Speaking of high school basketball,
SLAM
put out its
Fresh 75 - 2010
and
Fresh 50 - 2011
. Some of the notables:
2010
2 Harrison Barnes 6-7 SF Ames (IA) North Carolina Complete swingman does it all.

…

15 Reggie Bullock 6-7 SG Kinston (NC) North Carolina Bigtime shooter with high basketball IQ.

…

37 Kendall Marshall 6-4 PG Bishop O'Connell (VA) North Carolina Lefty point guard with a very high basketball IQ.

…

51 James Bell 6-5 SG/SF Montverde Academy (FL) Villanova Super strong wing who can score with the best of them.

…

74 Jayvaughn Pinkston 6-7 PF Bishop Loughlin (NY) Villanova Skilled bruiser will bolster help Nova up front.
2011
5 Rakeem Christmas 6-9 PF/C Academy of The New Church (PA) Undecided Intriguing post with ideal size and athleticism.

6 James McAdoo 6-9 PF Norfolk Christian (VA) North Carolina Athletic big man who can hit the faceup jumper.

…

31 P.J. Hairston 6-6 SG/SF Dudley (NC) North Carolina Powerfully built wing can drill the NBA 3.
I hope for his sake that Rakeem Christmas grows up and matures this year, because when
I saw him play
live, he acted like a giant, pouting baby. But his athleticism is off the charts.
-
Five keys
for the Flyers tonight.
I especially like the one about Carter. I'd move him off the Richards line and put him on the third line as well, maybe putting Giroux with Richards and Gagne. But I have faith in whatever Peter Laviolette does. The guy has proven himself to be an excellent coach.
-With the Sixers holding the No. 2 pick in the upcoming draft,
here's a list
of the past 20 players selected second overall. The Sixers are on the list twice, and it's not pretty. In 1993, they infamously, and tragically, took Shawn Bradley.
They followed that up in 1997 by taking a player that refused to play for them, Keith Van Horn, who was then traded to the New Jersey for Tim Thomas, the small forward out of Villanova who was taken No. 7 overall.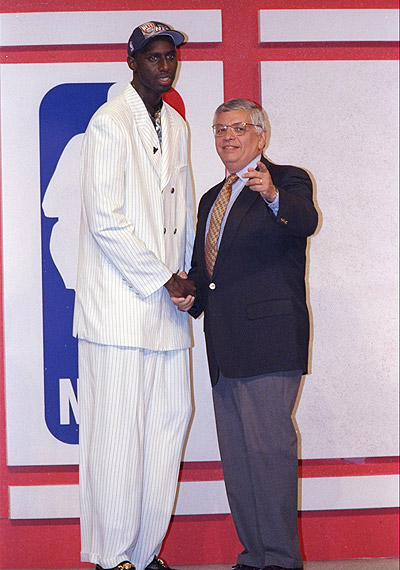 Yikes. Let's hope this Evan Turner (or Derrick Favors) pick turns out much, much better.
-
Wingin' It with Randy Foye
.
-How bad are four of the Phillies all-stars from last season struggling right now? So bad that Shane Victorino, Jayson Werth, Chase Utley and Ryan Howard are all profiled in
Big League Stew's Sumpbot .200
.
-
Whatever happened to Greg Dobbs?
. My answer, which has been consistent for the past month: He sucks. The guy is the worst fielder I've ever seen, and now he can no longer pinch-hit. He sucked as a pinch-hitter last year, and he sucks even worse so far this year. Time to send him to the minors or send him packing. A terrible fielder who can't hit is simply a waste of a bench spot.
-Once upon a time, Ron Artest
shanked Paul Pierce
, and no, I don't mean stabbed, via
Ball Don't Lie
:
-Reading Phils centerfielder Quintin Berry made
one hell of a catch
last night:
The Phillies are playing right now. The NBA Finals finally start
tonight
tomorrow. And of course, the Flyers play game 3 tonight here in Philadelphia, facing an uphill battle but still just four wins away from immortality.
LET'S GO FLYERS!!!!