That's what the shirts the Flyers gave out to fans said last night. And that's exactly the way I feel about what transpired in game 6.
After the way this season unfolded, after watching this underachieving regular season team turn into the biggest overachievers of the entire Stanley Cup playoffs, you want to say it's impossible to be disappointed. The Flyers had no business even being in the Stanley Cup Final, let alone hoisting Lord Stanley's massive Cup. But that's not realistic, not when your team comes out flat for a second straight game, this time at home facing elimination. Not when your top line literally didn't show up for a single shift. Not when the team battles back in a game they had no business hanging around in, ties it not once, but twice, almost wins it in regulation, forces overtime … and then loses on this:
When the realization of what just happened set in, I sat with my head in my hands, feeling like the loneliest person in the world even as I was surrounded by a sea of orange. But at that moment, in section 218, row 8, seat 5, I couldn't even muster up the energy to lift my head toward the ice.
It was as painful a loss as I can remember. I was there at the last football game played in the Vet. In the mass confusion that resulted from Patrick Kane's disappearing puck, the Wachovia Center turned as silent as Veterans Stadium did when Ronde Barber took it to the house. There were no words. There was no booing. It was just stunning, appalling silence. We were left in shock. How did that puck go in? What just happened? No one quite knew. All we knew was that it hurt. The seemingly most harmless shot of the night turned into the most lethal.
That was tough to take, and impossible not to be disappointed by, no matter what has transpired. You don't get to watch your team make it all the way to the final two very often. It took 13 years for the Flyers to get back here. Who knows when they'll return next? You hate to see them end things on a such a heartbreaking note.
The ironic thing about last night is that the Flyers would have been nowhere even near overtime without the tremendous play of Michael Leighton early. He faced 17 shots in the opening period, stopping all but one of them. The Blackhawks dominated in every conceivable way, but Leighton wouldn't let them break it open.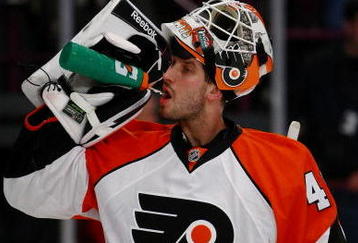 Before the first 20 minutes were through, the Flyers tied it on a rebound by Scott Hartnell. And Leighton was strong again early in the second until he gave up a weak goal to Patrick Sharp, but rebounded nicely for an excellent third. In all, he stopped 37 shots. But two of the four he didn't were really, really bad, and ultimately cost the Flyers and ended their season.
The one reassuring thing, though not reassuring enough, is to look at this series and admit that the Flyers simply lost to a better team. There's really no way to argue that, and my roommate summed it up best. Through the first four games, these two teams looked even. Each game was close, up for grabs, there for either team to take. That's evident by the first three games all being decided by just one goal, and the fourth only decided by two thanks to a late empty-netter. But in the last two games, the Blackhawks looked like a superior team, and they were. They were the aggressors, they hit the hardest, skated the fastest, played the smartest. They were the ones taking it to the Flyers, connecting on crisp passes, forcing turnovers, pinning the Flyers deep, blocking shots, getting out in transition. They looked like the team that finished second in the West. The Flyers looked like a team that had fought so hard just to make it this far that they had nothing left in the tank; they looked like the inferior team.
That was certainly the case last night. The Blackhawks were all over the Flyers from the start. They peppered Michael Leighton early and often, while never even letting the Flyers near Antti Niemi. They outshot Philadelphia 17-7, scored on a power play as Dustin Byfuglien again capitalized with Chris Pronger in the box. It was the second game in a row that Byfuglien scored in front of the net with Pronger in the box. The Flyers were lucky that's all they surrendered, because Chicago was buzzing.
Even when they made mistakes, such as taking two early penalties of their own, it didn't matter. In four minutes of power play time, the Flyers didn't get off a single shot. That's two man advantages without a shot. It was incredibly frustrating. Here were the Blackhawks, completely dominating and firing everything they could at Leighton, giving the Flyers a break, a chance to get into the game, yet the Flyers couldn't muster a single shot on net during their first two power plays. Instead, they were hesitant, indecisive, and determined to try and make a pretty play instead of just firing rubber and pouncing on the rebounds. It made no god damn sense. Niemi has certainly made more big saves when the Blackhawks have needed them compared to Leighton — or Boucher — but the guy has been far from impressive and most assuredly prone to leaving fat, juicy rebounds all series long. Fire the puck and get on those. The Flyers didn't seem too interested in doing that.
Somehow, they did manage to weather the incredible storm the Blackhawks threw at them, and then finally, with their third man advantage, they stopped dicking around. Gone was the timidness, as the Flyers started to just let it fly. Then just like that, with 27 seconds remaining in the period, Danny Briere received the puck from Pronger, wound up and fired a slap shot that Niemi stopped but left out in front, and Scott Hartnell banged the rebound home. Tie game, somehow, some way, even as the scoreboard read shots: Chicago 17, Philadelphia 7.
The Flyers were unbelievably lucky to get out of there with the game tied. As has been the case for most of the series, only one line showed up: Briere-Leino-Hartnell. The Richards-Gagne-Carter line continued to be atrocious, so much so that Peter Laviolette finally decided to break them up after the first period. Matt Carle looked like the shitty defenseman Matt Carle instead of the awesome offensive force he can be at times, turning the puck over time and time again. The fourth line saw little time. And Giroux-Asham-JVR had a couple good shifts, a couple bad ones. Defensively, Kimmo Timonen looked slow all night, Braydon Coburn had some jump but didn't really do anything special, Pronger took a couple bad penalties and made a few turnovers himself, and Lukas Krajicek and Oskars Bartulis rarely saw the ice. It was a rough period all the way through, and it really wouldn't get a whole lot better.
Honestly, the Flyers looked like a one-line team last night. They've looked like one a lot in this series, which is in complete contrast to the team that fought its way through the Eastern Conference. Each night, it seemed as though a different player, a different line was stepping up. But throughout, it's been Briere-Leino-Hartnell and no one else.
No matter what anyone else may think, I know from what I saw that Jeff Carter was the single worst player in the series. It was painful to watch. He looked slow, lazy, uninspired and, quite frankly, terrible. Now, all of this is not his fault, for sure. He missed a large portion of the end of the season with a broken foot, then had his other foot broken in the first round against New Jersey. It's tough to expect the guy to be in game shape. And he wasn't in game shape. Which is why it baffles me so much that Jeff Carter got so much ice time in this series.
Far be it from me to question Peter Laviolette all that much. I think he's a great coach, the guy I want behind the bench for this team for a long, long time. He got just about everything you could have hoped for out of this team, out of these players. But I think after games 1 and 2, it was pretty clear Jeff Carter just wasn't Jeff Carter out there. He wasn't fast, he wasn't snapping off shots left and right, and he wasn't scoring. He looked slow, plodding, out of shape. He was hurting the team. Yet he still played over 20 minutes in the first two contests.
After that, Carter's ice time diminished a little, playing 17:33 in game 3 and just 15:13 in game 4, but then he was back up to nearly 18 minutes in game 5 and nearly 20 minutes last night, though going into overtime surely had something to do with that. What he did to warrant those minutes is beyond me. I know he's Jeff Carter, the all-star center and team's best goal-scorer. But he wasn't that guy. He was hurting the team. He was the worst player. His ice time should have been slashed dramatically, to something like 10 minutes where he could go all out and not worry about getting fatigued for his later shifts. Darroll Powe, while nowhere near the player or scorer of Carter, has been busting his ass all postseason, always providing energy, always hitting, always skating. He should have earned more ice time in Carter's stead, giving the team a little boost. At least, that's my take, but then again, I'm not in that room, I'm not at the practices. Laviolette put it on his all-star center to work his way through it and step up his game. He didn't. Carter finished the Final with just one goal and one assist, and that goal came on an empty-netter in game 4. He was a minus-6. And he looked like the worst player on the ice each and every game. Last night was no exception, as he finished as a minus-1 and failed to convert on a wide open net on a shot late in the third period that would have sent this thing back to Chicago for game 7 tomorrow. Jeff Carter just didn't look like Jeff Carter.
Not that he had any help. Mike Richards and Simon Gagne were equally as bad last night, and for the most part largely invisible in this series as well.
Richie was a minus-1 as well last night, looked like he was fighting the puck all game long, couldn't win any faceoffs at all until the third period (a common theme for every center in this series), and besides one monster check, wasn't physical either. He looked sluggish and shaky. And for the series, he finished at a minus-7 with just one goal and one assist. Gagne was even worse, finishing a minus-3 last night and a minus-8 for the series, scoring just two goals and not getting a single assist. Carter, Richards and Gagne combined to put up a staggering minus-21 rating, scoring just four goals and handing out just 2 assists among them. Not one of them had a single assist after game 2. They were the team's worst line in the series, and that trio was nonexistent for the most part. It's hard for a team to win when its top line, its best players aren't producing, or even looking remotely dangerous. Especially when really only one line was causing any damage.
But man, was that one line wreaking havoc. So much so that it almost was enough to make up for the rest of the team's shortcomings. The Flyers looked considerably better early in the second period, and they wound up taking the lead in a game that the Blackhawks were still dominating, thanks again to the one line this team could count on. Lukas Krajicek got the puck to Ville Leino, who came roaring into the zone before laying a beautiful pass off Briere, who was streaking in from the wing. Briere made no mistake with it, ripping one by Niemi to give the Flyers the lead and bring the house down, as I jumped for joy.
But the elation wouldn't last long. Less than two minutes later, the Blackhawks came down the ice in transition … and the Flyers played some of the laziest, most passive defense of all time. Surprise, surprise, it was with Gagne and Carter on the ice. It was an all-around terrible defensive effort, from the zone entrance to the goal let in by Leighton. Duncan Keith came back in transition, with Gagne in position to line him up. Instead of standing up at the blue line and forcing Keith, Gagne slowly, cautiously backed up, putting no pressure on Keith at all and letting him just waltz into the zone. Gagne was lax, but he did have Keith marked. But compounding Gagne's lack of a challenge, Lukas Krajicek came over to mark Keith as well, a player already being manned by Gagne. That left Matt Carle all alone in front with one Blackhawk going toward the net and Patrick Sharp drifting in from the outside. Carle was forced to take the man going to the net, leaving Sharp wide open thanks to Jeff Carter not checking him on the backcheck to pick up Krajicek. That left Sharp with a clear shooting lane, but one at a bad angle. Sharp let a wrister go, a very savable shot at a bad angle, yet Leighton couldn't stop it.
Tie game, less than two minutes after taking the lead, thanks to horrific defense and soft goaltending. I was pissed. And the Blackhawks weren't done. With that goal, Chicago regained its footing and started going to work again. Then Matt Carle turned the puck over in his own zone for seemingly the millionth time last night. Right when he gave it up, I said, "Nice turnover, Carle, you fuck." Seconds later, the puck found its way to Hjalmarsson, who fired a blast that was deflected in front by Andrew Ladd and past Leighton, 3-2 Hawks. Fuck.
The Blackhawks simply were the better the team through two periods. Better in every facet of the game. They were dominating faceoffs, dominating physically, winning every puck battle, doing everything they could to go back to Chicago as Stanley Cup champions. The Flyers were just hanging on for dear life. Barely. Through two periods of play, the Blackhawks held a 37-13 shot advantage. Truthfully, the game shouldn't have even been close. I really didn't have a good feeling about things, but then again, the Flyers had just gotten completely dominated, couldn't possibly play any worse, yet they were still within a goal. If they could just turn things around a little bit, maybe they'd have enough to send this thing back to Chicago. The problem was, many of the players showed no signs of life.
To start out the third, things weren't going so well. It was all Blackhawks once again. The Flyers got an occasional chance here and there, but it was one and done. They weren't getting to any rebounds, still weren't winning many battles, still couldn't sustain any pressure. Meanwhile, with the Flyers pressing and pinching and doing all they could, Chicago was getting counterattack after counterattack, leading to some really good chances. Luckily, Leighton was up for them, and as the period wore on the Flyers got stronger. They started to finally win some draws. The began skating a little more. And then it happened.
Of course it was the Leino-Briere-Hartnell line to the rescue. They've been carrying this team all series long. And they were trying their damnedest to carry them back to Chicago one more time. It started on the stick of Ville Leino, who rumbled through the neutral zone effortlessly, waltzed in the Chicago zone and threw it out in front. There it went off Marian Hossa and right to Scott Hartnell, who swatted it home, tie game with four minutes left. It was pandemonium. I had never heard the Wachovia Center so loud in my entire life. Not during any previous Sixers or Flyers playoff game. Not during A.I.'s return. Never. The place was going bonkers, and for the first time all night, I thought the Flyers would win. I was miserable, heart beating a mile and minute and furious, for the first 50 minutes of the game, watching the Flyers struggle at home with elimination minutes away. Then there was that ray of hope. This team, no matter how poorly they play, no matter how insurmountable the odds seem, just doesn't quit. Now they finally had momentum on their side.
It was all Flyers from then on, and with less than two minutes remaining, Jeff Carter had the game on his stick. I had been killing him all night long, all series long, saying the guy simply shouldn't be on the ice. After the first period and a half, I didn't want him hopping over the boards at all. He had been terrible, awful, the worst player out there. Then he found himself, the team's most potent goal-scoer the past two years, with Niemi down and out, a whole ocean full of net to shoot at. He patiently went around a diving Brian Campbell. All he had to do now was lift the puck over the sprawling Niemi, and the Flyers would have an improbable 4-3 lead with less than a minute and half remaining. But he couldn't elevate the puck, Niemi made a terrific play and the game went to overtime.
Listen, the Flyers didn't even deserve to get to OT. Chicago was the better team. But that's a goal you have to score. That's a goal the Flyers needed. This was Jeff Carter's chance to make up for all the terrible games he's had in this series, to make up for his awful performance last night. The game was on his stick. He should have buried it. A guy who scores as many goals as he does, hurt feet or not, should not miss that chance. Ever. 100 times out of 100, he needs to score that goal. But he didn't, just adding to his horrific series. It was just like last season against the Penguins, when he
missed a wide open net
that would have sealed a victory early in the series and generally
played like shit
in that series. His playoff history is not too great.
Still, the Flyers had all the momentum in the world finally. For 50 minutes, the Blackhawks were the far superior team, but the Flyers hung around. And for the last 10 minutes of regulation, they finally showed the desperation and desire you'd expect. They stepped it up and took over. When Carter failed to convert, it was deflating, but the Flyers were rolling all the sudden. And they carried that into overtime as well, getting some great chances early and spending most of the time in Chicago's end.
Then the goal happened, and the season ended. In a horrible, depressing way. On a soft, weak goal. It was numbing. And stunning. And it hurt.
This team had gone through so much. It couldn't really end like this, could it? Well, yes, it did. This is Philadelphia after all. What's a season without an ending thanks to some shoddy goaltending?
I don't want to harp too much on Michael Leighton. The guy saved the Flyers' season not once, but twice. He was outstanding in the regular season and even better against Boston and Montreal. He put up some ridiculous numbers, made some tremendous saves. But I have a feeling his run was more of a fluke than anything else. After all, the guy is a 29-year-old journeyman goalie, a guy who was waived time and time again and came to Philadelphia during a desperate time with a goals against average north of 4. Yes, the Flyers would never have gotten to the Stanley Cup Finals without him. But they also couldn't rely on him once they got there.
He looked overwhelmed and shaky in game 1, ultimately getting pulled in a tough loss. He looked even more overwhelmed and even more shaky in game 5, getting pulled again after a first period in which he gave up three goals on three shots that were very, very savable. And last night, even with some great saves and strong early play, he let in two softies, one the Cup-winner on perhaps the shot that could have arguably been the easiest one to stop all night. As much as I respect the guy and am thankful for the guy, I don't think he's the true answer in net. Maybe he's earned a shot. I couldn't really argue that he didn't. But I don't think that should be set in stone.
The Flyers clearly need to make a few changes, this run notwithstanding. They must, absolutely must get a guy who can dominate in the faceoff circle. They have to. It's been three years or more since this team has had someone like that. And Richards, Carter, Briere, Giroux, they should all bust their ass this offseason to get better in that area. It's essential. The team needs to find a goaltender, whether it is within or from the outside. If that means a trade, so be it. They have offensive depth to spare, no matter how painful it may be to see some guys go. The only untouchables up front I can even envision are Richards, Giroux and now Leino. Everyone else is fair game, in my opinion. That doesn't mean I necessarily want to see anyone go, but if you can get get a truly elite goaltender (highly unlikely) and the price is a Jeff Carter and a JVR, I think you'd have to consider it. Doesn't mean necessarily do it, after all, 40-goal scorers don't grow on trees, and 2nd-overall picks don't come around that often for your squad either.
I think Scott Hartnell endeared himself greatly with his tremendous play down the stretch. Same thing with Danny Briere, who was an assassin with the puck this postseason. Ville Leino became the most unlikely hero out there. And guys like Dan Carcillo, Ian Laperriere, Blair Betts, Darroll Powe and Arron Asham all did their jobs well. I'm sure some will be back and some won't, but the Flyers always seem to do a good job getting those kind of players to perform well, and I expect Laviolette will have no trouble motivating these guys.
The team could obviously use a little more depth on the blue line as well. Ryan Parent and Oskars Bartulis looked overmatched quite a bit in the postseason. Lukas Krajicek is a body, but nothing spectacular. And Kimmo and Pronger aren't getting any younger. They could use a little less ice time. Braydon Coburn rebounded from a horrific season to play very solid in the playoffs, and Matt Carle had some brilliant moments to go along with some awful ones. Those two aren't likely to go anywhere, two young, fast, offensively talented blue liners, but they both have to work on their consistency and defensive responsibilities, specifically cutting down on turnovers. We'll see what they can do, what Paul Holmgren has in store, what Peter Laviolette's plans are going forward.
I know this much, it was a fun ride along the way, a true roller-coaster. It began way back when, with the Flyers making the blockbuster trade of all blockbuster trades, sending a bunch of draft picks, Joffrey Lupul and Luca Sbisa to Anaheim for Chris Pronger. Then it came with the controversial and ultimately pointless signing of Ray Emery (remember him?) in net. Then there was the slow, terrible start, falling all the way to 14th. John Stevens finally getting fired. Emery going down. Laviolette taking over. Boucher going down. Leighton reviving the team and the Flyers tearing up the league before the Olympic break. Then another slide, Leighton going down, Carter going down, the team faltering. Finally, it looked as though all was for naught, that the team was going to be better off (in some people's eyes) not making the playoffs at all. Then there was the shootout victory to get in on the last day, the dominance of the Devils in the first round thanks in large part to Brian Boucher recapturing his rookie form, only to lose Gagne and Carter and Laperriere to injury. Then they fell behind 0-3 to the Bruins, done and ready to go home, with Boosh getting injured in game 3. Then all they did was make history. Leighton saved the day again, Simon extended the series in his first game back, and the Flyers somehow won four straight, advanced. Then they dominated the Canadiens, and made it all the way to the Stanley Cup Final, played toe to toe with the Blackhawks out in Chicago but found themselves in an 0-2 hole. Then they tied it, and made a series out of a matchup many people thought could be lopsided.
Ultimately, they came up short, ending that roller coaster with a jerking halt. It was just a little bit too short, a little off from the greatest ride of our lives, but it was fun while it lasted nonetheless. Let's hope the Flyers can build an even bigger and better coaster next year, this one just a little bit longer and a lot more fulfilling. The Cup was in the building. Next year, we don't want it to leave with the opposition.