I'm not sure if you heard, but Dino Ciccarelli was
inducted into the Hockey Hall of Fame
. Eric Lindros was not. Something about that just doesn't seem right.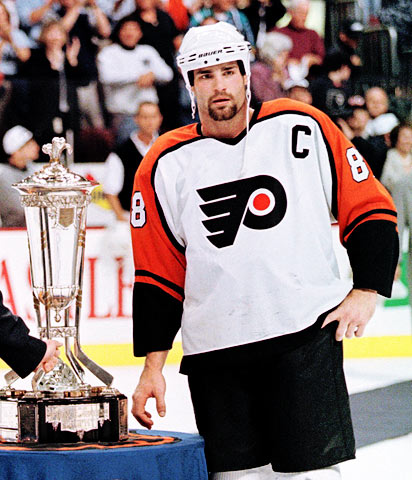 Don't get me wrong, Dino Ciccarelli was a very good NHL player for a very long time, but at no point in his career was he considered one of the game's truly elite, a transcendent player. Eric Lindros was. He really was. Before concussions changed his game and robbed him of ice time, Lindros was truly one of the game's greatest players. He won a Hart Trophy, rejuvenated a dormant Flyers franchise to transform them into perennial contenders and did things on the ice no one has ever seen. His size, speed and physicality — all of which ultimately cut his career short — made for a tantalizing and dominating style of hockey that was all his own. I really think he's worthy of the Hall-of-Fame. No, his career wasn't long, but at his peak, he was brilliant — think of Gale Sayers and the NFL Hall of Fame.
A year ago,
I broached this subject
, induced by reading
Puck Daddy's thoughts
on Lindros and the Hall. Ultimately, Wysh came to the conclusion that "yeah, bottom line: Eric Lindros is a Hall of Famer." I agreed completely.
Just one year later, with Lindros finally eligible but ultimately left out, Wyshynski
called out the entire Hockey Hall of Fame selection process
— not because of Lindros' exclusion, but because of Ciccarelli's inclusion. I think he has many valid points, but one thing he's missing is his take at this time on Lindros. What he did do, however, is mention some of his criteria for Hall of Fame status, so I thought it would be interesting to see where Lindros, one of
favorite Flyers ever
— concussions or no concussions — fits in.
Could this player be considered among the top 3 in his position at any time during his career?
This one is a lock. From his rookie year until the turn of the century really, Lindros was one of the best players in hockey, and for a stretch, arguably the game's best. He won a Hart Trophy, given to the MVP of the league, and the talk of the NHL was how Gretzky and Messier and Lemieux were giving way to Lindros to usher in the next generation. He was the face of the NHL, unquestionably one of the top 3 centers in the game. Really, only Jaromir Jagr, a winger, even conjured up an argument as to who the best player period was. Lindros definitely passes that test.
Did this player win?
No, Lindros never hoisted Lord's Stanley Cup, but yes, he was a winner, at least during his days in Philadelphia. In his rookie year, he scored 41 goals and adding 34 assists to get a down Flyers team to within a game of .500. The team struggled in his second season, even as Lindros posted 97 points (44 goals, 53 assists), but he became the clear leader on the ice. From there, the Flyers made the playoffs and finished at or near the top of the Eastern Conference in every season he wore a Flyers sweater, getting all the way to the Stanley Cup Final in 1997. The guy was a winner. Not a champion, but definitely a winner. Pass.
Did this player revolutionize his position or cause others to emulate him?
Well, I think it's safe to say Lindros definitely revolutionized the game, for better or worse. He was truly the first superstar that didn't need an enforcer. He was a freight train out on the ice, literally steamrolling through the opposition, laying punishing, breathtaking hits, moving faster than anyone his size ever had before. And when someone decided to take a run at him, he'd simply beat them to a pulp. He was truly a do-it-all player — he could fight, he could hit, he could score, he could pass, he dominated in the faceoff circle. He was one-of-a-kind.
He also revolutionized player safety. Because of his straight-forward, fearless, reckless style, Lindros often skated with his head down when he wanted to pick up steam — and got planted. That led to many concussions, cutting his career short. Which in turn led to better helmets, rules on shots to the head, and more awareness for players on the ice. Not many people emulated Lindros, wisely, but he definitely was a revolutionary player, good and bad. I say pass.
Can this player be mentioned in the same breath as hockey's greatest legends without choking back a giggle?
This one is subjective, obviously, but I'd say yes, yes he can. While people may giggle about his injuries and not keeping his head up, there's no one who truly understands hockey that would deny No. 88's greatness in his prime. He was every bit as amazing as some of the game's greats, so much so that he was tabbed as the next one. He was Sidney Crosby and Alex Ovechkin in his younger days. He was being mentioned in the same sentence as Gretzky and Messier and Howe and Orr. So I don't see why he wouldn't be now.
I will admit that Lindros is a difficult case study, a tough one. He was no doubt a Hall of Fame talent, but was his impact big enough to overcome such a short stint of greatness? I say yes, because when he was at his best, he was very clearly a Hall of Fame player. Perhaps in time, he'll get in. Perhaps not. But I'll always remember his dominance, his ability, his awe-inspiring play. Even if things didn't go according to plan.