As you know, the Phillies lost two out of three games in Fenway this weekend, getting outscored 22-4 in the first two games before finally getting a 5-3 victory yesterday. As a result of this prolonged skid, the Phillies are now in third place, 3.5 games behind Atlanta and, unbelievably, 2 games behind the Mets. They're closer to last place than they are to first. Not good.
So what did we learn from the weekend? That Cole Hamels is the only player worth a shit on this team right now besides Roy Halladay, as Cole pitched 7 innings of 5-hit, one-run ball with 8 striketouts to pick up the win after Jamie Moyer and Joe Blanton got shelled in the first two games. Oh yeah, and we also learned what a game at Fenway between the Phils and Red Sox looks like.
These images come via Lavar's Love Child, who attended the game with his friend Boner on Friday. Those two crazy bastards also went to the game yesterday, though they didn't sit together. The photos are from both games, taken by Phillies fans who reside in Boston, which has to be unbearable right now with the Celtics up 3-2 thanks to a far superior bench than the Lakers' and Ron Artest not knowing how to make free throws.
I would write more about stuff, like the US tying England on Saturday thanks to England's keeper failing to stop a Clint Dempsey shot that any third-grader could have stopped, but I'm still too pissed and depressed that I'm at work right now instead of parading down Broad Street marveling at the Stanley Cup.
Just go read about
Ed's awesome weekend
instead. Sounds a whole lot better than mine. Though I did see Bryan Scott at the Freight House in Doylestown on Friday night. As in former Penn State Nittany Lion, 2nd-round pick by the Atlanta Falcons and current Buffalo Bill Bryan Scott. True story.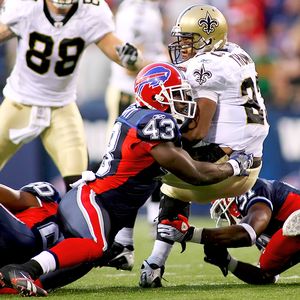 If you don't believe me, well, maybe you'll recall that the guy is actually from Doylestown. He went to C.B. East high school. And then Penn State. In fact, he was a senior when I was a freshman at Penn State. Another true story.