Another wild weekend for Philadelphia. Things started out well enough on Friday, as I was in attendance at the Wachovia Center to watch the Sixers defeat the Magic thanks to the game-winner by Thaddeus Young, and the Phillies won thanks to a grand slam by Shane Vicotrino in the ninth that propelled the Phils from a 3-0 deficit in the final inning to a 7-3 victory.
Unfortunately for me, I didn't get to see a single second of the Phillies' comeback, but as I said, I was in the 12th row at the Sixers game, so I was doing all right. Although, I had no idea that would be the case when I headed down to the game with two of my roommates, silver fox and uncle jellyfish, especially on our way there. Honestly, if you headed down to the sports complex area in south Philly Friday, you know there was absolutely no traffic at all. None. We made it down there easily, and the parking lot even looked empty at the Wachovia Center.
I became disheartened and fearful that the building would be nearly empty. Turns out, I was wrong. The place filled up quickly, and the crowd was into from the start. And my section was fantastic. Now, I generally don't like people. Truly, honestly, I'm just not a fan of them, and I typically don't enjoy when strangers try talking to me, unless of course they are attractive females. So when I sat down in my seat and this older gentleman began to chat me up, I was annoyed. Being my standoffish self, I didn't really respond much, but the guy knew basketball and was really into the game, so I quickly began to enjoy his presence. But not as much as the guy in front of me.
This guy was pretty tuned up, and he was all sorts of into the game. He was griping like Sammy Dalembert after a foul call, and every time Dwight Howard touched the ball, he'd scream, "HE TRAVELED! THAT'S A TRAVEL!" Every time. I swear. He was great.
Of course, Thad was the hero at the end, but it was Andre Iguodala and Andre Miller who carried the load, as they have really all season for the Sixers.
The game was tremendous, but it was also infuriating to watch. It was the antithesis of games 1 and 2, where the Sixers fell behind by 18 both games and made a comeback, one that succeeded, the other that came up short. Well, on Friday, it was the Sixers who built a 17-point lead in the 3rd, only to see Orlando, led by Dwight Howard's beastly night (36 and 11), come storming back. Thanks to some horrific free throw shooting by the Sixers (18-26), especially by Louis Williams (2-5) and Andre Iguodala (9-13), it took a last-second bucket from Thad to win the game.
The thing that pissed me off was that it was the scorers who were missing free throws, a guard and a small forward who shot 79 and 72 percent from the foul line this year, respecitvely. Meanwhile, Howard, who was a dismal 59 percent free throw shooter this year, went 12-14. That's inexcusable for Philadelphia's guard/small forward to be that much worse than Dwight Howard. But hey, the Sixers won, we got a celebratory cheesesteak, and the Phils' victory made the night a complete success.
And then there was Saturday. At the crack of 3, the Flyers came out and looked determined to send the series back to Pittsburgh for a deciding game 7. After holding off an aggressive Pittsburgh start, the Flyers scored twice late in the first, first on a goal by Mike Knuble, then on a beautiful shot by Joffrey Lupul on a great pass from Claude Giroux.
The Flyers continued to roll, scoring a beautiful power play setup as Simon Gagne hit Danny Briere in stride, and Briere buried it to make it 3-0. I was thoroughly enjoying myself as Arkansas Fred, The Charles and myself ate a ton of candy, pizza and hoagie at our friend's house, watching the Flyers on the high def and the draft on the smaller TV.
And to make things even better, Daniel Carcillo
took down Max Talbot
seconds after Briere's goal, and the place was roaring:
Now, as you can hear, Eddie Olczyk thought Carcillo took the bait and made a huge mistake by fighting Talbot immediately after going up 3-0 in an elimination game, giving Pittsburgh a little jolt, even if he did win the fight. At the time, I thought Enzo was out of his mind, especially with the way Carcillo handled Talbot and the fans roaring.
Turns out, Olczyk was absolutely right. Fourteen seconds after Carcillo and Talbot went to the box, former Flyer Ruslan Fedotenko scored, and the Penguins got the shot of life they were looking for. I guess that's why Enzo gets paid the big bucks and I just watch. Mark Eaton and Sidney Crosby each scored to tie the game, then Sergei Gonchar put Pittsburgh ahead in the third, and Crosby's empty-netter ended the Flyers' season. It sucked.
Coughing up a 3-0 lead at home in an elimination game, and doing it by surrendering five straight goals, is simply and utterly inexcusable. Heads should roll. A team that had six 25-goal scorers, a team that made it to the Eastern Conference Finals last year, a team that had all the talent in the world, lost in the first round, two of the losses coming by coughing up leads. Clearly, the players aren't going anywhere, with the exception of perhaps the goaltender, and I have to say, Marty Biron didn't play all that bad in the series, but he was awful Saturday.
There's no excuse for him not to have covered the puck on Fedetenko's goal, and even though it was deflected, he should have caught the puck that he got his glove on before Crosby's first goal. And the goal by Gonchar, while definitely an impressive shot, should have been stopped. You can't give up goals from that far out when your team is grasping for its life. It was pretty pathetic that both Ryan Parent and Kimmo Timonen backed off Gonchar, but Biron had an unobstructed view of Gonchar and the puck. He simply couldn't stop it. We may have seen the last of Marty Biron as a Flyer. Then again, maybe not, seeing as there are no goaltenders out there at all.
Anyway, one guy who should be gone is John Stevens. To allow his team to play terrible down the stretch, lose home ice advantage, watch the once potent power play fall apart, come out flat in game 1 of the playoffs, choke away two leads, continually fail to play good defense, see no improvement from the beginning of the year to end in the faceoff circle and just basically underachieve, the guy should be fired. A first-round exit isn't good enough. At all. Get a coach in there that will use Claude Giroux on the man advantage, a guy who can motivate Jeff Carter in the playoffs, and a guy who can, you know, actually coach up his players to teach them defense and winning faceoffs.
It was a terrible thing to witness, and there are things that have to change. The Flyers' centers should work all damn offseason on winning faceoffs, because they were dreadful at them this year and it cost them big time in the playoffs. Pittsburgh manhandled the Flyers in faceoffs and controlled the puck much more as a result. Also, the Flyers should target a lethal faceoff guy, a guy that can be trotted out there to win every important faceoff the way Keith Primeau did for the Flyers.
And some guys should really look at themselves in the mirror. Jeff Carter had a fabulous season, but he was terrible in this series. He came up small, missed some golden opportunities, and really, just got taken off his game by getting roughed around a little. He needs to find a way to use his big frame a little more aggressively. Scott Hartnell needs to harness his agitator status and take a lot less penalties next season. Players like Braydon Coburn and Matt Carle need to communicate better on defense, and as a whole, the Flyers have to become better with the puck, stop turning it over and get crisper on their passes. The first course of action is to fire John Stevens. I hope it's the step the Flyers take.
Luckily, the Phillies came from behind again and won, and Chan Ho Park did
this
:
In all honesty, I was consumed more by the draft, and I was completely underwhelmed with the Birds trading up two spots to get Jeremy Maclin. My line of thinking was they needed a running back more, and if you were going to get a receiver, why not just trade the pick for Boldin? But as the Eagles' draft unfolded, I have to say, I like it, especially the more I think about it.
Maclin is a stud, and he'll definitely make the Eagles better. And I loved the pick for LeSean McCoy. Seeing as the Broncos took the guy I wanted more than anyone else real early, McCoy was the next back I wanted. Donald Brown wasn't doing it for me, but McCoy, I've seen him play and he's exactly what the Eagles look for in a back. Add in the Cornelius Ingram pick, and I'm pretty pumped now. Ingram is a huge target that could solve the Eagles' red zone problem, assuming he is healthy. And with the trade for Ellis Hobbs, it leads me to believe the Eagles still may not be done.
In all honesty, I'd be shocked if they didn't trade Sheldon Brown now. May I suggest shipping off a future pick, Kevin Curtis and Brown, perhaps, for Boldin? Or how about making a play for Julius Peppers? Braylon Edwards? Probably not, but I would think the Eagles are going to try and move Brown somewhere. Either that, or make his trade value completely deteriorate by making him ride the pine like they did with Lito. That would suck.
Either way, I'm cool with the Eagles' offseason, except for, you know, completely being dicks to Dawkins. But getting Peters, Andrews, Sean Jones, Weaver, Hobbs and the draft, it looks like a hell of an offseason. Which may or may not be done.
Eventful Saturday either way, and it culminated with getting very, very drunk.
Yesterday was very nice in the afternoon. For the first time all year, a Phillies starter didn't give up a home run, as Jamie Moyer continued his dominance against the Marlins.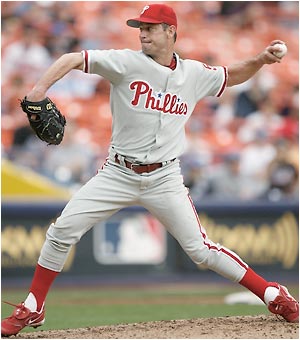 The Phils exploded for 13 runs, and the game was never in question. Hell, they were in such command that the Marlins brought in Cody Ross to pitch the ninth. That was fun. The sweep brought the Phils to 9-8 and a game and half within Florida for the division lead. And with Park's home run and Moyer's 1-for-1 with a walk and HBP, the Phillies pitchers are hitting better than Jimmy Rollins. Someone wake Jimmy up please.
The Phils provided some relaxing relief early, but there'd be none of that late. The Sixers decided to go back to that strategy of falling behind and coming back, which they did thanks to Andre Miller just taking over in the 4th, but, as has happened so many times this year, the Sixers lost on a heartbreaking shot at the end of the game, this time by the Turkish assassin.
I have to be honest with you, I have no idea how the Sixers are staying with Orlando. I thought this was going to be a 4-1 Orlando win, but the Magic had to use everything they had to even the series 2-2. I still don't think the Sixers will win, but they are doing a hell of job staying in every game. Iguodala didn't have a very good shooting game last night, but he's becoming a legit threat, and if Orlando can't straighten out its three-point shooting, the Sixers can stay in this series.
I never thought I'd say this this season, but the Sixers have a chance now to win more playoff games in 2009 than the Flyers. Who would have guessed that two months ago?