The Phillies entered Monday's series with the Atlanta Braves three games up in a division that Atlanta had led most of the season. It was, without question, the most important series of the year to date. With a sweep, the Braves could pull back dead even with the Phillies to all but ensure the final series of the season, down in Atlanta, would determine the whole thing. A series win for either team would put the heat on the other. And a sweep by the Phils would all but bury the Braves, making the division title a moot point and forcing the Atlant to hang on for dear life in the Wild Card race.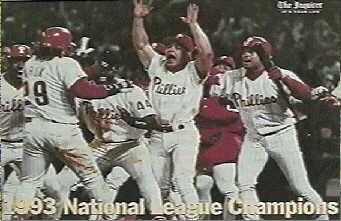 Well, the Phillies took the first two games behind a brilliant performance by Cole Hamels and some clutch hitting in
in game 1
and Roy Halladay picking up his
20th win of the season
with some help from Jayson Werth and Raul Ibanez in game 2. A win last night would be the final nail in the coffin for Atlanta, and Roy Oswalt was determined to bring his hammer out to the mound with him.
That is exactly what he did, pitching perhaps his best game since coming to Philadelphia, which is saying something considering just how dominant he has been. Oswalt went 7 innings last night, giving up just one hit and no runs while striking out eight Atlanta Braves. He made Derek Lee look like a lost little boy. Ditto Rick Ankiel. And all the rest of the Braves. He could sense the importance of this game, knowing full well he had the chance to complete the sweep and annihilate the Braves, and he wasn't about to let down after watching his fellow aces, Cole and Doc, get the job done.
Oswalt sure did his part. But Atlanta, sensing the desperation, kept pace. Tommy Hanson matched Oswalt nearly pitch for pitch, giving up just two hits in six innings and working out of some jams created by some control issues (he walked 3). He combined with Peter Moylan and Craig Kimbrel to equal Oswalt's seven innings of shutout ball. The Braves would not go quietly into the night. So the Phillies decided they'd just have to put them away kicking and screaming.
Ryan Madson came in for the 8th and continued to completely dominate in September, pitching a scoreless inning. And for the second straight night, Jayson Werth and Raul Ibanez decided to play hero after Ryan Howard grounded into a double play to erase Chase Utley, who was hit by a pitch. Werth walked on a great at-bat to get on, and Raul, who is more than showing he has plenty left in the tank, went with a pitch on the outside corner, ripped it down the leftfield line, just landing on said line, scoring Werth from first, who was off on contact with two outs.
RAAAAAAUUUUUUUUULLLLLLLLL!!!!!!!!!!!!!
Then Brad Lidge came in and nailed down yet another save, getting three weak pop flies to bury the Braves. Suddenly, when it really is getting to crunch time, Lidge and Madson are back in
World Fucking Champions
form.
The Braves had a golden opportunity to get back in this and still make a push for the division. The Phillies had the chance to really begin to pull away and assert themselves. For all those years, this was where the Braves would step on the throats and take the division, like they did time and time again in the '90s and early in the 21st century. But the script has flipped. The Braves aren't the top dog anymore. That title belongs to the Phillies, winners of the NL East three years running, National Champions two years running. And with an emphatic sweep of the Braves to extend their winning streak to 10 games and lengthen their lead in the division to six games with just nine more to play, their magic number to clinch is now down to four.
The Phillies displayed a championship mentality, even without their emotional leader, Jimmy Rollins, stepping foot on the diamond. Trotting out the best three-headed monster in all of baseball, the Phillies surrendered just four runs in three games to Atlanta, showing any team that gets the unfortunate task of facing the Phillies in the postseason what they're up against. Cole Hamels went 8 innings, giving up just one run. Roy Halladay pitched 7 innings of three-run ball, legitimately a bad outing for him, the type of outing 99 percent of pitchers in baseball would kill to have. Oswalt blanked the Braves in 7 innings of work. And their tremendous efforts did not go unrewarded, as Brad Lidge picked up three saves with little trouble, and Ryan Madson shut the door in the 8th on Tuesday and Wednesday.
This sweep was a statement to the Braves, to the rest of the National League. To the Yankees and Rays and Twins. To all of baseball, in fact. These Phillies aren't content with winning one World Series and going to two straight. They want to get back again, and they want another parade. In fact, with guys like Roy Halladay and Mike Sweeney, two established veterans who have never even sniffed a postseason, not to mention guys like Roy Oswalt and Raul Ibanez, who have come oh so close but remain ringless, this 2010 version of the Phillies may be hungrier than any to come before it. And deeper. And more talented.
Right now, the Phillies have no flaws. They run 8 deep in the lineup, with or without Rollins, as Wilson Valdez has proven invaluable. Shane, Chase, Ryan, Werth and Raul are all on fire in September. Placido and Ruiz have been huge all season. Jimmy will be back at one point or another, and Valdez has been tremendous in the utility role. Add a potent bench that includes Sweeney, Ross Gload, Ben Francisco, Dom Brown, Brian Schneider, et al, and you have an offense that is as frightening as any in the game. And defensively, this team rarely makes mistakes, with Gold-Glove caliber players all over the place.
Then you look at the pitching, and you have to be terrified. Halladay, Hamels and Oswalt, probably the only three starters this team will need. Joe Blanton coming back to form if needed. And a rejuvenated bullpen that looks as unhittable as ever, especially Chad Durbin, Ryan Madson and Brad Lidge.
There's still 9 more games to be played in the regular season. Still a lot that can happen between now and November. But with an MLB-best 92 wins, the most accomplished starting rotation in the game and a team that has proven itself time and time again the past few years, the Phillies are primed to make another push toward November.
I can't wait to see what this team has in store for us this time around.