Samuel Dalembert drove Sixers fans nuts for years, getting paid an exorbitant amount of money to play at times spectacularly and at others as bad as is humanly possible. But no matter how good or bad he played on the court, or how moody he may have seemed about his role at times, no one has ever said an unkind word about Samuel Dalembert the person to my knowledge.
This story
is why.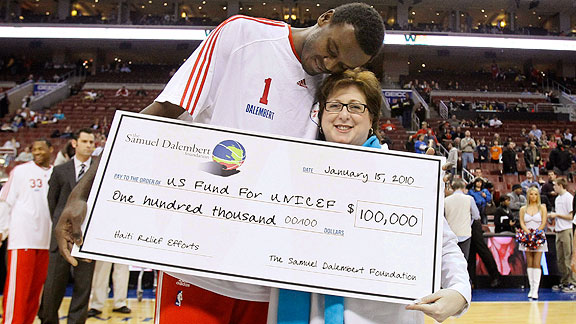 If anyone actually deserves to be overpaid in professional sports, it's Dalembert, who is still doing everything in his power to help his native Haiti recover from the devastating earthquake and looking to provide long-term solutions for the country.
Read the story
. No matter how many times he drove you crazy with an ill-timed goaltending, three-second violation or ill-advised turnaround jumper, you can't help but respect and admire the man for what he's doing. Well done, Sammy D. All the best in Sacramento and in your efforts to rebuild and rejuvenate your homeland.