According to ESPN
, the divisions will look like this:
Michigan, Nebraska, Iowa, Michigan State, Northwestern and Minnesota on one side
Ohio State, Penn State, Wisconsin, Purdue, Indiana and Illinois on the other.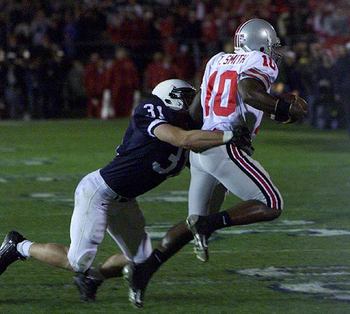 I'm not entirely sure what to think about the whole thing. It definitely creates some interesting potential rivalries. Penn State and Ohio State fighting each other annually for one spot in the Big Ten title game with Wisconsin crashing the party every now and then makes for a fun scenario. Though it also makes it pretty tough for Penn State and Ohio State, winners of the last five regular season conference championships. However, they do get to beat up on Indiana.
On the other side, you have Michigan, Iowa and Nebraska, three teams that should stir up some animosity on the regular to face either Ohio State or Penn State or whoever. Then you have the ultimate rivalry of Michigan-Ohio State as a potential championship game, not to mention pseudo rivalry of Penn State-Nebraska that I hope will develop into a real rivalry.
Lots of intrigue for sure. Guess we'll see how it all plays out.