Ladies and gentlemen, Michael Vick has never lost a game he's started for the Philadelphia Eagles. Not a one.
Granted, he's only started two games for the Eagles, and those came against the Detroit Lions and Jacksonville Jaguars, two truly dreadful teams. So it's not a very big sample size. And it's come against bad opponents. Still, it's been exciting watching Michael Vick lead the Eagles to consecutive road victories, playing two of his finest games as a pro in the process, to lead the Eagles to the top spot of the NFC East, a place they sit all alone at 2-1, with the rest of the division looking up with their 1-2 records.
I'm not going to get all crazy and proclaim the Eagles Super Bowl contenders and Mike Vick the savior after two wins and 10 quarters of impressive football. Like I said, these games came against the Lions and Jaguars, and the Lions and Jaguars are bad. Really bad. For all we know, Vick could go back to his inaccurate ways, get himself in trouble holding on to the ball too long and struggle to read some of the more complex defenses as the schedule gets tougher.
But good lord, did Michael Vick
look awesome
again on Sunday.
The man accounted for four touchdowns, throwing for three and running for another. He threw for 291 yards, still hasn't turned the ball and looks more like a true quarterback than he ever has before. Yes, his completion percentage dropped a bit (17-for-31, 54.8 percent), and he made a couple of really poor throws, but he also looked comfortable in the pocket, went through his progressions, read the defense and took what was there. Sometimes that meant throwing from the pocket. Other times it was moving around to buy time to throw. And on four occasions, it meant taking off, like he did on his 17-yard touchdown run. What he wasn't doing was at the first sign of trouble taking off. I mean, check out his touchdown pass to Jeremy Maclin before the end of the first half.
Besides his maturity as a player showcasing itself right before our eyes, Vick still gives you plenty of jaw-dropping moments. The difference on Sunday was that most of those were made with his arm. There was the beautiful touch and accuracy on DeSean's touchdown pass, hitting him right in stride and letting Jackson do the rest. There was the impossible way he squeezed his second TD to Maclin in there, dropping it in over the cornerback and before the safety could get there. There was the lasers he'd toss, not to mention the back-foot heaves he throw effortlessly, mostly getting them there right in stride.
There's no telling what the future has in store for Michael Vick, but he's been about as good as you can be through two and a half games. And he's been doing it behind a very, very suspect offensive line.
Some have argued that the
offensive line isn't as bad
as is perceived, as Kulp did. And to a degree, Kulp is right. But on Sunday, the Eagles offensive line was not very good. Not at all. There wasn't much room to run, and Vick was under siege regularly. It wasn't a matter of Vick holding on to the ball too long or the Jags blitzing all that much. Jacksonville's front four simply beat Philadelphia's front five on many occasions, and John Henderson isn't even there anymore.
Terrance Knighton especially was giving Philadelphia fits. It wasn't an encouraging sign with Brian Orakpo and the rest of Washington's pass rush coming to town this week (and some guy named Donovan too).
However, the offense had no trouble moving the ball, especially through the air. DeSean had himself another huge game, with five catches for 153 yards and a score. Maclin had 83 yards on his four catches, half of which were touchdowns. And Brent Celek even got in on the act finally, catching four balls for 42 yards.
The thing that impressed me the most about the win though, even more than Vick, was the play of the defense. Everyone knows that if you stop Maurice Jones-Drew, you stop the Jaguars, but stopping elite running backs hasn't exactly been Philadelphia's forte over the years. And as bad as David Garrard is, he usually plays well at home and has a couple of talented wideouts in Mike Sims-Walker and Mike Thomas, even if those guys don't strike fear in your hearts, and an athletic pass-catching tight end in Marcedes Lewis, the type of player that notoriously gives the Eagles trouble.
But that didn't happen. The Eagles keyed in on Jones-Drew, limiting him to 88 yards on 22 carries. And Garrard couldn't beat them. He threw for just 105 yards. Lewis led all Jacksonville receivers with just three catches. And Sims-Walker had the most yards, with just 34.
The defense was dominant, especially the defensive line. Trent Cole had a team-high eight tackles and two sacks and was easily the best defender on the field. Darryl Tapp looked unblockable in his first game as an Eagle, registering a sack himself. Trevor Laws had the best game of his pro career, looking like a new player. And Juqua Parker continues to play inspired football since losing his starting spot to rookie Brandon Graham, picking up another sack.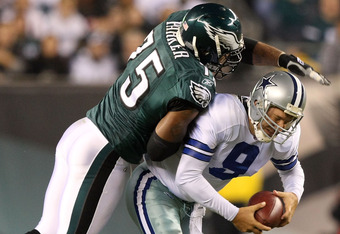 Meanwhile, Graham has been quiet through three games, but his impact has been felt if for no other reason than for lighting a fire under Parker.
One rookie who's having no such problems is Nate Allen. The man who was taken with the McNabb pick had two interceptions, one in each game, in his first two games. He should have had a third on Sunday, keeping his streak alive, but he dropped one that Garrard literally threw right to him. Still, he came away with his first career NFL sack, picking up one of Philadelphia's six sacks in the game. He's been most impressive indeed. Now if he'd just switch numbers with Joselio.
Oh, and Asante got his first pick and horribly whiffed on a tackle, so he's in mid-season form.
All in all, it was the type of effort you'd expect, the Eagles dominating a terrible team. What's unexpected is the Eagles sitting alone atop the NFC East standings three games in. And doing it with Michael Vick under center, playing some very impressive football.
Since there's not much to add, I'd like to give some love to Sav Rocca, a player I've been critical of quite a bit in the past. Rocca is killing the ball this year. Even though he did shank one on Sunday, he also boomed a ton, dropped two inside the 20 and finished with an average of 45.1 yards per kick on 7 punts. He has a 47.7 average this year on 19 punts, good for third in NFL, and his 41.1 average net is among the league leaders as well.
Well done, Sav. Now keep it up.