It's a disaster when you turn the ball over four times and can't tackle anyone against the No. 1 team in the country. It's an even bigger disaster when you lose your starting quarterback, starting middle linebacker, starting center and starting fullback in the first game of the season — the two former both suffering concussions and the two latter likely lost for the season.
Such was the case in my football world this weekend. It was not pretty. Not at all. Thank god for the Phillies and their two Roys is all I can really say.
Ever since the end of last college football season, which saw Alabama come out on top and Penn State lose three linebackers, a defensive tackle and a tight end to the NFL, not to mention its starting quarterback, left tackle and a cornerback, I've been saying my alma mater will lose by 40 points. Then, after
one game
and some (not so)hard thinking, I went all crazy and said Penn State
will make a game of it
. The truth of the matter is, the Nittany Lions didn't. My initial instincts were correct. Alabama rolled.
However, if you actually watched the game, you know that Penn State did have chances to make it a game. Freshman quarterback Robert Bolden did move the ball through the air, did make a lot of very good decisions and did get Penn State in scoring distance on more than one occasion. He also threw two costly interceptions, rearing his inexperienced head.
Right after Alabama took a 7-0 lead, Bolden marched the Nittany Lions all the way down to the Alabama 20, facing a 3rd-and-8. The young QB tried to make a play that wasn't there, unwisely unleashing a duck as he was getting hit, resulting in an interception. It was a tough deal there for Bolden, not being able to step into his throw, but you can't throw a pick right there. Take the sack and the three points, and move on.
The Crimson Tide did what a No. 1 team is supposed to do, making Penn State pay with a methodical nine-play, 96-yard touchdown drive to make it 14-0. Undaunted by the score or the atmosphere, Bolden came out again, marched Penn State down the field to the Alabama 16, again in prime scoring position, when Chaz Powell fumbled and all hell broke loose. Bama's Robert Lester recovered the fumble and went the other way with it some 74 yards before Derek Moye stripped him. Then it looked like Penn State recovered it, but it was reviewed. And on the review, it looked like Bama should have actually had the ball at the Penn State 2, but instead Penn State was awarded the ball at their own 2. It was crazy.
That was the second instance of shooting themselves in the foot. Alabama added a field goal to make it 17-0 at the half. Still, Bolden didn't look overwhelmed or out of sorts. He had moved the ball reasonably well, should have gotten the Nittany Lions on the board, but made one big freshman mistake. However, the game wasn't completely out of reach. If Penn State could come out of the gates and get a touchdown, it's suddenly just a 10-point game.
That's exactly what it looked like would happen as Bolden again methodically moved the Lions from their own 30 down to Alabama's 26, again facing a 3rd-and-8. Even without a touchdown, so long as Penn State could get on the board with a field goal, it would be a two-score game. But then on that third-down play, Bolden threw another interception, this one the back-breaker that sealed the deal. It was a terrible throw, a terrible decision. There's no two ways around it. It was bad. And that was the throw that crippled his confidence. He looked much more lost after that, forcing some bad throws that weren't there and staring down his receivers. Not that they helped him.
With the game still in reach, Graham Zug — who earlier on the night I described as a guy who never drops the ball — dropped a perfect third-down pass by Bolden that would have kept the drive alive and been a huge gainer. As reliable as Zug has been — that play excluded — and as big of a match-up problem Derek Moye causes, I still believe in my heart that Justin Brown is the best of the bunch. But Penn State rarely uses him. It doesn't make any sense. He's big. He's strong. He's fast. He needs the ball in his hands — and when he gets it, he needs to keep it, not throw a ridiculous pass. What a horrible waste of talent. The guy is a stud in the making, yet he only gets one ball thrown to him and the only other time he touches it, the coaches make him throw an option pass that made absolutely no sense at the time and resulted in an interception. Please, for the love of god, free Justin Brown!
Those missed opportunities really cost Penn State and made the game look even more lopsided than it was. The offense actually was moving the ball on Alabama through the air. They just couldn't punch it in. A lot of that had to do with the run game again being nonexistent, but seeing as they couldn't generate any running lanes against Youngstown State, I didn't expect they'd be able to against Alabama.
The thing of it is, even if Penn State's offense didn't shoot itself in the foot, even if they did manage to put up points when they should have, it wouldn't have mattered one bit. Why? Because Penn State's defense flat out sucked on Saturday night.
The line got no push, the linebackers missed tackles and were drug for yards at a time, and the secondary played like complete dog shit. Actually, that's not fair to say. The corners actually played really well. D'Anton Lynn was excellent as always, and save for one bad missed tackle, Stephon Morris was his usual self too. But the safeties were just dreadful, especially Nick Sukay.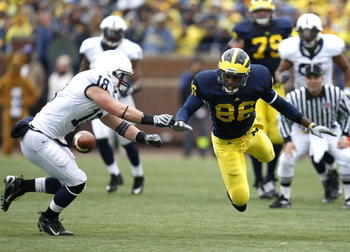 I already didn't like Nick Sukay to begin with, but this game officially made him my least favorite player on the team. The man can't cover. Not one bit. He's another stereotypical slow, white Penn State safety. Think Anthony Scirrotto or Andrew Guman or Sean Mayer.
Sure, Sukay can make a tackle every now and then, but he can't cover anyone. Greg McElroy's last touchdown pass was 100 percent Nick Sukay's fault. He jumped up about three yards instead of sitting in his zone spot near the end zone, letting Dial run right by Bani Gbadyu and lofting the ball over the linebacker. Sukay should have been there overtop to make the play. Instead, he was way out of position and nowhere to be found. Add to that that he was beat several other times in coverage and missed about eight tackles, and we have ourselves a guy who should not be starting for a Big Ten defense.
What I don't understand is that Gerarld Hodges, a big, fast, terrifying force, was a stud safety in high school, one of the best safety recruits out there, yet he gets to Penn State and they decide to make him a linebacker. An undersized one at that. Someone explain this logic to me. Penn State's deepest position is linebacker. Their weakest depth-wise is probably safety. Why would you rather move a guy who was born to play safety to linebacker where he would be just one more talented guy in a rotation of talented guys instead of leaving him at safety and potentially being a star from the get-go? I don't get it. But it's not like they can move Hodges there now, seeing as he got hurt on kick coverage in the game. Awesome.
As bad as Sukay was, he was hardly alone. As I said, the defensive line didn't do dick. They've looked bad for two weeks now. And I'm pretty sure we can stop pretending that Eric Latimore can play defensive end. He's too small, too weak and plays with horrible leverage. Send him down the depth chart please. More troubling was the linebacking corps, however. There wasn't a single guy out there who could bring down Trent Richardson. Not one. Granted, Richardson is a beastly beast, benching something like 460 lbs. Guess that's why he was dragging Nittany Lions and shedding them like they were nothing.
Chris Colasanti sucked. Bani Gbadyu sucked. Mike Mauti sucked. Nate Stupar sucked a little less than those other three but wasn't anything special. And Gerald Hodges, as I just said, got hurt. It was not a good game for the defense, as Richardson gashed them for 144 yards on 22 carries and McElroy added 229 yards and two scores through the air, connecting on 67 percent of his passes.
In all, it was sort of what you would expect heading in. Alabama looked very much like the No. 1 team in the country. The Nittany Lions looked like a young team that made young mistakes. Alabama was the No. 1 team for a reason. They were much better than Penn State.
I will say this though — Robert Bolden is going to be good. Really good. He'll make his share of mistakes this season, but next year and beyond, watch out. He has it, whatever it is.
So does Trent Richardson. And he already is good. All sorts of good. Maybe better than his Heisman Trophy-winning teammate. Though I'm not sure either one is as good as South Carolina freshman Marcus Lattimore. I've only seen the kid play two games so far, but he was awesome in both of them, especially this Saturday when he ran the ball 37 times for 182 yards and two touchdowns without even looking like he broke a sweat.
The guy carried the ball 21 times in the first half and had over 100 yards. Stud.
You know who looked absolutely nothing like a stud? Kevin Kolb. The same Kevin Kolb everyone in Philadelphia has been falling in love with this summer because he likes to hunt and
kill rattlesnakes
.
Well, I was there in attendance to see the Kevin Kolb Era begin, planting myself along with Adam EatShit and my roommates in the
Wachovia
McDonald's
Wells Fargo Center lot at roughly 1:15. We tailgated for a few hours, seeing nothing spectacular but having a good time nonetheless, before I met Arkansas Fred outside the gate and entered the stadium.
Much like the Alabama-Penn State game, everyone went into this game believing the Packers were the better team and would win. And just like Alabama beat Penn State to take care of business, the Packers did beat the Eagles as expected. But the game was hardly what the masses expected.
The Eagles did jump out to a 3-0 lead, but that was about the only good thing that happened in the first half. On the fourth play for the Eagles in the 2nd quarter, after the Packers had tied the game, Leonard Weaver got McGahee'd, tearing his ACL in crucial fashion. The Pro Bowl fullback is done for the year.
Then Jamaal Jackson, who stunned everyone by rehabbing his torn ACL from last year in time to start this game, tore his bicep and is done for the year. Starting fullback and starting center, gone just like that. And we all saw what happened to the Eagles' offensive line last season when Jamaal went down. Then Stewart Bradley gets knocked the fuck out.
And so does Kevin Kolb.
That sure put the Kevin Kolb era on hold. And caused a slight murmur among the fans in attendance. Because, well, Kevin Kolb sucked complete and utter balls in the first half, completing just 5 of 10 passes for 24 yards. The protection was suspect by the line, but that wasn't the whole story. Kolb was off-target and making bad reads. He looked like shit.
Then to complicate things, Michael Vick came in the game and almost saved the day. The protection did improve for No. 7, but not drastically. Vick made a lot of things happen with his feet, rushing for 103 yards on 11 carries and extending some plays in the passing game with his feet to escape the rush. Frankly, he looked about 8 million times better in the 2nd half than Kevin Kolb did in the first half. And once he entered the game, Arkansas Fred was saying, "What if the Eagles come back and win and Vick leads them to the win?" Funny thing is, that almost happened.
Vick led touchdown drives of 60 and 79 yards and brought the team to within a touchdown late to give them a real chance at winning. In fact, the Eagles had the ball with time winding down when that horrific 4th-and-1 call happened, ending the game.
That's not to say Vick was perfect. Far from it. He made several inaccurate throws, took some sacks and made a terrible decision on third down in the second-to-last drive when the Eagles drew within a touchdown thanks to a field goal. Vick could have walked into the end zone to make it a three-point game (following the PAT), but instead tried to throw it to a covered receiver and had to settle for three. That was bad.
But the truth of the matter is he looked good. Really good. And miles better than Kolb. Even with his inaccuracy, something the Eagles have been used to with Donovan McNabb for all those years, Vick finished the game completing 67 percent of his passes (16-24) — far better than Kolb's 5-10 — for 175 yards to go along with is 103 yards rushing. He was the reason the Eagles even had a shot to win this game, not the reason the lost it.
No, that distinction goes to pretty much all of the other players and the coaches. For some unknown reason, Sean McDermott had Stewart Bradley line up a three-point stance on consecutive plays with five down linemen, and got burnt on both plays. What I don't get is why he would do this with Bradley, a guy who is not known as a pass rusher, but never, ever, once even considered doing this with Chris Gocong last year despite the fact that Gocong was a pass-rushing specialist in college. It makes no sense. The only thing I can come up with is that Sean McDermott is an idiot. Which he is.
Brandon Graham was a complete nonfactor in his NFL debut. The only positive thing he did was motivate Juqua Parker to get two sacks. Ellis Hobbs got burnt by Greg Jennings for a score. The Eagles couldn't stop the run for large portions of the game. Quintin Mikell played like shit, and the linebackers were pretty much invisible. The only guys on defense that stood out at all were Trent Cole being his usual awesome self, Parker getting those sacks and Asante almost getting a pick and taking away half the field most of the game.
Oh, and Nate Allen played solidly, if unspectacular. He didn't make any mistakes, and he even got a gimme interception thanks to a horrible overthrow by Aaron Rodgers. One thing that Arkansas Fred said that makes a lot of sense is that Allen should change to No. 21 — hell the Eagles should pay Joselio Hanson to give it up to the rookie — because the Eagles would sell exponentially more jerseys if he wore 21. I know I'd buy one, especially the sweet ones they wore yesterday.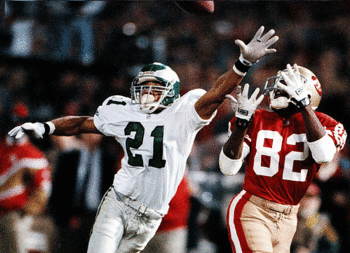 Offensively, I didn't understand the philosophy that much. The Eagles, even with all their speed and talent on the outside, didn't stretch the field once. They didn't take a deep shot to DeSean or Maclin once. They settled for everything underneath and intermediate. I'm not sure why you wouldn't take any shots down field. Doesn't make much sense.
Also, in the stunner of all stunners, they refused to run the ball again. Half of Vick's scrambles weren't called runs. LeSean McCoy had just 7 carries, even though he averaged five yards on those seven carries. Dear Andy and Marty, run the ball. Assholes. With Jason Peters — who oh by the way got dinged up and missed a few series … and got called for numerous penalties (surprise, surprise) — and Todd Herremans on that left side, they should be running behind those behemoths more than a few times a game. But frankly I've grown tired writing about this. Andy is Andy and he'll never change. And I'll never stopped being annoyed by him.
Specifically his time management. Why the Eagles would use all three of their timeouts on defense with 5 minutes left to play is beyond me. I know Green Bay was running the ball and the clock, but jesus christ. Andy called a timeout after a first down run, and then the Packers got a first down right after that. It was just horrendous, horrendous clock management. What else is new? For all the guy has accomplished and all the wins he's racked up, you would think once, just once, he would learn how to manage the clock. I've yet to see it, going on year 12 here.
And then there was that horrendous final play on offense, the 4th-and-1 that had Vick starting in the shotgun, forcing him to travel a good five or six yards just to get one — which he didn't. Awesome. The more things change, the more they stay the same.
You can look at this game in two ways — the glass half full or half empty. The half-full view says the Eagles lost by just one score to a Green Bay team many people think will be really good, and Michael Vick looked more like a quarterback than perhaps he ever has. To that I say, fantastic, but I'll take the half-empty view, thank you very much.
The bottom line is the Eagles lost. And more importantly, they lost their starting quarterback and starting middle linebacker, two pretty important positions, for who knows how long given all the rightful concern over concussions and head injuries. They also lost their center and fullback for the season, two pretty good players. One a Pro Bowler and the other arguably the most important cog on the line. The left tackle who was supposed to be one of the best in the business can't stop committing penalties and getting hurt. And the coaching staff still can't get down this whole time management thing.
That's what I'd call a bit of a disaster.
Like I said, thank god for the Phillies.
FREE JUSTIN BROWN!