Listen, no matter what happened on that opening drive of the third quarter Saturday night, Penn State was not going to beat Iowa. The Hawkeyes were vastly superior than Penn State in pretty much every conceivable way, especially on the lines. Adrian Clayborn and company dominated Penn State's offensive line,
just like I said they would
, and Ricky Stanzi made less mistakes than Robert Bolden. Iowa won because the Hawkeyes were the better team, plain and simple.
However, I feel like I was taking crazy pills because before Robert Bolden got stuffed on fourth down at the 1 on a play he should have scored on about three or four different times had he just cut the damn thing up field and went, I'm damn near certain Michael Zordich scored on 3rd down, yet he wasn't given a touchdown, no replay was shown and the announcers didn't say a word about it. Afterward, Penn State called timeout facing a 4th and goal at the 1. I figured they called timeout not only to discuss what to do on 4th down, but to also allow the officials to review it. No review came. Neither did a challenge. And I'm baffled by it.
When Penn State lined up, I texted Arkansas Fred: "Didn't Zordich score?" No immediate response. My eyes must have deceived me, because no one noticed and no one said a word. So I watched it again on the DVR. Here's the scenario, because I can't find the video anywhere. On 3rd and goal at the 1, Penn State predictably hands the ball off to the up back, fullback Mike Zordich. Zordich gets stuffed at the line, yet keeps his legs moving. After a moment of being stood up, Zordich spins off, never going down, and lunges forward, stretching the ball over the goal line. That's a touchdown. I watched it again. Looks like a touchdown. The only way it couldn't have been is if the officials blew the play dead when Zordich was initially hit, calling his forward progress stopped. I couldn't tell, because the roar from the Iowa fans drowned out any whistle.
But let me say this, if that was called stopped forward progress, it was a pretty quick whistle. Zordich's legs never stopped moving, and he spun off then lunged over the goal line. It should have been a touchdown. I called my dad. He said he didn't really notice and no replay was shown. He doesn't have DVR. So then I called Arkansas Fred, asked him if he saw it. I told him I watched it more than once, and I swear the guy scored. He asked if it was true, then rewound his DVR and watched it again, saying, "Yeah, he scored. He did score." Yet there was never a word about it, never a moment it was mentioned or shown again. I've watched it four times, and every time it looks like he scored.
I guess I really am crazy, but I thought it at least deserved to be reviewed. Or challenged. Or something. The whistle must have blown due to forward progress being stopped. That's the only explanation. But it sure as shit looked like a TD to me, a score that would have made it 17-10 and given momentum to Penn State. Then again, if Bolden just manned up and went for the end zone instead of dicking around on 4th down, the same result would have occurred. Regardless, Penn State wasn't winning that game and didn't deserve to win that game, even if the offensive statistics — 349 total yards for Iowa to Penn State's 301 — were relatively close.
My cousin sent me a text yesterday: "Never thought I'd say this, PSU is a poorly coached football team." I couldn't agree with him more. It wasn't just the fact that Penn State didn't use the timeout with six second remaining in the first half and the ball at Iowa's 2-yard line, instead opting to spike the ball, giving themselves no chance at getting a touchdown. It's a whole bunch of things.
For one, the game plans have been so vanilla, so predictable that it gives this team no chance, especially with an offensive line that is just not very good. Jay Paterno and Galen Hall wait until the team is down by double digits before opening things up and putting the opposition off-balance, babying Robert Bolden along. If you're bold enough to name a true freshman the starter, you have to bold enough to let the kid play. They're really not doing that early in games, which is why the offense has looked so bad in the first half this season.
Then you look at the substitutions and they're just baffling. Chris Colasanti and Bani Gbadyu should not be on the field. Like, ever. They're just not good football players. Not at all. And there are supremely talented players behind them that should be playing even more. Mike Mauti, Nate Stupar and Khairi Fortt are the three best linebackers available. They should play 99 percent of the snaps. Mauti and Stupar have been on the field more than not, but Colasanti and Gbadyu still get too much time. Enough is enough. Now that Gerald Hodges is out, it's time to let Fortt get on the field.
Offensively, it's even worse, particularly at wide receiver. We all know Penn State has a lot of depth and talent at wide receiver, but it's damn near impossible to allow a quarterback, especially a freshman, to get a good rapport with his wideouts when you're constantly rotating new guys in and out, seemingly every damn play. I know Graham Zug and Brett Brackett are upper classmen and that Derek Moye was the most productive wide receiver on the team last year. But Justin Brown is the most talented wide receiver on this roster, and when he's been utilized, he's been the best of the bunch as well. On Saturday, he was second behind only Devon Smith in catches and receiving yards, hauling in 4 receptions for 42 yards. Yet he was on the sidelines as much as he was on the field, something all too common this season.
Look at what Iowa did. On damn near every offensive snap, Marvin McNutt and Derrell Johnson-Koulianos were on the field. It's been that way the past couple of years. Ricky Stanzi knows those guys inside and out, trusts them. McNutt had 5 catches for 93 yards. Johnson-Koulianos had 4 catches for 64 yards and a touchdown, far outperforming any Penn State receivers. That's no coincidence.
Penn State needs to get its best players on the field and play them as much as possible. Derek Moye and Justin Brown are their best receivers. There is no question about it. Brett Brackett should be the No. 3, and Zug the No. 4 at best. Considering how poorly Zug has played this year, dropping a ton of passes, he may not even deserve that, not with the talented, speedy Shawney Kersey back on board. Then there's Devon Smith, who needs to be on the field, which he has been, whether it be at receiver or running back.
If this team wants to get better as the season wears on, it has to start consistently playing its best players, not yanking guys around. Especially with an offensive line that is truly bad, including Stefen Wisniewski, who has completely underwhelmed this year.
I don't think anyone expected Penn State to win on Saturday, and I don't think anyone is surprised by the 3-2 record, losing to Alabama and Iowa on the road. But if the Nittany Lions don't wake up here and start playing smarter, coaching smarter and executing, they may drop more than the 3 or 4 games most people predicted before the season got underway. Right now, this team is not very good, and a lot of the blame can be placed squarely on the coaches — all of them.
Speaking of poor coaching, anyone notice how for the millionth time since he took over as coach for the Eagles, Andy Reid mismanaged his timeouts, leaving the Eagles with none left to take as the clock was winding down in a five-point game? Awesome.
Of course, yesterday's game was hardly centered around Andy Reid. No, this one was all about the quarterbacks. The national media —  I'm looking at you moron who ESPN somehow let's speak despite being a complete moron (and former drug addict!) Cris Carter — wanted everyone to believe the evil Philadelphians would spit venom at Donovan McNabb when he was introduced at Lincoln Financial Field. Instead, he was greeted with a
standing ovation
.
Then once the game ensued, he and the Redskins were booed, because now McNabb is part of the enemy. It was exactly the appropriate reaction. Cheer the man and show how much we appreciated his years in Philadelphia, then boo him now that he's the enemy. More people supported the guy here than outsiders that don't know dick about this city like to believe. Did/does McNabb have his share of detractors in Philadelphia? No question about it. But there were 70,000 people in that stadium showing their love. Don't tell me he was universally unappreciated in Philadelphia.
As for the game itself, McNabb didn't exactly light the world on fire, and that's putting it kindly. He completed just 8 of 19 passes, a dismal 42.1 completion percentage, for just 125 yards. He did throw a beautiful touchdown pass to Chris Cooley, but he also threw an interception to Nate Allen, the man who the Eagles selected with the pick Washington gave Philadelphia in exchange for McNabb. It was already Allen's third pick of the season, fresh off receiving
NFC Defensive Rookie of the Month
for September. Seriously, that guy needs to change his number to 21, and I'll but his jersey immediately. I may buy his No. 29 anyway. So far, he's been the best player on this defense.
Not that that is saying a whole lot, especially yesterday. Sure, the Eagles rendered McNabb useless through the air after his touchdown pass, but that hardly mattered because they couldn't tackle anyone. The linebackers were horrendous, allowing Ryan Torain and Clinton Portis to break tackle after tackle. And Quintin Mikell got completely and utterly destroyed by Torain on his touchdown run.
I'm starting to think the entire reason Quintin Mikell looked any good was because of Brian Dawkins. The guy was terrible without Dawk last season, and he's been pretty awful again so far this year. And he's not the only one.
I don't want to be pessimistic, but you have to wonder if Stewart Bradley is really back to 100 percent, from both the ACL and the concussion. Yesterday, he was horrendous — out of position, over-running plays, missing tackles, taking bad angles, not shedding blocks. He doesn't look like the player that was so vital before getting hurt.
Speaking of getting hurt, the Eagles suffered a back-breaking injury from which they never fully recovered yesterday. Michael Vick has been the best player for the Eagles since taking over for Kevin Kolb at halftime in the first game of the season. He was playing so well that he was on the early list for MVP candidates. And yesterday, he was playing well again, completing five of seven passes for 49 yards and adding 17 more yards on the ground on three attempts. But on a play in which he scampered nearly 30 yards, Vick took a hit from both sides as he was approaching the end zone, leaving with a rib injury — on a play that was called back for a hold anyway. Disastrous.
That was all she wrote for Vick and the whole McNabb-Vick story went out the window. It was back to McNabb-Kolb.
As for Kevin Kolb, well, I'd be lying if I said he looked like the confident guy he was reported to be before the season, understandably so after losing his job to injury and getting his bell rung. But still, it wasn't the best of performances. Yes, Kolb did complete 63 percent of his passes, racking up 201 yards and score. And early, he did look good and confident, helping the Eagles move the ball. But as the game wore on, he looked jittery and gun shy, and he played about as conservative as can be — a far cry from the guy we saw slinging it around in two starts a season ago.
Troy Aikman was chastising Kolb for not taking any shots down the field, and it's hard to blame him. Time and time again, you could see receivers getting open against the league's worst pass defense going into the game, most notably DeSean Jackson often finding the open area. Yet time and time again, Kolb was content to check down to LeSean McCoy and Owen Schmitt out of the backfield or go short to Jason Avant and/or Brent Celek. It was scared quarterback play to say the least, coming against a defense that had been allowing every quarterback in its path to throw all over it.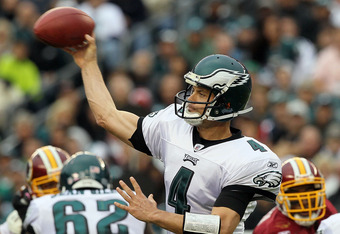 To say it was disappointing is an understatement. Kolb was supposed to be the guy who could get the ball out quickly to his playmakers to let them do what they do. Yet DeSean Jackson only had three receptions on the day, and Jeremy Maclin was all but invisible with one catch for 15 yards. Kolb wasn't even looking at his two speedy, young, talented wide receivers, which makes absolutely no sense. Then came the horrendous throws, ones that made McNabb and Vick look like the most accurate passers in the world (though certainly not McNabb yesterday). He threw a ball right to Carlos Rogers that Rogers thankfully dropped. Then he tried to throw one through Rocky McIntosh, again extremely lucky it wasn't picked. Truthfully, he threw three or four balls that should have been intercepted, and he missed badly the few times he did try to hit DeSean. He threw balls behind guys, underthrew others and got the ball nowhere near anyone at times.
Kevin Kolb did not look good. It's still a small sample size, but his first two games this year have looked absolutely nothing like his two starts last year.
I will say this however. Kolb delivered a great ball at the end for the hail mary, and it hit Jason Avant right in the hands. It's kind of crazy to say a guy should have caught a hail mary, but Avant really should have. The ball wasn't deflected, it went right to him and hit him in the hands, yet it bounced off him and was intercepted to end the game. If he catches that, the Eagles miraculously win and stay in first place all alone. He didn't, and it helped cap off a pretty craptastic game.
McNabb wasn't very good. And the Redskins are legitimately bad, looked just terrible. But yesterday, the Eagles were even worse, and things don't look all that bright on the horizon. Their best player on offense yesterday was unquestionably LeSean McCoy, who ran for 64 yards on 16 carries (though he did fumble twice thanks to carrying the ball like a loaf of bread —  someone get the guy who taught Tiki how to not fumble on the phone stat!) and caught 12 balls for 110 yards. Turns out, he joined Vick on the hurt ribs train
fracturing a rib
in the first half.
With an unforgiving schedule coming up that includes a trap Sunday night game all the way out in San Francisco next week to take on a winless 49ers team that inexplicably was blown out by Seattle and Kansas City while playing New Orleans and Atlanta incredibly tough, followed by games against Atlanta and at Tennessee before the bye, then vs. the Colts after the bye, this team may be in some serious trouble, especially without Vick. After Indy, it doesn't get much easier. Look at this schedule after that:
@Washington (2-2)
vs. Giants (2-2)
@Chicago (3-1)
vs. Houston (3-1)
@Dallas (1-2)
@Giants
vs. Minnesota (1-2)
vs. Dallas
Yikes. Mike Vick better get well soon, or Kevin Kolb better step his game game. Otherwise, this team is cooked. It would also help if the defense decided to tackle someone.
Oh, and I still swear that Michael Zordich scored on that play. It's gonna be a long football season.
Thank god for the Phillies.