Cody Ross has played 636 regular-season games. He has just 86 home runs, never hitting more than 24 in a season. He was a member of the Florida Marlins from 2006 until he joined San Francisco mid-season. The Phillies have faced him a million times, know his every damn tendency. Or at least you'd think they would. But clearly they don't, because Cody Fucking Ross, the same guy who was a decent at best outfielder for the Florida fucking Marlins, is absolutely killing the Phillies right now.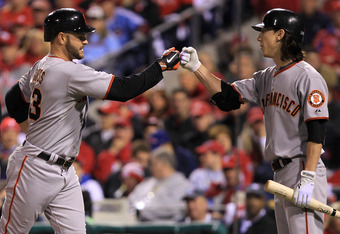 I fucking hate Cody Ross. With every fiber of my being. And I hated just about every damn second of Saturday, with the exception of eating my delicious
Paesano's sandwich
(went with the Daddy Wad).
After a crazy Friday night that began with watching the Rangers implode, settled in by meeting up with a friend for a few drinks and ended by walking through a conspicuous gate that opened up into the most bizarre, out-of-place courtyard, as if I had walked through a portal into another dimension, I was out of it. By the time I went to sleep, it was well past 4 a.m., rendering me useless on Saturday unless you count watching
Red Dawn
— ("From out of the sky, Soviet & Cuban troops begin landing on the football field of a Colorado high school. In seconds, the paratroops have attacked the school & sent a group of teenagers fleeing into the mountains. Armed only with hunting rifles, pistols & bows and arrows, the teens struggles to survive the bitter winter & Soviet KGB patrols hunting for them. Eventually trouble arises when they kill a group of Soviet soldiers on patrol in the highlands. Soon, they will wage their own guerrilla warfare against the invading Soviet troops....under the banner of 'Woverines'!", starring Patrick Swayze, C. Thomas Howell, Charlie Sheen and the chick from Back to the Future) — eating a sandwich and falling in and out of sleep while watching college football until the Flyers started useful.
Turns out, I should have just stayed asleep a little longer until the Phils began. The Flyers came out and played a strong first two periods, but found themselves tied 1-1 with less than two minutes to go in the 2nd period. That's when Matt Cooke took a run at Mike Richards, then started trying to goad Richards into a fight, taking a few shoves and pushes at the Flyers captain. Richards wisely ignored Cooke, knowing getting Richards off the ice with Cooke was the exact trade Pittsburgh was looking for. The whistle blew on what had to be a roughing minor on Cooke, giving the Flyers a power play. Only it wasn't. Despite the fact that Mike Richards literally didn't do a damn thing, the referees sent both Cooke and Richards off. Instead of a power play for the Flyers, it was 4-on-4 hockey, and right before the intermission, Pittsburgh scored on a puck that bounced directly to Mark Letestu with 45 seconds left. Letestu buried it, and the goal was a killer. The Pen blitzed the Flyers in the 3rd and won going away 5-1. Not a good start to the evening, and things were only about to get worse.
For starters, entirely too many showed up at my house to watch the game, which was annoying enough in and of itself. But at least no one was pissing me off. Well, no one until Cody fucking Ross decided to become Babe Ruth.
The game was moving along as expected through two innings, with Roy Halladay not allowing a base runner and Tim Lincecum only surrendering a leadoff double to Ryan Howard in the 2nd that went to waste as Jayson Werth struck out, Jimmy hit a Jimmy (weak pop-up) and Raul flied out. Then, after getting Mike Fontenot, Halladay gave up a deep, deep home run to Cody Ross on a fat fastball middle-in, 1-0 Giants. The first hit Roy Halladay surrendered in his postseason career was a god damn home run. To the 8-hole hitter. On the Giants.
That was all sorts of annoying, but Roy came right back and struck out Lincecum and Andres Torres, showing no signs of struggling. And then
El Senor Octubre
matched 8-hole hitter for 8-hole hitter, ripping a high fastball out the opposite way to tie the game. When Halladay followed by singling in the hole between third and short, it looked like the Phils were about to jump all over the Freak and do what they always seem to do against the opposition's No. 1 this time of year. Instead, Victorino grounded into a double play, wasting Halladay's hit. But the Phils still had life. Polanco doubled. Then Chase walked.
Lincecum had already fallen behind Ruiz 2-0 before Curbball launched a 2-0 fastball over the wall. He fell behind Shane 1-0, and then fell behind Polanco 2-0 before Placido did was Ruiz did, looking for a 2-0 fastball to hit and driving it for a double. He then fell behind Utley 2-0 and wound up walking him on five pitches. Which is all to say that Tim Lincecum was having a tough time with his control in the 3rd inning.
Up comes Ryan Howard, with two on and two out in a tie game with one of the best pitchers in baseball facing him. It's the type of rare opportunity you get against a guy like Lincecum. He's the two-time defending NL Cy Young winner for a reason. He doesn't give you many opportunities to score, so when you get them, you have to take advantage. Ryan Howard had to take advantage.
His at bat started out wonderfully, with Howard taking the first two pitches for balls, Lincecum again falling behind 2-0. In this inning already, Ruiz, Polanco and Utley had done exactly what you're supposed to do with a 2-0 count against a good pitcher — they locked into a spot and looked for a fastball to drive. Ruiz and Polanco each got their fastball, with Ruiz hitting a homer and Polanco doubling. Utley got a slider, not the fastball he was looking to hit, so he took it for a called strike and wound up walking. Ryan Howard did none of those things. Everyone in the world except Ryan Howard knew Lincecum wasn't going to give in to a power hitter in this situation with a fastball. And he didn't, throwing a 2-0 changeup. Howard should not have even attempted to swing at it because it wasn't a pitch he could drive. But he did swing, fouling it off. Still, he was ahead in the count 2-1, and Lincecum was struggling with his command. That's when Howard officially got himself out, chasing a 2-1 fastball out of the zone, then flailing at a slider to strike out.
Yes, the Phillies tied the game, but they wasted a golden opportunity to take the lead and put pressure on Lincecum. Certainly that is a credit to Lincecum and his tremendous ability, but it was also thanks to a crippling double play by Victorino — a guy who rarely grounds into double plays — and a truly horrific at-bat by Howard, one in which he got himself out as much as Lincecum did.
That sequence seemed to change the entire complexion of the game. Halladay started to fight his own command issues, missing his spots pretty badly in the zone. He gave up two hits in the 4th, and then in the 5th, up came Cody Ross again. Halladay uncharacteristically fell behind Ross 2-0, and for some unknown reason, he and Ruiz thought it would be a good idea to come inside with a fastball again. Roy didn't get it in far enough, instead throwing an identical pitch to the one Ross hit out in the 3rd, and wouldn't you know it, Cody Fucking Ross did it again.
It was the definition of a meatball. The type of pitch major league htiters don't miss. And it was the second time Halladay had thrown one, both to Cody Fucking Ross. The Phillies were losing 2-1 on two home runs by Cody Ross. The same Cody Ross who was in the lineup for Florida when Roy threw
his perfect game
. Unreal. The first one you could chalk up to a mistake and give Ross credit for capitalizing on it. The second one was flat out a horrible pitch. Horrible pitch selection, horrible location setup by Ruiz (inside) and horrible execution by Halladay. He threw the damn thing right down the middle for the second time, instead of staying away from Ross. And that was the biggest difference in Saturday night's game. When Halladay made a mistake pitch, threw a meatball, the San Francisco hitters didn't miss it. The Phillies meanwhile got themselves out on numerous occasions.
Besides Howard's horrific at-bat that helped kill the momentum the Phils had gotten when Ruiz tied the game, Jimmy Rollins got himself out in the 4th. After Lincecum walked Jayson Werth on four pitches to start the inning, he started Rollins off with a changeup that missed. Lincecum had just walked a guy on four straight pitches, had just thrown five straight balls out of the strike zone and was coming off a 3rd inning in which he was falling behind everyone and struggling to locate. So what does Rollins do on the second pitch? Swing away, of course, chasing a bad ball and giving himself a strike. Then he looked at one right down the middle for strike two and wound up flailing at a slider to get himself out, much like Howard did the inning before. That killed the rally before it even started, as Lincecum took care of the rest.
Still, as much as Halladay didn't quite look like himself and as frustrating as it was watching the Phils waste opportunities and give away at-bats, it was just a one-run game, and Lincecum didn't exactly look like he was at the top of his game either. Then disaster struck. After getting the first two batters in the 6h, Halladay gave up a two-out single to Buster Posey. No shame there. Posey has been a hitting machine ever since being called up. Up came Pat Burrell, who Roy had made look foolish by striking out on a pitch way outside. Halladay jumped ahead of Burrell 0-2, then threw
a perfect cutter
on the black that should have been strike three. Problem was, home plate umpire Derryl Cousins called it a ball. The very next pitch, Burrell hit a double — a double that should have actually been caught by Raul Ibanez, ending the inning; Raul jumped for absolutely no reason, losing the ball that hit him right in the glove — scoring Posey to make it 3-1, and then Doc gave up a single to Juan freakin Uribe up the middle to plate pinch-runner Nate Schlerholtz, 4-1.
Now listen, the pitch was a strike. We all know that. But it wasn't the first time on the night that Cousins squeezed either pitcher. There were several times Tim Lincecum was upset with calls he didn't get, and Roy was especially upset with this one to Burrell. But the truth of the matter is Cousins had a tight strike zone both ways all night, one that sort of floated a bit too. It's easy to blame Cousins, but the fact of the matter is that Lincecum was getting squeezed just as much, if not more all night long. Don't be mad at the ump on this one.
No, be mad, furious actually, at Carlos Ruiz and Roy Halladay. Ruiz was teammates with Pat Burrell for years. He knows his strengths and weaknesses as a hitter, or at least should. We all know the only pitch Pat Burrell can really do damage with is the one middle-in, and that he has always struggling with pitches away, especially off-speed ones. In an earlier at-bat, Halladay struck Burrell out and made him look foolish in the process by going away from him. But on that 1-2 pitch, Ruiz and Halladay decided to come middle in, it caught too much plate and Burrell smoked it. Yes, it should have been caught — and no matter how long of a run it was, it should have been caught — but the most egregious part was the pitch selection itself. Stupid, stupid call by Carlos and Roy. And as they did all night the Giants took advantage of the mistake. Burrell didn't miss the pitch, he ripped it. And it was the true turning point in the game.
The Phils did manage to make it interesting, getting both runs right back thanks to a single by Chase and a two-run home run by Jayson Werth, but those two great at-bats were surrounded by terrible ones. Howard struck out on three pitches following Utley's single, chasing a slider and then a changeup in the dirt. Then Rollins duplicated Howard's outcome, albeit on twice as many pitches, also whiffing on a changeup in the dirt.
As angry and frustrated as I was, when the Phils got to the bottom of the 9th still down just a run, I had a really good feeling. Brian Wilson is a really good closer. He's also the type of guy the Phillies have been known to slap around, a hard-throwing closer. I was saying the entire 8th inning, just get someone on for Gload, and he'll hit a walkoff. When Wilson hit Curbball with one out in the 9th, I was sure Gload was going to come through. I just knew it. And when he ripped a fastball foul, I thought he had at least gotten Ruiz to third, maybe home … only it was all sorts of foul. I was pissed, and when Gload struck out, I threw the waste basket in front of me off the ground … and it bounced unexpectedly toward one of our TVs, striking it pretty hard and shaking the picture. For a second, I thought I had broken the TV, and my roommates stared at me in horror. Thankfully, the TV came away unscathed, unlike the Phils, who fell behind in the series one game to none when Wilson retired Victorino with a strikeout, striking out the side in the 9th and recording all four outs he was asked to get via the strikeout.
It was a tough one to swallow. Neither Roy Halladay or Tim Lincecum was on his game, but the Giants capitalized on Roy's mistakes much better than the Phils did on Lincecum's. The most maddening part was the way the Phils gave away at-bats. Ryan Howard struck out three times. So did Jimmy Rollins, who went 0-for-4 and looked so awful that I was calling for Wilson Valdez to start game 2. Shane wore an 0-for-5 collar with two K's. And Raul went hitless as well.
That game put a damper on my night, simply staying in and heading to bed relatively early. I had no desire to go out, no desire to even drink, despite numerous invitations. It's depressing how much playoff baseball affects my mood. I really wish it didn't.
While some people I know were proclaiming that the sky was falling with the loss, I still remained relatively optimistic if not disappointed in the outcomes. Certainly, the Phils couldn't afford to go down 0-2 at home, but this was just one game, and one game in which the Phillies saw that LIncecum was not invincible. I just wanted to get to Sunday, anticipating the Eagles-Falcons game as the appetizer and game 2 as the main course, with the delivery of our brand-new, insanely awesome couch as the dessert.
Despite going to bed fairly early on Saturday, I was still plenty tired Sunday morning … and I had to up at 10 a.m. to prepare for our couch delivery, which was supposed to be at the house between 10 and 1. I think you know where
this is going
.
Seeing as the Eagles were scheduled to kick off with the Falcons at Lincoln Financial Field at 1, I assumed the delivery truck would pull up right at 1, interrupting the beginning of the game. As Adam EatShit and I finished preparing the room for the couches that my roommate had already mostly taken care of, I got a call from Toonces asking me if I'd be interested in going to the Phils game. Of course I said yes. I hadn't seen Roy Oswalt pitch in person yet all season, much like I hadn't seen Cliff Lee pitch in person last year
until the NLCS
, and
I'm undefeated
in Phillies postseason games. I accepted the invite for the good of the team.
Anyway, to the surprise of no one, 1 o'clock rolls around and still no couch. Here we are, my one roommate lying on the floor, the other sitting against the wall and myself way back, sitting on one of the old couches, watching and waiting.
To our amazement, the Eagles jumped out to a 14-0 lead in the first quarter, both touchdowns coming on 30-plus-yard scores by DeSean Jackson. On the opening drive, Kevin Kolb hit Jeremy Maclin for 22 yards, and then Jackson took the ball 31 yards to the house on an end around. Two plays, seven points. After Matt Bryant missed a field goal for Atlanta, the Eagles gained 30 yards on the ground on four straight running plays, including a 13-yarder by DeSean, before Kolb threw a perfect strike to Jackson for a 34-yard touchdown, 14-0 Eagles. Everything seemed to be going Philadelhia's way, as the Birds were surprisingly dominating both lines of scrimmage and moving the ball with ease. Even King Dunlap looked good, and DeSean, who had not been targeted much by Kevin Kolb this year, doing most of his damage with Mike Vick at the helm, was having himself a huge game. Then
this
happened:
Talk about leaving your receiver out to dry. Dunta Robinson almost killed DeSean Jackson. I mean kill. I honestly thought DeSean was dead. I'm certain I've seen players get hit as hard as Jackson got hit there, but I don't think I've ever seen someone get hit any harder. It was quite a sobering moment. Such a promising game had hit a dark spot. The last thing any Eagles fan wants to see is their star receiver down for the count. And make no mistake, DeSean was down for the count, out cold. It wouldn't be surprised to here he's out until Thanksgiving.
The good news is that the Eagles continued to dominate. With DeSean down, Jeremy Maclin picked his game up. He scored on a 8-yard touchdown pass by Kolb, doing a tremendous job of working his way to back to the ball, and the Eagles had themselves a 21-0 lead, and looking for more. Moving the ball down the field before half, it looked as though Philadelphia was going to really put this thing away nice and early, either going up 24-0 or 28-0 as they marched toward Atlanta's end zone once again. But with 52 seconds left, Kolb threw a bad interception, and Atlanta moved right down the field in 38 seconds, scoring on a Tony Gonzalez TD. Instead of a commanding 24- or 28-point halftime lead, the Eagles were up only two scores.
Not only that, but our couch still hadn't come. Toonces, who had to pick up our Phils tickets at 2, beat the truck to my house. Between 10-1 became between 10-1:30, then 10-2, then 10-2:30 before finally, right as the second half was about to get underway, the truck pulled up.
As our couch was being brought in and set up, Atlanta added a field goal to make it 21-10. That's when the moment of truth really came for Kevin Kolb. He and the Eagles had looked so good before that interception. Now it was suddenly an 11-point game with all the momentum in Atlanta's favor. Would Kolb fold or rebound? He answered that question emphatically, immediately hitting Maclin for an 83-yard touchdown to answer the 10 straight points Atlanta had put up.
That was pretty much the game right there. Atlanta did get another touchdown, but the Eagles remained in control the whole way, holding on for a 31-17 victory to improve to 4-2 and keep pace with the Giants for first place in the NFC East. Kolb was terrific, completing 23 of 29 passes (79.3 percent) for 326 yards and three scores. He hit seven different receivers and was not shy about attacking down the field. DeSean was brilliant before he got murdered, and Maclin had one of the best games of his career, hauling in seven receptions for 159 yards and two touchdowns.
Both lines played extremely well, with Trent Cole as the standout defensively and King Dunlap of all people doing a very nice job on John Abraham. Asante had one pick and probably could have had a couple more. Darryl Tapp continued to impress, and the Eagles ran the ball 38 times for 154 yards, grinding down the clock in the second half with the lead. It was like watching a bizarro version of the Eagles.
The only lowlights for the Eagles were the injury to Jackson and the horrific three misses by David Akers, all wide left. You'd think he would have overcompensated and pulled that last one, but no. Akers was going to miss left and there was nothing anyone was going to do to stop him.
Of course the biggest story was Kevin Kolb and his tremendous play. He's now led the Eagles to two straight wins, looking very good the past two weeks. And because of that, we now have a full-fledged quarterback controversy once again in Philadelphia — Vick vs. Kolb.
WIP must be salivating over this. I, on the other hand, am just excited and surprised that the Birds sit at 4-2 and atop the division with not one but now two quarterback changes and a thrilling quarterback controversy hanging over everyone's head.
As fun as that Eagles game was, I'd be lying if I said it had my full attention. Besides awaiting the couch, the Phils game was what really occupied my brain. To help pass the time, Toonces and I went to Paesano's because he has never been. Yes, I ate from the same sandwich shop two days in row. They're that good. This time, I went with the Diavlo.
It was delicious. We ate the sandwiches at my house, watching the 4 o'clock games, then left for the ballpark a little before six. I asked Toonces where we sitting, and he said section 213. Thinking nothing of it, once we entered the stadium we realized that 213 was in fact the Hall of Fame section, only my second time ever sitting in that section. Since we had tons of time to kill, we walked around the Hall of Fame Club, checking out the sites and vast array of food selections, buying nothing but soda and some cheese fries.
Finally, game time was nearing, and I was getting pretty excited. Just watching Roy Oswalt stroll from the dugout to the outfield to stretch, you could tell the man was focused and ready to dominate. Sitting in front of us were two middle-aged gentlemen who showed up with two shots of whiskey each. Every time they got up, which was quite often, they came back with another alcoholic beverage — beer, vodka, whiskey, you name it. These guys were loaded, but surprisingly not obnoxious. Stunning, I know.
Anyway, Roy came out and retired the side in order, starting the game off by striking out Andres Torres on a high fastball, something that turned out to be a common theme on the night.
Meanwhile, typical Phillies kryptonite Jonathan Sanchez looked like the complete opposite of Oswalt. Though he did begin his night by striking out the leadoff hitter like Roy — getting Shane to go down looking — he walked Chase. Then Chase stole second, which was followed by a throwing error on Mike Fontenot on a grounder by Placido, putting runners on the corners with one out. Then Sanchez walked Howard, and was really having control issues. He did however strike out Jayson Werth looking for out No. 2, a huge out with the bases loaded and a terrible mistake by Werth. Now, from my vantage point (admittedly not the best on the first base line in section 213), the pitch Werth was called out on looked high. However, it was close, and he had two strikes, and the bases were loaded. You can't strike out there. Just can't. Especially looking. If you get your bat on the ball, chances are it scores a run. Instead, it turned into the second out with nothing to show for it.
Thankfully Jimmy Rollins was paying attention and learning from his mistakes in game 1. Seeing that Sanchez was wild, Jimmy was extremely patient at the dish and worked a bases-loaded walk, getting an RBI to put the Phils up 1-0. The bad part was that Raul followed that up by striking out, and the Phils really let Sanchez off the hook. Yeah, they did manage to score a run without a hit, but they also didn't make the Giants pay nearly enough for giving away an out and walking three guys. It was more of the same from game 1, not quite capitalizing on San Francisco's mistakes.
The good news this time around was that Oswalt wasn't making many mistakes for the Giants to capitalize on.
Roy cruised through the first four innings, striking out five Giants in the process and taking a no-hitter into the 5th. It's a good thing he did, because after that shaky first inning in which he threw 30-some pitches, Sanchez settled down. Only on a Howard ground-rule double in the 3rd and a Jimmy Rollins single that should have never been did another Phillie reach base before the 5th. Rollins hit a pop-up that was a simple, routine pop-up in front of the mound, clearly Fontenot's ball, but no one called it and it dropped. I can't believe a major league team allowed that to happen.
But then in the 5th, with the Phils still clinging to that 1-0 lead, up came Cody Fucking Ross with no one on and one out. For some unknown reason, Oswalt and Ruiz insisted on throwing Ross another fastball on the inner half, and for the third time in two games, Cody Fucking Ross launched a solo home run to left-center, tying the game.
I was beyond furious. Furious at Ruiz and Oswalt for that pitch. Furious for even throwing the guy a fastball, let alone one on the inside half of the plate. Just stay away from the guy. He's killing it right now. How could they possibly throw that pitch to him again? I was so fucking pissed. Cody Fucking Ross had the first hit of the game for the Giants for the second night in a row, and for the second night in a row it was a solo home run. Unbelievable. Game tied, and thousands of pissed fans. Here's a note to Carlos Ruiz and the rest of the Phillies pitchers for the remainder of the NLCS: STAY THE FUCK AWAY FROM CODY FUCKING ROSS!!!!!!! NOTHING BUT OFF-SPEED PITCHES ON THE OUTSIDE OF THE PLATE!!!!! FUCKING JESUS TAPDANCING CHRIST!!!!
I really hate that guy.
Then Roy walked Fontenot, and I was ready to lose it. Luckily, he retired 8,000-year-old Edgar Renteria and then struck out Sanchez to end the inning. And even better, the Phillies played incredibly smart small ball to get that run right back in the bottom half of the inning.
Shane led off by slapping a double down the leftfield line, and I was pumped. Chase followed by smoking a deep fly to right, pulling the ball and allowing Shane to tag and get to third with less than two outs. Then Polanco smoked a deep fly ball to center, sacrificing himself to drive in Victorino, one-run lead restored.
From there, Oswalt was straight dealing. All night long, Roy was firing his fastball at 93-94 mph. His change was on, and his slow, looping curve was devastating. Even the slider was working for him. He struck out Torres for the third straight time on high heat, then got Huff and Posey after giving up a single to Freddy Sanchez. Even as Jonathan Sanchez was keeping pace, making Ibanez look foolish every at-bat and getting Werth and Ruiz to look helpless at times, it didn't matter. Oswalt was in complete command.
He struck out Pat Burrell to lead off the 7th, got Ross to fly out to center (though it was to really, really deep center, so deep and hard-hit that had it been to any other part of the park, it would have been another home run; seriously, stop giving this guy fastballs to hit!), and retired Fontenot himself on a grounder back to the mound.
Having sat down five straight Giants and 8 of nine batters following the walk to Fontenot in the 5th, Oswalt decided to take it upon himself to jump-start the offense again in the 7th by leading things off with a single and chasing Sanchez from the game. Yes, a Roy Oswalt single was ultimately the deciding factor on Sanchez's night. There's just something about Phillies pitchers
hitting in October
.
Victorino then bunted him along to second for the sacrifice, and the insurance run was in scoring position. The Giants elected to intentionally walk Utley to set up the double-play ball and get to Placido Polanco. That's when Polanco said
intentionally walk this
, hitting a single to center. I watched intently on whether or not Sam Perlozzo would send Oswalt. He had the stop sign up, but Roy ran right through it. As the throw came home, Aubrey Huff cut it off for some reason, and that split second it took Huff to transfer and fire home was enough for Oswalt to score, giving the Phils a 3-1 lead.
I went nuts, jumping so hard and so high that I hurt my knee. And I couldn't have cared less. Here was Roy Oswalt, getting a huge hit and scoring a gigantic run in a close NLCS game 2, one that the Phillies absolutely had to win. That was the spark the Phils were looking for. Ramon Ramirez's night was through. In came lefty Jeremy Affeldt to face Howard. Affeldt did strike Howard out, but not before Utley and Polanco stole third and second respectively. Afterward, the guy behind me, who had been killing Howard all night, screamed, "$18 million to strike out! You suck, Howard! You suck!" clearly forgetting about how, you know, Howard had completely carried the Phils to the World Series last year, and helped carry them to the postseason every year with enormous Septembers. Not to mention the fact the guy has actually been getting a few hits here in these playoffs.
Anyway, after Howard was retired for out No. 2, Affeldt intentionally walked Jayson Werth to load the bases for Jimmy Rollins, then was relieved by Casilla. Now, Rollins has had a horrific postseason at the plate thus far, routinely hitting a Jimmy or striking out. However, these are the types of moments Jimmy Rollins lives for, the type of situations where he thrives, especially against flame-throwers like Santiago Casilla or
Jonathan Broxton
.
Well, Rollins, despite all his struggles and horrible at-bats that had me calling for a return of Wilson Valdez,
came through yet again
, absolutely tattooing a bases-clearing double that iced the game.
Oswalt took care of the Giants in the 8th, striking out two more in the process to finish the night with 8 innings pitched, 9 strikeouts and just one run on three hits. Oh yeah, and a single and run scored for good measure. Ryan Madson came in and made it interesting in the 9th, struggling with his command, but got the job done. The 6-1 win was an emphatic statement by the Phils, a statement that they aren't dead just because of one loss.
The tough pill to swallow on Saturday may have been the Phils' first game 1 loss in the playoffs since their game 1 loss to the Rockis in 2007, but it's hardly a sign of a chink in this team's armor. This series is tied 1-1 heading to San Francisco will Cole Hamels taking the hill against Matt Cain, our California boy going back to his home state. A win for the Phils tomorrow and I'm not even sure this thing gets to Philadelphia. Just make sure not to give Cody Ross anything to hit. Fuck that guy.
Seven more wins.
LET'S GO PHILS!!!!!!!