Due to a softball game, I didn't see the majority of the first period of the Flyers-Pens season opener last night, but I did listen to about 10 minutes of it on the ride home before catching the final four minutes once I got to my house. From the sound of things, rookie netminder Sergei Bobrovsky was a busy man … and by all accounts, he was up to the challenge, stopping all 15 Pittsburgh shots he faced against an Eastern Conference favorite in front of a packed house in a brand-new arena.
Not a bad start for a 22-year-old unknown.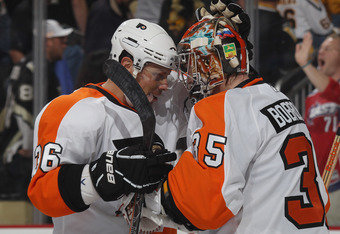 From then on, Bobrovsky wasn't nearly as busy, facing just 16 shots the rest of the way, but he was still good. Sure, he did give up two goals in those final 16 shots, but one was on a sniped shot by Tyler Kennedy as the puck went across the ice, and the final one came on the power play, a deflected shot from the point that he never even saw. Though it did go through his five-hole, it certainly wasn't an egregious goal. And considering the Flyers won 3-2 while getting outshot 31-27, not to mention that Bobrovsky made several incredible saves in his 29 stops, it was one hell of a good night for the rook.
It was just one game, but he looked exactly like the few reports I've read have said. Bobrovsky was incredibly quick from post to post, very agile and had great instincts. He stopped everything he was supposed to with ease, never really looked uncomfortable, and with the exception of one bad Mike Richards turnover late where the puck skittered through the crease and near Bob's feet, he never seemed to lose track of the puck or panic. I was thoroughly impressed. So much so that it wouldn't shock me if this guy eventually becomes the full-time starter at some point this season.
All that remains to be seen, of course. What we do know is that after a first period in which the Flyers played the majority of the time in their own zone, they picked it up the rest of the way. I was excited to see what the line combinations would be, and there really weren't any surprises. Mike Richards, Jeff Carter and Dan Carcillo formed the top line. Offensively, that trio didn't do much, and Carter particularly underwhelmed — especially by not burying a great scoring chance set up by Claude Giroux that would have iced the game. Sure, it was an incredible save by Marc-Andre Fleury, but it was a shot a goal-scorer like Carter needs to bury. Though, it was hardly the first time he's done that. In fact, the play was pretty much
deja vu
all over again
.
However, while I was unimpressed with this line offensively, I thought they did a very good job defensively. Richards has been one of the best defensive forwards in hockey since he entered the league, and every year Carter has gotten better and better defensively. Now that those two are playing alongside each other, they've become a lock-down top line that can simultaneously score against and defend the opposition's best players. Richards and Carter played really well defensively, especially late, winning battles in their own zone and not giving Pittsburgh any space. Dan Carcillo didn't get nearly the ice time of his two all-star linemates, but he did manage to play hard and only go to the penalty box once for a roughing minor, one that did not result in a Pittsburgh power play because Max Talbot was headed off as well for a slash.
Scott Hartnell, Danny Briere and Ville Leino looked like they picked up right where they left off, creating some really good pressure and strong chances. Leino was exactly the player he was during the postseason. Briere looked quick on his skates and explosive, firing three shots on goal and scoring the game's first goal on a beautiful power play redirection.
It was picture-perfect execution by the Flyers, with Carter winning the faceoff back to Richards, Richards firing toward Briere and Danny finishing with an absurd redirection.
As for Hartnell, he got off to a good start, a good sign for a guy who played so miserably last season before becoming a new player in the playoffs. Hartnell was hustling, hitting and even made an incredible play on the back-check late in the third period, busting his ass to get back and diving to break up a great scoring chance on what was a 2-on-1 for the Penguins before Hartnell hurried back. He still was falling down a lot, but he looked like a motivated player. Hell, he even managed to stay out of the penalty box.
The third line was the one that really impressed me. Nikolay Zherdev was inserted next to Giroux and James van Riemsdyk, and all three of these players played well. Zherdev didn't stand out as much as JVR and Claude, but he looks like a nice player and shouldn't have a problem staying motivated with the guys in this locker room. Van Riemsdyk really looks like he's ready to explode. He was flying all over the ice in his nearly 13 minutes, wreaking havoc along the boards and creating chances. In fact, he was the one who fired the shot that eventually became Blair Betts' goal, picking up an assist and finishing a plus 1.
Then there was Claude. In my opinion, he was the best forward one the ice last night, for either team. That's saying something when PIttsburgh is rolling out Sidney Crosby and Evgeni Malkin. Peter Laviolette obviously noticed, playing Claude for nearly 20 minutes, including considerable time on the power play and penalty kill. He and Richards have combined to form one of the two top penalty-killing duos (the other being Blair Betts and Darroll Powe), and they have been great. This is most definitely the year Giroux will break out, mark my words. I wouldn't even be surprised if he made the all-star team, that's how good I think he's going to be. I mean, he outshined just about everyone last night with the exception of Bobrovsky, and he really put his stamp on the game by scoring what turned out to be the game-winning goal in remarkable fashion, stripping Paul Martin to go in on the breakaway and light the lamp … shorthanded.
If you don't love everything about Claude Giroux, there's something seriously wrong with you.
And then there was the fourth line, which really is one of the best fourth lines in the league. I'm not sure exactly what type of hockey skills Jody Shelley brings to the table besides his fists, but he didn't look terrible last night. And Betts and Powe are two of the best defensive players on this team, and two guys who never say die. Last night, they were rewarded, as Betts scored the second goal of the game to make it 2-0 at the time on a shot from JVR that was deflected by Powe and ended up on Blair's stick with an open net in front of him.
I was very interested to see what the defense pairings looked like as well with Chris Pronger still out. Kimmo Timonen and Braydon Coburn got the majority of the ice time, which was no shock at all. That duo did a masterful job, especially against Crosby and Malkin, who were on the ice together a lot last night. And Coburn gave us all a treat, leveling Crosby.
Matt Carle was paired with Andrej Meszaros most of the game, and that duo played solid hockey as well. Carle made a really good play to stop a chance with Bobrovsky out, and Meszaros showed some glimpses. Sean O'Donnell looks like a fitter Chris Therien, wearing No. 6 and being huge and all. He and Oskars Bartulis got the least amount of ice time, and at times, especially in the first period, got caught pinned in their own zone against Crosby and Malkin, but the duo didn't make any mistakes and did a good job clearing the porch for Bobrovsky. When Pronger gets back, this defense corps is going to be perhaps the best in all of hockey.
As for the game itself, it was a very good win to start the season. There were times where Pittsburgh put on some sustained pressure and had the Flyers buried deep, but they did pretty good job limiting the great chances, particularly after the first period. And when they did give up a golden chance, Bobrovsky was there to answer the call.
The most impressive thing to me, though, was the penalty kill. Yes, Pittsburgh did score on one of its five power plays, and that came immediately after Claude scored his shorty, making it a one-goal game once again. But when Betts, one of their best penalty killers, got called for a hook with 1:13 left while protecting a one-goal lead, Richards, Giroux, Timonen and Coburn were suffocating the Pens, never letting even a remotely dangerous chance get through, killing off the final 1:13 of the game with Fleury pulled to win the game. Very good start to what promises to be a long and challenging season, but one that shouldn't come down to
a shootout on the final day
just to get into the postseason.
I'm in full-on Phillies mode and consumed by the Eagles and Penn State as well, but I'm thrilled that hockey is back.