Through six innings of baseball, I was growing increasingly annoyed at Roy Halladay. The man who had given up just 30 walks in 33 starts during the regular season walked the leadoff batter Andres Torres, a player who has not hit whatsoever in these playoffs. It was the first time Halladay had walked the leadoff batter of a game all season long. What a horrible time to finally do it. Of course that asshole scored, and Roy never quite looked right.
He managed to go just 6 innings, an anomaly for the man who led the majors in innings pitched, having to throw well over a hundred pitches and fighting his command all night. He walked two batters, something he rarely ever does. He was missing his spots left and right, especially in the strike zone, resulting in six hits and some really, really poor pitches. It was so uncharacteristic of Roy. He's made a habit of hitting Carlos Ruiz's glove with such regularity that seeing Curbball having to reach and move his glove on almost every pitch was startling. Doc just didn't look good, and I was really disappointed.
Then this morning I find out the guy was pitching with a freakin
pulled groin
, an injury he sustained in the second inning, and still managed to gut it out and get the win, keeping the Phils alive while
staring down the competition
.
It wasn't perfect game Roy Halladay or no-hitter Roy Halladay. It was tough, fearless,
badass
Roy Halladay. He managed to ever-so-slightly outduel Tim Lincecum, the way Lincecum had slightly outpitched Halladay in game 1. And finally, it was the Phillies who took advantage of the mistakes the Giants made, and not vice versa.
Down 1-0 after two and the first six batters looking helpless against Lincecum, Raul Ibanez finally decided to join the series by leading off the third with a bloop single to right. Ruiz followed by getting hit by a pitch, and suddenly the Phillies had life. And then for what feels like the first time this series, the Phils caught a break. With two on and no out, Roy Halladay went to the plate with the sole objective of advancing the runners on a bunt. Halladay, pulled groin and all, tried to lay one down. It bounced off the plate and never went out in front of it, but Buster Posey quickly snatched it, fired to third … and the morbidly obese Pablo Sandoval couldn't find the bag, reaching around with his foot but finding nothing but dirt, as Raul Ibanez slid in safely, with Ruiz following to second. Halladay, seeing that the ball hit the plate, never moved. He assumed it was foul because, well, it was. But home plate umpire Jeff Nelson called it fair. Sandoval, after failing to get the out at third, did throw out Halladay at first, but the sacrifice was successful, job accomplished. Even if he did get some help from the umpire. It turned out to be the
foul sacrifice bunt
that helped save the season.
That was the first break, and the second came right afterward. Shane Victorino hit a grounder right to Aubrey Huff at first, but Huff misplayed it so badly that it bounced off his hand, then his knee and ricocheted into the outfield, allowing Raul and Ruiz to score, and allowing Shane to end up on second, 2-1 Phils. Polanco followed with an RBI single, and suddenly the Phillies had a two-run cushion. When Utley followed with another single to put runners on first and third with one out, it looked like the Phils were going to bust it open. But then LIncecum struck out Howard, and Werth flied out. Another run would have been nice, but still, the damage had been done. The Phils finally capitalized on a good break and two huge San Francisco mistakes.
Of course, this wouldn't be an NLCS game without
Cody Fucking Ross
driving in a run, which he did in the 4th to make it a 3-2 game, following up Pat Burrell's one-out double with a double of his own to plate the former Phillie. The good news is that was it for the Giants. Pitching four-plus innings with a pulled groin, Halladay surrendered just one run, two overall. He got through six innings on one leg, leaving with a one-run lead.
This time, facing elimination, the bullpen did what it could not the night before. Jose Contreras, who has done his job and done it well all postseason, and J.C. Romero worked through a scoreless 7th, with Contreras giving up a hit in his two-thirds and Romero retiring his only batter. Then it was on to how Charlie Manuel would like to draw it up, the Phils leading heading into the 8th for Ryan Madson and Brad Lidge.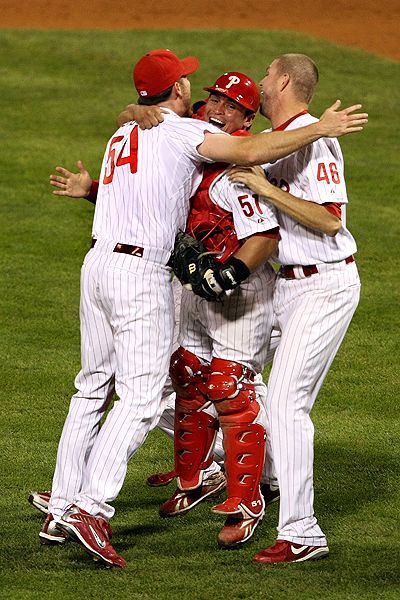 Madson was literally perfect in the 8th, striking out all three batters he faced. Then the Phils added an insurance run on an
opposite-field laser home run
by Jayson Werth, a guy who already had a huge play earlier in the game when he
threw out Cody Fucking Ross
, who was trying to tag up and get to third.
Then Lidge came in and had a perfect night, punctuated by striking out Travis Ishikawa to end the game and force a game 6 back in Philadelphia.
Now the Phils come back home with their two other aces slated to start, both of them looking to redeem themselves after being tagged with losses. Oswalt was brilliant in game 2, picking up the win, but then
lost game 4 in relief
. Hamels was
slightly off
but really just got no runs support, nothing new for Cole, in game 3. Now it's time for both of them to make sure neither loses two in a row.
It may have come one game too late, but Doc did his job. He got the Phils to their second win of the series. Got them to a game 6. And he did it all on basically one leg. It wasn't pretty, but it sure as shit was effective. Hopefully the pulled gROYn game will ignite this team and propel the Phils to six more victories.
LET'S GO PHILS!!!!!