I
called for more Jrue Holiday
, and more Jrue we shall get. Unfortunately, that's because Louis Williams
has a broken jaw
and will be out for a considerable amount of time.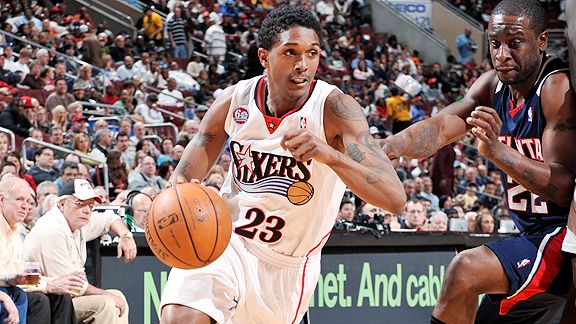 Make no mistake about it, I didn't want Holiday to get more minutes at the expense of Lou Will's health. Williams is an integral part of this team and a guy who has played very well in a handful of games this season. I'm guessing it's going to be difficult to enjoy the turkey tomorrow with a broken jaw. Here's to a speedy recovery for Lou Will.
Speaking of Thanksgiving, I'm thankful for things like
the 50 best NBA slam dunks
, which was brought to my attention courtesy of
Skeets
. While the list excludes some dunks I would have included and ranks them in odd fashion, nonetheless, it's always awesome to watch some insane dunks, such as the following that made the list:
There are a ton more. Go check them all out. And for the record, I think the Pippen over Ewing dunk is the most memorable in-game dunk of my childhood. I vividly remember watching it happen live, and the fact it took place in the playoffs makes it all the more impressive.
I'm definitely thankful for awesome, thunderous dunks.