Talk about a terrible week. The Phillies lose the World Series on Wednesday. Then Penn State loses Saturday, and the Eagles lose last night. Not only that, the Phils lost to the Yankees, Penn State to Ohio State and the Eagles to the Cowboys, three teams that I absolutely hate. It was one of the worst weeks in recent memory. Basically, the complete opposite of
this
.
With the Phils bowing out earlier in the week, I was looking forward to big weekend of football to get my mind off the tough loss and begin to lick the wounds. I planned on starting that process Friday night, heading out to State College with Adam EatShit and his girlfriend to meet up with some old friends and hit up our old college town. On Friday night, I should have known things were not going to go well. The three of us arrived in State College around 10:45 p.m. with the intentions of heading downtown and meeting up with our roommate, who made the trip earlier in the day, and a bevy of his friends. Well, we did meet up with them, but we couldn't get in a single bar. They were all packed to the gils, with lines spanning the small blocks in our college town. I forgot just how incredibly packed the bars get on Ohio State weekend.
Instead of drinking our faces off at all our old favorite bars, we wandered around in the cold for an hour before finally deciding just to head back to the house we were staying at and drinking there. We didn't even have the real ability to enjoy the bar scene at our school. Talk about a bad omen.
Saturday started off about as good as you could expect. The weather was unseasonably beautiful for State College — bright and sunny and in the 60s. A perfect day for a tailgate. Our large crew headed to the stadium and got started early, eating a buffet of delicious food and downing some brews. Arkansas Fred, who piss-poorly couldn't come for the entire weekend, met us there, and even a buddy of mine who I hadn't seen in literally over a year showed up. All signs were pointing to a good day. Shit, things were going so great that we were even fortunate enough for
the cowboy hat wearing douchebags
from our section to not be in attendance, at least not in their normal seats around us. Then the game happened.
What a complete shitfest that was. Twenty or so minutes before the game was set to kick off, Iowa finally lost one of the games that they deserved to lose, dropping to Northwestern and losing quarterback Ricky Stanzi, opening the door for Penn State to still win the Big Ten title. All they needed to do was beat Ohio State — then Indiana at home and Michigan State on the road — and then root for the Buckeyes to knock off Iowa in the Horseshoe next weekend. There was only one problem with that: The Buckeyes also had a little extra incentive, now knowing they controlled their own destiny for the Big Ten title. Beat Penn State and Iowa, and then all that would stand in the way of an Ohio State conference championship would be Michigan. Well, Ohio State got the memo and came out and played a solid, if unspectacular game. Apparently, the Nittany Lions did not.
It was easily one of the most uninspired, poorly coached football games I've ever seen Penn State play. Right off the get-go, on their first punt, they gave up a 41-yard return which led to Ohio State's first score. Their special teams have been dreadful all year, and they haven't gotten one ounce better. Jeremy Boone is the only bright spot, booming high, long kicks routinely, but the coverage is pathetic, has been all year. Same thing with the kickoff coverage, though that has improved steadily throughout the year. Conversely, the return teams are a joke. There is no threat back there, and their alignments are borderline retarded. On punts, they put two guys back to catch the ball. Two. And neither one of them has the ability to take it to the house. And they're both white. Graham Zug and Drew Astorino have no business being back there. None. One of the best returns the Nittany Lions have had all year came the one time they decided to put true freshman Justin Brown back there, a player with size and speed and a threat to go the distance. It was his one and only time back there returning a punt. It makes no sense. On kick returns, Chaz Powell isn't terrible, but again, why not try a guy like Brown or some other younger, more explosive player that has already blown their redshirt? I don't get it. And keep Jerome Hayes away from the returner. Having him as the up man is stupid. He wants to catch the ball every time, and he has no business doing that. Yet he screwed up the first kick return of the game, getting in Powell's way and letting the ball drop. Add to that the terrible blocking, awful placekicker and general ineptitude on special teams, and you have yourself a phase of the game that completely hinders the team's ability to win. And sometimes even Boone hurts them, taking too long to get the ball off his foot, but he was fine Saturday. It was the rest of the team that sucked.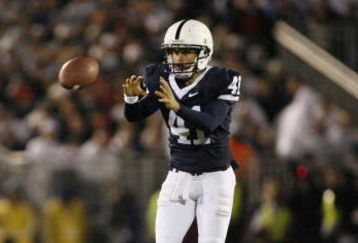 Offensively, Penn State looked timid, conservative and, frankly, scared. Derek Moye has been a tremendous big threat for them all season, and he had the ball thrown to him down the field once all game. He drew a pass interference penalty in the end zone that set up their only score. Then they didn't take a shot to him the rest of the game. He finished the game without a catch. Why? Because Penn State has some terrible play callers, that's why. Galen Hall and Jay Paterno are just plain dumb sometimes, and Saturday was a prime example.
Not that the coaches had much help from the players. The offensive line, which had played progressively better each and every week since the loss to Iowa, regressed back to that terrible unit that took the field against the Hawkeyes. Ohio State's defensive line won the battle in the trenches virtually every play, giving Daryll Clark little time to pass, Evan Royster no room to run and the offense no chance to succeed. That's where the game was lost. And it didn't help that when he was given time, Clark, one of the biggest frauds to ever takes snaps under center at Penn State, was dreadful. He finished the game 12 of 28 (42.9 percent) for 125 yards and a pick. Graham Zug had 7 of those catches (for 96 yards). The rest of the Lions had 5 catches for 29 yards combined. No one else even had more than one catch. Andrew Quarless, who has had a quietly good season thus far, dropped a pass early in the game, and then he wasn't targeted after that. Chaz Powell had one catch for 0 yards. Moye was shut out. And Royster was rendered ineffective due to his lack of room, gaining just 36 yards. It was awful. Penn State couldn't move the ball at all. They couldn't even muster any first downs, and Ohio State was in control virtually all game. They won the battle of field position, were coached must more wisely and didn't make mistakes. They were the better team Saturday, no question about it.
But the game was winnable. The coaches just didn't put the players in position to get that win. Terrelle Pryor, who can't throw worth a shit, didn't have a big game statistically, but he was in command back there. He made several big plays with his feet, which were made possible by Tom Bradley's insanely idiotic defensive philosophy in the game. Pryor is a guy who uses his legs to make things happen, a guy who relies on them and takes off at will. He's a terrible passer, but a tremendous athlete. Naturally, you'd expect a defensive coordinator to make sure his guys got the message on keep contain on Pryor, and you would think they'd put a spy on him to follow him around, a guy with the same type of athleticism, a guy like Navorro Bowman. Makes sense. But you would be wrong. Instead, Penn State's defensive ends were getting sucked in routinely, allowing Pryor to get outside, and instead of having a guy like Bowman spy him or playing speedier linebackers like Bani Gbadyu and Nate Stupar in place of Josh Hull, he kept playing the plodding Josh Hull, who could be seen chasing and then getting pulled away from Terelle Pryor. It made absolutely no sense.
I don't think Hull could catch me in a race, let alone Terrelle Pryor. Pathetic. Speaking of pathetic, I really liked the way Drew Astorino played last season for Penn State. He has good instincts and seems to get to the ball a lot. And he's done that this year as well. But damn, what the hell happened to the guy this year? He was a sure-handed tackler last season, but this year, he can't make a tackle to save his life. Every week, he misses at least five tackles. Frankly, it's getting ridiculous. Though it wasn't Astorino who was to blame for the big play that sealed the victory for the Buckeyes. My boy, D' Anton Lynn, got beat bad by DeVier Posey, and Nick Sukay was too late on the help. The resulting 62-yard touchdown pass was the straw that broke Penn State's back. I'd show you the highlights, but there were none. It was an awful performance, all the more maddening given what was at stake.
This game proved that Penn State simply isn't that good this year. They played an absolutely absurd schedule, so easy they should be ashamed of themselves, yet they still find themselves with two losses. And both those losses came at home. And they were really the only two games against good teams. You don't deserve to go to a BCS bowl when that happens, and Penn State certainly won't. It was not a great way to cap off the weekend, though we tried to make the best of it by actually getting into some bars Saturday night. And I found out I had a ticket to the Eagles-Cowboys game Sunday night, so I was holding out hope that the week could be salvaged.
After a night of drinking and a return trip to Philadelphia, there was something to look forward to despite all the carnage that had taken place for my teams to that point in the week. Again, it was unseasonably warm and beautiful in the city, hitting 70 degrees, and Adam EatShit and I headed to the stadium to tailgate along with two of our roommates and few other friends. It was beautiful outside. I was in short sleeves and feeling mighty fine. We grilled up some meat, ate some grub and drank down some brews. The atmosphere was great. That was, again, until the game happened.
In much the same way that Penn State played a sloppy, poorly coached game, so too did the Eagles. And just like Penn State, the Eagles were playing for something big, in this case sole possession of first place in the NFC East. Then after stopping Dallas on the opening drive, the Eagles faced a 3rd and 5 on their first possession of the game. The Eagles made a perfect play call, with Jeremy Maclin wide open over the middle. Donovan put the ball right there. It went right off Maclin's hands, and then into the arms of a Dallas Cowboy. The Cowboys took the ball over and then went 37 yards and into the end zone. Minutes in, the Eagles faced a 7-0 hole because a rookie wide receiver, a first round pick who is getting paid an insane amount of money to catch the football, couldn't do the one thing he's paid to do — catching the fucking football — and his tipped ball landed in the hands of Dallas. Great start.
Things didn't get much better from there. The Eagles played an incredibly stupid game, making boneheaded, costly penalties, running plays that made absolutely no sense, giving up the big play, and generally doing everything they could to lose. On the very next possession following the turnover, the Eagles ran the ball for three yards with LeSean McCoy. Then they ran it again with Leonard Weaver for six yards. So what do they do on 3rd-and-1? Naturally, they decide to pass the ball, fail to get a completion and are forced to punt. On the two preceding plays, the Eagles just ran the ball for 9 total yards. If my math's correct, and I think it is, that's 4.5 yards per carry. The Eagles needed one. Leonard Weaver, who just got six yards on the ground the play before, weighs 250 pounds. Every fucking time the Eagles have 3rd-and-1, Leonard Weaver should get the football. He did not, and the Eagles didn't convert. I wish Andy Reid would just drop dead.
The Eagles had some baffling calls in the first half, no doubt, and they failed to get in the end zone, but the score was 10-6 at half and neither team looked particular good. It was in the second half where the Eagles really went to shit. On the opening kickoff in the 2nd half, Ellis Hobbs went the distance, returning the ball 96 yards for a touchdown. Well, we thought he had. Turns out, Moise Fokou, who started at linebacker as well in place of injured Chris Gocong, was called for holding. Still, the Eagles put together their first and only complete drive of the game, going 62 yards in six plays, capped off by McNabb's touchdown pass to Brent Celek, who is simply becoming a beast. At that moment, I thought the Eagles were going to win. The stadium was going nuts, the Eagles had taken the lead. It was time to step on the Cowboys' throats and began to pull away. And it looked like that was exactly what was about to happen.
On the ensuing drive for Dallas, Sheldon Brown intercepted Tony Romo and returned the ball deep into Dallas territory. The Eagles not only had the ball, but they had it in prime scoring position. Until they didn't. After the pick, the Eagles were called for an illegal chop block. Instead of starting deep in Dallas territory, the Birds had the ball at their own 1. Instead of getting ready to score again, they were pinned deep. The Eagles did move the ball out of trouble and faced a 3rd-and-2 and the 41. McNabb threw a pass to LeSean McCoy that seemed to be good for a first down, but the officials ruled McCoy short. Right when I saw the spot, I knew it was the right call. McCoy had come back on the ball on his own, and he went backwards on his own. His forward progress wasn't impeded by the defender, therefore, he was down where he was touched, 4th and inches. Andy, the worst coach at challenging plays in the history of the league, threw the flag, despite the fact that I, from section 217, could see plain as day that the ref had made the right call. It cost them a timeout in a tie game in the 3rd quarter, a timeout you would think they'd need later. To make the challenge even more mind-numbingly stupid, Reid decided to go for it on 4th-and-short. He could have simply saved the challenge and timeout and gone for it anyway. Dumb. And then said 4th down was even more dumb. Two or three Cowboys jumped across the line and into the neutral zone. All Jamaal Jackson needed to do was snap the ball when he saw not one, but two or even three Cowboys jump offsides and the Birds would have gotten the first down and continued their drive. He did not, and moments later, Jason Peters (barely) flinched, getting called for a false start. Had Jamaal Jackson simply used his head, done what every center in Pop Warner is taught to do and snapped the ball on a 4th and short when you see the defense jump offsides, the Eagles would have been in a good position. Instead they failed to even get the snap off, being forced to punt. Two horrible decisions in the matter of seconds. Pathetic.
The Eagles D made a great stand and got the ball back, but then on the first play, McNabb took a shot deep to Maclin. The ball was thrown poorly, and it was picked. Another chance to seize momentum for good gone by the wayside. The Cowboys turned that turnover into three points, tying the game. Two interceptions by Dallas led directly to 10 of their 13 points. Not good.
In a tie game in the 4th quarter, a whole slew of people in our section left. In a tie game. Against the Cowboys. Every one of those people who left should do everyone a favor and stay home from now on. Let real fans who want to watch the entire game have your tickets. You bunch of assholes. That pissed me off to no end. Almost as much as Andy Reid and the Eagles.
On the ensuing drive, the Birds faced a 3rd-and-1 at the Dallas 45. They needed one yard. Leonard Weaver ran roughshod over the Giants the week before and was getting four and five yards a clip last night. He can get you a yard in his sleep. He wasn't even in the game on this key 3rd-and-1 in the 4th quarter. Did I mention that I hope Andy Reid drops dead? He did give the ball to LeSean McCoy, and I thought he got the first down. The officials disagreed, marking him about a foot short. I couldn't believe it, but the Eagles just needed a foot. Surely they could get that, right? Wrong. McNabb looked like he got enough on the 4th down QB sneak, but he was marked short. It was tough to tell, but it was a hard pill to swallow for a number of reasons. For starters, you have to be able to convincingly get a foot. The Eagles didn't. That's frustrating. Secondly, I really do think McCoy got screwed, that he got that first down. Third, I'm 100 percent confident that Leonard Weaver would have gotten you a yard on 3rd-and-1.
Andy decided to challenge again. He had already blown a timeout early in the third because he or Marty didn't get the play in early enough, and then lost another timeout on a moronic challenge. He lost again. There was 10:49 remaining in the game, a tie game, and the Eagles had no timeouts left. Have I told you that I wish Andy Reid would drop dead? Because I do. Just thought you should know.
The Cowboys got the ball back and got called for a penalty to make it 1st and 20 at the Dallas 45. Then Will Witherspoon, who is the man, got Marion Barber for a four yard loss, bringing up 2nd and 24. The Cowboys got 10 of it back, but they still faced a 3rd and 14. Somehow, on that 3rd and 14 play, Sheldon Brown and Quintin Mikell let Miles Austin, who had exactly 0 catches for 0 yards until that point, get behind them. Romo hit him on the numbers, and Austin took it 49 yards for the go-ahead touchdown. It was unbelievably awful, inexcusable defense. Romo put forth an unconvincing, go-through-motions pump fake, and Sheldon bit on it, jumping the route. Romo pulled it back and caught Brown flat-footed, and hit Ausin. Mikell, who seemed to be the deep help, was too slow to get over and also allowed Austin to get behind him. It was absurd that two veterans would allow that to happen, especially on a third and 14.
The Eagles did manage to get a field goal with just under 5 minutes left, but they had no timeouts remaining. Then on the very first play, they allowed Marion Barber to gain 16 yards. It was the fake pass delayed handoff draw that the Cowboys had been running all night. And the Cowboys had a four-point lead with less than 5 minutes to play knowing the Eagles had no timeouts. They were going to run the ball every play they could. Everyone in the stadium knew it. And the Eagles were still unprepared for it. Barber followed that up with another six-yard gain on the next play, the exact same play call. Dallas ran it again, then got the first down on a well-designed pass to Jason Witten to seal the game and run out the clock.
With first place on the line, the Eagles looked more like the team that lost to Oakland than the one that dismantled the Giants. It was inexcusable. The offensive game plan was just brutal. The Eagles, notorious for spreading the ball around and keeping defenses off-balance, seemed to run the game completely through Jeremy Maclin. Almost every pass play was aimed his way. Brent Celek, who has been impossible for anyone to cover this year, only had three catches for 39 yards. DeSean Jackson, the most explosive player on the team and one of the most reliable big-play guys in the league, had two catches for 29 yards, and was targeted only a handful of times. Jason Avant made two big catches, but wasn't thrown to besides that. All these supposed weapons and the Birds couldn't get it to any of them. That's terrible. That's a team that was unprepared and unwilling to adjust. That's on the coaching staff as much as it is on the players. And after running the ball for 9 yards on two plays in the first quarter, they passed on 3rd-and-1. Later in the game, they faced a 3rd-and-4, a prime time to pass. So they ran, and failed to get the first down. It just makes no sense.
This team is so god damn frustrating. For 11 years now, they've been a Jekyll and Hyde team. For 11 years, they've been making the same mistakes: poor clock management, terrible challenges, questionable play-calling, failing to come through in the clutch. It's getting so old and so tired. I'm so over dealing with it all. Something has to change, because the same thing year in and year out isn't cutting it. Yes, the team has had a lot of success, but the failures are routinely the same. How long does it take to realize they're never going to change, never going to get corrected before you finally cut the chord. There's a lot of season left, no doubt, and I fully expect the Eagles to play well and fight for the playoffs. But if and when they get there, does anyone have confidence they'll correct all these recurring problems all the sudden and finally get over the hump? Because I don't. Not one bit. They sure didn't do anything last night to instill that confidence.
What an awful week.