That should be the new motto for Andy Reid. Fat? Check. Stupid? Unquestionably. Drunk? How else can you explain some of his play calls? Year in and year out, Andy Reid puts the Eagles right in the playoff hunt, more times than not making it beyond the 16 regular season games. He transformed a terrible franchise into one of the elite in the NFC, and every year, the Eagles are considered contenders. Yet year in and year out, the Eagles make the same stupid, inane mistakes and ultimately come up short. Every. Damn. Year. Third-and-short. Time management. Insane challenges. Two-minute offense. Failure to adjust in-game. Too many penalties. Abandoning the run. We know the list all too well.
Yesterday, it was more of the same. After falling behind 14-0, the Eagles marched right down the field behind the arm of Donovan McNabb, which it seemed Andy Reid was determined to make fall off, and wound up with a 1st-and-goal at the 1-yard line after a pass interference penalty on San Diego in the end zone. On first down, they ran the ball up the middle with Leonard Weaver, a smart call in my opinion. It got stuffed, 2nd down. On second, of course, the Eagles passed, failing to convert again, 3rd down. With Brian Westbrook back, naturally you'd expect him to be the one to get the ball on a 3rd-and-goal at the one, or for the Eagles to pass. Well, Reid and Marty did call a run play, but it wasn't for Westbrook. Well, then, surely it had to be for Weaver or LeSean McCoy, right? Wrong. On 3rd-and-goal at the 1-yard line, already trailing 14-0, Andy and Marty thought it would be a good idea to put the ball in third-string tailback Eldra Buckley's hands. The same Eldra Buckley who had a total of three carries on the season before the game for a grand total of 10 yards. Shockingly, the third-string running back who barely made the team out of training camp couldn't punch it in.
The Eagles, trailing 14-0 against an offense that the defense didn't seem too capable of stopping, decided to kick the field goal instead of go for it on 4th-and-inches at the goal line. A questionable decision indeed, but then again, the Eagles just failed to get a yard on three chances, and failed to do the same thing last week against Dallas, last year against Washington and the past decade-plus with Andy Reid as the head coach, so chances are they'd probably blow it anyway. Take the points, I guess. It's sad that a team has so little faith in its offense — the line, backs and quarterback — that they wouldn't even consider going for it down 14-0 and just inches from a touchdown. But that's the reality of this team.
And seriously, Eldra Buckley? You try telling me Andy isn't drunk and stupid. Why wasn't Westbrook in the game? He hadn't left yet with another concussion. Or why not give it to Weaver again? Yes, he was stopped on first down, but he has rarely been pushed back this year. And if not Westbrook in there behind Weaver, why the shit wasn't McCoy — you know, the second round pick who has played pretty damn well in place of Westbrook — in the game and getting his number called? It makes no damn sense. Was Andy's entire logic that it would be nice for Eldra to get a touchdown against his former team? Honestly, I'd like to know. Because that decision made absolutely no god damn sense. None.
It's appalling just how terrible this team is and has been in short yardage situations over the years. On Saturday, I was in Beaver Stadium to watch Penn State take on Indiana in the final home game of the season. In that game, Indiana gained four yards on a 3rd-and-2 on a QB sneak, and Daryll Clark gained five yards on a QB sneak on a 2nd-and-1. Two college teams, with supposedly inferior players more prone to make mistakes, executed short-yardage QB sneaks and made the first down easily. The Eagles, a team with a 240-plus pound quarterback, enormous offensive line and a coach with 5 NFC Championship games under his belt, can't get a foot on a QB sneak and are so unconfident in their ability to execute one that they won't even try it on the goal line on 4th-and-inches down 14-0. It's incredible, but nothing new.
Compared to the Eagles game, the Penn State game was a joy to watch. And that's saying something, because the Nittany Lions played like dog shit, especially in the first half. On senior day, you'd think Penn State, fresh off another tough loss at home to Ohio State, would come out fired up and take out their frustration on Indiana. It didn't exactly work out that way. Daryll Clark, in his final home start ever, was awful, proving once and for all that despite his great numbers and record, he's a fraud. He came out and threw two interceptions in the first quarter and the Hoosiers built a 10-0 lead. It was terrible.
Much like the entire senior class in general. Clark was the headliner on offense, and truth be told, I'm happy to see him go. The guy had a fine career, playing pretty well the past two seasons as the starter and leading Penn State to a Big Ten title last year. But in every big game he's played in, he's come up really, really small. Ohio State and Iowa last year, then Iowa and Ohio State again this year. And really, in his final season, he hasn't played well from start to finish except for in a few games. And this team's opponents were horrible, for the most part. I wish Pat Devlin was still around.
The one senior on offense I will miss is Andrew Quarless. From the moment he stepped foot on campus, I had high hopes for the talented tight end, as did just about everyone who follows Penn State. Unfortunately, off-the-field problems, drops and fumbles led to the feeling that perhaps he was a lost cause, a waste of talent. Quarless, for all the natural ability that he had, wasn't living up to expectations. Then he came out this season and just played football, and he's done it really well. Finally, in his last season, he put it all together, staying out of the doghouse and quietly having a very nice season. Instead of L.J. Smith, Quarless looks like a player that could be a late-round steal in the draft.
Of course, the best two seniors on this team reside on the defense. Jared Odrick is simply the best player on the team and quite possibly the best defender in the Big Ten. He's a first-rounder for sure, and the way he's played the last two seasons, don't rule out the top 10. He doesn't have the inflated sack numbers that Aaron Maybin did last season for Penn State, but he is unquestionably a more well-rounded, more complete, hell, better player right now than Maybin ever will be. He's a beast of a tackle, too big to handle and to fast to stay with. And on the next level, he could play some end too. He has enough strength and speed to move inside and out in the NFL. The scouts must be salivating over him.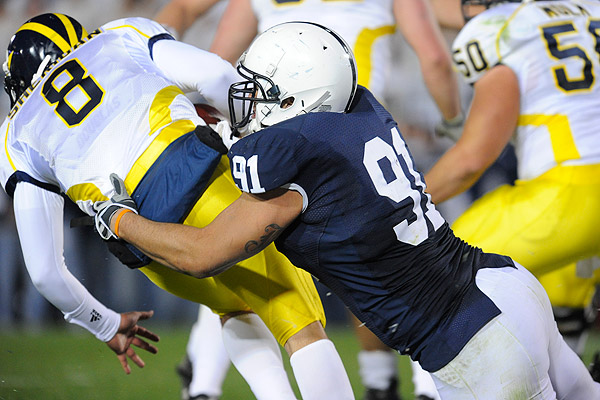 Joining Odrick in the senior day celebrations was Sean Lee, the defensive captain and very good, very talented linebacker. Lee had a very good career, forming an insanely talented unit with Dan Connor and Paul Posluszny as a freshman and developing ever since. He missed last season to injury and has battled even more injuries this season, but he'll be playing somewhere in the NFL you have to think. If Navorro Bowman leaves as well, Penn State will have some holes to fill in the linebacking corps.
And my favorite player, Jerome Hayes, also played in his final home game. Maybe. The fifth-year senior is considering asking for a 6th year of eligibility after sustaining two ACL tears in consecutive seasons to both legs.
Other notable seniors leaving include punter Jeremy Boone, cornerback A.J. Wallace and tight end Mickey Shuler. Oh, and Josh Hull and Knowledge Timmons graduate too, but both of those guys completely suck.
As for the game, well, it was horrible for the most part. Evan Royster had a strong game, rushing for 95 yards on 17 carries and touchdown, along with hauling in 4 catches for 39 yards and another score. Clark was pedestrian against a pedestrian team, and early on, it looked as though Penn State had given up, quit on the season following last week's loss. But then they woke up and took control of the game to win 31-20. Bowman's 71-yard interception return was the highlight of the game, and freshman Curtis Drake (from Philadelphia) showcased his insane speed and looked like a guy who will have an impact next year. Other than that, the game was a bore, the offensive line looked terrible again, and Penn State beat an inferior opponent again.
The game was made infinitely more enjoyable, even for being a pretty awful game, by the fact that for the second week in a row, those assholes that sit in our section weren't there. That was nice. And truth be told, I'm relieved the home schedule is over with. Between the travel, the lack of sleep and trying to work around Arkansas Fred's stupid, horrible, adult schedule that prevented him from being a good season ticket partner and prevented me from enjoying my old college town the way I should, along with the terrible schedule, I was ready for this season to be done. It was killing me. It's a lot work having season tickets.
The good news is, even though Penn State didn't have a great year, what with losing to the only two real teams they played at home, there are some players I really look forward to seeing develop. Justin Brown. Curtis Drake. D' Anton Lynn. Stephon Morris. This season isn't over yet, and next year surely will be a tough transition season, but there always seems to be an intriguing crop of players that I grow to love (and hate) each and every season. I guess that's why I put myself through all the work.
Though compared to being an Eagles fan, traveling to State College is a walk in the park.
There were many plays that swung the outcome of the game yesterday in San Diego, but when push comes to shove, that was a game lost by the coaching staff. From the onset, the Eagles decided this was going to be a game where running simply was not an option. On their first possession, the Eagles ran the ball twice, on first and second down, gaining 6 yards with Westbrook. Then they proceeded to pass damn near every play after that. Certainly, the early deficit played into it, but for a game that ended in a 31-23 score and a game that was 14-6 at halftime, the Eagles made life incredibly easy for San Diego by abandoning the run. The Birds ran the ball 13 times and passed 56 times. A 13-56 run-pass ratio.
LeSean McCoy, who has proven time and again this season that he is a dangerous, talented weapon, had just three carries. In a game that Brian Westbrook had to leave with a concussion. And he only had three catches too, meaning the most talented, healthy running back on the roster had six touches. That's a joke. A complete and utter joke.
No, Andy was dead set on throwing the football, and there was nothing anyone could do to convince him otherwise. Sure, that made for some great numbers in the passing game — McNabb's 450 yards, Jason Avant's 8 catches for 156 yards, DeSean with 8 for 91, Maclin with 6 for 76 and a touch, Celek 6 for 47 and a score. Hell, even Reggie Brown had two catches for 36 yards. But it also made San Diego's job easier, only playing the pass and getting just enough stops to hold on. It was an awful game plan, and truth be told, even with all those gaudy numbers, only Avant really seemed to be playing as well as the stats indicated. And he made an insane catch (3 minutes in):
The rest of the numbers look great, but they came in a come-from-behind situation that came up a bit too short. And the reason they had to come from behind was the terrible defense the Eagles played early and late yesterday.
We all knew things would be different and probably not as successful with the loss and tragic death of Jim Johnson. Great defensive coordinators don't grow on trees. So everyone knew a transition period was coming and that Sean McDermott would have to go through some growing pains. After a quick start to the season, minus the Saints game, and a defense that has been forcing turnovers left and right, it looked like McDermott had learned well from his predecessor. But here's the thing … McDermott has not been adjusting his game plan, his style whatsoever for the teams he faces. Not at all.
There was a misnomer about Johnson that all he did was blitz, blitz, blitz. Yes, it's true that Jim Johnson liked to bring the heat, built a defense around hitting the quarterback. That's no secret. But contrary to popular belief, his defenses didn't blitz every play. In fact, as his personnel changed over the years, his blitzing schemes changed a bit and his frequency of blitzes varied. In the early years, yes, he blitzed a large amount of time. Uncoincidentally, he had Bobby Taylor and Troy Vincent, two of the best cover corners in the NFL, roaming his secondary. He could send more people, take more chances because Bobby and Troy didn't get beat deep. Like ever. He could count on them to hold the fort, at least not give up a big play.
As Taylor and Vincent got older and the transition to Lito Sheppard and Sheldon Brown took place, Johnson still brought the heat, but not as much. Lito and Sheldon, fine corners in their own right, weren't as dependable as Bobby and Troy. Occasionally, they'd give up big plays, so Johnson didn't put them in position to get burnt on them as much. And that continued the past few years. He still blitzed, but not as much or as often depending on the opponent. And always, he designed and hid his blitzes well, catching teams off-guard.
McDermott, thus far, seems to be trying to live up to the Jim Johnson hype, believing he needs to blitz, blitz, blitz, ignoring the fact that the reputation didn't quite reflect reality. So McDermott, on just about every damn play, sends the house. No one is surprised by this, no one is caught off-guard, and the blitzes generally have been ineffective. Even worse, against a team like San Diego with a smart quarterback and a head coach who has been a wildly successful and lauded offensive coordinator, the blitzes are counterproductive. All game long, Rivers read the blitz, checked down to the hot route and torched the Eagles. The blitzes didn't confuse him one bit, and the Birds got burned. Yet he kept sending the house, play after play. And most of them were poorly designed, telegraphed blitzes. The Chargers feasted on them, and in the end, the Eagles couldn't get enough stops to help out the offense.
Certainly injuries didn't help. Sheldon Brown got hurt in the game, Hobbs is on IR and Joselio Hanson was shockingly taking steroids and is suspended, leaving nothing but scrubs beyond Brown and Asante Samuel. That is, when Asante isn't being a scrub himself. Because yesterday, he was terrible. He can't tackle worth a shit, which is annoying but something you can deal with when he's picking off passes and shutting down wide receivers. But when he's just letting guys run free and looking completely disinterested like he was yesterday, well, then, at least be able to tackle someone. Asante may have been the worst player on the field defensively for the Eagles yesterday not named Chris Gocong.
It's been another maddening season through 9 games. The Eagles are still right there, definitely in this thing. They're only a game behind Dallas, and really, with the exception of New Orleans and Minnesota, there are no juggernauts in the NFC. But it just seems like a team with all this talent should be better than 5-4, especially given the fair schedule to this point. Then again, the Eagles, despite a plethora of starting talent, have holes. There is no depth, evident by the offensive line. Jason Peters is hurt, and Shawn Andrews MIA again. Todd Herremans has missed time. So has Stacy Andrews. Winston Justice and Nick Cole have been starting regularly, and that was not in the plans. Add in injuries to Donovan and now repeated ones to Westbrook, and the offense hasn't quite looked as expected. On defense, the linebackers, besides Will Witherspoon, are awful. Chris Gocong is a pass rusher disguised as a linebacker. He's slow, dumb and terrible. Akeem Jordan is hurt. Moise Fokou looks like he's not quite sure what he's doing. Joe Mays can't get on the field. Jeremiah Trotter is actually on the team — that's a big enough indictment on the linebackers. Tracy White should only play special teams. You get the idea. The defensive line has some nice players, but they don't generate enough pass rush on their own enough. And the secondary, filled with an overabundance of talent to start the season, is hurting. Asante, despite his awful game yesterday, is good. As is Sheldon, though he's hurt. And Quintin Mikell is a steady, reliable safety, while Sean Jones has clearly won the other safety spot. But Quintin Demps is hurt, Macho Harris has been ineffective, Joselio Hanson is suspended (and not that good anyway) and Ellis Hobbs out for the year. The patchwork didn't look pretty against the Chargers.
It's another Eagles team that we really don't know much about. All we know is they're still right in the thick of things … and they still make the same maddening mistakes that every other Andy Reid led team has made. More of the same, yet again. A team that can look great dismantling the Giants and look awful losing to the Raiders. A team that is effective and nearly impossible to stop when they're balanced on offense, and one that is easy to defend when they get pass-happy. A team that can rack up points but can't get a yard. A coach who prepares them incredibly well Monday-Saturday, but can't adjust to save his life on Sunday. I've seen this show before, and it always ends the same way. Frankly, I'm getting tired of the reruns.