The Eagles won, embarrassing the Giants 40-17. Penn State won, easily steamrolling Northwestern in the second half to win 34-13. The Flyers won, exploding offensively in a 6-1 victory against Carolina. Hell, even the 76ers won twice, beating the Bucks in the home opener Friday and outgunning the Knicks 141-127 Saturday night. But the one team that I really cared about, the one team that mattered, went 0-2 on their home field to fall behind 3-1 in the best of seven World Series. I'd trade all those wins from the Eagles, Flyers, Nittany Lions and Sixers for one or two Phillies wins this weekend. All of them.
First,
Cole Hamels shit the bed
, and then last night happened. It was the most painful loss this side of Joe Carter. It really was. The Phillies, one strike away from facing Mariano Rivera and impending doom in the 8th inning, came back on the mighty Yankees. Pedro Feliz, who played the role Jayson Werth played Saturday night for the Phillies,
put Joba in his place
and tied the game. My angst, anger and frustration melted away. I went off on Joba, calling him a fat fuck fraud. I was certain the Phils were going to win. They had avoided Rivera, tied it up and stolen the momentum. A 3-1 series hole was about become a 2-2 tie, best of three sprint to the finish.
Then it wasn't. Brad Lidge, who had fooled us all into thinking he was perhaps back, got two quick outs … and then came undone. Single, hit by pitch, double, single, and 4-4 suddenly became 7-4, with the hammer of Mariano Rivera about to come down. A-Rod and company might as well have come to my house and punched me right in the gut as hard as they possibly can, because that's what it felt like. There was no anger. There was no huge blowup. I just went numb, grasping for air. We were all
Lidge'd once again
:
I got nothing.
This series ain't over. But it's close to being over. Don't have a post in me right now.
Absolutely, totally, utterly deflated.
The thing about last night is that for the first time in a long time, everything went wrong. Everything. For starters, Charlie Manuel put his players in a terrible position. He just did. I love Joe Blanton, I'm a huge fan, but after Cole Hamels blew up for the fourth time this postseason on Saturday, Charlie had to, had to come back with Cliff Lee last night. Not because Joe couldn't get the job done. In fact, Joe kept the Phils in the game against CC. But he had to go with Lee because, well, you have look at the entire series. By going with Blanton over Lee, and having Lee pitch tonight, he essentially has put the ball back in Cole Hamels' hands if there is a game 7. The same Cole Hamels who has failed to perform even moderately well in a single start this postseason. And that's not a good thing, not by a mile.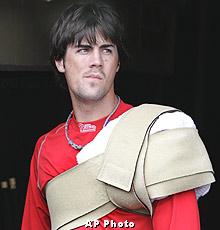 Whether he's pitched on three days rest before or not, you just had to get Lee out there so he could be ready for three games in this series. Something tells me Cliff would have been just fine. Then come back with Blanton tonight, Pedro for game 6 and then Lee again on game 7. Now the Phils need to get wins out of Cliff Lee and Pedro Martinez just to get to a game 7, where CC Sabathia would face off against Cole Hamels. That might as well be Cy Young pitching against Adam Eaton.
Also, facing a 2-1 deficit, I'd rather have Lee on the mound in a game that will determine a 2-2 tie or 3-1 hole than anyone else. That's just me. And this isn't hindsight talking here. I said all this before the game last night. I just don't agree with not going with Lee last night.
Having said that, Joe Blanton didn't lose that game, though he certainly didn't win it either. He came out and spotted CC two runs right off the bat. Derek Jeter led off with a single and Johnny Damon followed with a double. Of course, both players scored, and as much I try to dismiss Derek Jeter as over the hill or whatever, man, that guy is just so fucking good. Watching him this World Series makes it easy to understand why he's deified in New York. He is incredible, and he's earned every bit of his reputation. When October/November rolls around, he simply becomes the most reliable, most clutch player there is. He and Johnny Damon have killed the Phillies the past two nights, and they did it again.
The thing was, the Phils answered that early bell. Back-to-back doubles in the bottom of the first by Shane Victorino and Chase Utley cut the deficit to 1 and Pedro Feliz tied the game up with an RBI single in the 4th to plate Ryan Howard. But the Yanks wouldn't back down. These certainly aren't the Dodgers or Rockies or Rays. When the Yankees get pushed, they push right back.
The Phils needed an all-important shutdown inning in the 5th. What they got was a disaster. Joe Blanton led things off by walking Nick Swisher, hardly a threat with the way he's swung the bat this postseason. Chase Utley followed with yet another boneheaded defensive play. For starters, I have no idea why he wasn't closer to the bag, at normal double play depth. He seemed to have to go a long way for a ball up the middle that should have been easy to get to for a second baseman playing at double play depth. But he did get to it, and instead of taking the ball out of his glove and getting the sure out at second with a good toss, Chase tried to flip it to Rollins right out of his glove. That didn't work, as the ball went straight up in the air and the runners were safe all around.
You give the Yankees extra outs and they'll kill you. And of course they did. Jeter and Damon each struck again, each knocking in a run with a single. The two-run hole the Phils clawed themselves out of was back as soon as it vanished. That's no way to go about winning a baseball game, especially against the team with the best record in all of baseball.
The Phils showed no quit, however. In fact, their very next at-bat, Jimmy Rollins led off with a single and Victorino followed with a walk. Maybe the Phils could answer. No such luck. Sensing danger ahead, CC used his wits, quick-pitching Chase Utley on a two-strike count. Utley wasn't prepared, check swung and popped out. Then Sabathia got Howard to pop out to almost the identical spot, and again with a two-strike count on Jayson Werth, CC quick-pitched him to get Werth swinging. The middle of the lineup failed to come through, and Raul Ibanez hasn't helped whatsoever.
Raul had a tremendous season for the Phils, came up with some big hits in the first two series. But right now, he looks completely lost at the plate. He can't even make contact, let alone get a hit, and he's becoming an albatross in the 6th hole. His struggles have really killed this lineup. Without him picking things up, the Phils have no chance at the improbable comeback. None.
Of course, the Phils kept fighting. Chase hit another homer of CC to make it a one-run game, and the Phils were still breathing. The thing is, I think Charlie made another misstep with the way he handled the bullpen. Chan Ho Park had an easy 7th inning, and the pitcher's spot was nowhere near up in the lineup. I think he should sent him out for the 8th and then used Madson in the 9th. Instead, Charlie went with Madson in the 8th, which is fine, and when he got out of it unscathed, I would have left him in for the 9th, especially after Pedro tied it up and with the pitcher's spot coming up to lead off the bottom of the 9th. Charlie did not. He went with Lidge, and Lidge imploded. Again. It was his 9th loss of 2009. His 9th. He's a closer. Cole Hamels, in all his shittiness, had 11 losses in the regular season and has two this postseason. That's four more losses than the team's closer. Brad Lidge has had a 2009 to forget. Sadly, we won't ever be able to, not after last night.
He came in and got two quick outs. Then he lost a battle with Johnny Damon, for some reason abandoning his slider after Damon fouled two of them off. Damon singled to left on a fastball. Then he hit the struggling Mark Teixeira to bring up A-Rod with the game on the line. He threw Rodriguez two straight fastballs. The second one went to the left-centerfield fence, 5-4 Yanks. The Jorge Posada ended any hopes of a comeback by plating Teixeira and A-Rod. Now the Phils are down 3-1, and I feel like even with great outings by Lee and Pedro, this thing may be all over. Because if the Phils do somehow miraculously manage to win the next two and force a game 7, they'll be relying on their most unreliable starter this postseason, Cole Hamels, to outdeul CC in New York. Things seemed so much better Friday night. Now it's turned into a nightmare. Three more wins never seemed so daunting. This weekend sucked.
If you want to check out some highlights of teams actually playing well, here you go. I don't have the energy to write anything about them, because frankly, I had everything invested in the Phillies. Talk about a bad investment.
Oh, by the way, Brandon Jennings is all sorts of good, in case you were wondering.