Let's take a walk down memory lane for a moment here. I, the Reverend Paul Revere, have been to a grand total of three Phillies playoff games in my lifetime. Three. The first was
game 4 of the 2008 World Series
. The Phillies scored 10 runs and won. The second game was
game 3 of the NLDS
this postseason. The Phillies scored 11 runs and won. And then last night, I was in attendance again. The Phillies scored eight runs and won. That's 3-0 in postseason games I've attended with 29 runs scored, an average of 9.67 runs a game. When I show up in the postseason, the Phillies not only win, but the bats come alive.
The moral of this story is that the Phillies should pay me to go to all of their playoff games. I'm the good luck charm for the team and the offense. At the very least, they should provide me with free tickets to every postseason game. I'm 3-0 and averaging nearly 10 runs a game. The numbers don't lie. Get me to New York Wednesday and Thursday, Phillies, and you'll have yourself another parade down Broad Street. Make it happen.
That's not to say it was all daffodils and dandy lions last night. Far from it. The game started tense and ended even tenser, but the Phils found a way to win, 8-6. They aren't dead yet, even if they almost killed us in the process. Clifton Phifer Lee, who has been nothing short of
the greatest man who ever lived
, came out fighting himself right off the bat. He struggled with his control all night, and the Yankees wasted no time taking advantage. The suddenly impossible to get out Johnny Damon singled to center, and two batters later, Alex Rodriguez drove him in with a double. 1-0 Yanks, 27 outs from World Series No. 27.
But these Phillies, as they've grown accustomed to doing, weren't about to take this lying down. If they were going to go down, they were going to go down swinging, literally. After Cliff got through that first, the Phils came out and showed they had his back, the way Cliff had had his teammates' backs this entire postseason run. A.J. Burnett, who was damn near
unhittable
in game 2, had no such luck this time around. Jimmy Rollins got things going with a single. Then Shane squared around to bunt, and Burnett came in high and tight on Victorino, nailing him in the hand. In my biased opinion, A.J. saw Shane square and decided to peg him, a retaliation move for hitting A-Rod three times the previous two games. I was none too pleased with A.J., especially since Shane was taking a while to gather himself. I turned to my roommate and uncle jellyfish and told them, now make him pay with a home run. That's how you make him pay. And wouldn't you know it, Chase Utley, who almost never swings at the first pitch,
exploded at the first pitch he saw
, sending it deep to right field. 3-1 Phils. Finally, the Phillies hit a home run with runners actually on base this World Series, and it couldn't have come at a better time.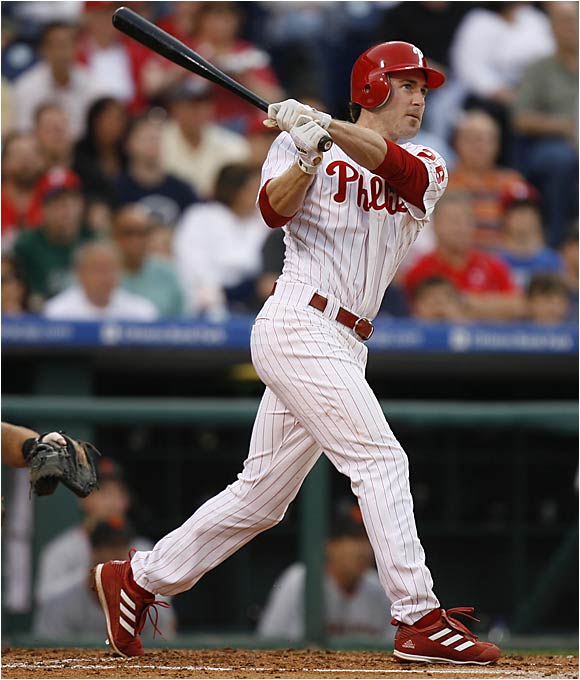 The Phillies never looked back. Sure, they made it interesting, but they simply refused to lose. With the Yankees starting a 7-8-9 of Brett Gardner, Jose Molina and A.J. Burnett, Lee rolled through the 2nd, though he was still fighting himself through the game. He walked Johnny Damon in the 3rd, though luckily handled Teixeira and A-Rod to get his teammates back to the plate. They did not disappoint. Chase walked, then he stole 2nd. Then Howard walked, and the place started to get crazy. Jayson Werth followed with a single to plate Utley, and Raul made it back-to-back RBI hits, singling home Howard. 5-1 Phils. That was all she wrote for A.J. Burnett. The same guy who shut down the Phils in game 2 lasted a grand total of 2 full innings, walking four and surrendering four hits, and after Chooch drove Werth home on a fielder's choice, Burnett's final line read 2 innings pitched, 6 earned runs on four hits and four walks.
With a five-run lead and the best pitcher of the 2009 postseason on the hill, I'm pretty sure everyone in that stadium felt comfortable, felt like this thing was in the bag. But we should have all known better. The Yankees are much like our Phillies, never dead until that 27th out is recorded. They're a resilient bunch, and a dangerous one at that.
With Burnett out, the Yanks pinch-hit Posada in the 5th and left him the game, adding another potent bat. Lee got him the first time around, but then he walked pinch-hitter Eric Hinske with one out and a five-run lead. That's inexcusable. I know Lee was struggling with his command, but damn, you have to attack everyone with a five-run lead, especially the guy who Brad Lidge struck out to win the World Series last year. Jeter followed with a single, and of course, Hinske scored before it was all said and done. A five-run lead suddenly became a four-run lead with a lot of baseball left to play. And Lee did not quite look like himself. But he continued to fight through.
He breezed through the 6th and 7th, and the Phils could sense it. They were headed back to New York. But just to make sure, Chase Utley decided
to tie Reggie Jackson
for most home runs in one World Series,
crushing his fifth homer of this series
.
Then Raul emphatically stated that his third-inning single was no fluke,
launching one off the Jeep sign
to make it 8-2. Raul Ibanez, it's nice to have you back. We missed you, buddy. To add to the excitement, Cliff Lee chipped in with his first career World Series hit, ripping a single. Things were looking good.
At the time, we had no idea just how important those runs would be. Because Cliff Lee was sent back out there in the 8th, and to our surprise, Shane Victorino was not. Ben Francisco was manning center, and I have to call the move puzzling. We were worried that Shane perhaps had broken some fingers or his hand when he got hit in the first, but thankfully
X-rays were negative
. That means Charlie pulled him simply as a precautionary method to let the swelling go down before game 6. One problem, the Phils still needed six more outs to get there, and taking out your best outfielder, no matter how banged up, is not a good idea. And that unfortunately played out.
Lee, still struggling to hit his spots consistently, gave up a leadoff single to Damon. Teixeira followed with a double, and up came A-Rod with runners on 2nd and 3rd with no outs. I thought Charlie was going to go get Lee. He did not, and A-Rod ripped one to left. Raul made a dive for it, and the ball went right off his glove, 8-4. It was a play Ibanez should have made. He didn't have to go that far to get to it, and it hit right off his glove. Had Charlie simply left Shane in and put Francisco in left, as he has numerous times this season, the play would have been made. I have no doubt Francisco catches that ball. Now the Yanks were within four still with six outs to go and A-Rod on 2nd.
That was it for Lee, and you could feel the tension in the place. I said, "Please don't pitch this thing into a save situation," but that was inevitable. Chan Ho came in and did a great job, getting all three batters he faced, but A-Rod still managed to score somehow on a shallow fly to center. Francisco played it horribly, not backing up and charge it to get his momentum, and he made a horribly weak throw to home. If Shane had been in the game, A-Rod probably wouldn't have even ran, and if he did, he would have been dead to rights. But Shane was out, and suddenly a six-run lead in the 8th turned into a 3-run lead with three outs to play. And the Phils couldn't muster any offense themselves, as Matt Stairs grounded into a double play after Chooch led off with a single, and J-Roll grounded out to end the 8th. It would be nice if Greg Dobbs was still alive. Just saying.
Anyway, after Brad Lidge shit himself on Sunday, there was no way he was getting anywhere near that mound. That meant it was Ryan Madson, he of the equally torture-inducing save situation success. Sadly, Madson came out like a scared child, failing to throw strikes with a 3-run lead. And though he was facing the bottom of the order, this was not longer Gardner, Molina and the pitcher spot. By the 9th inning, the Yankees had transformed the 8 and 9 hole into Jorge Posada and Hideki Matsui, followed by Derek Jeter as the first three hitters in the final inning. That doesn't seem fair.
Madson fell behind Jorge and gave up a double. Then he fell behind Matsui, at which point I lost it, screaming at him, "THROW FUCKING STRIKES YOU FUCKING BUM!" Then he gave up a single to Matsui, 1st and 3rd with nobody out, Derek Jeter up as the tying run. I lost it, yelling, "GET HIM OUT, CHARLIE! GET HIM THE FUCK OUT!" Charlie didn't listen. All I could see was impending doom. The Yanks had the tying run at the plate with no one out, and it was in the person of Derek fucking Jeter, the most clutch player I've ever seen. The guy came into the game batting .412 in the World Series. All I could picture was another devastating comeback by New York, this time to win the whole damn thing. I wanted to throw up.
I couldn't even muster up any energy to yell, cheer or anything. I was fuming, silent and waiting for the inevitable. But then, somehow, Madson sawed off the great Derek Jeter, who hit the ball right to Jimmy Rollins, 6-4-3. Damon scored, but suddenly the Phils went from impending doom to up 8-6 with no one on and two out. I couldn't fucking believe it. All I could picture was Jeter sending one to the gap or god forbid, launching one into the left field stands to tie it. But he didn't. Derek Jeter, for the first time this series, failed to come through.
But the game wasn't over yet. Up came that pesky Johnny Damon, and the little fucker worked another great at-bat to single. Fuck. Madson had to get Teixeira, just had to. Because if A-Rod came up again, things were not going to end well. Thankfully, Madson did,
striking out the playoff fraud
that is Mark Teixeira, sending this thing back to New York. They're still down 3-2, but they aren't dead yet. This team still has a pulse, and as we all know by now, nothing is impossible with these guys. Nothing.
On a side note, I'd like to point out just how much I fucking hate these Yankees. I've always despised Mark Teixeira, and that hasn't changed, but now two new hatred-fueled relationships have developed inside me. I cannot stand Johnny Damon, that Benedict Arnold, and his fucking pesky at-bats. He had sucked all playoffs and in the first two games. Now, the Phillies can't get him out. Fuck that guy. And Jorge Posada. I used to have no problem with this fucking rat, but now I hope he dies a horrible, embarrassing death. He is the most whiny, petulant bitch I've ever seen, especially for a catcher. He complains after ever called strike. The guy is a fucking catcher. That's just stupid. You have to stand in front of that ump and hope he gives you calls as a catcher. Instead you bitch and moan like a little girl. Go fuck yourself, Jorge. Especially after that fucking tantrum you threw after Lee quick-pitched you. Grow the fuck up. You were taking forever and whining after every pitch. Lee got pissed, and he put you in your fucking place. It's not like your pitchers haven't done that. Remember CC's quick pitches in game 4? It's part of baseball. Deal with it. And die, you fucking asshole. Jorge Posada is a fucking rat bastard.
I hate the fucking Yankees. Fuck them. Win two more games, Phils. You got it in you. You really do. Fuck the Yankees.
LET'S GO PHILS!!!!!!!