I'm sure you're all very much aware of that. Twenty-five percent is never really good, whether you're talking about shooting percentage, winning percentage, a test score or even a batting average. But it's even worse when that one out of four represents the number of Final Four teams I picked correctly … and that damn team was Duke.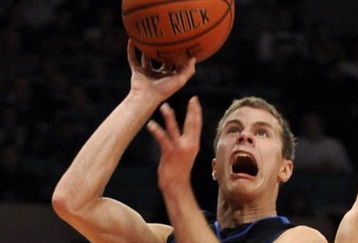 I hate Duke. I hate Duke more than any college in the history of the world. Even more than Michigan. There are exactly zero redeeming qualities about Duke. Zero. Yet that's the only team I correctly picked to make it to Indianapolis. Talk about a kick in the balls.
For a while there, it looked like the entire weekend was going to be one giant kick in the balls. It began with silver fox and I heading to Center City to meet up with some friends. Focusing my attention on catching up and actually socializing, I was basically oblivious to what was happening with the early games. By the time I finally noticed what was going on, I saw Ohio State was trailing Tennessee with just a couple minutes to go. I watched J.P. Prince block that final shot by Evan Turner, watched Brian Williams tip it in, watched Turner do all he could but come up empty at the end. And I watched as Tennessee took away the chance for my roommate to win $10,000 in his insanely large pool. He had Ohio St. taking on West Virginia in the title game. If that had happened and OSU won, he'd take home 10 grand, sharing it with his roommates and showing us a great time. If WVU won, he'd still take home a couple thousand, still be able to throw an awesome party or live it up in AC. But no, Bruce Pearl and his undermanned Volunteers, even after dismissing their best player in Tyler Smith earlier in the season, delivered the first groin shot, nice and early.
It was going to be one of those weekends. Not surprisingly, Michigan State and Baylor also advanced to Elite Eight. Well, not surprisingly isn't 100 percent accurate. With no Kalin Lucas for the Spartans, plenty of people were envisioning Northern Iowa and Ali Farokhmanesh continuing their ride. But the victory for Michigan State wasn't surprising to me, even without its star point guard. Tom Izzo truly is a great coach. Not good. Not very good. But great. As great as anyone in the country. I really believe that. He just knows how to win this time of year. And his players went through this before, getting all the way to final last year before running into a
North Carolina team
no one was going to beat. As far as Baylor is concerned, the Bears had too much size and athleticism for St. Mary's to handle, even with Omar Samhan. So no shockers there.
Neither was Duke's defeat of Purdue. Frankly, it was a miracle the Boilermakers were able to make it this far without Hummel, and they sure as shit weren't going to defeat the most complete Duke team of the past decade. We watched the end of that game at another bar, then called it a night.
I awoke around 1 p.m. on Saturday, finally catching up on the sleep I so desperately needed after
last weekend
. Stupid me forgot the Flyers were playing the Pens at 1. That's how out of it I've been all week. When I finally turned it on, I saw the Flyers were down 2-1, and then saw replays of the goal that was disallowed due to incidental contact (55 seconds in):
Now, that goal absolutely should have been disallowed. Ville Leino absolutely interfered with Marc-Andre Fleury. No question about it. What I have a problem with is the way the whole thing unfolded. Leino wasn't penalized, but the goal was taken away. The explanation? "The goal has been disallowed due to incidental contact with the goaltender. No goal, no penalty." Um, what? Hockey is a contact sport. There's no such thing as blowing a play dead for incidental contact. Doesn't exist. And contact with the goaltender by an opposing players, when he's not pushed into the goaltender by the opponent, is not legal. It's a penalty. So either it's incidental contact and a goal, or it's a penalty for goaltender interference and no goal, which in this case it should have been the latter. Yet instead we have no goal and no penalty. The fuck? I don't get it.
And from there, the referees went ape shit again. With the score still just 2-1 Pittsburgh early in the third, Scott Hartnell gathered a turnover and sprung Claude Giroux for a mini breakaway. On said breakaway, Fleury obviously, clearly, deliberately threw his stick at Giroux as Claude was making his move and was able to make a save:
No penalty was called. Are you fucking kidding me? As soon as the play happened, I was screaming, "HE THREW HIS STICK!!!! HE THREW HIS FUCKING STICK!!!!" Unreal. Kick in the balls No. 2, just in this game. And the refs went for the hat trick, when again with the score still just 2-1 Pens, Matt Cooke pulled Ryan Parent's stick from him, went to the front of the net and wound up marked by a stickless Parent, netting a slam-dunk goal to go up 3-1, when clearly it should have been a holding the stick penalty on Cooke, with the Flyers having a power play down just a goal. Instead, it was the play that broke the game open.
Let's face the facts, the Flyers have enough trouble beating the Penguins, and they've had trouble beating anyone of late. The Pens don't need the refs helping them out. Regardless, the Flyers probably weren't going to win, and they didn't, losing 4-1 to drop their fifth straight, spiraling dangerously close to out of the playoffs. And Johan Backlund, who got the start, had to leave after the second intermission due to injury and then was scratched from the lineup last night. And he was actually playing well. Nice. The foot just kept on getting buried in the groin.
Thankfully, the rest of the of the day went fairly well. Butler kept the good times rolling by upsetting Kansas State in an excellent contest, earning a trip to the Final Four in their home state. It's like a real-life Hoosiers moment, as we've been reminded and will be reminded about a million times this week. Nothing like overbearing story lines that get shoved down your throat. But still, pretty cool for Butler.
Then there was the West Virginia-Kentucky game, which was quite possibly the strangest game I ever watched in my entire life. Kentucky couldn't buy a bucket from beyond the arc. West Virginia seemed like it couldn't miss. And the most ridiculous thing of all is the Mountaineers didn't hit a single two-point field goal in the entire first half … yet were leading 28-26 at halftime. It was pure insanity. I have never seen anything like it. West Virginia made eight three-pointers and four foul shots in the first half. And 0 twos. It was insane. It was like watching us play at Second Street in high school. Bombs away. It was at the point where silver fox, Toonces and I were yelling at West Virginia when it took shots inside the arc. We wanted to see an entire game of nothing but threes. We did get to see an entire half, which was sweet.
Honestly, when Joe Mazzulla made a layup early in the second half, we were all disappointed. But it proved to be a smart tactic. Mazzulla was getting inside with ease in the second half. All those three-pointers opened up the lane, and West Virginia attacked. Meanwhile, the Wildcats couldn't get anything easy against the Mountaineers, who played their patented tough defense, and West Virginia was able to hold them off and earn a trip to Indianapolis.
Both teams shot poorly from the floor, with West Virginia hitting just 38.5 percent of its shots and Kentucky shooting 34.3 from the floor. The difference came at the lines — three-point and free throw lines. West Virginia made 10 of 23 threes (43.5 percent) while Kentucky made just 4 of 32 (12.5 percent). And the Mountaineers made 23-34 free throws, hardly awesome at 67.6 percent, but much better than Kentucky, who made just 16-29 at the line (55.2 percent). You would think that sooner or later John Calipari would realize free throws matter and start emphasizing it much more. I mean, his Memphis Tigers would have won the NCAA title two years ago if they could shoot free throws, you know, if that Derrick Rose-led team even existed. And this game would have been infinitely closer if the Wildcats could have made their foul shots. But apparently, foul shooting isn't important to Calipari. That's part of the reason he doesn't have a title yet.
We got a brief reprieve from the kicks to the balls Saturday night, but the foot returned with a vengeance yesterday. Not so much for me initially, but for my roommate once again. You see, with his bracket shot, he at least had two teams alive that he had bet on before the season to win it all: West Virginia and Tennessee. Unfortunately for him, he now only has one team, as Michigan State won its second straight game without Kalin Lucas, in dramatic fashion no less, to advance to the Final Four for the second straight year. Like I said before, never count out Tom Izzo, because he is truly a great coach.
Again, I wasn't surprised. I never am when it comes to Izzo and Michigan State, unless it is surprised that they struggled. I really thought that if this team got healthy, it had a chance to make a real run at the Final Four. After all, the entire team was essentially back from last year. In fact, the hardest game for me to pick in the entire bracket was the potential Kansas-Michigan State matchup that never happened. I mulled over that one forever, ultimately going with Kansas because I thought the Jayhawks were too talented and the Spartans too banged up. Shows what I know. Because the banged up Spartans, playing without their best player and last year's Big Ten Player of the Year, are right back in the Final Four. There's just something about these Izzo teams that never lets you count them out. As far as I'm concerned, that game yesterday validated that no one did any better of a job coaching this season than Izzo and Bruce Pearl. Both coaches faced a ton of adversity — Izzo with injuries and Pearl with his players, specifically Tyler Smith, getting into trouble and getting kicked off the team. Both were expected to be intriguing teams, but teams incapable of getting too far. Yet here they were, Tennessee and Michigan State, battling it out for a trip to the Final Four. True to both teams' personalities, personalities exemplified by their coaches, they fought to the end, with the Spartans coming out on top by the slimmest of margins, winning 70-69.
Truth be told, I wasn't upset about this, even though it hurt my roommate's chances of cashing in. I really like Izzo. A lot. And that's coming from a Penn State grad who is programmed to dislike every other Big Ten school in the land. But it's impossible for me to hate Izzo. He's just such a great coach, and he genuinely seems like a great guy. Kind of a Joe Paterno of basketball or something, be it much younger. He's the type of basketball coach my alma mater desperately needs to try and build some kind of reputation for its basketball program besides shitty. Ed DeChellis is not that kind of guy. But I digress.
Back to getting kicked in the balls. Of all the teams I picked to go to the Final Four, Duke was the only one I was openly rooted against from the start. I would have been happy as a clam to see them be the first No. 1 to lose to a 16 ever, content with losing a Final Four team in the first round. But of course, the Dukies get all the way to Indianapolis. Just great.
For a while, it looked as though that might not happen. Baylor was playing great, and held a late lead at 61-60. LaceDarius Dunn was killing it, Ekpe Udoh was everywhere, and Tweety Carter was coming up clutch. Then bang, a free throw followed by a three-pointer by Nolan Smith, a three by Jon Scheyer, and suddenly a 61-60 lead for Baylor turned into a 67-61 deficit. Basically, game over. Udoh, who had a tremendous game, couldn't buy a bucket down the stretch, and the Bears ran out of steam. The final three minutes were nothing more than a death march for Baylor, as Duke slowly but surely hit shot after shot, whether from the field or from the line, as Baylor imploded. Now the Blue Devils are the only No. 1 seed in Indianapolis, taking on West Virginia Saturday.
Unfortunately, as I said, it was the only Final Four team I got correct. I just sensed that with Duke actually having size up front for the first time in literally a decade, this team would be able to win come March. The Blue Devils have three excellent scorers in Nolan Smith, Kyle Singler and Jon Scheyer, but this team is more than that. Lance Thomas and Brian Zoubek give them a legitimate interior presence, while the Plumlee brothers provide the size and muscle Duke has lacked off the bench pretty much forever. Sadly, I was right. Now we're all forced to hear about Duke all week long. Hopefully West Virginia can save us all from further Duke exposure Saturday. Otherwise, just call it another kick in the balls.
Thankfully, the weekend ended on a high note. Finally, mercifully, the Flyers won a game, taking it to the Devils from the start in a 5-1 victory. Before you could blink, the Flyers held a 1-0 lead just 53 seconds in, as Matt Carle beat Martin Brodeur in Carle's first game back from injury. Ville Leino added another in the first, and Kimmo Timonen and Lukas Krajicek followed Carle's lead, as both defensemen tallied in the 2nd, giving the Flyers a 4-0 lead. Simon Gagne added one of his own after Ilya Kovalchuk scored, keeping his blazing hot pace alive, and the Flyers ended their 5-game losing streak.
In doing so, the Flyers again jumped a couple spots, moving up to sixth place, tied with Montreal at 82 points, with six games left to play. Should be interesting to see how it all shakes out. Considering the Flyers' success against the Devils this season — the Flyers are 5-1 against New Jersey this year, a pleasant change for once — it would be nice to catch Ottawa in the 5th spot to match up with Jersey. As it stands, taking on Buffalo or Jersey would be the best bet, while falling to 7th or 8th to take on Pittsburgh or Washington would be a tough road to go. Actually, all roads are tough given the Flyers' play of late, the loss of Carter and having no goalie, but still. You'd rather avoid Washington and Pittsburgh at all costs. Needless to say, dropping out of the playoffs would be disastrous.
The remaining schedule has some favorable matchups and some tough ones. They have off until Thursday, when they take on the Islanders in Long Island in a game they have to win. Then the Flyers play at home against Montreal, an important game in the standings, and follow that up with a dangerous game against Detroit at the Wachovia Center on Easter Sunday. Then they wrap up the season with another game they must win at Toronto next Tuesday, followed by a Friday-Sunday home and home with the Rangers, first in the Garden and then in Philadelphia.
The best case scenario is the fifth seed at this point. The worst case scenario is still missing the playoffs, which is certainly a possibility. And that would unquestionably be another kick square in the balls.
Fuck Duke.