I don't know what the biggest upset was this weekend: St. Mary's knocking off Villanova, Northern Iowa beating the No. 1 overall seed in Kansas, or Toonces defying all odds and actually winning a good chunk of change in AC despite impaired judgment.
This weekend was certainly not one for the weary. It began on a sour note, with Temple getting completely out-classed by Cornell. The mentor was bested by his protege, as Fran Dunphy's former assistant at Penn, Steve Donahue, and his Cornell squad led Temple from basically start to finish. It was a disappointing end to a tremendous season for the Owls. The consensus seemed to be Temple drew the worst possible match-up it could have by getting Cornell in the opener, and that proved to be the case. Louis Dale and Ryan Wittman combined for 41 points, and the Big Red shot 56.2 percent from the field. There wasn't anything the Owls could do about it.
I still think Temple got a raw deal, but hey, if the Owls wanted to really go out and prove they deserved higher than a 5, then they should have won. Though truth be told, I think it's safe to say both teams were given worse seeds than they deserved. Looking at Temple's resume, the Owls should have been at no worse a 4 and probably a 3. Looking at what Cornell did all season long and then now, getting to the Sweet 16, the Big Red probably deserved at worst a 9, maybe even higher. Regardless, it was a memorable season for Temple. Lavoy Allen established himself as a premier rebounder. Juan Fernandez lived up to his potential. And Ramone Moore blossomed as the season wore on. Ryan Brooks ended his collegiate career with his best season, winning his third straight A-10 tournament title and leading the Owls in scoring. It's just a shame to had to end with such a dud. A team shouldn't lose by 13 when it shoots 51.9 percent from the field, but that's exactly what happened. Cornell was simply too good, and that's why they're still alive.
How I'm still alive, I'll never know. Why, you ask? Well, the good Reverend turned 26 on Saturday, and to mark the occasion, I went down to Atlantic City along with Joltin' Joe Blanton, silver fox, Toonces, Paul "lil' Jon" Runyan and three other friends Saturday, which just so happened to be the same day as the
Celebration of the Suds
. Yeah, you bet your ass we went there.
The plan was for all of us to meet at my house at 11 a.m. so we could get to AC bright and early — and most importantly, in time to see tip-off of the Villanova-St. Mary's game. Sadly, things didn't quite go to plan. Lil Jon had some technical difficulties and ran a little late. Toonces and two others left around 11:15-11:30 as the rest of us waited. When we finally set course for Atlantic City, game time was approaching. Luckily, one of our friends has that mobile TV business on his phone, so in the back seat, silver fox and he were watching the game and keeping us up to date. It wasn't sounding good. At all. St. Mary's best player, Omar Samhan, was kicking ass and taking names. Villanova's best player, Scottie Reynolds, was not.
We got to AC with about three minutes or so left in the first half, headed to the casino to find some TVs and a bar, and got situated right as halftime was getting underway, with Nova trailing 38-31. Nervous but not completely freaking out yet with still a whole half to go, we noticed a $15 blackjack table sitting right in the bar. All four of us took a seat, which was looking out onto the casino floor. There, we saw Toonces' bright red Phillies hat. He was at the craps table with our two other friends, literally right within eye sight, and did not leave. Guys must have been on a heater. Glad somebody was, because in the matter of just that halftime, the blackjack dealer was taking all our money, turning over blackjack after blackjack while dealing out nonstop 14, 15, 16 and 17's to the four of us. On top of that, he was playing mind games, laughing all the way to the bank. Twenty minutes in, and we're all already down money. Great.
After we ate the early loss, we settled into our seat, literally right next to the blackjack table, and watched Villanova play itself into a slow, painful death. At the same time, we saw another group, this time of six, take our seats at the blackjack table. The dealer quickly disposed of them as well, wiping them clean. The guy was killing it. At least we weren't alone.
Just like we weren't alone in rooting on Villanova from the casino bar. But the more we watched, the more it became clear that the Wildcats simply didn't have enough. Omar Samhan was simply incredible. It's no secret that Villanova's weakness is its size. Freshman Mouphtoau Yarou's rise at the end of the season and the improvement of Antonio Pena have helped, but no one confuses this frontcourt with the nation's elite. Omar Samhan is an elite player, and he was having a field day. The senior big man abused anyone and everyone Villanova put on him. Pena was no match physically. Freshmen Yarou and Maurice Sutton stood no chance against the wily senior. Anything he wanted, he got. Samhan was a beast. He was far and away the best player on that court, scoring 32 points on an absurd 13-16 from the field. He went 6-8 from the line, grabbed 7 rebounds and added two blocks for good measure. He was eating Villanova alive.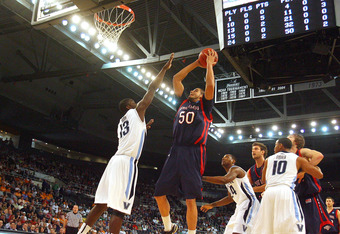 His presence stood out even more due to Scottie Reynolds' struggles. On one hand, here was a senior taking full advantage of his moment, knowing this was his last go around. Samhan wasn't going to go down without a fight. On the other hand, there was Scottie Reynolds, fresh off a 2-15 shooting game in the first round, somehow playing even worse.
After making
this shot
in last season's NCAA tournament against Pitt to send Villanova to the Final Four, it seemed as though Reynolds had turned a corner. Up until that point in his career, Reynolds had been a tremendous player, but one who had a penchant for coming up small in the bigger games, against stiffer competition, his 40 against UConn as a freshman an the exception. But with that shot, Scottie seemed to have matured. He began this season on an incredible run, playing as good as any guard in the country. His shooting percentage went up. His decision making improved. And in the biggest of games, Reynolds was coming through. But then there was the late-season swoon, when opponents forced others to try and beat them. Then there was the first-round 2-15 shooting performance. And then Saturday, at the most inopportune time, the Scottie of old showed up.
Reynolds scored just 9 points. He shot just 2-11 form the field, added just one rebound and three assists. He was, essentially, a complete nonfactor. It was his worst game of the season. Unlike the game against Robert Morris, where he was struggling with his shot but found a way to get to the line late and get his points, Reynolds took just three foul shots. In 30 minutes, he did essentially nothing. And that school scoring record everyone just assumed he'd take from Kerry Kittles wound up never coming to fruition. His 2,222 points are still 21 behind Kerry. Second place wouldn't sound so bad if so much more wasn't expected here at the end.
But Reynolds was hardly alone in his performance. Corey Fisher, who also struggled mightily in the opening game, only scored 9 points himself in 29 minutes, shooting a ghastly 3-13 from the field. Reggie Reading only scored 5 himself, shooting 2-7. As a team, the Wildcats shot just 36.2 percent, as opposed to St. Mary's 50 percent. Everything that could go wrong for Villanova did. Only Corey Stokes (15 points) and Maalik Wayns (10) scored in double digits. Yet with the shots not falling, the Wildcats didn't attack, not the same way they have the majority of the season. That's evident by the 11 foul shots they took. A team that had such high hopes before the season started couldn't even make it past the first weekend. Surely, the team will rebound next season. Yes, they lose Reynolds, and he won't be easy to replace. Yes, they lose Redding, a defensive specialist who provided a calming influence. But everyone else is back, and more talented freshmen are on the way.
Still, more was expected from this team. A preseason No. 5 ranking, a No. 2 seed, this squad was supposed to do more. But we knew better. We saw them struggle in February and March, saw them lose the first round of the Big East tournament, saw them lose their way down the stretch. So the early exist was hardly shocking. It was unfortunate, but hardly surprising.
No, the surprises came later in the day. And when I say surprises, I mean surprises.
After Nova lost, we concentrated most of our efforts on gambling until hitting up the beer festival at 6. We met up with Toonces and company at the craps table to find out they had been doing quite well. I stuck around while Lil Jon, silver fox and our other friend headed to the poker room. I had never played craps at a casino before, which is kind of mind boggling considering I have been to AC plenty of times, so I sat and watched for a while, then jumped in. I have to admit, I loved it. Every second of it. I went up big, came back down to earth a little, but still managed to come out up a bit by the time we all rendezvoused to check in to our hotel and head to the beer festival.
Much to our chagrin, the convention center had no televisions. During March Madness. At a beer festival. How is this possible? How did this happen? I was not pleased, but then again, it's hard to be too mad when you're surrounded by a minefield of high-alcohol brews in an open bar setup. In a matter of 20 minutes, I was less than sober. The only downside, as I said, was the lack of TVs. We had no idea what was going on in the games. Well, we had no idea until the messages starting pouring in. Kansas lost? No, no they did not. Couldn't have. To Northern Iowa? I thought I was supposed to be the drunk one. Wait, what? Washington beat New Mexico too? OK, I can buy that. Quincy Pondexter is a stud, Isaiah Thomas is all sorts of good and Washington is hot. But Northern Iowa over Kansas? Nah. Couldn't be.
Only it did happen. I was not drunkenly mistaken. The messages were real. The Northern Iowa Panthers edged out Kansas 69-67. Bracket busted. And not only did Northern Iowa beat the Jayhawks, but they beat them in dramatic fashion.
You will forever remember the name Ali Farokmanesh. Even how to pronounce it. It's officially part of NCAA Tournament legend. You'll remember him for his 17 points on 5-9 from three and most importantly that deep bomb that put the game away in the opening round against UNLV. And you'll remember him for doing it again on Saturday, against the No. 1 overall seed in the tournament, en route to 16 points. Ali Farokmanesh is the king of the deep, late, back-breaking three. No question about that.
After hearing of the upsets and finishing up our time at the beer festival at 10:30, it was off to some sketchy fun downtown before heading back to the casinos. The scene was a bit wild as the group got split up all over the place, but I made my way to Bally's to meet up with Toonces. The guy hit up the craps table again and took his place. I was tempted to join him, but I got the poker itch that had to be scratched. I headed upstairs hoping to, if nothing else, be a part of the bad beat. The jackpot had reached some $288,000, so it would have been a nice payday. My luck didn't go so well as I sat at the table for hours on end. Finally, I had my hand.
Holding a Queen-10, the flop came out: 10-10-Jack. Nice. Now I'm sitting pretty. An old man bets hard, everyone else gets out of the way as I'm licking my chops. It gets to me, and I raise. He re-raises me. Never flinching, I go all in. Without hesitation, he calls, and I'm feeling good. The pot is enormous, and I'm holding trips with a Queen kicker. He flips over his cards … pocket Jacks. Fuck.
Thus, my night was over. No bad beat. No winnings. And now it was past 5 a.m. and I had to hope someone was still awake to let me in one of the rooms. Thankfully, one of my friends answered his phone, and I got a few hours of shuteye. When I awoke, I heard Toonces had done pretty nice for himself at the craps table, and the kind gentleman that he is, he bought us all lunch.
We made our back to Philadelphia, tired and hung over and the majority of us all broke, and when I reached my house, I crashed as I watched the games. Luckily for me, I awoke in time to see perhaps the craziest ending yet.
Wow. Just wow. If that's the ultimate way to cap off arguably the greatest opening weekend in NCAA tournament history, I don't know what is. Even with Villanova and Temple losing entirely too early, this entire thing has been amazing to watch. I mean, think about it: Northern Iowa, Ohio, Murray State, Cornell, St. Mary's, Old Dominion; Danero Thomas, Ish Smith, Durrell Summers, Ali Farokhmanesh, Omar Samhan, Jimmer Fredette, Armon Bassett; Washington and Purdue advancing when very few thought they'd make the Sweet 16. It's been crazy.
Some might say it's been madness. You gotta love March.
P.S. Brian Boucher sucks.