If anyone needed more proof that the Big East Tournament trumps all other conference tournaments, Da'Sean Butler just gave it to you. I watched damn near every second of this game. And all the other games I've been home and awake to witness. This is the type of thing we've come to expect out of the Big East.
Whether it's the epic 6-overtime game between UConn and Syracuse or a matchup between the top seed and the eighth seed, the Big East Tournament games keep you on the edge of your seat.
There was Georgetown, a team with Final Four talent but not a Final Four résumé, taking down No. 3 Syracuse, the top seed in the Big East, behind Chris Wright's outstanding performance, zone be damned. Wright went off, shredding the Orange defense for 27 points, 6 boards and 6 assists. Greg Monroe, who damn well may be my favorite player in college basketball, chipped in with a 15-10-7 with 3 steals and a block. Not even Wesley Johnson's 24 points and 7 boards could stop Georgetown. The Hoyas shot an outrageous 57.9 percent from the field. And they needed every last bucket, as the Orange were no slouches themselves, hitting 54.2 percent of their shots and a ridiculous 11 out of 20 threes (55 percent).
But it was the Hoyas who held on for the 91-84 upset, setting the stage for upset city all day long in Madison Square Garden.
Following suit, Marquette took down Villanova with an 80-76 victory behind the three-point shooting of Darius Johnson-Odom. One of the best three-pont shooters in the nation at 48.3 percent, Villanova continually left him open or unchallenged from three. Big mistake. Johnson-Odom hit 5-7 from beyond the arc and crushed Nova with a late three. Lazar Hayward was a terror, also hitting a dagger of a three and doing pretty much anything he wanted. Hayward went 7-11 from the field for 20 points and added 7 boards.
Meanwhile, the Cats continued to struggle. I watched online at work as Scottie Reynolds reverted back to his former self, prior to last year's NCAA tournament, coming up small in a big game. Reynolds scored just 10 points on 4-10 shooting. Everyone knows Nova needs him to score more than 10 and certainly take more than 10 shots. Reggie Redding was atrocious, going 1-9 from the field and struggling to contain Hayward. The two Coreys played well, and Antonio Pena chipped in, but it wasn't enough. Now Nova has lost five of its last seven games, certainly going in the wrong direction at the wrong time of the year.
I hate to say it because I think he's an awesome coach and a tremendous guy, but much of the blame has to be placed squarely on the shoulders of Jay Wright. It's now March, tournament time, and Jay still doesn't have his rotation set. I understand that Nova has a plethora of talent on the roster, but you just can't expect guys to win big games against tough opponents without any sort of continuity, without understanding or even knowing their roles, their playing time.
Sure, he has the constants of Scottie, Reggie, Pena and Fisher getting big chunks of minutes. But from there, things have been too varied all season. Corey Stokes is the first guy off the bench, and his time is pretty consistent, but Maalik Wayns plays 22 minutes one night, 3 the next. Same for Dominic Cheek. And Yarou, though is playing time has become a little more consistent of late. Too many players have had their playing time play out too sporadically. To a much, much, much lesser degree, it's like watching Eddie Jordan sit guys for weeks, then play them in crunch time. Jay Wright is a fine basketball coach. Hell, he's this close to being a great. He's brought Villanova back from the doldrums to a national power. But he's struggled mightily this season trying to figure out just what he has. And I think to some extent it's hindered his team down the stretch. I'm confident he'll straighten things out. The problem for Villanova is I don't think that will happen until next year.
The upsets didn't end there, by the way. Notre Dame, despite no one on the team scoring more than 12 points and only two players in double digits, was able to hold off Pitt 50-45 in another close battle. I wouldn't call this game exciting, because it wasn't. Plus I really, really hate both these teams. Watching Notre Dame and Pitt makes my eyes bleed. It's like Big Ten basketball — excluding Michigan State and anything Evan Turner does — on steroids, and that's not a good thing. I'd say more about this game, but I don't want to. It was painful to watch. But ND did make it three straight wins for the lower seed, showcasing just how talented and tough the Big East is.
And of course, there was the main event, as it turned out: West Virginia saving face for the higher seeds by barely edging Cincinnati 54-51.
I'm breaking out a oldie but a goodie here: If you didn't watch this game, please, do the world a favor and kill yourself. Because that game was, despite a relatively low score, fucking awesome. Tight throughout, the last few minutes is when the action really picked up. Kevin Jones was a man's man for West Virginia throughout, scoring a team-high 17 points, including some huge buckets down the stretch. Lance Stephenson, after struggling all game, began to live up to his Born Ready moniker, completely taking over for the Bearcats from the midway point of the second half on. It started with a pair of free throws, then a jumper, then another, and another. Then came his assist to Deonta Vaughn for three, and then, with 47 seconds left, Born Ready hit the biggest three of his life, tying the game at 51.
Stephenson finished with a game-high 19 points and added 7 rebounds. But most importantly for Cincinnati, he did what the Bearcat faithful have been waiting for the freshman to do all season long: He put Cincy on his back and carried them into the final minute. Sadly for Stephenson, his late-game heroics weren't enough. No. Da'Sean Butler may have lost out on the Big East Player of the Year to Wes Johnson of Syracuse, but he sure as shit wasn't going to lose in the Big East Tournament and get outdone by a freshman. So the senior standout calmly took the ball, stroked a three and banged it home. Game. Set. Match.
As the ball went through, I started yelling, "WOW!!!! HOLY SHIT!!! HOLY FUCKING SHIT!!! THAT WAS AWESOME!!!" That's what the Big East Tournament does to you. It leaves you in awe. It amazes you. It gives you moments like the Butler doing it. Like Ray Allen leading UConn over Allen Iverson and Georgetown.
Like the 6-overtime game. Like Gerry McNamara raining down threes. Like a senior taking control when his team needs it most. It really is the best conference tournament of all. And it sets the stage nicely for March Madness and the big dance.
Extra game of note: North Carolina played perhaps its best half of 2010, taking a 34-24 lead into the midway break against Georgia Tech. All game long, Len Elmore kept trying to convince people that Larry Drew II has considerable talent, and too many people focus on his weaknesses. He was basically trying to tell the world that Larry Drew is just a sophomore and will definitely get better. I'm here to tell you Larry Drew sucks. He played a really good game for about 35 minutes last night. Then, when the game was close late, he folded, turning the ball over again and again and again. To no one's surprise, UNC lost 62-58, and Drew had 5 turnovers. And he shot 1-9 from the field and 0-4 from three. Sure, he had 8 assists, but what good are 8 assists when you negate them with 5 turnovers and terrible shooting? That's Larry Drew in a nutshell. Just because he's fast doesn't mean he has talent. He sucks. Horribly. And the fact he follows Raymond Felton and Ty Lawson as the last two point guards at UNC certainly doesn't help his cause. His flaws are on full display.
Kudos to Tyler Zeller though, who finally looked like the player he was touted to be. He scored a team-high 17 points on 7-11 shooting and had 10 boards. Though he did get rejected late on a huge play. Hard to fault him too much though, especially since he was swatted by Derrick Favors.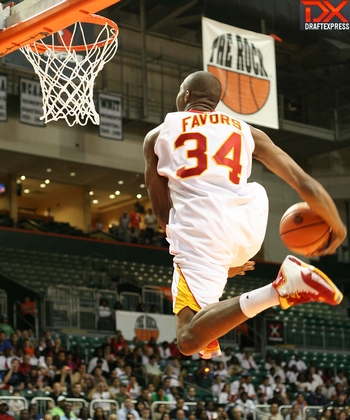 Much like Stephenson, Favors has been expected to do a little more than he has this season as whole. Not even close to the extent of Lance, but Favors was projected as the second or third pick during the first half of the season. As the season has worn on, his stock has fallen a bit. I'd argue it's because Georgia Tech doesn't give the guy enough touches, and foul trouble has hindered him as well. But last night was the perfect example of what he can do. He looked every bit like the dominant player he's supposed to be, scoring a game-high 18 points, grabbing 9 boards and blocking five shots. He was a beast. Yet he only got eight shots, making seven of them. Get him the ball more, and I guarantee he'll dominate. Hell, he can dominate even without getting enough touches, like he did last night.
And for shits and giggles, enjoy:
God, I love March. If only every day I could be blessed with endless college basketball games to watch.
P.S. The Flyers sucked balls last night. Michael Leighton may have gotten pulled, but it was the defense that let him down. Terrible, horrible breakdowns defensively led to those goals, leaving Leighton high and dry. Get your shit together, boys.