As everyone who's anyone knows, the NFL free agency period began when the clock struck midnight, which means teams are free to start the bidding.
A lot
has already happened, including Antonio Cromartie getting traded to the Jets. If he can somehow regain his form from a few seasons ago, the Jets will be impossible to pass against. Seems a little unfair.
But this isn't about the Jets. As always, this is about the Eagles. Assuming this team decides to keep Donovan McNabb for once last go-round, the Eagles need to upgrade in several positions. In this uncapped offseason with all the money the Eagles have at their disposal, it's the perfect time to strike … but it would take a little bit of a change of thinking. What do I mean by that? Well, this team has four major needs at this point, maybe five: a top-notch pass rusher to take pressure off Trent Cole and improve the entire defensive line, a veteran running back to split duties with LeSean McCoy, a safety and offensive line depth/insurance/upgrades … plus a play-making linebacker wouldn't hurt.
With Gary Brackett
re-upping with the Colts
, there's a dearth of help at the linebacker position in free agency, with the exception of Karlos Dansby, who doesn't seem interested in Philadelphia. The Eagles will be banking on the healthy return of Stewart Bradley, Will Witherspoon solidifying one of the outside spots and some sort of rotation of Akeem Jordan, Tracy White, Moise Fokou, Chris Gocong and Omar Gaither holding down the other spot. Still, a playmaker at that position would be nice to have for once, but that's something this team should look to the draft for … someone like Navorro Bowman.
But those other positions can all be addressed in free agency. One problem, at least in the eyes of Eagles given their history — the best options are all 30 or above, the age the Eagles usually let players go, not bring them in. But this just may be the year the Eagles should go a different direction and really go for it, age be damned. So without further ado, here's my free agent wish list for the Eagles, which may be moot relatively soon considering free agency has already begun.
1. Julius Peppers
Number one on just about every team's wish list is Peppers, but few teams would be a better fit for the pass-rushing beast than Philadelphia. Pair him up opposite of Trent Cole, and suddenly the Eagles got from a defensive line with one guy to focus on to the best defensive line outside of Minnesota. Two Pro Bowlers lined up at opposite ends means opponents would have to pick their poison on who to double, or keep more players in to max protect. That would free up space for Broderick Bunkley and Mike Patterson as well, along with any blitzers. The potential is frightening.
Of course, Peppers is 30 years old, the deadly age in the Eagles' mind. Plus, Peppers has fought accusations of coasting, taking plays off, etc. Well, if 42 tackles, 10.5 sacks, 5 forced fumbles and 2 interceptions out of a defensive end last season is coasting, sign me up. The guy is an unstoppable force, literally unblockable and a player the offense must account for each and every play. The guy has 81 career sacks in eight seasons, including seasons of 12, 11, 10.5, 13, 14.5 and 10.5. He has six career interceptions, as a defensive end mind you, and two touchdowns. He's an athletic freak the likes of which the NFL rarely has seen. At 6'7, 283, he's big, fast, strong and truly dominating. He cannot be blocked. And he should be priority No. 1 for the Eagles.
Plus, if he signs in Philadelphia, he could moonlight as a power forward for the Sixers.
He couldn't be any worse than Elton Brand, right?
2. Thomas Jones
The Eagles need a running back to split duties with LeSean McCoy, especially given McCoy's struggles in pass protection. Thomas Jones is the best running back out there. The fact that the Jets cut him loose is a crime, even if they have Shonn Greene and a stable of talented young backs. Jones finished third in the NFL in rushing last season with 1,402 yards, trailing only Chris Johnson (2,006) and Steven Jackson (1,416). He scored 14 touchdowns. Fourteen. When's the last time an Eagles running back scored 14 rushing touchdowns? He averaged 4.2 yards per carry, and the guy has seemingly gotten better with age, rushing for over 1,100 yards the past five seasons, finishing with the highest total of his career last year.
Of course, Jones is at that scary age of 31, ancient in today's NFL for a running back. But like I said, he's coming off the best season of his career, and he's gotten better with age. Consider him an outlier to the age 30 decline. Of course, he's not a huge receiver out of the backfield, which makes him not the most ideal fit with the Eagles. But it's not as if Jones doesn't have that capability. He has good hands and is a reliable guy out of the backfield, and he knows how to pick up a blitz. Plus, Jones is a legitimate rushing threat, a real weapon between the tackles, something the Eagles haven't been able to comfortably go to since Duce Staley left town, given Westbrook's health issues over the years. He would take pressure of McNabb, open the field even more for the likes of DeSean Jackson, Jeremy Maclin and Brent Celek, and get you those short yards you need. And in the red zone, the guy flat out knows how to get in the end zone, evident by his 14 touchdowns last season and 13 the year before. Thomas Jones may be 31, but he's still got it.
3. Chester Taylor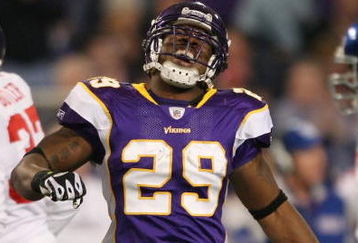 As I just said, the Eagles need a veteran running back. Chester Taylor is exactly that, and he's the type of player that fits the Eagles' system perfectly. He's extremely versatile, able to catch the ball out of the backfield, run up the middle or out on the edge, and a reliable blocker on blitzes.
Stuck behind Adrian Peterson in Minnesota since All Day came into the league, Taylor hasn't gotten the playing time to really showcase all he can do, but he's been one of the best backup running backs in the league. In 2006, he rushed for 1,216 yards, showing that he can carry the load if he gets the rock. And he's caught at least 40 passes in four of his nine seasons, including the last two, showcasing his hands. That's got to be attractive to Andy Reid and company. Of course, Taylor is 30 years old as well. But he'd fit Philadelphia perfectly. In fact, I wouldn't be the least bit surprised if this is the route the Eagles go at running back. And I wouldn't be stunned to see Brian Westbrook end up in Minnesota, effectively trading places with Taylor. The Childress-Reid connection makes this scenario very plausible. We shall see.
4. Kevin Mawae
For all intents and purposes, the Eagles are set at tackle. Jason Peters protects the blind side, and Winston Justice did a very fine job taking over for Jon Runyan. The interior? Well, that's another question. Todd Herremans is a very solid guard, but other than that, the Eagles have questions. Nick Cole is a solid backup capable of doing excellent things at guard. Stacy Andrews didn't work out. Max Jean-Gilles has a ton of talent and may develop into a solid guard, but he still has some work to do. And who the hell knows what's in store with Shawn Andrews … and where he'd play even if he was ready to play football again? But the biggest weakness in the line last year came at center when Jamaal Jackson went down.
Jackson is a fine player if unspectacular, and the Eagles could probably use an upgrade at the position anyway. But that's especially true with a 6'4, 330-lb. guy trying to come back from an ACL injury that occurred in week 16 of the season. There's no guarantee that he'll be ready for the season … or ever quite be the same. And without Jackson, the whole offensive line was thrown off. Enter Kevin Mawae. Sure, Mawae is 39 years old, but he's also a Pro Bowl center who has played 16, 15, 14 and 16 games the last four seasons, showing his durability even in his late 30s. In his 16 seasons, he's played in all 16 games 12 times, including 10 straight seasons doing so from 1995-2004. He's been to the Pro Bowl seven times and named First Team All-Pro three times. He's as reliable as they come, even at 39.
5. Darren Sharper
After the Eagles inexplicably let Brain Dawkins walk, they struggled mightily to replace him. They should have learned the hard way that just because a safety is older doesn't mean he's washed up. Just ask the Super Bowl champions, who certainly would not have been hoisting the Lombardi Trophy without 34-year-old Darren Sharper patrolling their secondary. Now Sharper is a free agent, and he'd look mighty fine in midnight green.
Sharper has been a playmaker his entire career, and 2009-10 was no exception. He recorded 71 tackles, picked of 9 passes and scored three touchdowns. That's about 1,000 times better than anything any Eagles safety did last season. Would I rather have a 34-year-old playmaker who completely changed the complexion of a previously porous defense or a younger Victor Harris diving at people's ankles and missing tackles, Sean Jones generally sucking and Quintin Demps committing penalties and getting hurt? Give me the 34-year-old who has been doing nothing but making huge plays his entire career. Over a 13-year career, Sharper has never played in less than 13 games. He's been a tackling machine and takeaway monster. He has 63 career interceptions and 11 touchdowns. And last year he was as good as he's ever been. The only reason I have at No. 5 instead of higher is because I think the Eagles can address safety in the draft, with an abundance of good ones coming out. Ideally, I'd love to get Taylor Mays, but Myron Rolle is also a guy I'd absolutely love to see in Philadelphia. Of course, if the Eagles go the linebacker/defensive end/offensive lineman route, Sharper would be a great guy to bring in.
If this team is really serious about making one more run at this thing, there are players out there to help. Players to fill some gaping voids. But it will take a little bit of a change in philosophy. Thirty may be ancient and evil in the eyes of the Eagles, but these players have proven their worth and longevity … even after their calendars have flipped past 30 years on this earth.