All hell has broken loose in my life in 2010. And I mean all hell. When you're a kid, you look forward to becoming an adult and gaining your freedom. No more answering to parents. No more set bed time. No more homework. Or so you think.
Once you become an adult, you have adult responsibilities and adult problems … and those are way more of a pain in the ass than anything you have to deal with as a kid.
It makes you long for the days of little more responsibility than playing basketball, Madden and getting your homework done. That's what I'm going through right now. The adult problems and responsibilities are wearing me out. And it's affected my sports enjoyment entirely too much of late. I'm always exhausted, always irritated and can't seem to focus.
But finally, things started settle back to normal somewhat this weekend. It began Friday night as I went to the bar with silver fox and watched the third period of the Flyers game. With the game tied 1-1, I watched Michael Leighton make some truly outstanding saves like this one:
And then minutes later, I witnessed Mike Richards make a timely change, intercept a cross-ice pass and go in against Ryan Miller on a breakaway. Against the goaltender who is playing better than any other netminder on the planet, Richards made a filthy move, completely undressed the best goalie this season and put the Flyers up 2-1 with just under 9 minutes left to play (4:30 in):
I slapped silver fox on the shoulder and continued to down my drink. With Leighton on his game in the final period and the Flyers holding one, I was sure they would win. But then minutes later, Matt Carle tried to feed the puck behind his own net to Chris Pronger, only he completely muffed the pass, turning it over to horribly to Mike Grier, who through it in front to Adam Mair, who tied the game. It was one of the worst turnovers of the season, one that cost the Flyers a valuable point against the team that was directly ahead of them in the Eastern Conference standings. The game went to OT, and Tim Connolly buried the Flyers 2:31 in. Instead of a 2-1 regulation victory to give the Flyers two points and the Sabres none, thanks to Carle's muffed pass and Michael Leighton doing his best
Martin Biron impression
on Buffalo's first goal, the Sabres were awarded two points and the Flyers just one. Even with the team's improved play in 2010, this squad continues to squander vital points in a deathly tight playoff race. It's maddening.
But nowhere near as maddening as the Nova-West Virginia game Saturday. For starters, Villanova jumped out to a 13-point halftime lead thanks to limiting West Virginia to its worst offensive output half of the entire season, surrendering just 16 points to the Mountaineers in the opening 20 minutes at the Wachovia Center. But the Wildcats only scored 29 points themselves in that first half, thanks to questionable shot selection and frenetic play. A lot can be attributed to West Virginia's lengthy defense, but when you forced a team to shoot a ghastly percentage from the floor and surrender just 16 points in a half, your lead should be a lot greater than 13. It wasn't, and naturally, in the second half, West Virginia's shots started falling.
I can talk until I'm blue in the face about everything that went wrong in the second half for Nova — failure to adjust to WVU's 1-3-1 pressure zone, double-teaming the ball-handler, late rebounding woes resurfacing after wiping the glass clean in the first half, Scottie's shots not falling, questionable substitution patterns, West Virginia adjusting — but the one thing that pissed me off more than anything in that game was the final minute of play.
After a wild finish in regulation that culminated in a deep three-pointer by Corey Fisher to send the game to overtime, the game was going back and forth when West Virginia had the ball with 52 seconds up by a point, 64-63. As they brought the ball up halfcourt, Corey Fisher seemingly stole the ball and was going to cruise in for a layup. Only one problem: the refs blew the whistle, claiming a timeout was called from the West Virginia bench. Here's the thing … West Virginia didn't have control of the ball. Before the refs blew the whistle, Fisher was stealing the ball. I'm sure of it. 100 percent positive. When they blew the play dead, I was screaming at the top of my lungs, "HE DIDN'T HAVE THE BALL!!!! HE DIDN'T HAVE THE BALL!!!" You can't call a timeout if you don't even have possession. And at that moment, there was no possession. Fisher was in the process of stealing ball. It was a loose ball. I'm sure of it. Yet no one even made mention of it. Not a single comment from Gus Johnson or Greg Anthony.
I don't get it. It must have clearly been called before Corey got his hands on the ball, but I find it hard to believe. I think the timeout from the bench rule sucks, and that's exactly why. It's so hard to tell if the thing was called before Fisher made the steal or not. Only players on the court should be allowed to call to time. I'm still pissed about it all.
Though to be honest, this game really eventually came down to each team's best player. Scottie Reynolds made some really big plays during the game, but he finished just 5-16 from the field and 1-9 from three. He only had three assists. And in overtime, he came out with two of the worst possessions ever, gunning an ill-advised early three on his first touch and overdribbling into a turnover against the West Virginia pressure. For the first time this season, Scottie looked out of sorts and unreliable in crunch time. Well, except for his pass to Fisher at the end of regulation. But in OT, he was just awful.
At the same time, Da'Sean Butler was all everything for the Mountaineers in the second half and overtime.
Da'Sean was at the center of West Virginia's struggles in the first half, scoring just 4 points. But he finished with 21 in all, going 13-14 from the foul line and hitting the game-winner on a crazy bank shot runner with just 5 second left. He completely took over late in the game and willed West Virginia to victory. And in the process, he just may have swiped Big East Player of the Year away from Scottie Reynolds and/or Wesley Johnson … especially with Syracuse dropping to Louisville.
It was another frustrating loss for Villanova, who has struggled mightily with this tough end-of-season Big East schedule. It was Nova's fourth loss in their last six and the team's third straight loss against a ranked opponent. Not the right direction to go. And for some reason, Taylor King didn't play a single second. No one told us why. I really like Gus Johnson and Greg Anthony as announcers. I really do. But it's evident those two either weren't paying close enough attention or flat out don't know much about Villanova, because they completely failed to mention King not playing at all. King is one of Nova's top bench players, providing strong defense and rebounding, and the ability to hit the outside shot … well, at least the threat of hitting it, because he's actually sucked shooting the ball this season despite being known as a shooter. Yet Johnson and Anthony never even mentioned it. I had no idea why King wasn't playing. Turns out, it was
"for an unspecified disciplinary reason."
Thanks for letting me know that Gus and Greg. I know it's a lot to ask you do give us important information like this and all, but I would have appreciated it. Not like it's your job or anything. Seriously, announcers, do your fucking homework. It's not that hard.
Meanwhile,
the best college basketball team in Philadelphia
took care of business with ease on Saturday, as Temple cruised to a 70-57 victory over George Washington to win the Atlantic 10 conference regular season title outright. It was Temple's seventh straight victory, and the Owls have won 9 of their last 10 games, securing the top seed in the A-10 tournament in Atlantic City this week. Maybe now they'll
earn a little respect in polls
, eh? Then again, maybe not. Because according to the AP and ESPN/USA Today, a loss in the Big East is actually more impressive than a victory in the A-10. Because they're morons, you see.
But hey, at least Temple is peaking at the right time. Maybe they'll create some attention in the tournament.
After taking in the Nova game and relaxing for a bit, I went and saw "The Crazies" late Saturday night. Do yourself a favor and don't waste your time going to see it. It sucks. A lot. I fucking hate movies.
Anyway, Sunday, Philadelphia extracted some revenge on Canada all by itself for the Gold Medal game loss. It began early as the Sixers exploded offensively against the Raptors north of the border to win 114-101. The best thing about the game? Easy: Jrue Holiday.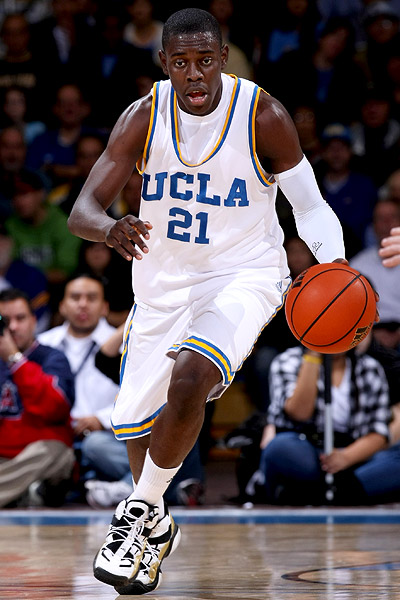 As the season has worn on and the 19-year-old earned a starter spot and more and more minutes, he's showcasing exactly why the Sixers bypassed the likes of Ty Lawson to draft the point guard out of UCLA who was proclaimed the best point guard in the nation as a senior in high school. Jrue has developed at a rapid pace in 2010, looking every bit like a future star at point guard. Yesterday, he had an extremely phenomenal game, scoring 21 points on 8-12 from the field, 3-4 from three, 2-2 from the line, nabbing 7 boards, dishing 6 assists, getting a steal and blocking two shots. And as usual, he played superb defense. His maturation down the stretch has been one of the few fun things to watch regarding the Sixers of late. And he's actually a real reason to watch. The kid is beginning to really look like the special talent he was hyped up to be.
Everyone knew about Jrue's defensive talents. He was lauded as one of the best on-the-ball defenders in the nation last year, despite being just a freshman. And defense has been his calling card his entire life. Everyone expected him to contribute defensively right away. But after just one season in college where he struggled playing out of position — with Darren Collison (who's playing tremendously in Chris Paul's absence in New Orleans, by the way) as a senior running the point, Holiday was cast into the 2-guard role and struggled offensively — there were questions about his offensive ability at this point. He was viewed as very raw, especially with his shot. Well, Holiday has quickly put those concerns to rest. While his overall shooting percentage leaves more to be desired at just 41.4 percent, he's leading the Sixers in three-point shooting at 40.2 percent and is an extremely reliable free throw shooter, hitting 80.9 percent from the charity stripe.
With each game, you can see the rookie's confidence grow, and the more he asserts himself, the better he tends to shoot. It won't be long before Jrue Holiday is at the very least a very solid starting point guard in this league. Yesterday, he was definitely one of the best players on the court.
Joining him was Thaddeus Young, who broke out for 32 points on 13-18 shooting and four steals, showing flashes again of the guy who was the Sixers' best player before he got injured last season. It's been quite the up-and-down year for Thad, who has pretty much personified the Sixers. Hopefully a game like yesterday's restores his confidence and propels him back to where he was a season ago.
Oh, and Andre Iguodala had another all-around good game, with 16 points, 10 assists, 6 boards, 3 blocks and steal. He'd make one hell of a sidekick to that all-elusive superstar.
To add insult to injury in Toronto, the Flyers capped off the night by defeating the lowly Maple Leafs 3-1 despite playing a pretty piss-poor game. That's the benefit of playing teams like the Leafs — you can not have remotely your best performance and still win. It'd be nice if the Flyers just owned such a sorry team though.
On a bright note, Michael Leighton was outstanding again, stopping 27 of 28 shots and instilling confidence once again with back-to-back strong performances following his debacle in Florida. Also, Simon Gagne and Danny Briere continue to be hot, as Gagne scored in his fourth straight game and Briere upped his total to 23 goals. Good to see two of the more highly played players finally coming around and doing what they're expected to do.
And as sad as everyone was to see Scottie Upshall go last year at the trade deadline, I can officially say Dan Carcillo has stolen everyone's heart. The guy has toned down his stupid acts, and now he's creating more power play opportunities for the Flyers instead of shorthanded ones. He got the Flyers off to flurry of power play opportunities to begin the game last night, baiting Colton Orr into an extremely stupid double minor. He rattled Orr so bad
again
, and the Leafs followed suit, committing penalty after penalty after penalty. The Flyers literally had a stretch in the first period where they were on the power play for over 6 minutes straight. Sadly, they only scored one goal on a beautiful fake shot/slap pass by Pronger from the point to Jeff Carter, who had a wide open net. But they still scored one and got the lead, thanks in large part to Carcillo.
He pissed Orr off so much that the goon took another penalty in that 6-plus-minute stretch, getting six minutes in the sin bin all by himself. And Carcillo had
some things to say
about Orr and company.
Something tells me Colton Orr won't be too happy about those comments. Sadly, there's nothing he can really do about it besides take some more dumb penalties and try and fight. Because really, when you look at his game compared to Carcillo, he can't hold his jock strap as far as actually hockey ability is concerned. Hell, Carcillo is on the top line with perennial all-stars Mike Richards and Simon Gagne, while Orr is on a fourth line that sees the ice less than 10 minutes a game on the worst team in the Eastern Conference and second-worst team in the NHL. You can't fight your way out of sucking, no matter how hard Colton Orr may try.
Though I will give it to him, the guy can fight. He really can.
But this weekend, it was Philadelphia that KO'd Toronto. And Carcillo got the last laugh.