This weekend was a blur for me. A bunch of my roommate's buddies from high school came to town along with another crew of people we went to college with for our fantasy football draft yesterday. Naturally, we got incredibly drunk, ate copious amounts of awful food and spent little time sleeping. It wasn't exactly a relaxing weekend.
That doesn't mean I missed all the goings on in the Philadelphia sports sphere however. Far from it. In the midst of the drunken debacle, I made sure to watch every last minute of the Eagles and Phillies.
Here's a quick-hit of what stood out in my mind.
First and foremost, the Eagles offensive line once again looked like complete and utter dog shit. Todd Herremans was the only one that really looked remotely good at all. Jason Peters is a damn moron, false-starting about 75 times, not to mention getting shown up on several occasions by my former Penn State classmate (as far as graduation is concerned, not actually in any of my classes) Tamba Hali. Stacy Andrews and Matt McGlynn are pretty terrible. And Winston Justice didn't really stand out one way or the other. As a result, Kevin Kolb was often running for his life, and naturally, he looked awful too. It's hard to envision Kolb being the quarterback the organization has been hyping up as the real deal with such an atrocious offensive line.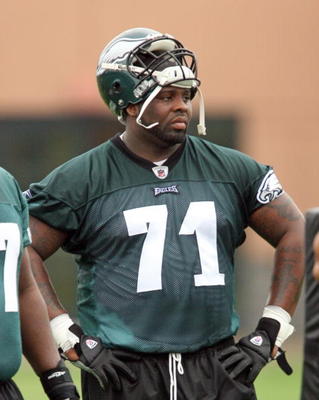 Beyond that, the Eagles royally pissed me off with their first offensive play call. In the preseason, against the Chiefs, the first play they run from scrimmage is a swing pass to DeSean Jackson with a sea of Chiefs ready to pummel him. DeSean tried to get what he could, put his head down and hurt himself when he took a huge shot. Awesome. Here's a note to Andy Reid and Marty "We'll take the wind" — Don't put your star offensive weapon in danger in a fucking preseason game! Thankfully, DeSean should be fine, but that was a dumb play call, to risk injuring DeSean, in a preseason game.
Second, when Trent Cole hurt his ankle, the Chiefs were in the hurry-up. Since Cole didn't stay down, he had to remain in for another play before the Eagles got him out. I was yelling at the TV, "GET HIM OUT! TRENT IS HURT! GET HIM OUT! CALL TIMEOUT! GO DOWN! WHAT THE HELL IS GOING ON?!?" Instead both the Eagles and Cole let this happen.
Listen guys, it's the preseason. You don't want anyone to get hurt, but you especially don't want your best offensive player and your best defensive player to get hurt. And if they do, you want to get them off the field as soon as is humanly possible. Trent Cole should have stayed down, no doubt. But when he didn't, the coaches should have recognized that he was hurt, like anyone watching the game on TV could see, and gotten him out. Call timeout — instead of the awful Andy timeouts that were taken at horrible times in the game, per usual — or even take a penalty. Trent Cole's health is far more vital to the season than what goes on in a preseason game against the Chiefs. I was pretty upset with the play call for DeSean and the handling of Cole's ankle injury. Luckily, it sounds like both players will be just fine. Thank god.
As far as that horrendous game, the highlight was without question Asante's
surprising hit
on rookie Dexter McCluster, perhaps the only player smaller than Samuel on the field.
That was impressive indeed. Of course, later in the game Samuel was all lined up for a tackle and then just moved out of the way. I don't mean got juked or missed or anything like that. He was there, primed and in position to make a tackle, but then just decided, "Fuck it, it's preseason, I'm not even going to try." I shit you not. Frankly, I'm OK with it in the preseason. In the regular season, not so much. Either way, that was more like the Asante we all know and love/hate.
For the most part, the defense looked good again, but then again, the Chiefs suck. I was thoroughly impressed with Travard Lindley and Dimitri Patterson at corner, and apparently,
I'm not the only one
. Maybe there's more depth in the secondary than we all thought. Too bad there isn't much on the offensive line.
Of course, the biggest highlight of all on Friday night was Jimmy
getting his Matrix-slide on
.
As you all know, that came to be after Brad Lidge unbelievably balked in the tying run in the 9th, blowing the save and costing Roy Oswalt a win, which is really a shame. Oswalt was phenomenal again, tossing 8 innings of 5-hit, one-run ball, striking out 6 Padres and walking none. The man has been tremendous.
A lot of people have questioned Charlie Manuel's decision to lift Oswalt for a pinch-hitter in the 9th, thus not allowing Roy to complete his own game. I respectfully disagree with anyone who had a problem with this because it was still just a 2-1 game at the time. The Phillies needed to try to get some insurance runs. It didn't work out that way, and Brad Lidge wound up blowing the save, but I think it was the right move.
The decision I feel deserves more ire is Manuel's decision to intentionally walk Adrian Gonzalez in the bottom of the 9th, putting the go-ahead run on base. I know Gonzalez is the one real lone threat in San Diego's lineup, but honestly, I just don't agree with putting the tying run on base. Not in that ballpark, a place that is so hard to hit home runs in. And not with Brad Lidge on the mound, a guy who seems to get more ragged and unfocused with more runners on base.
That move put two runners on with two out, and Lidge began to unravel. He got ahead of Ryan Ludwick 0-2, then hit him with the third pitch to load the bases. And then the balk ensued, one of the strangest things I've ever seen. Can someone explain to the world why Brad Lidge just decided to stop his motion? Just lob one outside if you lost the grip or don't like the pitch. Don't balk. Damn.
The good news is, even with that horrible blown save and questionable decisions, the Phillies won, with Ryan Madson and Chad Durbin pitching wonderfully in the 10th, 11th and 12th.
And on Saturday, Lidge redeemed himself with a perfect 9th inning, picking up the save behind another excellent outing by Joe Blanton. Blanton surrendered just one run and six hits in 6 innings of work, and he even got through the first with no runs. He's starting to finally come around too, adding even more depth behind Halladay, Oswalt and Hamels. Shane Victorino's two-RBI day earned him offensive player of the game honors, seeing as he had two of the three hits the Phillies got in the entire game.
The offense hasn't exactly shown back up, but the Phils went ahead and completed the sweep yesterday by exploding for 5 runs — on just 5 hits and thanks to 4 San Diego errors, but hey, still, 5 runs! Cole continued his rejuvenated season, dominating the Padres for 8 innings of shutout ball, striking out 6 while giving up just four hits. Hamels certainly looks like an ace once again.
Meanwhile, Mike Sweeney hit his first home run as a Phillie, giving Ryan Howard and his strikeouts a day off, and
hugged everyone in sight
.
To wrap up last week, the Phils
completely embarrassed themselves
at home in getting swept by the Houston Astros. One weekend series later, they turn it around by sweeping the team with the best record in the National League in their own park, pulling back to within two games of Atlanta and retaking the Wild Card lead from San Francisco, up a game and a half. Talk about a reversal of fortunes.
Tonight the Phils get started late, taking on the Dodgers at Chavez Ravine at 10:10 p.m.
minus Manny
.
Even more importantly for Philadelphia, Jonathan Broxton and
his haunted self
are still in Los Angeles.
Halladay vs. Kuroda tonight. I like the Phillies' chances.