Don't look now, but your Philadelphia Phillies are suddenly looking every bit like the team we've come to expect over these past few years. The team that has won three straight NL East titles, gone to two straight World Series. The team that became
World Fucking Champions
.
Great pitching. Clutch hits. Tremendous defense. Explosive innings. Comebacks. Lockdown bullpen. Dramatic finishes. It's all been there since the calendar flipped to August. Since the 8th month of the year began, the Phillies have gone 12-3. They've won every series thus far, including this series with San Francisco that concludes tonight no matter what happens in that game. They've overtaken the Giants for the Wild Card lead, and somehow, despite losing Chase and Jimmy and Howard and Polanco and Victorino and Ruiz — only five all-stars and six starters, including the entire infield — all for extended periods of time, the Phillies are just 2.5 games out of first place. Essentially, they and they alone can determine who finishes first as long as they can stay within three games of the Braves come September. That series in Citizens Bank Park Sept. 20-22 is looming large.
The Braves have to be feeling the pressure. Everyone in the National League has to. The Phillies have been severely banged up all season long, and yet the rest of the league couldn't pull away from them. Now they're getting healthy just in time for the home stretch, with Ryan Howard's return right around the corner. You're getting the feeling that these guys can just taste it, and they're hungry for more. They don't want to rest on their laurels, use the injuries as an excuse. No, they want to get back to the postseason, get back to the World Series. Try to win this whole thing again. Right now, they're beginning to look like a team that's capable of exactly that.
Last night was yet another example. They fell behind early as Joe Blanton surrendered a solo home run to lead off the game, continuing his first-inning struggles. But from there, Blanton settled down, pitched 6 and a third innings of two-run ball, struck out 7.
Between that first and last batter Blanton faced, the Phillies turned a 1-0 deficit into a 5-1 and eventually 5-2 lead, led by the man at the top, the guy who when he's going right at the plate, the Phillies don't lose. Jimmy Rollins hasn't had the kind of year he's capable of. He's been hurt, and frankly, he hasn't hit. But much like this team is turning it on when it matters most, so is Rollins. The guy loves the limelight, lives for it. Sometimes, it's annoying and cocky and a little overboard. But it's what makes Jimmy so great. He lives for the big moments, loves the pressure, and more times than not, he comes through.
With the Phils trailing 1-0 in the 3rd, Rollins led off with a triple, putting a runner on third with no one out. Two batters later, Chase Utley did exactly what an unselfish, smart baseball player should do — he pulled the ball on the ground to the 2nd baseman, who was playing back, allowing Rollins to score easily.
An inning later, Rollins came through again, making the Giants pay dearly for an error to give the Phils extra life. Though it was Carlos Ruiz — the most clutch hitter all season for the Phillies —  who got things going first. Jayson Werth led off with a single. After Shane grounded out, Ross Gload hit a grounder to second, an easy play for Mike Fontenot to record the 2nd out. Only Fontenot booted the ball, putting runners on first and second with one out and Curbball at the dish. Ruiz continued to come up big, smoking a single in the hole between third and short, giving the Phils the lead. This coming after Carlos had already tripled — yeah, I said tripled — in the second. The man is a hitting machine.
And suddenly, so is Rollins again. Because two batters later, Rollins
dropped the head
on an inside pitch, sending it out to right, 5-2 Phils, game essentially over.
From there, the Phillies cruised. Raul Ibanez hit an RBI triple to plate Chase. Yeah, the Phillies had three triples on the night, including one from lead-foot Raul Ibanez and another from the catcher. I can't make this stuff up. Jayson Werth doubled to score Ibanez. And after Chad Durbin and Ryan Madson — two guys who have suddenly made the weak bullpen look unhittable — pitched flawlessly in relief, Domonic Brown put the exclamation point on the game with a
pinch-hit bomb.
And I mean
bomb
.
As in upper deck bomb. Dom absolutely murdered that baseball, something I envision him making a habit of in the very near future. I mean, seriously, damn. Ball go far.
It was a total team effort yet again, though Rollins was the unquestioned star. Jimmy was 3-for-5 with two runs, three RBIs and just a double short of the cycle. Chase got two hits in his second game back, with a swinging bunt base hit giving him the confidence to smoke an RBI double later on. Raul hit a triple and scored a run. Werth was 2-for-4 with a run and RBI. Curbball, same thing, including his surprising triple. Even the guys who didn't get a hit contributed. Ross Gload made a great diving stop. Polanco played flawless third base. And Shane didn't have any "uh-ohs" in centerfield.
For the second straight night, the Phils fell behind a good ball club with great pitching and came back to not only beat them, but destroy them, putting up 9 and 8 runs in the first two games against one of the best pitching staffs — bullpen included — in all of baseball. They go to Barry Zito. And Matt Cain. Might as well get to Jonathan Sanchez tonight.
The way they're going right now, there's a good possibility of that. And more may be in store.
By the good graces of the TV scheduling gods, last night's game was on ESPN and actually not blacked out, due I'm sure to PHL 17 broadcasting the home-town feed last night. Seeing as I can't stand hearing Tom McCarthy's voice, I chose to watch ESPN. Plus, I like hearing what the national broadcasters think about the Phillies and hear what they have to say. After watching last night, I think it's safe to say Aaron Boone, Chris Singleton and Karl Ravech like this Phillies ball club.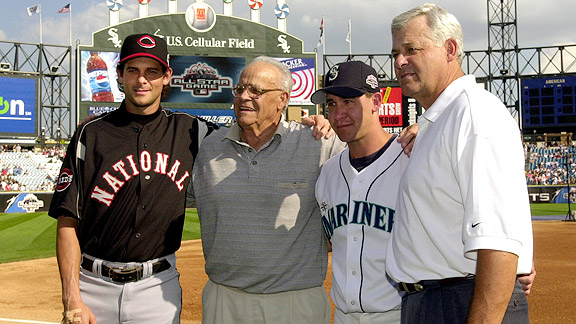 Throughout the entire night, Boone and Singleton especially were talking about how hard the Phillies play, singling out Ibanez, a 38-year-old guy, busting his ass for a triple late in the game because that's the atmosphere this team has set. You hustle, you take the extra base, you play as hard as you can. And they were discussing how this team is just starting to sense it, to feel it, and you get the sense the entire league knows it. Their respect for the Phillies emanated through the screen.
And then Boone, who I've really enjoyed listening to in the few games I've heard him broadcast, said something that is truly frightening and quite intuitive at the same time. He said that, considering the Phillies have done this well this far given all the injuries, that this might be the best Phillies team yet if they were to make to postseason play. He went on to talk about how even without all the superstars, they've held pace, and now they're all getting healthy at the right time. Then you throw in a rotation of Halladay, Hamels and Oswalt —  a top three that blows the rotations of the past two World Series years out of the water (Hamels, Myers, Moyer in 2008 and Lee, Hamels, Martinez in 2009) — along with a bullpen that's suddenly looking like its 2008 form and the potential is scary.
Boone makes one hell of a point. And if you take it a step further, with so many bench players playing pivotal roles this season, getting tons of at-bats and playing time due to the injuries, their bench is better than it's ever been under Charlie Manuel too. Think about it — you have this potent lineup, one in which you have Rollins, Polanco, Utley, Howard (when he's back), Werth, Ibanez, Victorino and Ruiz — with Carlos arguably being the most dangerous hitter of them all this season. With Ruiz raking, there isn't a single weak spot in that lineup. Then you have incredible bats off the bench in the form of Mike Sweeney and Ross Gload, both guys who have hit the piss out of the ball. Not to mention Ben Francisco and Domonic Brown as a righty and lefty off the bench to play outfield, and Wilson Valdez to play anywhere defensively, and have virtually no drop-off whatsoever. And then there's the veteran presence of Brian Schneider to relieve Ruiz here and there, not to mention another lefthanded bat.
You can't name a more complete offense than that. And when you're trotting out the likes of Hamels, Halladay and Oswalt, it puts even more pressure on the opposing pitchers. Because you know those three guys aren't going to give up much. Now with the bullpen finally rounding into form, especially Durbin, Madson and Lidge, the late innings aren't as scary anymore. Especially when the offense is punishing the opposition's bullpen the way it has of late.
As ridiculous as it may sound, this Phillies team, as Boone said, just may be the best one yet. Only time will tell, but the fact that this discussion is even being made is remarkable, considering the past two years the Phils have gone to the World Series, won one of them and have faced so many challenges and injuries this year. I can't wait to find out. Because this team is giving us all a familiar feeling, the feeling that they want to have another parade.