So there I am, watching Roy Oswalt get shitty run support once again while dealing, hoping the Phillies could find a way to hold on for the victory to keep pace with Atlanta.
They had scored just one run for Oswalt through five, that coming on an RBI groundout by Domonic Brown in the 4th — doing just about everything to not score. They wasted a leadoff triple in the 5th by Wilson Valdez, as Roy himself grounded out to the drawn-in infield, followed by Jimmy Rollins grounding out to the same drawn-in infield, this time to second as opposed to Oswalt going to short, on the first god damn pitch. All they needed was a fly ball to the outfield — sadly, it was Placido who finally got it, with two outs already.
Pathetic. And things were about to get worse before they got better. Because to lead off the 6th, the white-hot Ross Gload ripped a shot down the rightfield line. As he rounded first and headed toward second, he took a glance at Sam Perlozzo at third and came up lame. All sorts of lame, immediately reaching for his groin, painfully trotting into second. Unbelievable. Another one bites the dust.
This is beyond ridiculous at this point. I mean, honestly, what the hell?
This is the exchange I had with Arkansas Fred immediately after this happened:
Me: Now gload, unreal

AF: That looked like it hurt

AF: Who hasn't been hurt yet?

Me: Baez

AF: He is the only guy I wish was hurt

Me: Everybody does. At least raul is good
Anyone who watched the game knows what that last part means. After Gload was lifted for pinch-runner Mike Sweeney, Raul continued to absolutely mash the ball, rocketing a double deep to left-centerfield to score Sweeney and give Oswalt a second run to work with. Of course, the Phillies couldn't get Ibanez home, even after Jayson Werth did his job by moving Raul to third with one out with a grounder to the right side. But after Dom walked, Ruiz flew out to shallow left, giving Ibanez no shot to go home, and Valdez grounded out to end the threat. Annoying. And the Phils wouldn't score another run the rest of the game.
Thankfully, they wouldn't need to. Roy number 2 was excellent in his home debut in red pinstripes, going 7 innings of shutout ball, striking out five while surrendering just five hits and two walks. He did give up a couple of doubles and get some baserunners on, but he never really looked to be in trouble. It was definitely a nice way to endear himself to his new home fans.
Even more encouraging than Oswalt's performance (everyone knows he'll be fine) was the way Ryan Madson and Brad Lidge performed behind him to secure the victory. It's been quite a shaky season for these two, evident by their very pedestrian numbers, but as of late, Madson and Lidge are starting to look like they're in
World Fucking Champions
form.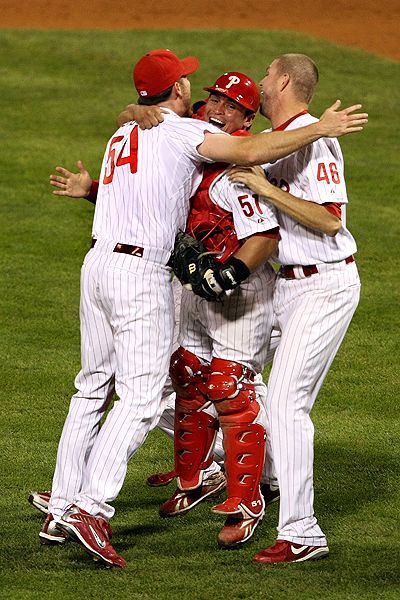 After giving up a leadoff double to Scott Podsednik, Madson struck out Ryan Theriot and Andre Ethier, then got James Loney to fly out. And his stuff looked electric, especially his changeup.
Lidge followed with the rarest of rare things for him, a 1-2-3 9th. That's right, Brad Lidge threw a perfect 9th inning, doing it almost exclusively with his slider. He got Casey Blake to ground out, then struck out both Jay Gibbons and Jamey Carroll to end the game. That was reassuring.
What wasn't, of course, was yet another injury to another major contributor. All season long, Ross Gload has been everything Greg Dobbs has not — a reliable, dangerous lefthanded bat off the bench. And since Ryan Howard went down, Gload has been absolutely murdering the baseball, and playing a pretty decent first base for a guy who's not known for his glove. Now he's out for who knows how long. We've all seen just how unpredictable groin injuries can be.
I know lots of teams go through lots of injuries all the time, but man, this season has been absolutely brutal for the Phillies. Considering everyone who's been hurt, it's a minor miracle they're even still in this thing, just 2.5 games behind Atlanta for the division and a game behind the Giants in the Wild Card.
I mean, think about all the players, all the important players, that have been on the DL or hurt in some fashion causing them to miss games for the Phillies. Right now, they have three all-stars on the DL in Chase Utley, Ryan Howard and Shane Victorino. The good news is that Victorino is expected back as early as Friday, and he finished a double short of the cycle last night in a rehab start for Lehigh Valley.
But he and his all-star teammates have been out for a decent amount of time now. And those aren't the only all-stars that have been there. Jimmy Rollins was hurt. Placido Polanco was hurt. Brad Lidge started the year on the DL. All three have been all-stars. J.C. Romero and Joe Blanton have been hurt. Carlos Ruiz went on the DL. So did his backup Brian Schneider. Ryan Madson hurt himself and was out for 60 days. J.A. Happ got hurt. So did Chad Durbin. And Jamie Moyer. Not to mention Juan Castro and Raul Ibanez had to miss games due to injury, though avoided the DL. And now Ross Gload is hurt.
Their entire starting infield, catcher included, has been on the DL, and even their backups (Schneider and Gload) have gotten hurt. They've lost their starting centerfielder, three starting pitchers, their closer, their lefty specialist, their setup man, their bullpen MVP (Durbin). Honestly, it seems like everyone but Greg Dobbs, Danys Baez and David Herndon — three players no Phillies fan would mind seeing shelved — are the only ones who haven't been hurt.
Truthfully, the list is longer than that, but I'm almost afraid to mention the few who haven't been hurt for fear that they will. So we'll just leave well enough alone there. Because this season, after being relatively healthy over the past three seasons (minus a couple Utley and Rollins DL stints here and there), everybody on this team hurts, sometimes.
Hopefully they're getting that sometimes out of the way so this team can be healthy and at 100 percent come September, just in time to make another push toward October (and November). But the way things have gone this year, who knows?
What I do know is I'm all sorts of glad the Phillies picked up Mike Sweeney.