If you've made a habit of reading my musings the past few years, you may have noticed that I've been uncharacteristically silent on the Flyers front this summer. Usually, I have something to say about what this team should do next, players they should look at acquiring, what to expect from the season ahead, things like that. But so far, ever since
doomsday hit
, I haven't been able to muster up any energy to properly digest the astonishing trades of Jeff Carter and especially Mike Richards within hours of each other.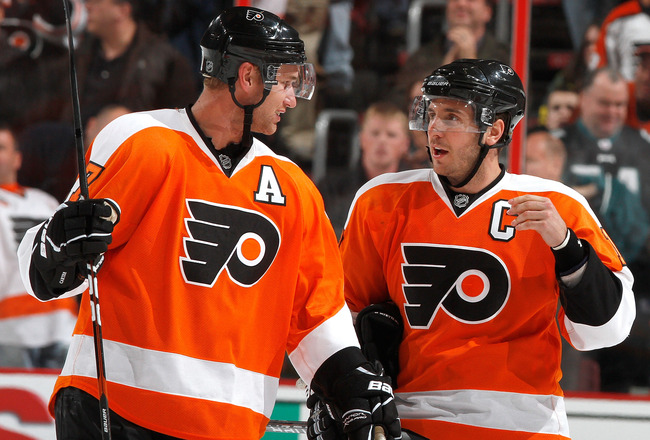 I've made
my feelings on Richards and Carter
as players known, so I'm not going to go back and rehash all the great things those guys do on the ice. I will say this though: While never being the biggest Carter fan in the world, I recognized his incredible ability to score goals and the way he did a lot more than people realize defensively. What Carter brings to the table is not easily replaced. As for Richards, well, I'm a Mike Richards guy. I always have been and always will be. No, he's not on the level of a Sidney Crosby or Alex Ovechkin, but you would be hard-pressed to find many other players in the NHL who help a team win in as many ways as Richards does. Seeing him go hit me hard.
That crazy day, it felt like I was hit with a ton of bricks. I couldn't understand it and still don't understand it. Yes, the Flyers certainly needed to address their goaltending situation, which they did emphatically by trading for the rights of and then signing Ilya Bryzgalov, the top goaltender on the market, to a 9-year contract … but to then go around and trade the team's two top forwards (or two of the top three at worst) seemed counterproductive. It appeared as though Ilya was the final piece to the puzzle — then the Flyers blew the puzzle to smithereens.
The thing that I didn't understand then and still can't fully comprehend now is how the Flyers can honestly say they are a better team today than they were a few months ago. For better or worse, Jeff Carter and Mike Richards inarguably have been the Flyers' best forwards for the past four years. Trading them for young talent could pay off in the long run, but it's quite a stretch to think it will pay off in the immediate future.
And that's where things get fuzzy for me. The Flyers were supposed to be a team built to win now, a team that was perhaps a goaltender and a player or two away from finally ending the long Stanley Cup drought. After all, their two best defensemen, newly minted captain Chris Pronger and the ever-underappreciated (outside of Philadelphia) Kimmo Timonen are up there in age — each 36 years old — and not getting any younger, and the high-priced netminder is no spring chicken himself at 31. It's not as if these guys have a huge window to keep playing at their usually high level. The time to win was and is now, which is why I am still struggling with the trades.
That is not to say this won't all work out. It very well could. The Flyers made these moves for a reason, and ultimately thought they were the best thing for this team moving forward. I hope they're right. I really do. But that still doesn't make it any easier to digest. Jeff Carter and Mike Richards were the face of this franchise for the past 5 years. Now, I can barely even recognize this team. Sure, there are still plenty of familiar faces, but the two most high-profile are gone, replaced with players I admittedly have seen very little of for the most part, mainly because they've spent the majority of their careers playing for decent-at-best to poor Western Conference teams. So really, I have no idea what I can expect out of the newcomers or the team as a whole.
What I do know is Claude Giroux and James van Riemsdyk are the new faces of the franchise, two young, budding potential superstars among a solid cast of veterans to build around, much the way Richards and Carter were when they broke in.
Giroux had a breakout season last year, being named an all-star and taking his game to new levels. He will undoubtedly be the player the Flyers look to to fill all the roles Richards played so well. He is now the leader of the forwards, plain and simple. We all know Claude has the ability and the work ethic to take his game to an even greater level, and I fully expect him to do that. He's the marked man now, and he has to keep producing and getting better with the bull's eye on his back.
It's also time for JVR to become the perennial goal-scorer and force he was drafted second overall to be. Last postseason, he clearly stood out more than any other Flyer in the two series this team played in. Each game, you could see JVR's confidence growing. He's big, he's fast, he's getting stronger and in the playoffs, he put it all together to become an absolute force. Now he must do that for an entire season to help fill the void Carter and Richards left behind. His success or failure will determine a lot of what happens with the Flyers this season. There's more pressure on him now than he's faced since being drafted because he's being tasked with carrying a much bigger load. The good news is, he showed what type of player he can be in the postseason. The thoughts of him and Giroux pairing up for years to come have to make any Flyers fan excited.
To that end, Danny Briere really has to earn his paycheck as well. He has to stay healthy, and he has to pile up the points the way he did last season. Briere is the guy Giroux and JVR will be looking to for guidance. Another 34-34 campaign would go a long way in helping to lighten the load slightly on the youngsters. He and Scott Hartnell must continue to work well together and be a productive pairing … and stay out of the penalty box.
Of course, this team is predicated on its defense, and you can expect that to be a strength once again. Pronger is now the undisputed leader, being named captain, if he wasn't already. He must stay healthy as well following an injury-plagued 2010-11 season if the Flyers truly hope to be where they expect. Braydon Coburn, Andrej Meszaros and Matt Carle must continue to progress as well. If they can up their ice time even a little more, it will go a long way toward preventing the aging Timonen (and Pronger) from breaking down throughout the long season.
And Ilya, well, if he thought he may have been unfairly criticized at times in Phoenix, he hasn't seen anything yet.
Ilya was without question the best goalie out there, and the Flyers got their man. But now the pressure is on. Bryzgalov has spent his entire career playing for franchises without much pressure on them to hoist the Cup. Yes, he did play for the same Anaheim team that Pronger won a championship with, but to compare the scrutiny the Ducks get from the media and fans to that of Philadelphia is foolish. And for the past four years, he played for a Coyotes franchise that really brought no expectations to the table. Now all eyes are on him.
He has quietly been one of the better goaltenders for a few years now, and he's never played on a full-time basis for a team as talented as the Flyers. His regular-season numbers are awesome. But there is the one point of contention that could cause a big problem here if it continues. His playoff numbers in Phoenix, admittedly behind a less-than-Cup-worthy team, are horrendous. In the past two postseasons, Bryzgalov has posted a combined 3.73 goals against average and a very pedestrian .896 save percentage. No matter how you slice it, that's not good. If he has a showing like that for the Orange and Black, it could get ugly.
Of course, with a better team and much better defense in front of him in Philadelphia, it wouldn't be surprising to see a guy as good and as talented as Ilya reverse those numbers this year. And he better with all the money and years the Flyers gave him.
As for the newcomers, I'm excited to see what they bring to the table. Jacob Voracek sounds like a Philadelphia type of player. He's young and talented and gritty, which should make Flyers fans take to him well, given that he plays hard night in and night out. Wayne Simmonds has been productive out in Los Angeles, and at 23 has room to improve. And Brayden Schenn was LA's top prospect. It will be interesting to see if he can stick with the big club at just 20 years old, and by all account his future is bright in the NHL. Though his spot very well could go to Sean Couturier, the 18-year-old rookie who has generated a lot of buzz this offseason.
I have to admit though that it's going to be extremely uncomfortable seeing Max Talbot and Jaromir Jagr donning the Orange and Black. Like, want to stab my eyes out uncomfortable.
I mean, Flyers fans have spent two decades rooting against Jagr, giving him cat calls and playing "Dude Looks Like a Lady" every time he touched the ice in Philadelphia, first as a hated Pittsburgh Penguin, then as a hated Washington Capital and finally as a hated New York Ranger. Honestly, the guy could not have played for three more despised franchises by Flyers fans. Now he's going to be wearing a Flyers sweater, and something about that just doesn't seem right. It doesn't help that he's 39 years old and hasn't played in the NHL since the 2007-08 season either.
Of course, if we even get flashes of the brilliance Jagr has displayed on the ice over the years, we may all be forgetting about those hideous jerseys he used to wear, at least for a little while.
As for Max Talbot, by all accounts this is a great signing. The guy is supposedly an excellent teammate and locker-room guy, something we know has been an issue for the Flyers during the Carter-Richards era, and he plays the tough style of hockey Philadelphians like. He'll make an excellent addition to the penalty kill, and he's really good at playing the agitator role.
But man, do I hate Max Talbot. I mean hate, hate. He has easily been my least favorite Penguin since he started playing for Pittsburgh, the one I grew to despise more than anyone else. And now he's a Flyer. I can't believe it. I really can't. Just like I can't believe this franchise actually pulled the trigger and shipped off the two players it has built the team around the past half-decade an offseason before their no-trade clauses kicked in, two players who signed long-term contracts to conceivably make them lifetime Flyers, one the captain and the other the team's leading goal-scorer.
But that's the reality of the 2011-12 Philadelphia Flyers. I have no idea what the hell to expect, because I really don't even know them anymore.
I do, however, look forward to finding out.