This might make me a terrible person, but I wasn't going to write anything about the 10-year anniversary of the Sept. 11 terrorist attacks. I haven't written anything on the topic personally since I started this blog, and I didn't have any plans to start now. It just seems like there's nothing more to add to the story if you lived through it. We all know what happened, where we were and how we felt. It's not a pleasant thing to look back on, so I choose look forward instead.
But then I read
this at The700Level
and felt compelled to share a little bit of my experience since silver fox and I actually were in attendance at that Phillies-Braves game on
Monday, Sept. 17, 2001
, the first sporting event played after Sept. 11.
It is an experience that I will never forget for as long as I live. Silver fox and I rushed feverishly down to Veterans Stadium to do everything we could to get in our seats for the National Anthem. And as the Star Spangled Banner was being sung and the USA chants were circling around the stadium, the 17-year-old me had chills and I could feel the tears welling up in my eyes, just like Larry Bowa. I don't think I've ever been more proud to be at a sporting event in my life.
The game itself was a blur, and truth be told, the game didn't really matter all that much. It was the atmosphere that makes the game so memorable in my mind. Don't get me wrong, I remember the details: Robert Person besting Grad Maddux, Jose Mesa closing it out, Doug Glanville in centerfield, and Scott Rolen crushing two home runs and getting a curtain call from the raucous crowd.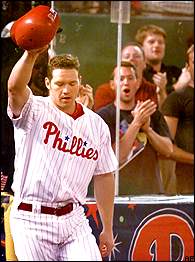 But it was the atmosphere that mattered even more than the outcome. So much more than the outcome. That night was the start of the man who became known simply as "Flag Guy" here in Philadelphia, the patriot who spent the entire 9 innings walking around the Vet bowl carrying the American flag, night in and night out. Throughout the entire game, there were thunderous USA chants, more deafening than any other cheers at any other stadium I've ever heard.
The entire night was one giant ball of emotion. There were no late-season letdowns or in-game lulls. For 9 incredible innings, there wasn't a fan in that stadium — Phillies fan or Braves fan — who wasn't fully invested in the atmosphere and proud to be there. An entire stadium filled of sports fanatics were united. There were no drunken fights, no boarish behavior — there wasn't even the typical in-game griping from fans.
For one remarkable night, everyone went out to the ballpark to enjoy a return to sports, to unite as fans and as a nation, and to revel in being able to witness our national pastime as a way to bring us all together.
That's something we should always remember — that sports can bring people together even in the most trying times. And we should not take that granted, as we so often do.