For a lot of people on this planet, their favorite time of year is summertime.
The end of summer is often met with trepidation: kids not ready to go back to school, adults dreading the winter months ahead, and vacation days getting all used up. But not me. No. I don't dread the end of summer days, because summer is not my favorite time of the year, as awesome as it is.
This, the ushering in of fall, this is my favorite time of the year. I know we're still several weeks away from the official start of fall, but in reality, once Labor Day comes and goes, summer is over for all intents and purposes. And frankly, I cannot wait.
The reason is simple: The end of summer means the start of football season. The weather is fantastic, with cool, comfortable nights and sunny days. Baseball heads into the home stretch, with the playoffs right around the corner. Hell, in a few short weeks the Flyers will begin lacing them up, and if there was no lockout, we'd even be talking about how underwhelming the Sixers look yet again. Fall is the culmination of sports fandom, with literally every major sport under the sun taking place.
But most important of all, football starts, meaning my weekends are no longer free. Honestly, there are few things in this world if anything at all that I enjoy more than laying on my couch from the moment I wake up until nightfall watching college football on Saturday and the NFL on Sunday. And tonight, it all begins, as 28 teams kick off the college football season tonight, highlighted here in Philadelphia with the annual Temple-Villanova battle at the Linc.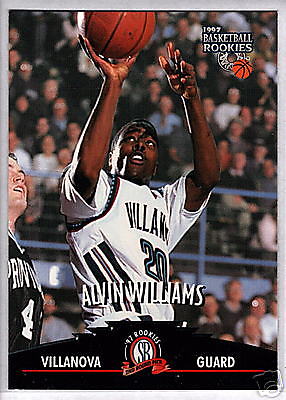 So with college football just a mere few hours away, now seems like the perfect time to preview my alma mater.
Coming off a disappointing 2010 that saw them finish 7-6, the Nittany Lions are looking to rebound in the new-look Big 10 (12). But honestly, this season brings on more questions than answers. Just looking at the
depth chart
Penn State released for the opener against Indiana State, you can see a roster filled with potential … and mystery.
The glaring and most obvious question comes under center. Will it be sophomore Rob Bolden or the former walk-on, junior Matt McGloin?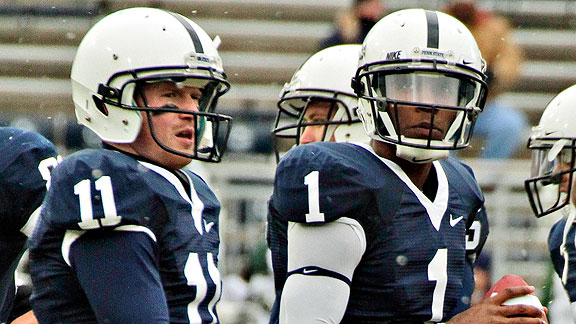 The depth chart does us no favors, as both are expected to play Saturday in what looks to be an audition. What we know about the two quarterbacks is that Bolden showed enough promise and poise last summer to be named as the first true freshman starting quarterback in game 1 under Joe Paterno, only to be supplanted by the fiery Matt McGloin after being injured. In his first few games, Bolden justified the confidence the coaching staff had in him. Even as Penn State got rolled down in Alabama, Bolden didn't look rattled or out of place in Tuscaloosa. But as the season wore on, Bolden's numbers got worse and the offense became stagnant.
And when Bolden went down, enter McGloin to ignite the offense. There is no disputing that with McGloin under center, the Nittany Lions seemed more alive on offense. The red-head clearly took command of the huddle and was a leader. And in the first few outings, he played really well. Then, he didn't. At all.
Without question, McGloin had better command of the team when he played last season, but the more he started, the more evident it became that he simply does not have the talent and physical tools of Bolden. Worse yet, he brought a gunslinger attitude that resulted in a flurry of horrendous interceptions. Honestly, in the bowl game, McGloin was the worst player on the field.
Yet where McGloin was allowed to fail, the coaching staff seemed to punish Bolden for those same mistakes. After he returned from injury, he was given only one chance to reclaim his spot, and it was only a half at that. From there, Penn State sunk or swam with McGloin, drowning miserably against Florida due to god-awful quarterback play. The most disappointing part to me was that as McGloin was literally giving that game away, Bolden just sat and watched from the sidelines, never having his number called.
That resulted in Bolden seeking yet ultimately being denied a transfer, and to be perfectly honest, I didn't blame him. Don't get me wrong, I wanted Bolden to stay and compete for the starting job this year, but I could hardly blame the kid. Here he was, the supposed starter in his developmental year, banished to the sideline as his backup struggled as much or more than he ever did last season.
Thankfully, Bolden did stay and recommit himself to the program. Now I'm hoping he gets the reigns as the starter in 2011. Bolden walked into a lion's den in Alabama and did reasonably well against one of the best teams in the nation. And while he struggled with the rest of the team before being supplanted, he showed that something is there. As well as McGloin played at first, he ended the season showing why he was a walk-on in the first place, tossing 8 interceptions in the last four games, including a comically bad 5 picks in the bowl game against Florida.
McGloin may be the better leader right now and the more confident guy, but he simply isn't as good. People tend to forget Bolden was a true freshman last year. He made true freshman mistakes. McGloin was a red-shirt sophomore who simply took too many chances, especially for a guy without a great arm. If I had my way, Bolden would be the starter from start to finish this year barring injury, because I think he's the better football player. The problem is I don't know that, and neither do the coaches right now, which is why both are listed as the No. 1 and 1A on the depth chart.
Saturday, we'll begin to find out, but with the most important position on the field unsettled, we have no idea how the Nittany Lions will fare in 2011.
Of course, the questions don't stop there.
Sure, we know Penn State has weapons all over the place on offense that will be at the disposal of whatever quarterback is under center. Derek Moye has established himself as one of the better wide receivers in the conference. Justin Brown put up excellent numbers when the ball was actually thrown his way last year, and I think he has a chance to be the best Penn State receiver since Bobby Engram if things shake out.
But Brown now has to go out and prove it. Then there is Shawney Kersey, a surprise starter in the a three-wideout set. Kersey is a burner who also has size, and his rise to the top of the depth chart means the coaches expect him to learn from Moye and take over as his replacement in 2012. But the red-shirt sophomore has not seen much playing time, so we don't know exactly what we're going to get.
The receiving corps also has the speedy Devon Smith, who will be used everywhere, and another versatile burner in Curtis Drake. Of course, we have no idea what to expect from the West Catholic grad coming off injuries the past two seasons and again this offseason. Chalk him up as another question mark.
Of course, the guy getting the most hype on the offense is sophomore running back Silas Redd, now the clear starter, especially with Stephfon Green's troubles.
Redd wowed and electrified Penn State fans every time he touched the ball last season, giving hope that he's the next great Penn State running back. He certainly has the tools and the talent. But now he's got to prove it. Last season, he was behind Penn State's all-time leading rusher Evan Royster, and split the backup duties with Green. He played more as the year wore on, often looking like the best back on the team. But now as the No. 1, we have to see what he can do to carry the load. I expect him to have a tremendous year, but again, you never quite know.
Then of course there is the much-maligned offensive line. The good news is there is not too much turnover on the line, meaning another season of cohesion should make for a better unit. The bad news is that a line that struggled to block the better defensive fronts it saw and that couldn't really get much push in the run game lost its best player, Stefen Wisniewski, who is currently on the Oakland Raiders.
No matter how much talent the offense has, and no matter who is under center, this team will only go as far as the line takes it. And frankly, we have no idea how this offensive line will fare.
The defense poses its own questions. The only thing we know for sure is that the secondary is the best unit on the entire team and perhaps the best unit in the Big 10. D'Anton Lynn can flat-out play. Stephon Morris has shown a ton of promise. And the depth is tremendous.
But even there, there are questions. Can Drew Astorino regain his form? The guy looked excellent two years ago, but last season he struggled, often getting run over by bigger, more physical players. Is Nick Sukay fully recovered and ready to go? Sukay is an excellent tackler, but if he's even a step slow, it could hurt the Lions. The good news is they have Malcolm Willis to back up either guy, a player who did a very nice job when Sukay went down last year.
Honestly, I expect Willis to get on the field a lot, maybe even finish as a starter.
Also, there is the question of Chaz Powell starting opposite Lynn. Powell had an up-and-down season after moving from receiver to DB. But he has the size and the tools to be a good corner, and by all accounts he's looked great this summer. That's a good thing, but even if Powell struggles, Morris is there to step in, and I expect him to rebound as well from a sophomore slump last season. Also, the immensely talented Derrick Thomas is waiting in the wings so long as he can stay out of the doghouse.
That may sound like a lot of questions for what's supposedly the best unit on the team, but even with that, damn near everyone expects Penn State's secondary to be as good as any in the conference. The real questions lie in the front 7.
Is Mike Mauti the next in line to carry on the tradition of Linebacker U? He certainly has shown the promise when healthy, but now he has to stay healthy. With the inexperienced Glenn Carson and Gerald Hodges also slated to start, Mauti must be the leader. The good news is, as always, the talent level at linebacker is insane. Carson has been so good that he's pushed Khairi Fortt, who saw plenty of playing time last year, to the backup role. That's good news because Fortt is a very good player, so Carson must have really shown the coaches something. Hodges is fast and strong and has good instincts. He's nowhere near as good as Navorro Bowman yet, but one day he may be. And waiting their turns are Mike Hull, one of the most recruited linebackers in the country, Fortt and Nate Stupar, an experienced player who has had his fair share of good games.
So linebacker is a question to a degree, but Penn State has too many good players there for it to be a weakness.
The defensive line may be another story. Jack Crawford came on like gangbusters as a freshman but has done nothing but regress since. He has to put it together for the defensive line to get pressure. Devon Still needs to become a force the way Jared Odrick was, or at least a leader like the departed Ollie Ogbu. Eric Latimore must show he has something else besides a speed rush. Without him and Crawford getting some pressure on opposing QBs and keeping contain against the run, not even the talented secondary can be expected to thrive.
Beyond that, Jordan Hill, James Terry, DaQuan Jones and Sean Stanley will all rotate to keep players fresh, and Larry Johnson Sr. always has his guys ready to play. But if everyone doesn't make significant strides from last season, this defense won't reach its full potential. Last year, Penn State really struggled to get consistent push and pressure from the front four, and playing a zone defense, that allowed opposing quarterbacks to pick them apart. That can't happen in 2011. If it does, the talented secondary will be wasted.
Honestly, I'd love to see Tom Bradley move more toward man coverage given the talent he has in the defensive backfiled, but I don't expect it. Lynn, Powell, Morris and Thomas are all guys who should be able to lock up receivers. Unfortunately, that's not how Penn State rolls. But if the defensive line can't get pressure, Bradley may have to go man so those soft spots in the zone aren't there and learn to live with the results.
When you put it all together, it's really hard to gauge where Penn State stands in big scheme of things, and that's without even mentioning the work-in-progress that is the special teams.
In all honesty, I can see this team losing as few as one game if things pan out for them or as many as five games if not. They have enough potential and talent in a down Big 10 to have a shot at making the inaugural Big 10 championship game, but there are enough question marks that could go the wrong way for them to finish in the middle of the pack.
Looking at the schedule, they absolutely should start the season 4-1 at worst. There's no way this team should lose to Indiana State, Temple, Eastern Michigan or Indiana, though I fully expect them to fall to Alabama at home in the second game of the season. The true measuring stick to me will be the Oct. 8 game against Iowa, Penn State's biggest thorn in their side the past decade. If they lose to Iowa, things could spiral out of control, especially with the murderer's row of Nebraska, at Ohio State and at Wisconsin to close out the season. Lose to Iowa and this team very well could finish 7-5 in the regular season, another spectacularly mediocre and disappointing season.
But if they beat Iowa and gain confidence, then roll through Purdue, Northwestern and Illinois before hosting Nebraska, they could be a dangerous team, perhaps finding a way to win two of those last three games or even all three.
Obviously, I have no idea how this all going to play out. Personally, if I had to guess, I'd say this team finishes the regular season at 9-3, losing to Alabama and then dropping two of those final three games. But you never know given the turmoil surrounding Ohio State, Nebraska's first foray into the Big 10 and Wisconsin never quite being the cream of the crop even when expected to be.
Still, I expect, as do the pollsters, that Nebraska and Wisconsin will be the best two teams in the conference, and unfortunately Penn State plays both of them. But hey, you never know what can happen once the players take the field.
What I do know is I can't wait for tonight and especially for Saturday.