I thought Friday was supposed to mark the official start of fall. That's what it says on the calendar, anyway. But the weather over the weekend was full-on hot, humid summer, and I suffered as a result of it.
On Saturday, I headed out to Penn State with three of my college roommates to take in the sights and sounds of our alma mater and go to the game against Eastern Michigan. Having looked at the forecast earlier in the week, I expected clouds and possibly rain, and anticipated slightly cooler weather in State College. No such luck. Because when we arrived, the sun was shining bright, it was in the mid-70s and I got burnt to a crisp watching what can only be described as a boring decimation with a few highlights and some devastating lowlights.
First the good. Devon Smith, who I proclaimed nothing more than
a track star posing as a football player
, actually had a really nice game, 3 balls for a game-high 104 yards, including the longest play of the game, a 71-yard explosion of a touchdown. Derek Moye, who made an excellent block on Smith's TD, had a very nice game too, hauling in 6 passes for 65 yards and two scores.
Furthermore, Matt McGloin had a field day out there, going 14-17 for 220 yards and 3 touchdowns en route to being named
Big Ten Co-Offensive Player of the Week
with Michigan's Denard Robinson while again splitting time with Rob Bolden.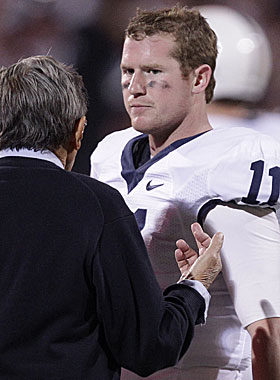 Now listen, I have made no bones about it that I am not a Matt McGloin fan. In my opinion, he doesn't have the arm to go out there and try to routinely throw the types of passes he likes to try to throw. But as much as I want Rob Bolden to clearly establish himself ahead of McGloin, McGloin really does seem to be more in command out there. Don't get me wrong, when it comes to facing top competition, like SEC teams, Bolden has certainly been better than McGloin the past two seasons. Just look at the numbers against Florida and Alabama. But it's not as though Bolden has been good against those teams either. He hasn't. He just hasn't sucked as bad as McGloin has.
But when the Nittany Lions play inferior competition, McGloin clearly stands out. He did last year, and he has so far this season. And if I'm looking at it from a coaching perspective, I'd rather have the guy who I know will play well against inferior teams under center than the guy who will play OK against bad teams and slightly less shitty against good teams than McGloin. At least McGloin does what he's supposed to against the teams Penn State should beat. Bolden is still a work in progress in that regard, evident by his pedestrian statline of 7-13 for 115 yards, 1 touchdown and 1 interception Saturday.
The difference between these guys is so marginal at this point that you might as well just go with the guy who instills the most confidence in teammates. That guy seems to be McGloin. Though I honestly don't think either one is really any good at all at this point. Hopefully Paul Jones can get himself eligible next year and be something these guys are not, or maybe even Skyler Mornhinweg.
More good: Devon Still continued to be an unblockable monster. That guy is easily the best player on this team, and he looks like he may be working his way into the first round come April. Also good news, Evan Lewis did not touch the field, and uncoincidentally, Penn State did not miss any field goals or extra points, as Anthony Fera hit a 29-yarder and freshman Sam Ficken hit a 43-yarder.
As for the bad, and I mean really bad, Mike Mauti again tore his ACL, an absolutely devastating blow to the Nittany Lions but more importantly to Mauti. This was supposed to be the year that Mauti established himself in the same breath as the greats of Linebacker U, and he was on his way. Sadly, his season is ended again, just as it was two years ago.
To add injury to injury, the team's best corner, D'Anton Lynn, suffered a head and neck injury, laying motionless on the field in a scary moment. Honestly, I thought the worst, picturing Lynn paralyzed in an Adam Taliaferro vein. Thankfully, that is not the case and Lynn has been released from the hospital. But it was certainly sobering to see him carried off in the stretcher after a long time motionless on the turf.
Those injuries dampened the good vibes around a pretty well-played game by Penn State. You never want to see anyone go down to injury, especially when it is two of your best players in a game that wasn't even competitive. It just seems to be one of those seasons for the Nittany Lions.
After returning from Penn State, I took it easy from a long day and then prepared to watch the Eagles-Giants prior to taking in the Battle of I-95. When I woke up yesterday, it was even hotter and more humid than it was the day before. What the hell? Where did all that fall weather that we had two weeks ago disappear to?
And where did this dream team everyone keeps talking about go? Because right now, the Eagles are anything but. Besides LeSean McCoy, who has absolutely been incredible this year, this team is underachieving all over the place. That's why they sit at 1-2, dead last in the NFC East after three weeks.
The offensive line is only OK. Mike Vick cannot stay healthy. Steve Smith dropped a perfectly thrown ball right in his hands in the red zone, which turned into an interception off his deflection. Then later Smith stopped his route short on a key third down, then turned the wrong way after the catch, failing to pick up a first. What a waste of a signing.
Nnamdi Asomugha has struggled to adjust to this Cover 2 scheme that clueless Juan Castillo has employed, and he has given up more big plays in three games as an Eagle than he did in 8 years in Oakland. The linebackers are atrocious, even worse than the low expectation set out before them. The safeties may be even worse than the linebackers, which seems unfathomable. Dominique Rodgers-Cromartie, who everyone keeps calling the best athlete on the team, doesn't see the field enough despite being way better at his position than any of the linebackers or safeties are at theirs. And guys like Ronnie Brown and Vince Young, players who were thought to be key signings, don't even see the field really at all.
The there is the usual poor clock management and field awareness, evidenced by Jason Avant trying to juke someone instead of getting out of bounds, the team having to scramble to get off a field goal before half, and Andy Reid deciding to go for it at the New York 43 with a two-point lead and failing to convert instead of punting it and pinning New York deep. As a result, the Giants had their best starting field position of the game, and went in to take the lead for good.
A lot of people are saying that for not a few mistakes and some red zone failures, the Eagles would have won yesterday and probably would have won in Atlanta. That's true. But it's also true that they did make those mistakes, they do have terribly glaring weaknesses, they do commit mindless penalties, and they do have flaws that never get addressed. All the seemingly great signings blinded us to these facts in the offseason, but now the blinders are off. This team has major holes that must be corrected.
Undoubtedly, they can be addressed and corrected. We've seen the Eagles go on late-season runs before after stumbling early on. But any talk of a Super Bowl appearance is incredibly premature, and right now would be downright foolish. Other than LeSean's brilliance, this team has been underachieving week in and week out. The good news is at least someone is expressing their frustration.
I'm just thankful I didn't bake out in the sun to see it. I was watching in disgust at my house.
Afterward, silver fox and I headed to the Palestra to take in the Battle for I-95, and right away we knew we were in for a long night. Now, it's always pretty warm in the Palestra, but with the temperatures in Philadelphia in the high 70s and the humidity casting an unbearable mugginess in the region, not to mention a completely packed out, the heat was paralyzing in there. I mean, it was deadly hot. Before long, everyone was sweating so profusely that the entire arena smelled like a locker room.
By the time the game actually tipped off, I was covered in sweat. That was unpleasant. And to make matters worse, a few of the guys I was really looking forward to seeing didn't show up. The Morris twins were no-shows, and Kevin Durant did not attend. Also, Lynn Greer was there but did not dress, which I assume was due to injury.
Contrary to the rumors, no big surprise guests made an appearance either. No Iverson. No Sheed. No Kobe. No Jameer. The only guys who showed up that I didn't know would be there were a trio of Temple alums, Dionte Christmas, Mardy Collins and Mark Tyndale.
That's not say the game wasn't fun, because it was. Chris Paul, Carmelo Anthony and LeBron James were in the building, as were Hakim Warrick, Kyle Lowry, Lou Williams and Tyreke Evans. Watching throughout, Melo and Hakim, the former Syracuse teammates who a national title for the Orange, looked to be having the most fun from the opening tip to the final whistle. It was cool to see them laughing it up and competing.
Chris Paul was getting love from the crowd and made some great passes, but LeBron, despite scoring a game-high 43 points, was a let-down. He spent nearly the entire game taking fadeaway jumpers, which is not exactly what the crowd wanted to see.
On the other hand, the Team Philly guys really impressed in the 132-122 victory. Kyle Lowry was awesome, scoring 34 points, and Lou Will was draining threes for 31 points. But Hakim Warrick and Tyreke Evans had the most impressive plays of the night. Warrick threw down a few awesome alley-oops and dunks while also getting some great blocks, while Tyreke looked like the best athlete on the court, getting to the rim often and flat out embarrassing defenders at times.
It was a fun time, but honestly not as much fun as I expected. The refs called way too many fouls for a game like this, and I was let down that there was no Durant and no real surprise guest. Plus, it was hot as hell in there.
However, it was still pretty sweet to see Paul, Melo, LeBron and company in town to take on some of Philadelphia's best ballers. Certainly a lot more sweet that getting sun burnt to death on Saturday and witnessing that debacle by the Eagles yesterday.