Jerry Hughes. Daryl Washington. Kyle Wilson. Brandyn Thompson. There were defensive studs all over the field last night in Boise State's 17-10 victory over TCU in the Fiesta Bowl.
I hope the Eagles were watching, because there are a couple of players on that field last night I wouldn't mind seeing in midnight green some day. Take, for instance, Hughes. The 6'3", 257-lb. senior defensive end was a monster last night. A complete force wreaking havoc all night. No, he didn't register a sack. In fact, no Horn Frog was able to bring down Kellen Moore in the backfield, but he was a major reason that Boise State struggled to gain any tempo in the passing game and couldn't do anything on the ground. Seemingly every play, Hughes flew off the edge, beating his man and getting in backfield to disrupt the play, whether it be bringing down a ball carrier or forcing Moore to get rid of the ball much quicker than he wanted. I was salivating over the prospect of seeing him line up opposite of Trent Cole. He looked damn good.
As did his teammate, linebacker Daryl Washington.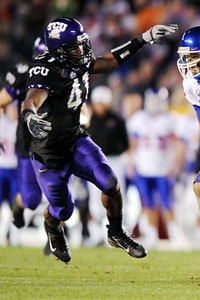 A fellow senior, Washington looks bigger than the 234 lbs he's listed as, an imposing force, and his speed was clearly evident. Washington looks like the exact type of linebacker the Eagles could use to play alongside a healthy Stewart Bradley and Will Witherspoon next season. He recorded a game-high 10 tackles last night, 7 of them solo, and had 3.5 tackles for loss. The guy has a nose for the football, and he just has the look of football player. Impressive player indeed.
Of course, TCU wasn't the only team playing defense in this game, evident by Boise's three interceptions, defensive touchdown and the fact the Broncos held TCU to just 10 points. And the standouts for Boise last night were in their secondary.
Brandyn Thompson came up with two of the biggest defensive plays of the game, the first and best of course being his 51-yard interception return to put Boise State up 7-0.
Thompson was among the players who forced Andy Dalton, the MWC Offensive Player of the Year, into a terrible game. Throughout, Dalton looked like a bad quarterback, missing throws badly, making poor decisions with the football and tossing up three picks. Two of those picks came courtesy of Thompson, who had Dalton and the TCU receivers under wraps all game. To go along with his two picks, the junior corner added seven tackles. Not too shabby.
And as good as Thompson was, he may not have even been the best corner on his team last night. Because Kyle Wilson, the senior out of Piscataway, New Jersey, was all over the place.
Wilson didn't have many tackles or get any picks, but he got his hands on a few passes, broke up some crucial plays and blanketing some of the speedy TCU receivers. He was part of the national awakening at Boise State, playing in the infamous Oklahoma game, and he ended his playing career with an undefeated season and probably the No. 2 ranking once it's all said and done. Not bad for a kid who had to travel all the to Idaho from the Atlantic to showcase his talents.
Of course, the Eagles don't have much of a need for cornerbacks, at least anytime soon. But what they could use is a consistent, reliable punter. And it was the punters who stole the show last night.
If you watched the game, you know just how valuable Boise's punter Kyle Brotzman was last night. He made the play of the game on one of the gutsiest calls since, well, the Boise State-Oklahoma game, executing a perfect fake punt on 4th-and-9 in the 4th quarter of a tie game.
It was a thing of beauty and an awesome thing to watch, and it also led to the game-winning score. Add his touchdown-saving tackle on a punt later in the quarter and subsequent defensive stand that stopped TCU following it, not to mention his beautifully placed final punt, pinning the Horn Frogs at their own 1, and Brotzman had himself a damn fine game.
But in all honesty, it was TCU's punter, Anson Kelton, who impressed me even more. Kelton punted 8 times last night. He finished with a 48.4 average and a long of 65, and he pinned the Broncos inside their own 20 three times. The kid was just killing the ball. Routinely. Not only that, but he was killing high as well as deep, giving his coverage team plenty of time to get down there. I mean, every kick was a high, booming one. I'd do just about anything to see him replace Sav Rocca and his inconsistency. Sadly, Kelton is only a sophomore, so he most likely won't be NFL-bound for two more years. But I find it hard to believe he won't be kicking on Sundays in the future. He was that impressive.
I hope the Eagles were scouting him and the rest of the players on the field last night. Because the BCS may want us to believe that the Boise States and TCUs of the world are athletically inferior, but the players that took the field last night showed they have every ounce of athletic ability as the players in the SEC, Big XII, Big Ten, PAC-10 or any other BCS conference. And that they deserve the same chance as those BCS schools to play for the title.