I'm certainly not a fan who looks at the teams he roots for with rose-colored eyes. I'm a realist. I try to see things for how they are. Does my fandom sometimes get in the way of true objectivity? Absolutely. But I like to believe I'm more than fair most of the time and just call things as I see them.
With that said, not even the most pessimistic Philadelphia 76ers fan could have seen this season coming. The Sixers had just come off back-to-back playoff appearances in which they gave vastly superior teams a scare, and this young core was supposed to be one more year older, which one would expect means one more year better. Sure, the loss of veteran point guard Andre Miller, who was arguably the team's best player over the past two seasons (yes, even better than Iguodala, arguably), would hurt and perhaps drop the team a bit, but the progression of Andre Iguodala, Thaddeus Young, Marreese Speights and Louis Williams was supposed to offset that a bit, not to mention the return of a healthy Elton Brand and healthy Jason Smith, along with the acquisition of the missing three-point threat in Jason Kapono. Basically, everyone expected the Sixers to remain right about where they've been the past few seasons, somewhere around 5th-8th in the East.
As we all know, that hasn't happened. The Sixers have struggled all season long, and even now, after playing some much better basketball, the Sixers sit at 12th in the East, still 5.5 games behind the Chicago Bulls, who currently hold the 8th spot. No one saw quite that far of a fall coming. Perhaps we underestimated just how much Andre Miller meant to this team. Perhaps the leftover pieces
aren't as talented as we thought
. Perhaps the coach really is that bad. Whatever the case may be, the 76ers aren't
who we thought they were
, at least heading into the season.
But a funny thing happened over this weekend. In the 42nd game of the season, Eddie Jordan finally made his first big lineup change since removing Elton Brand from the starting lineup way back when. Seemingly out of left field, Jordan reshuffled his starters, putting Thaddeus Young and Louis Williams back on the bench and inserting Jrue Holiday and Elton Brand in their starting spots, going with a starting lineup of Allen Iverson, Jrue Holiday, Samuel Dalembert, Andre Iguodala and Elton Brand. And wouldn't you know it, the move benefitted all parties involved, and the Sixers wound up defeating a very good Dallas Mavericks team 92-81.
For starters, the new lineup gave the Sixers a far superior defensive starting 5. Iverson and Williams can't guard anyone, and opposing guards were feasting on the Sixers from the onset with that duo in the backcourt. With Holiday, an excellent on-the-ball perimeter defender, replacing Lou Will, the backcourt instantly goes from defenseless to tough, with Holiday locking down one of the guards and the back line making up for Iverson's gambles and defensive breakdowns. And removing Young, an inadequate defender at best, with Brand, the Sixers get another shot-blocking presence and tougher physicality underneath.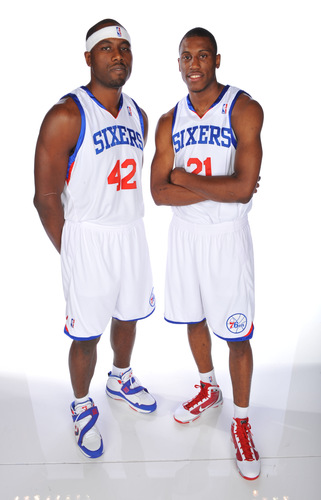 Add to that the fact that Lou Will has shown he is a fine scorer but not much else this season, and it makes even more sense to have him come off the bench. The past few years, Williams has thrived as a scoring punch off the bench, and that's the role he's best suited for, not starting point guard. Then take a look at what happened to Thad. Seemingly with a newfound confidence, Thad was the player of the game on Friday night, scoring a game-high 22 points on 9-12 shooting, 2-4 from three and most importantly, being a factor from start to finish, something he's failed to do all season long. The whole situation worked out so well for the Sixers that they repeated it on Saturday, defeating the Pacers 107-97 and again, all parties benefitting from the lineup move.
Elton Brand scored a game-high 23 points, hauled in 8 rebounds and had one of his best all-around games as a Sixers with four assists and a steal to boot. Thad looked more comfortable coming off the bench again, scoring 22 point and nabbing 10 boards, and showing an aggressiveness he's lacked throughout the season with 16 shots. Clearly, both Brand and Thad looked better, more confident and more aggressive over the weekend after the switch, and Lou Will is in his rightful place coming off the bench. This brings about two vital questions: 1. What took so long to make a move like this when nothing else was working? 2. Why the hell would you do this now?
I just don't understand how a team that was only better than the Nets and Timberwolves for so long wouldn't shake things up like this sooner. Unless the goal was to tank the season and hope for John Wall, which is a conclusion
I came to officially
last week. But then, if that is the case, why make this move now? Why try to stir the pot and do something that could potentially lead to more wins and even inch the Sixers toward a playoff berth? It makes no sense. The Sixers aren't going anywhere. Even if they manage to reel off a hot streak and make the playoffs, they're going to face one of the top three seeds and get trounced. Why not just accept your fate and try to garner as many ping pong balls as possible? I just don't get it. I really don't. Either you're tanking or you're not. At this point, I have no idea what the Sixers are doing, besides giving me a headache. I'm not entirely sure they even know what they're doing anymore.
Luckily, other teams around here are doing just fine. Specifically two college basketball squads. Temple continued its march toward the top 15 by taking care of business against Fordham 62-45, and Villanova stayed atop the Big East with a tough 81-71 victory against St. John's at Madison Square Garden. The Red Storm battled and scrapped all game long, giving the Wildcats a scare, but once again, Scottie Reynolds simply wouldn't let Villanova lose.
I've been one of Reynolds' harshest critics over the years, I'll admit. That's not to say Reynolds hasn't been a player I'd love to have on my team, but there have been moments where I've expected so much out of him that perhaps it wasn't fair. This season, however, Reynolds has been beyond fantastic. He's been everything you could want out of a player, and he's become not just a leader, but the leader of this team. Saturday, with the Red Storm giving Nova fits, Scottie simply wouldn't let the Wildcats lose. Reynolds awoke a dormant Nova offense at the end of the first half with a spurt to bring the Wildcats within one at halftime, and then he simply took over in the second half, refusing to let St. John's knock off his squad. He scored a game-high 19 points, played under control throughout, hoisted just 12 shots, went perfect from the free throw line, and came up with three crucial steals.
He played so well in the game, has played so well all season long, that Dave Pasch and Doris Burke were discussing how he's not just the leading candidate right now for Big East Player of the Year, but also a candidate for the Naismith, as in the overall college Player of the Year. When you really think about it, his name has to be up there with the likes of John Wall and Sherron Collins. He really has been that good. And his fine play has been rubbing off on his Villanova teammates.
Corey Fisher leant a helping hand Saturday, scoring 18 points himself, and it's evident that Reynolds has been in the ear of freshman Maalik Wayns. The point guard out of Roman Catholic scored 16 points himself on Saturday, and each and every game he looks better and better. It's no wonder that Wayns was such a coveted, prized recruit. From day one, he's shown no fear out on the court, supremely confident in his abilities that he belongs playing among college basketball's elite. He's showing the poise and confidence that Reynolds did his freshman season, Kyle Lowry did before him, like Jameer Nelson did at St. Joe's and Raymond Felton and Ty Lawson did at North Carolina. Wayns just has that it factor, that indescribable thing that the ones who belong have. From the start, he's shown he's ready to handle the pressure of big-time college basketball. And as the the season progresses, he's getting more playing time, being entrusted with big minutes in huge spots by Jay Wright, and all he's doing is coming up with huge plays, attacking the rim and never backing down to help Nova get back to where it wants to be in Reynolds' final season.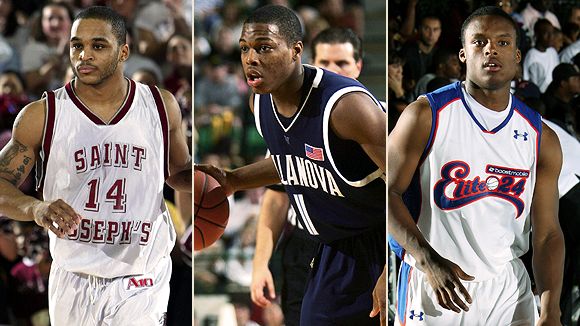 At the very least, Wayns is proving that Nova will be in fine hands when Reynolds finishes up his final season and graduates. He is a bona fide stud. As he gets more and more seasoned and Reynolds continues to lead this team the way he has, Villanova is becoming a better team each and every time it takes the court. Something tells me Reynolds is saving his best for last, just as he's saved his best season-long performance for his final year on campus.
Another team that's been putting its best foot forward of late is the Flyers. They kept things going Saturday with a 4-2 victory over Carolina, their third straight win, and have propelled themselves into 6th place in the Eastern Conference. After their nice victory Saturday coupled with the Nova and Temple wins and a win by the Sixers, I headed out to silver fox's house to drink the night away with silver fox, Toonces and some others.
When I got to silver fox's house, there was no street parking in sight, so I decided to make a lap around the block. In doing so, I turned the wrong way down a one-way street unbeknownst to me. Now, I was only going the wrong way down said street for literally less than 100 yards, but just my luck, at the first stop sign I saw, there's a cop. As I turned on silver fox's street, on went the officer's lights. I pulled over knowing full well what I had done after seeing all the cars parked facing the opposite direction. This night was about to be off to a bad start. Or so I thought.
The officer was actually very nice, and seeing as I had had absolutely nothing to drink (yet!) and was very accommodating, explaining that I didn't know it was a one-way street and I was just heading down the block to my friend's house, the cop took my information, went back to his car and then came back, issuing me just a warning, letting me off with no ticket. Points and fine averted. But it wasn't the last driving incident of the night.
See, everyone was drinking and partying and having a good time. Then silver fox, Toonces and I stepped outside for a few minutes. That's when a second crisis situation couldn't be averted. In an instant, a girl (who I just met for the first time that night) came storming out of the house crying, marching straight to her car. Shortly after, a few of her friends went running after her. The girl was clearly upset and my guess was probably drunk, but her friends looked to have a handle on the situation. Only they didn't, as she somehow wrestles herself away, got in her car, threw it in reverse and nailed the car directly behind her. I mean hard. Her friends then did manage to get her out of the car and steal away her keys, but the damage had been done. No one was hurt, but the cars were damaged. It was about that time I decided I should go inside, sober up and get the hell out of there.
That's what I did, getting a nice night's sleep before waking up in time to witness the Flyers-Pens game. A regulation victory would have been huge for the Flyers, bringing them within three points of fifth-place Ottawa and six points within fourth-place PIttsburgh. Things started out well, as the Flyers dominated early on and took a 1-0 lead on a power play goal by Jeff Carter.
Carter is another guy that I've been perhaps overly critical of over the years much in the way I have been on Reynolds. But over the past few weeks, Carter has been without question the best forward for the Flyers. He's scoring goals at a rapid pace again, getting chances every time on the ice, backchecking with relentless determination, playing sound defense, throwing checks and even winning a large portion of his faceoffs. Basically, he's doing everything. And yesterday, he got the Flyers off on the right foot.
And it looked like the Flyers were going to take complete control when Mike Richards buried a loose puck past Brent Johnson, but the goal was waved off. Why? Because Simon Gagne committed the single biggest boneheaded of play of his career. For no reason whatsoever, Gagne, after getting hit on a clean check by Evgeni Malkin, decided to go after Malkin, throwing him in a bear hug and getting his stick up in his face, as the Flyers had the puck in the zone and would have scored. Instead, when Richards touched the puck that wound up in the back of the net, play was halted because of the penalty. Gagne's selfish, stupid act, something he absolutely never does, cost the Flyers a goal AND put the Pens on the power play. Of course, the Penguins on the ensuing power play, making it 1-1. So basically, Gagne's retarded penalty cost the Flyers two goals. Instead of being up 2-0, as they should have been, they were tied 1-1. All because Gagne did something he never, ever does — take a stupid penalty for trying to go after another player. It was easily the worst decision, the worst play Simon Gagne has ever made in his career.
Ultimately, it proved costly, changing the entire complexion of the game. With newfound energy and suddenly a tie game, the Pens dominated the scoring chances in the second and eventually tallied a power play goal with less than two minutes remaining in the 3rd after Kimmo Timonen also made a boneheaded play, clearing the puck out of play without touching glass in his own zone. Essentially, the Flyers surrendered two points to the Pens because the two least likely players to make horrible mistakes made horrible mistakes. Of course, going just 1-of-9 on the power play didn't help either, but if you had told me two Flyers would take backbreaking penalties to cost them the game yesterday, Kimmo Timonen and Simon Gagne would have been the last two players I would have guessed. Such is sport, I guess. Expect the unexpected. Still, the Flyers are going well, competing hard again with Pittsburgh and jumping up to the six spot. Not bad.
Oh, and for all the talk about resting players and struggling down the stretch, here we are, right where everybody thought we'd be 13 games into the season: the Colts and Saints in the Super Bowl. A whole lot of uproar for nothing. Should be an extremely entertaining game.
And your highlight of the weekend:
As Flyers president and COO of Comcast-Spectacor Peter Luukko
said
:
"[John] Tortorella's got it all wrong," said Flyers president Peter Luukko between periods. "[Marian] Gaborik shouldn't be messing with our skilled player."
Finally, Jose Contreras is a Phillie and the Phils have Chooch for three more years minimum. Works for me.