Fifty-nine. That's the number of three-pointers Villanova and Temple shot in their games combined last night. The Wildcats made 10 of their 24 three-point attempts, pulling away from Notre Dame in the second half to cruise to a 90-72 victory. A win that improved Nova to 19-1 on the year, the school's best start ever, and kept them unblemished in Big East play … all with
the No. 1 ranking in their sights
. The Owls made just 11 of their astounding 35 three-point attempts. And it was most definitely their downfall in a 74-64 loss at Charlotte that dropped Temple into a three-way tie atop the A-10 with the 49ers and Xavier.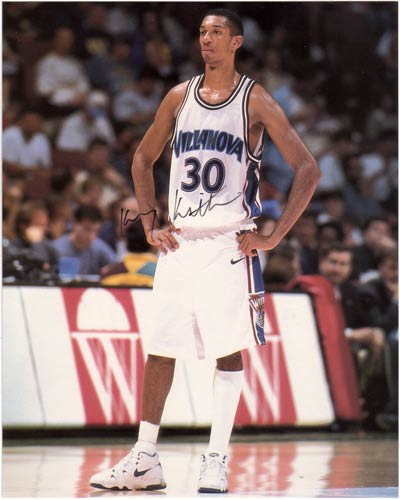 As far as Nova goes, it was just more of the same. Despite early foul trouble for just about everyone, the Wildcats were still able to maintain a 41-40 lead heading in to halftime. Luke Harangody was getting his in his typically ugly fashion, but it was evident the Irish had absolutely no shot at containing Nova's quick guards and attack philosophy. In the second half, Antonio Pena set the tone by going right at the big oaf and just killing him. I mean killing him, killing him. Pena finished the game with 14 points on 5-8 shooting, nabbed 10 boards and dished out three assists, doing most of his damage in the second half. Harangody was a very efficient 8-14 for his 21 points and he did get 9 boards, but the big guy struggled at the line, missing four of his nine free throws, and turned the ball over four times. I'll take a 14-10 with no turnovers from Pena over a 21-9 with four turnovers from an ugly white dude any day of the week. Basically, Pena nullified Notre Dame's biggest strength.
And beyond Harangody, the Irish have no one that can really hang with the most talented collection of guards in the nation. Sure, Tim Abromaitis has a nice game, but he couldn't do shit against Nova's smaller, quicker players. He shot just 3-13 from the field and guarded pretty much no one. Ben Hansbrough showed just how ridiculously unathletic he is by fouling out with 13 minutes left in the game because he couldn't stay in front of anyone on Nova.
The Villanova guards did the rest. Scottie Reynolds continued his march to Big East Player of the Year, scoring 17 points and swiping three steals despite just 23 minutes on the court thanks to early foul trouble and a late blowout. Corey Fisher had perhaps his most efficient game of his college career, tying Reynolds for the team lead in points while taking just seven shots. Corey went 5-7 from the field, 2-3 from three and 5-5 from the line, added two boards, 6 assists and nabbed a steal. He was about 8,000 times more athletic than anyone Notre Dame sent out on the court. Maalik Wayns simply did what he's done all season, which is prove he's the real deal, highlighted by the play of the night, a ridiculous bullet pass as he got in the lane on a drive and dished to Pena, who finished it off with a slam and the foul. Reggie Redding did a little of everything, and nine of the 11 Wildcats who played scored at least 2 points, while seven of them hit at least one three. Seriously, No. 1 in right in this team's sights.
Temple, on the other hand, wasn't able to sustain the play that got the Owls in the top 15. They did manage to take a 32-28 lead into half behind some deadly three-point shooting by Ryan Brooks, and the Owls did have some success early in the second half from beyond the arc, as Luis Guzman nailled three, Scootie Randall hit a pair and Brooks finished with five in all, but it was a pace Temple could not sustain. Juan Fernandez went scoreless in the first half and finished with just three points on 1-5 from the floor. He was completely taken out of the game. LaVoy Allen struggled with foul problems, and while he was on the bench, Temple completely abandoned their inside game, instead opting to launch three after three after three. It was a dubious decision to say the least.
Brooks was on fire in the first half, but then cooled to hit just 1 of his last 7 threes. Fernandez was just 1-4 from beyond. Ramone Moore was 0-2. T.J. DiLeo 0-1. Craig Williams 0-5. The shots stopped falling, but Temple kept firing them up. Meanwhile, the 49ers were owning the paint. Derrio Green was the lone outside threat, and he had himself a great game, scoring a game-high 26 points on 9-15 shooting, 4-9 from three all while dishing out 5 assists and nabbing two steals. But it was inside where Charlotte did most of its damage. Shamari Spears had 11 points, Chris Braswell had 15 and the 49ers felt no resistance inside. Allen was saddled on the bench for too much of the game, so there was no one on the offensive end to make Charlotte's bigs work. As a result, Temple lived by the three early, and died by the three late.
It was a tough game in a tough place to play against a good conference opponent, but it was a game that a team in the top 15 should have found a way to win. For a long while, Temple was fighting through the foul trouble and the lack of production by Fernandez, but in the end it wasn't enough. This Temple team is very tough and very good. But they can't really expect to beat the better teams, or even tough conference opponents, without big contributions from all of their best players: Ryan Brooks, LaVoy Allen and Juan Fernandez. Last night, only Brooks showed up, and Temple lost. The Owls will need Allen and Fernandez at their best if they hope to stay ranked by the end of the season and attempt to win the A-10.
And it would probably be a good idea not to jack up 35 threes as well.
By the way, Charlotte has a guy whose name is Wilderness. I'm not making that up.