If yesterday never existed, I think we'd all be better off. Unfortunately, that's not how things work. We can't go back do things over or just bypass certain days altogether. If we could, the first Sunday of 2010 would have been a good one to skip.
That's really a shame too, because yesterday had all the makings of fantastic day. The Flyers, who had gotten points in their previous five games, started at 1, the Eagles had a chance to clinch the NFC East and secure themselves a first-round bye starting at 4:15, and the Sixers were out in Denver for the nightcap. Two teams lost. Guess which one won? Yeah, the one everyone in Philadelphia cared about the least.
Truth be told, this holiday weekend took a whole hell of a lot out of me. Between New Year's, my cousin and my roommate sharing a birthday on Saturday, and all the sports, I struggled the entire weekend. So while I had planned on waking up and watching every second of the Flyers yesterday, due to an overindulgent Saturday night that included two birthday celebrations and a wild excursion, I didn't wake up until 2:15 p.m. yesterday — just in time to see the Flyers down 4-3 early in the second period. A few minutes later, the Flyers got their first power play of the game. And a few seconds after that, Ottawa committed another penalty, giving the Flyers a two-man advantage, and after looking pathetic for the first minute-plus of said two-man advantage, Mike Richards finally blasted one and tied the game. Thanks to the informative Jim Jackson, I found out it was the Flyers' third straight goal, coming back from a 4-1 deficit to tie it. Things were starting to look up.
Except someone forgot to tell the Flyers that there was still a third period to be played. When they found out, they didn't seem too interested in playing it, literally laying down by giving up three goals to lose 7-4. It was pathetic. And to make matters worse, they biggest difference in the game was Alexei Kovalev, who scored four goals and added an assist.
Kovalev has been a thorn in the Flyers' side his entire career. Yesterday, he became the leader among active players in goals against the Flyers, tying or surpassing Patrick Elias. I forget which. Now, struggling to contain a player with the skills of Alexei Kovalev isn't necessarily a horrible thing … that is until you remember that this is Alexei Kovalev, a guy with all the ability in the world but a guy who has also notoriously been labeled an underachiever. Against nearly every other team in the league, Kovalev seems to put it on cruise control and not live up to his ability. Then when he faces the Flyers, he turns into Wayne fucking Gretzky. I hate Alexei Kovalev. I hate him so very much.
It wasn't the best start to the day to say the least. But no matter, the Flyers had just gone on a six-game road trip that included four straight wins, an overtime loss and 9 out of a possible 12 points accumulated. Yes, a win over the Senators would have been huge, and it was very disheartening to finish up with such a dud, but not a bad trip. Plus, a Flyers loss could be tolerated with a big Eagles victory. As we all know, that didn't happen.
It's no secret that I am not the biggest Andy Reid fan in the world, but one thing I've always said is that Monday-Saturday, I think Andy Reid is one of, if not the best coach in the league. That is to say, he gets his teams incredibly prepared to play. On Sunday, he doesn't always come through, but he gives his team a chance to win by getting them prepared with the best of them. Yesterday, the Eagles were not prepared. At all. From the opening kickoff to the final whistle, the Eagles were destroyed up and down the field. As Merrill Reese said in the waning moments of the game, "That 24-0 score is absolutely indicative of what happened on the field." The Eagles didn't do a single good thing yesterday, and besides Brent Celek, not a single Eagle played well or showed any fire. It was beyond pathetic.
The defense had no answers, the offense missed opportunity after opportunity and Donovan McNabb played his worst game of the entire season.
He missed a wide open DeSean Jackson in the first quarter for a sure six points by overthrowing him by 5 yards. He threw behind a wide open Jeremy Maclin on a third-and-long that would have at the very least put the Eagles in the field goal range and very likely could have resulted in Maclin taking to the house, and at the same the time, while the throw was certainly not a good one, the ball still went right through Maclin's hands, a catch that should have been made. And then Donovan fumbled a snap when the Eagles were in field goal range before the end of the half. That's 13-17 points minimum left on the field in the first half alone. The Eagles trailed 17-0 at halftime. The game could have been completely different had McNabb been on point. But he was not.
Not that he got any help. The defense couldn't stop Dallas if their lives depended on it. All game long, the Cowboys were a step ahead, moving up and down the field at will, taking large chunks of time off the clock with long, sustained drives. They ran with ease, passed with ease, and Tony Romo, a notoriously gun-shy quarterback when he gets hit, had all day to throw back there. The Eagles didn't lay a finger on him until the fourth quarter, with the exception of Moises Foku's 15-yard personal foul for grazing Romo's facemask. When they finally got a sack in the fourth quarter, Merrill couldn't contain his sarcastic disgust, repeatedly telling the listeners and Mike Quick, that it was a sack, he thinks that it was a sack, that the Eagles finally got a sack, asking if that actually was a sack and then again reminding Quick that the Eagles got a sack. It was just that kind of game. The Eagles, with everything to play for — a division title, a first-round bye, the second seed — simply didn't show up to play. They got embarrassed all game long. In the process, they went from the 2 seed with at least one guaranteed home playoff game to the 6th seed and no chance of playing at home again until the 2010 preseason. And in the process, they screwed me out of correctly nailing the team's record in
my preseason prediction
of a 12-4 season.
Thanks a lot jerks. Oh, and I'd just like to reiterate just how incredibly stupid it was for the Eagles to take that first timeout of the game. You know, the one where the Eagles didn't have enough players on the field for the punt, so they took a timeout even though they were at the Dallas 39, meaning a five-yard delay of game penalty wouldn't have mattered one bit. Instead, the Eagles wasted a timeout and Sav kicked it into the end zone anyway. Yes, the Cowboys committed a holding penalty to put the ball at the 10, but still, horrible place to waste a timeout. What's new, right? Just an awful game all around.
To cheer ourselves up, my roommates and I headed to Taco Bell after the game and gorged ourselves. But the travesty that was yesterday didn't end there. Adding to the suffering, we decided to watch the movie "Extract" as we took in the Sunday night football game. That movie was a lot like the Flyers and the Eagles. It sucked. A lot. It wasn't funny. It wasn't interesting. It just sucked.
The trailer was more interesting than the movie. Don't waste your time.
To top the day off, I completely forgot the Sixers were even playing. By the time I turned it on, there were just a few minutes left. Luckily (?) the Sixers salvaged something out of the day by coming up with a pretty big victory against a good Denver team, even with Denver without the services of Chauncey Billups. Though it was incredibly frustrating watching those closing minutes, because the Sixers were doing everything in their power to let the Nuggets back in it. Andre Iguodala and Willie Green both missed important free throws that would have extended the lead late and essentially iced the game. With the chance to put the team up by four with 15.6 to play, Iguodala went one of two from the line, making it 106-103 instead of 107-103. Ty Lawson got a quick two to make it a one-point game with 11 seconds left, and Willie Green got fouled with 8.7 left. He also went just one of two, making it 107-105, but Iggy managed to get the rebound off the missed one and got fouled with 5.4, again with a chance to put the Sixers up 4 and seal the victory. Again, he went one of two, making it 108-105, giving Denver a chance to tie. However, the Nuggets failed to tie it and the Sixers narrowly escaped.
The thing is, I'm not sure if the Sixers winning is a good or bad thing at this point. Yes, watching them lose is painful, and watching them compete hard, watching the young guys develop and improve, watching Allen Iverson show the youngsters the ropes and all is fun, every victory means one less ping pong ball and less chance at nabbing a John Wall or a Derrick Favors. Really, I'm torn. But in the end, I'd have to say winning is better than losing because, hello, you play to win the game.
So yeah, the Sixers won yesterday, but I'd have preferred a reversal, with the Flyers and Eagles winning, and the Sixers losing. And if only one team had to win, of course we all would have preferred that team to be the Eagles, so we all could get a little break next week and enjoy having the second best seed in the conference. Instead, the Eagles have to go back to Dallas again to take on the Cowboys on Saturday for the second straight week. Hopefully the whole "it's tough to beat a team three times in a season" thing holds up and the Eagles actually show up.
The bottom line is, yesterday was a terrible ending to an already draining holiday weekend. On New Year's Eve, I headed to
Tavern on Broad
with a whole crew of people for an open bar celebration. I was feeding jack and ginger's to my head nonstop and had a great time … from what I remember. It got 2010 off to a good start. Or so I thought.
On New Year's Day, I was all set for the ultimate hangover entertainment: the Flyers taking on the Bruins in Fenway Park and Penn State taking on LSU in the Capitol One Bowl, both starting at 1. Well, supposedly. While the PSU-LSU game did begin at 1, the Flyers started at like 1:42, with a ridiculous amount of bullshit going on before the puck dropped. That was annoying. But even more annoying was my physical condition.
When I woke up on Friday morning, I felt fine, like a million bucks. But as the day progressed, I got worse and worse, to the point of vomiting. And the vomiting some more. And some more, and some more. I valiantly did my best to power through and take in every waking moment of the two games, but finally, my body had had enough. I was puking at a nonstop pace from about 11 a.m. to 5 p.m. I had to lay down and try to recover. I did watch every second of the first two periods of the Flyers, seeing Danny Syvret score his first NHL goal, and then that was it. I missed Mark Recchi's game-tying goal. I missed the Flyers failing to convert on what sounded like numerous great chances according to my roommates, and I missed them losing in overtime. That's how bad of shape I was in.
I also watched every second of the first half of the Penn State game, finally resting a bit with the Nittany Lions leading 13-3 at half. I was in and out of consciousness for the majority of the second half, missing most of LSU's comeback, but I did see the final drive in which the Tigers took the lead, and then watched as Daryll Clark led Penn State on one final drive to march down the field and into field goal range. And I watched as Collin Wagner defied the odds by capping off a craptastic season by him by going 4-for-4 in field goals to give Penn State the 19-17 win. It was a good win for Clark, who for the first time in his two years starting actually defeated a quality opponent. Good for him. I'd be lying if I said I was sad to see him go. Though he did have a very good record and played a very good game on Friday.
Though the standout player, at least on offense, was unquestionably Andrew Quarless. Quarless came to Penn State with all the talent in the world and high expectations. In his freshman season, he showed a lot of promise, but also a lot of immaturity, landing the doghouse with problems off the field. And he's been in and out of the doghouse the past few seasons as well. But finally, as a senior, Quarless put it all together and had a quietly fantastic season.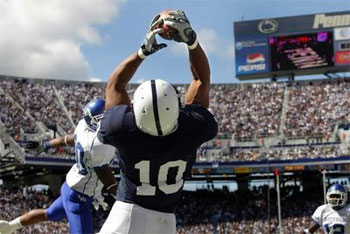 No, his statistics didn't jump out at you, and no, he didn't single-handedly dominate any one particular game, but Quarless finally got himself right off the field and became the player we all expected on it. In his final game as a Nittany Lion, he finished with a game-high 8 catches for a game-high 88 yards receiving. An excellent way to end his collegiate career. And with his physical skills — excellent speed, great hands, tremendous size (6'5", 248), etc. — he will make for a great steal in the draft. He has dangerous pass-catching tight end written all over him. He will certainly be missed.
As will Big Ten Defensive Player of the Year Jared Odrick, who will most certainly be playing on Sundays. Enough cannot be said about how awesome Odrick has been during his four years at Penn State. I'll also greatly miss Navorro Bowman, who almost assuredly will leave for the NFL. He's be crazy not to to be honest with you. The guy is simply an excellent playmaker with speed you can't teach. That's the trio I'll miss the most, and Arkansas Fred added he'll miss cornerback A.J. Wallace, who may or may not end up in the NFL some day. Of course, the Nittany Lions also lose Clark, two starting offensive linemen, Sean Lee (who will certainly be playing on Sundays), Josh Hull (who sucks, but did actually play pretty well Friday) and quite possibly Evan Royster, who may declare. I'm hoping Evan doesn't.
Still, that leaves Penn State with the dubious task of replacing their starting quarterback, two offensive linemen, their entire linebacking corps, their best defensive player and a starting corner. They'll certainly be fine at cornerback with D'Anton Lynn and Stephon Morris, and running back is secure even if Royster doesn't come back with Stephfon Green and a slew of tailbacks waiting in the wings. But losing Clark, the linebackers, the linemen and Odrick will certainly take its toll. I wouldn't be surprised of Penn State loses to Alabama by 40 points next year in Tuscaloosa. But next year be damned. That was a nice way to go out. And with Ohio State defeating Oregon in the Rose Bowl, the Big Ten helped gain some of its credibility back. If Iowa can mange to beat Georgia Tech, it certainly would have to be considered a successful season for the Big Ten. We'll have to wait and see.
That wasn't all as far as the long weekend in sports was concerned either. No, on Saturday Villanova took on Marquette followed by Temple hosting No. 1 Kansas. And I watched the crap out of both of those game with silver fox and two of my roommates.
Nova's 74-72 victory was maddening to watch, which is to say Scottie Reynolds is maddening to watch. Reynolds has certainly had a fine career, but watching him play is truly a frustrating proposition. The guy takes more difficult, contested, essentially bad shots than anyone else I can remember, yet he seems to make more of them than he misses. Of his 8 field goals Saturday, at least five of them were terrible shots. Yet he made them. All of them. Meanwhile, he misses a wide open three from the corner. It's insane to watch. There were numerous occasions when he fired up an off-balance shot with a hand in his face and I was shaking my head and stating, "That's a terrible shot," only to watch it fall through. It really is painful and beautiful to watch all at once. For the record, Reynolds scored a game-high 23 points on an insanely efficient 8-12 from the field, 3-5 from three and 4-6 from the line.
But he wasn't quite as efficient as Maalik Wayns. Wayns had perhaps his strongest game of his freshman season considering the opponent and the atmosphere, going 5-8 from the field and 6-7 from the line for 16 points. Against a solid Marquette squad, Wayns looked mature beyond his years, playing completely under control and giving Marquette fits. He earned the 26 minutes of playing time Jay Wright gave him. He was the one constant thing about that game that wasn't frustrating to watch.
The same cannot be said for coach Jay Wright. Yes, the Wildcats won. And yes, Jay Wright is a fabulous coach who I actually love. But man, some of his decisions in that game were nothing short of baffling. Early in the second half, Corey Stokes picked up his third foul. Naturally, you'd expect him to come out of the game, especially with Nova's awesome depth. Instead, Wright left in Corey Stokes and took out Corey Fisher … then left Fisher on the bench essentially the rest of the game. The same Corey Fisher who had a team-high four assists, just one turnover, and four rebounds. No, Fisher wasn't shooing the ball very well (just 3-7), but he wasn't playing out of control and he was doing an excellent job finding his teammates. Meanwhile, Reggie Redding was having a completely awful game, missing easy shots, bricking a few free throws, hell, not even playing the great defense he's known for, yet Jay kept him on the floor almost the entire second half. Redding was struggling (3-11 form the field, 5-8 from the line) and honestly hurting Villanova for a stretch that allowed Marquette to keep pace. But to Wright's credit, Redding did finish with a team-high 8 boards, including a crucial one down the stretch, and the senior forward did sink some clutch free throws at the end. But still, watching him struggle for a long stretch and stay on the floor while simultaneously watching Fisher glued to the bench was difficult to comprehend.
It was a very nice win for Nova nonetheless.
As for Temple, well, I'm not sure what was worse, the Owls' 84-52 loss or the Eagles' 24-0 loss to the Cowboys yesterday. Actually, yes I do. The Eagles was worse. At least the Owls scored some points. But still, it was an awful, ugly game. Though to be fair, I sort of expected it. Before the game started, I declared it would probably be a blowout. And right I was. Temple couldn't get anything going offensively or defensively against the Jayhawks, and the Owls are no pushovers. Just ask Villanova and Georgetown. I guess that's why Kansas is ranked No. 1.
I'll tell you this much, at least Temple put up a fight for a while, hanging with Kansas for the first 10 minutes or so. They showed more heart in those 10 minutes that the Eagles did at all.