The NFL draft is a few months away, and with that, we get to dream about the possibilities that the Eagles may very well use some high draft picks to sure up a very, very suspect defense (though an offensive lineman wouldn't be a shocker either). If I had it my way, the Eagles would spend their first two picks on defenders — unless an absolute can't-miss player (O-lineman, maybe even running back) is there and there are no equals defensively. But let's face it, this team's major weaknesses lie on the defensive side of the ball. The Eagles desperately need a free safety, could really use a defensive lineman that can provide pressure and have lacked a play-making linebacker pretty much forever. All (or some) of that could change in April.
Right now, Mel Kiper has the Eagles
taking Navorro Bowman
with the 24th pick, writing: "The Eagles need an athletic OLB, and they get a lot of value by landing Bowman here. Bowman lacks size, but any parsing on measurables can't overcome his great play on film. Could end up as the best at his position in this class."
If the Eagles drafted Bowman, I would freak the fuck out. And I'd buy his jersey immediately. But I don't see this happening. For one, I find it hard to believe Bowman will drop that far. Secondly, I don't expect the Eagles to take a linebacker. But if this happened, I'd be extremely, extremely excited.
The other players who I'd love to see don Eagles green are Taylor Mays, Myron Rolle and/or Jared Odrick. Mays is a freak of an athlete, scary big and scary fast. He can destroy players coming over the middle, run with tight ends and play either near the line of scrimmage or back in coverage. Though to be fair, scouts have said he had a down year in 2009, taking bad angles to the ball and getting beat in coverage. Though the year before, people were calling him a top 5 pick, so the talent is there. And according to Mays, his game resembles a little bit of Ronnie Lott and a little bit of Brian Dawkins, however
"the safety that he feels he most emulates is Sean Taylor."
As in the most frightening safety who was about to take over the league before his tragic murder Sean Taylor. As in this guy:
Um, if Taylor Mays can resemble even half the player that Sean Taylor was, then sign me up. Safety problem solved. So long as he sures up his coverage.
Mays, of course, isn't the only safety out there for the Eagles to get. Eric Berry and Earl Thomas are most likely too rich for Philadelphia's blood as far as moving up to be able to snag either one. Mays may still be around and if not, not taken too far in front so the Eagles could presumably move up to grab him if they so choose. But if they decide to go another route and wait on a safety, there are a few they could take in the 2nd, maybe even third round. This draft is all sorts of deep at safety. Chad Jones out of LSU was all over the place this year, making plays left and right, and he certainly made his presence felt at times when I wasn't puking during the bowl game against Penn State. He'd look mighty good roaming Philadelphia's secondary. Ditto Larry Asante, who along with Ndamokong Suh played awesome in the Big XII Championship game.
Though the guy I have my eye on is Myron Rolle, the Rhodes Scholar safety out of Florida State.
Rolle has the size and speed to be an impact player in the NFL, and a year before he decided to accept his Rhodes Scholarship, he was one of the best safeties in all of college football. Reports are that he's shown up to the Senior Bowl in tremendous shape, even looking faster and better than he did the last time he took the field for Florida State. And you know the guy is smart. He's a freakin Rhodes Scholar! The Eagles certainly could use some brains back there in the secondary, both to know when is the appropriate time to take chances and to help communicate the coverages. You'd have to think there'd be a few less breakdowns back there with a Rhodes Scholar scouting things.
If the Eagles go this route and wait to take a safety, that leaves the door open to go after a linebacker such as Bowman — destined to be a stud on the next level too — or an impact defensive lineman. Ideally, that would be a defensive end who can rush the passer and line up opposite of Trent Cole, vastly improving the pass rush. While the likes of Derrick Morgan, Jason Pierre-Paul and Carlos Dunlap would be great — and actually, I think Dunlap would be a guy worth trading up for the Eagles so choose — they're probably guys the Eagles can't or won't get. That pretty much eliminates any first-round D-end talent, but there are guys they could take in the second round and beyond that are very intriguing. Brandon Graham was a monster at Michigan and could definitely help. Greg Hardy has all the athleticism in the world. And guys like O'Brien Schofield, Everson Griffen and Ricky Sapp are fine players.
But if the Eagles go the defensive line route, I'd start taking a good, hard look at another player from my alma mater, Jared Odrick.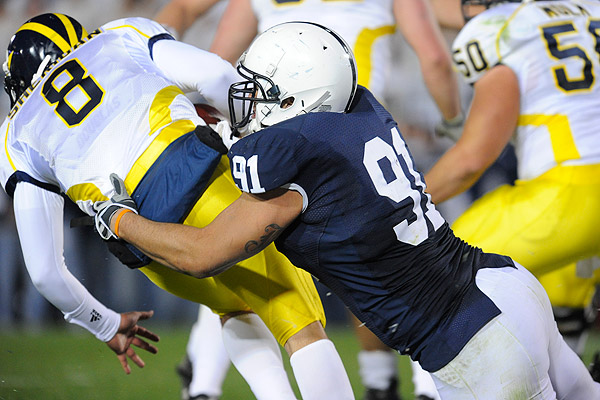 No, Odric is not a defensive end. He is a tackle through and through. But he has the size and speed to rush the passer from the inside and contain the run. Simply put, he's the total package. And even at 300 lbs., I don't see why he couldn't slide out to end if needed; he has the quickness, burst and speed to do it. I got to watch the guy for four years at Penn State, and the last two in particular, he was the best player on the team. Not best defensive lineman, not best defender, the best player period. He won Big Ten Defensive Player of the Year and completely deserved it. And he's showing what he's got at the Senior Bowl, reportedly
tearing it up
at practice:
Risers
Jared Odrick/DL/Penn State: Odrick looked like a man possessed on Wednesday and was impossible to stop. He was both quick and powerful, defeating blocks off the snap with a great first step or powerfully moving opponents off the line with great leg drive. After showing flashes the first two days, Odrick really put it together today.
The guy spent the past two seasons taking on double teams and treating them like they were nothing. No, he's not Ndamokong Suh, but he's more than a first-round talent. The fact that he's listed as a late first-round pick baffles me. A year earlier, his college teammate Aaron Maybin went in the top 10. Yes, Maybin is fast and an excellent pass rusher, but he's literally not even half the player Jared Odrick is. If Maybin was worthy of a top 10 selection, certainly Odrick is. But in a deeper draft with a ton of defensive talent, he's consider a late first-rounder. This may benefit the Eagles, if they're looking to add an immediate impact player. Odrick is no Trevor Laws. He's every bit as talented as Broderick Bunkley physically, but should not struggle whatsoever moving to the NFL. Plus, he adds a pass-rushing presence from the inside. Call it homerism if you must, but if you don't think Jared Odrick has the makings of a very good NFL player, then you simply haven't been paying attention to Jared Odrick.
In an ideal world, the Eagles would also be players for the services of unrestricted free agent Julius Peppers — a premier defensive end. Line him opposite of Cole, and the Eagles suddenly become an unblockable defensive line. Add in a safety and a linebacker through the draft, maybe another tackle, and the defense that struggled so mightily at times last season because a formidable force. Especially with Stewart Bradley back, assuming he's healthy. Then if the offense can work on sustaining long drives to go along with its explosiveness, you'd have yourself a pretty complete team. Certainly a better one than the 2009 version.
This much is clear, the Eagles need help defensively, and that should be their No. 1 priority in the draft. There are definitely some needs on offense, but defense is the focal point. Hopefully the Eagles can nab one of these guys to simultaneously make me happy and bolster their defense.