Preseason predictions are inherently stupid. If anyone actually knew exactly what was going to happen before the season started, what would the point be of even playing the games? It would be nothing but a formality at that point, and formalities are boring as shit. Just ask any fan of a baseball team that currently has nothing left to play for.
Having said that, I'm going to go through a game-by-game short breakdown, picking my winners. No scores. No lines. Just picking who will win the game. Because I'm lazy, you see. If I was to do any NFL Betting, which I don't do too often, I wouldn't dare bet on me being right. I'd opt for Free NFL Picks instead. Because it would be dumb to rely on me. And we're off.
Week 1 — at Carolina
Each and every year, we are subjected to the belief that this is the year the Panthers will pose a threat to the powers of the NFC. Each year, I don't buy it for one simple reason: Jake Delhomme. You can throw all the fancy stats you want at me, but I know a shitty quarterback when I see one. And ladies and gentlemen, Jake Delhomme is a shitty quarterback. For that reason and that reason alone, I pick the Eagles. 1-0.
Week 2 — vs. New Orleans
Drew Brees is good at throwing the football. Like really good. Luckily for the Eagles, their secondary is all sorts of awesome, with or without Brian Dawkins. And while Pierre Thomas had a breakout 2008, it was always Deuce McAllister who killed the Eagles. Now he's gone. And the Saints can't stop anyone. Eagles offense goes bonkers, the defense gets enough stops to pull it out at home. 2-0.
Week 3 — vs. Kansas City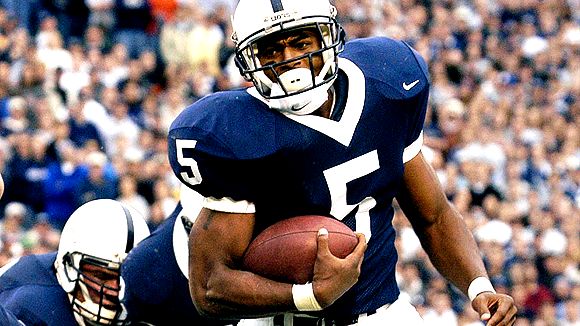 The Chiefs lost their best player to the Falcons. Their brand-new quarterback might not be ready to play. And the new coach hates all his players, especially his best wide receiver Dwayne Bowe. The Chiefs suck. Eagles roll. 3-0.
Week 4 — Bye
Week 5 — vs. Tampa Bay
Byron Leftwich is the Bucs' new quarterback. Byron Leftwich hasn't been good since he was at Marshall. And the defense is nowhere near as good as it used to be, especially with Monty Kiffin gone. Eagles win again. 4-0. What am I, crazy?
Week 6 — at Oakland
With a 4-0 start against a very favorable opening schedule, I'd normally look at a game on the West Coast as a trap game. But this one is against the Raiders, who have the West Coast version of Byron Leftwich as their starting quarterback, exactly one good player on defense and a coach who beats the shit out of his assistants. The Eagles should be able to put 9 in the box to key in on Darren McFadden and Justin Fargas. Seriously, it's the Raiders. 5-0.
Week 7 — at Washington
While it's absolutely true that DeAngelo Hall and Fred Smoot have been two of the most overrated cornerbacks in the history of football, and Jason Campbell is nothing but an average quarterback, this is the game I see giving the Eagles their first real trouble of the season. Washington is never an easy place to play, and with no Stewart Bradley in the middle, I foresee Clinton Portis, Ladell
Bettis
Betts and company running wild. Eagles suffer their first loss, because they always lose one to the Redskins. Might as well be this one. 5-1.
Week 8 — vs. Giants
After getting beaten by the Skins due to some porous run defense, the Eagles tighten things up against Brandon Jacobs and Ahmad Bradshaw, forcing Eli and his pathetic receivers to beat them. They do not. Eagles rebound and win. 6-1.
Week 9 — vs. Dallas
Last time we saw the Eagles take on the Cowboys in the Linc, Dallas folded the tent and handed the Eagles a playoff birth, with a helping hand from Houston and Oakland. This will be much, much closer, but I like the Eagles at home, at night, on national television. 7-1.
Week 10 — at San Diego
San Diego's offense is as complete as it comes. Good quarterback, good receivers, great tight end, great running back and a second explosive back. This team can score. And Antonio Cromartie, even with his down year last season, is a freak of nature. A player I really enjoy watching. After back-to-back division wins at home, I see a letdown for the Eagles against a very good San Diego team. Playing on the road out west is never easy, and I think the Birds will have a little trouble containing Rivers and company. 7-2.
Week 11 — at Chicago
With Jay Cutler under center, Matt Forte in the backfield and a defense that never seems to be really terrible, the Bears should be much improved this season. Greg Olson is poised for a breakout year if Cutler's penchant for throwing to a white tight end in Denver is any indication, and the offense should score points. However, Devin Hester is not a wide receiver, and the rest of the wideouts aren't very threatening either. Unless Hester returns two kicks for touchdowns, which is a possibility if the Bears use him on special teams, the Eagles will win. Chicago's defense is nowhere near as good as people think it is, and Donovan always plays well in his hometown. 8-2.
Week 12 — vs. Washington
The Eagles will lose to the Skins in D.C. the first time around. They will not lose to Washington twice. 9-2.
Week 13 — at Atlanta
Last year, the Birds beat Atlanta in Philadelphia 27-14 with a little help from the zebras. This season, I think the Falcons return the favor in Georgia. Though Tony Gonzalez has not really hurt the Eagles over the years, I think that changes this time around. Michael Turner is the type of runner that typically gives the Eagles trouble, Matt Ryan now has a year under his belt, a stud wideout in Roddy White and the security blanket of Gonzalez, who this year's Eagles linebackers will have trouble containing. 9-3.
Week 14 — at Giants
Again, in typically NFC East fashion, the Eagles will win one and lose one to the G-men. This is the one they lose. 9-4.
Week 15 — vs. San Francisco
One time, Michael Robinson demolished two Eagles on consecutive plays out in San Francisco, one being Brian Dawkins. Because Michael Robinson is a freak of nature and a beast. Too bad the majority of the other Niners suck balls, for his sake. The Eagles will not lose to San Francisco. Just not happening. 10-4.
Week 16 — vs. Denver
This game is all about Brian Dawkins' return to Philadelphia. Simple as that. It will be one of the most electric atmospheres at the Linc all season. The fans will be amped. Dawk will get by far the loudest cheers. And with the fans into it and the Broncos lacking a quarterback, the Eagles won't lose. Denver is in some serious trouble this year. Josh McDaniels is a disaster. The team has no defense. And already without a quarterback, their best wide receiver may not be around much longer either. Eagles are sniffing a division title, and they won't let it slip through their fingers in this game. 11-4.
Week 17 — at Dallas
We all saw what happened last season when these two met in the final game of the regular season. Expect to see it again. Call it a homer pick if you must, but I think the Eagles beat Dallas twice this year. Because even Andy Reid is a better game-day coach than Wade Phillips. 12-4.
I have to admit, 12-4 sounds a bit high, especially given their offensive line questions. I would have guessed before going through the schedule a 10-6 or 11-5 campaign. But sure, 12-4 works. Better get those wins early though, because the schedule gets considerably tougher after the first few weeks.