Yesterday,
I pleaded with Villanova to destroy Duke
. Clearly Jay Wright and company read the site, because that's exactly what the Wildcats did with a demonstrative 77-54 win. But the real question is, did Duke's plane crash? That would just be the icing on the cake. Anyway, first
the highlights
:
If there was one prevailing theme in this game, it was without question Villanova's defense. It was just incredible. Duke never had a chance, and the Wildcats' defense was the reason. Without question, it was the most dominant defensive performance by Nova all year long. Those deadly three-point
faggots
shooters from Duke went a combined 5-27 from three, 18.5%, because every single shot was contested, if not blocked.
As I've been trying to tell people all year long, Gerald Henderson is the most overrated player in the country. Sure, the guy can jump through the roof, but he can't dribble, can't shoot and is only an average defender. Basically, he's Andre Iguodala without the great defense, or as much speed. Only worse than that. Just look at his performance last night: 1-14 from the field for 7 points in the biggest game of his life. Sounds like a stud to me.
See those two guys up there? They're the major reason Henderson couldn't do jack shit. Reggie Redding guarded the Episcopal Academy grad most of the game, and he certainly got the best of Henderson. Redding has been a guy that I sort of hounded early in the year, but man, he's turned into a very good player and one hell of a defender. And last night was his best defensive performance of them all. Ditto Dwayne Anderson, who often nabbed Henderson on switches or when Redding was getting a breather.
Bottom line is Redding and Anderson were physical with Henderson, quick enough to stay with him and athletic enough to deny him. They played the type of defense a guy like Gerald Henderson can expect to see in the NBA. And Henderson wasn't ready for it. He is a fine player, but people drooling over him need to realize he isn't good enough right now to take on NBA-caliber defense night in and night out. Hell, Redding and Anderson are far from pro prospects, and they shut him down easily.
I'd also like to point out how much Jon Scheyer and Greg Paulus suck. Literally, those two aren't better than a single one of Nova's regulars, yet Paulus started at Duke for three years before Coach K. finally realized he sucked this year, and Scheyer still is a starter there.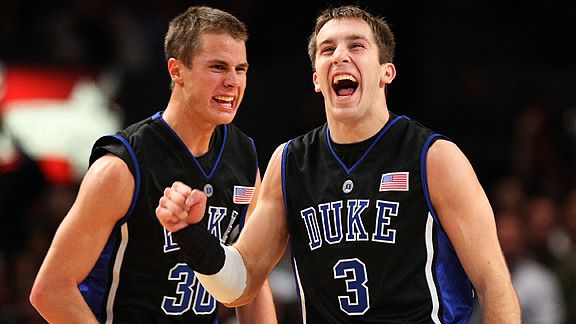 The two of them didn't stand a chance against Villanova, evident by Scheyer's impressive 3-18 shooting performance and Paulus' cameo in the second half where he managed to pick up 4 fouls in 10 minutes and turn the ball twice, in horrible fashion.
But enough about Duke. Let's take a look at Nova. Man, this team looks good right now. Scary good. After getting a little scare in the first round against American, the Wildcats completely undressed both UCLA and Duke. Their defense over the past two games has been ridiculous, especially last night. Going against a lethal shooting team, Nova held Duke to 26.7% shooting, outrebounded the Blue Devils 46-32, and played calmly on offense to get their buckets.
Dante Cunningham was too much for Duke to handle down low. Reggie Redding did a little bit of everything, and even with a quiet game, Scottie Reynolds led all scorers with 16 points.
Corey Fisher provided energy. Shane Clark added a big three-point play and played his usual tough style. And everyone, from Dwayne Anderson to Corey Stokes to Antonio Pena had a hand in the victory. Nova simply had too many athletes for the most overhyped program in sports to handle. Besides Gerald Henderson, I don't think there's a Blue Devil who could hang with a single Wildcat last night. Sure, Elliot Williams had a nice dunk, but he didn't do anything else. And Nolan Smith is supposed to be a stud, but he hasn't shown it his freshman year.
Meanwhile, Villanova, a team that absolutely no one expected to get this far back in December, when they couldn't buy a win over a ranked opponent, is playing as well as anyone in the country. With no certifiable superstar, it seems improbable ... until you look at this team. Scottie Reynolds, for all his faults (and he has plenty), is a talented point guard who can go off at any minute.
He should be a better player than he is by now, and I'm getting sick and tired of the excuses thrown out by the local media saying Scottie has improved -- he hasn't. But he still is a good player that makes clutch free throws and has the potential to go off at any moment.
Dante Cunningham is the most improved player in the Big East and easily Nova's best player. He can bang down low, yet shoot with deadly accuracy from 18 feet. He has quick feet and great power, making him a nightmare matchup for anyone. Reggie Redding and Dwayne Anderson are the defensive studs who are capable of scoring; Shane Clark will rebound and battle and, occasionally, get you some buckets; Corey Fisher is the sixth man of the year and an explosive, exciting fireplug off the bench; Corey Stokes can flat out stroke it; and Antonio Pena can give quality minutes inside. Basically, Nova is a complete team.
Sure, they don't have great size up front, but they do have good size across the board. They play hounding, relentless defense. They can score inside and out. And the Wildcats make their free throws, something that's huge this time of year. And now they take on Pitt for a chance to go to the Final Four.
If they play like they did
at the Spectrum
, they certainly can beat Pitt again. The unnerving thing for Nova is that Pitt hasn't played its best game yet and the Panthers are still in the Elite 8. But if Nova plays as it has the last two games, or as it did last time it faced Pitt, they'll stand a better than good chance at getting to the Final Four.
Let's Go Nova!